Are you looking for a gift to give (or to get)? Here are the best telescopes under $200: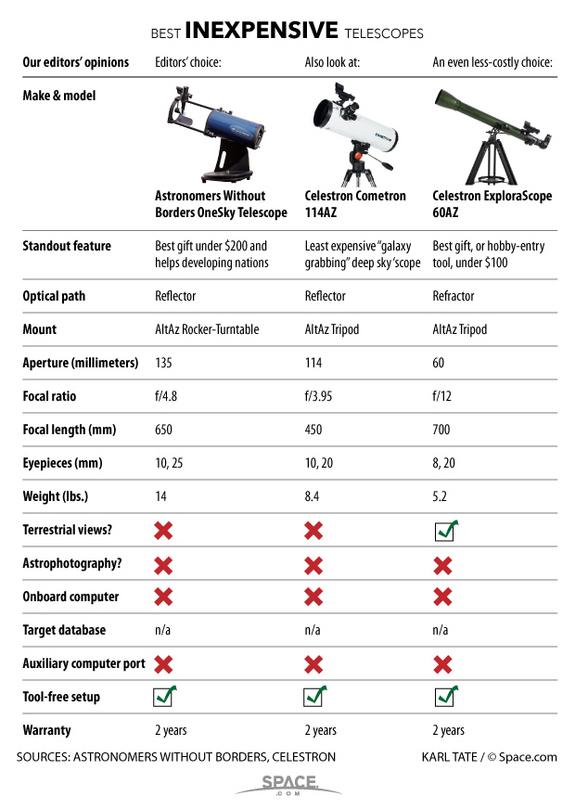 Astronomy experts agree: Don't buy a "department store telescope." Cheap scopes are worse than toys. They make outlandish claims, trying to hook your cash by baiting you with colorful Hubble Space Telescope images on the packaging. (You won't see anything like that through the eyepiece.) But they have terrible lenses or mirrors. And they will disintegrate into junk in a few months, even if you handle them carefully. A telescope should NOT be an impulse buy from a toy store.
You can, however, get a quality telescope for about $200 or less. It won't have a computer or a sky-tracking mount suitable for astrophotography. But you'll find easy setup, smooth operation and memorable views with these select telescopes
Editors' Choice:
Astronomers Without Borders OneSky 130
Reflector / AltAz "Rock and Roll" Turntable
Best gift under $200 and helps developing nations
BUY the Astronomers Without Borders OneSky 130: Average price: $199.99
Every skywatcher should have access to one of these extraordinary telescopes. Without a doubt, it's the best telescope value we have seen at any price. Nearly half of your purchase dollars go directly to funding science programs in developing nations. Win. Win. Win.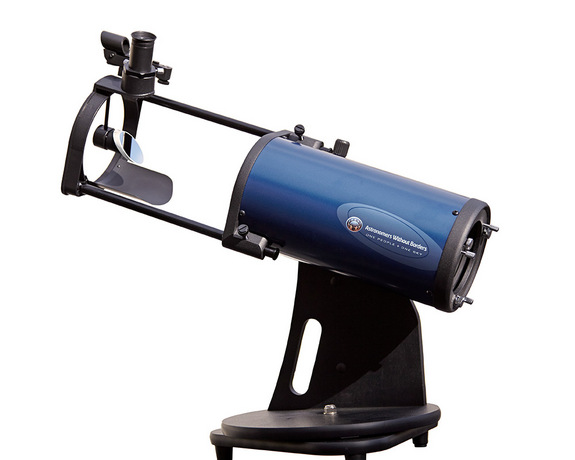 Under a sufficiently dark sky, this telescope's 5.1 inches (13 cm) of aperture — very big for the price — will reveal the unexpectedly extensive width of the Andromeda galaxy. You will love exploring the moon on any clear night, except when it's a full moon (too bright and "flat" to observe). And many objects between and beyond are in range of this novel tabletop reflector.
As with many scopes in this pricerange, you get two "Modified Achromat" (Kellner) eyepieces. The widerfield 25mm gives you about 26x magnification; the higherpower 10mm drives the OneSky to almost 66x, letting you see tiny details on the moon, subtle color in Jupiter's cloud bands and the changing Mars polar cap at certain seasons of its orbit.
The best trick of this scope is that it packs down small. Employing a clever tube and truss strategy, the OneSky pops from a compact 15-inch-long (38 cm) parcel to its nearly 26-inch (66 cm) working focal length. And the "rocker arm" style altitude/azimuth turntable mount has a sturdy built-in handle. At just 14 lbs. (6.4 kg), it's a "grab and go" telescope that fits easily on the seat of a compact car and sets up, ready for fieldwork, in seconds. It's an easy-to-use telescope, but should you get stuck there are ample answers on trustworthy online astronomy hobby forums.
Watch Dave unbox and explain the OneSky:
If you give a OneSky scope as a gift, you're actually giving two presents. When you purchase the OneSky for $199.99, at least $95 goes to support astronomy education in developing nations. Celestron, maker of the OneSky, supplies the telescope at its actual cost to the nonprofit Astronomers Without Borders (AWB). You will be empowering young astronomers around the planet, even as you are bathing your own eyes in glorious starlight.
(Outside the United States, the OneSky is sold as the nearly identical SkyWatcher Heritage 130, but you won't be supporting AWB.)
Also Look At:
Celestron Cometron 114
Reflector / AltAz Panhandle Tripod
Least expensive "galaxy grabbing" deep-sky scope
BUY the Celestron Cometron 114 from Amazon.com: Average price: $179.95
Sir Isaac Newton would have been proud. Celestron's Cometron 114 Newtonian reflector puts a workmanlike chunk of star-fire collector in reach of most gift givers.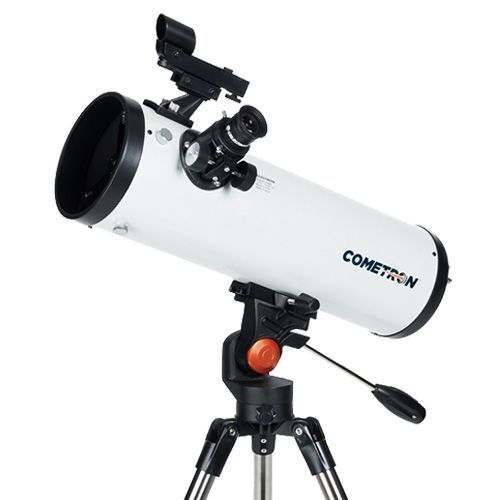 The included 20-mm (low power) Kellner eyepiece will let you find targets in context. Then step up with the 10mm (high power) to concentrate on their details. These eyepieces are not fine-quality optics, but they'll funnel you a solid stream of photons.
With an aperture of just less than 4.5 inches (114 mm) this Cometron makes enough of a lightscoop to let you begin getting to know a few of the dim "fuzzies" (galaxies, nebulae, star clusters and the occasional comet). Its parabolic primary mirror gives a surprisingly flat, sharp image even out toward its edges.
But, to have the most fun, you'll want to take it away from city lights. With a focal ratio of 12, the Cometron isn't very "fast," but it magnifies a lot (>265x) for its 8.4-lb. (3.8 kg) bulk. Fortunately, the 114 is small and lightweight enough to travel. It's not as purpose-built for the road as the compact travelers' telescopes reviewed above, but it's small enough to take with you on car trips (though possibly not airplanes).
For Very Tight Budgets:
Celestron ExploraScope 60AZNPF Edition
Long Tube Refractor / AltAz Tripod
Best gift, or hobby-entry tool, under $100
If you absolutely need to watch every penny, you can still own a telescope that is light-years beyond the typical department-store fraud.
Celestron's ExploraScope 60AZ is a long tube "shotgun" refractor. It's not very different from the "souped-up spyglass" Galileo Galilei used to blow the doors off humanity's primitive understanding of the universe more than 400 years ago. Topography on the moon, phases of Venus, moons around Jupiter, "ears" of Saturn — if he could do it, you can do it.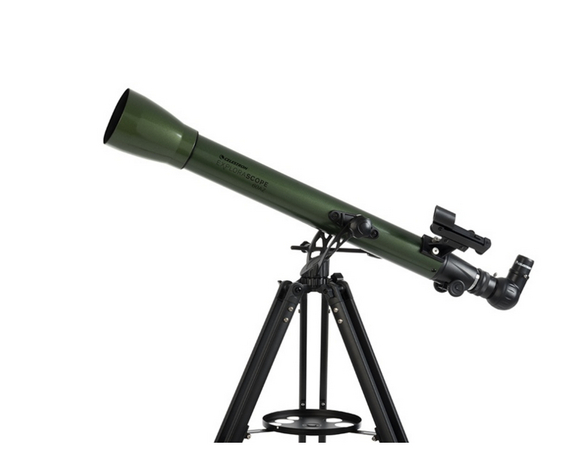 The ExploraScope 60 mimics its more expensive counterparts in every system. But each of those systems is smaller, lighter and more compromised is some way. Optics are, well, inexpensive. The tripod is made of very-light-duty aluminum, but it does have a legitimate accessory tray, which serves to lock the spreader in place. It also holds the two included eyepieces, a 3x Barlow lens and the standard compass-plus-LED-flashlight shipped with all Celestron's National Parks Foundation kits.
The tray will also carry your own smartphone (running Celestron's SkyPortal app for iOS or SkyPortal for Android) and any other little bits. (Might I suggest a mini Bluetooth speaker playing celestial tunes?)
The altitude azimuth mount is "bare bones," but it does have a clever slow-motion rod that lets you smoothly guide your scope as the Earth rotates beneath the sky. The StarPointer finder doesn't magnify, but it does pinpoint targets with an illuminated red dot.
Follow us @Spacedotcom, Facebook and Google+.