Best Drones: Quick Menu
1. The list in brief ↴
2. Best overall
3. Best single camera drone
4. Best professional drone
5. Best non-DJI alternative
6. Best professional mini drone
7. Best portable camera drone
8. Best for beginners
9. Best FPV
10. Best mid-priced drone
11. Best premium FPV drone
12. Best for children
13. Buying advice
14. How we test
The best drones are part of a booming market, with new and exciting features being released all the time, so it can be tricky to know where to start when it comes to investing in this fast-moving technology. Luckily for you, our expert reviewers have scoured the market and put a range of different drones to the test to help you choose the best one for you. This list will bring you the absolute highlights across various categories like camera drones, FPV drones and children's drones.
It's worth considering what you want to get from the world of drones. Some of the drones on our list offer incredible camera functionality, allowing you to take your photography and videography to new heights, whilst others feature sophisticated flight assistance and are ideal for beginners learning how to fly drones for the first time. FPV (First Person View) drones usually come with goggles to help you see from the perspective of the drone, which can create an exciting and highly immersive experience.
We're expecting to see some great deals coming up on drones ahead of Black Friday, so be sure to check out our Black Friday deals hub or take a look at our guide to buying a drone on Black Friday to see how you could save yourself some money on your chosen drone. If you already know what you're looking for, we also have guides on specific categories, such as our lists of the best camera drones, best beginner drones and best FPV drones. But if you just want to get an idea of what's out there or you're not sure where to start, then this list should give you some inspiration to get you going.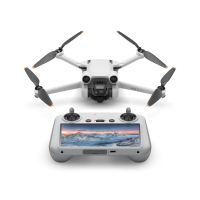 DJI Mini 3 Pro: was $909.99 now $799.99 from Best Buy
Save $110 on the popular DJI Mini 3 Pro in this Black Friday deal. It's tiny and lightweight with a ton of professional features that are sure to satisfy photographers and videographers, plus True Vertical shooting for social media content creators.
The Quick list
Best drone overall
The DJI Mavic 3 Pro is the world's first consumer drone to offer three cameras, and offers the best image quality available in a consumer model, alongside professional features.
Best single camera drone
If you're simply looking for the best drone with a single camera, look no further than the DJI Mavic 3 Classic with its impressive Four Thirds Hasselblad camera.
Best drone for professional drone pilots
With two cameras covering wide-angle and telephoto, the DJI Mavic 3 is a versatile model offering excellent image quality with the main Four Thirds Hasselblad camera.
Best non-DJI alternative
The Autel EVO Lite+ is a powerful drone with a 1-inch sensor and professional features that's much less expensive than the DJI Mavic 3 series drones.
Best professional mini drone
Sub-250g weight, professional features and great image quality, the DJI Mavic Mini 3 Pro is a fantastic option for beginners and professional pilots alike.
Best portable camera drone
The DJI Mavic Air 2S is a medium size consumer drone offering a 1-inch sensor and excellent image quality alongside a wide range of useful features.
Load the next 5 products ↴
Best drone for beginners
The DJI Mavic Mini 3 is a small and lightweight beginner drone offering excellent image quality alongside ease of use and DJI reliability at an affordable price.
Best FPV Drone
The DJI Avata is the easiest FPV drone to fly and offers excellent 4K video capture. Whether you're an FPV beginner or an experienced pilot, the DJI Avata won't let you down.
Best mid-priced drone
The DJI Mavic Air 2 is a cost-effective model providing a range of advanced features that make it a great mid-range option for drone beginners and enthusiasts.
Best premium FPV drone
The DJI FPV may be a few years old now, but it remains an excellent choice for speed and 4K video capture alongside the ease of use you expect from DJI drones.
Best drone for children
Inexpensive, lightweight and easy to use, the DJI Ryze Tello is an option worth considering for beginners, children and safe indoor flights.
Best drones we recommend in 2023
Best drone overall
Buy it if
✅ You're looking for versatility: The three cameras on offer on this drone give you the ability to shoot different perspectives and different focal lengths at the same time, which can help produce more creative content.
✅ You want to shoot high-quality slow-mo: With this drone, you don't have to choose between quality and frame rates. You can shoot 5.1K up to 75fps, 4K up to 120fps and FHD up to 200fps.
Don't buy it if:
❌ You're on a budget: With all the features on offer, this is quite an expensive drone and may be overkill for casual hobbyists.
The bottom line
🔎 DJI Mavic 3 Pro One of the best foldable drones on the market, this allows you to get stunning videos and offers great flexibility with three cameras that can film at the same time. The only real downside is the price, but we think beginners and pros would be pleased with this purchase. ★★★★★
The DJI Mavic 3 Pro is truly one of the best consumer drones on the market, with stunning image quality that will satisfy both amateurs and professionals. It is the world's first consumer drone to come with three cameras, unleashing a whole new world of creative potential.
The main showstopper is the 24mm Four Thirds Hasselblad camera, which can capture 20MP photos and 5.1K video and has an adjustable aperture between f/2.8 and f/11. This is flanked by a very useful 70mm medium telephoto and a 166mm telephoto to complete the trio.
It features the hallmark Mavic folding design and, like the other models, we found you could get around 30 minutes of flight time from it. It also comes with two different smart controller options, both featuring 5.5-inch touchscreens, so there's no need to hook up your smartphone.
The Mavic 3 Pro is very intuitive and easy to fly for a drone of this class since it comes with a number of flight and safety features such as Advanced Return to Home, AirSense ADS-B to detect aircraft, GEO 2.0 geofencing, obstacle sensing and automated flight patterns for video.
Although this is undoubtedly a pricey drone, it's been released at a similar price to older models, making the additional camera fantastic value. If your budget can stretch to it, you will not be disappointed with the incredible features offered by the Mavic 3 Pro.
Swipe to scroll horizontally
Test results

| Attributes | Notes |
| --- | --- |
| Design | Three cameras and two smart controllers |
| Functionality | Easy to fly, with obstacle sensing technology |
| Performance | Excellent image quality and videos up to 5.1K |
Best single camera drone
Buy it if
✅ You want excellent image quality at a more affordable price: This drone contains the same impressive Hasselblad 20MP camera as the other DJI Mavic 3 models, but keeps the price down by doing away with the additional cameras.
✅ You want something easy to fly: With two different controller options and an Advanced Return to Home feature, you should be able to get the hang of this drone quite quickly.
Don't buy it if:
❌ You're after an affordable beginner drone: While this is more affordable than the other DJI Mavic 3 drones, it's still quite pricey and there are several other cheaper options on the market for beginners.
The bottom line
🔎 DJI Mavic 3 Classic This is a great option for people who want the image quality of the DJI Mavic 3 drones without paying extra for additional cameras that they don't have need for. Although it's still not cheap, it's easy to fly and would make a good investment for keen beginners. ★★★★½
The DJI Mavic 3 Classic offers a more cost-effective alternative to the rest of the Mavic 3 series for those who don't require an additional telephoto camera on their drone. It is still equipped with the impressive 20MP 24mm Hasselblad camera found on the other drones in the series, so you won't have to sacrifice any image quality in the process. This camera can shoot in JPEG or Raw, has an adjustable aperture between f/2.8 and f/11, offers 3x digital zoom and can film 5.1K video up to 50fps.
There are two controller options with this drone, depending on your budget. You can opt for a controller with a retractable phone holder or pay a bit more to get a smart controller with a 5.5-inch touchscreen, which we found improved the overall user experience. This drone has the typical foldable design of the Mavic range and flight time was around 30 minutes during our testing.
Even beginners will be able to get the hang of flying this drone quickly thanks to all the on-board flight assistance. The Mavic 3 Classic features Advanced Return to Home, obstacle avoidance using multiple vision sensors and the highly effective ActiveTrack 5.0 for subject tracking. The High-Speed Quick Transfer feature also makes it super easy to share your results with clients or on social media since you can transfer files to your smartphone over WiFi at a rate of 80MB/s.
If you don't need a second camera, you can make a decent saving on this drone in comparison to the other Mavic 3 drones without losing many of their other great features and functionality.
Swipe to scroll horizontally
Test results

| Attributes | Notes |
| --- | --- |
| Design | Single Hasselblad 20MP camera and controller options |
| Functionality | Easy to fly, with good safety features |
| Performance | Fantastic image quality with 12.8 stops of dynamic range |
Best for professional drone pilots
Buy it if
✅ You're a keen photographer: The main camera on this drone offers the same kind of shooting modes as a mirrorless or DSLR camera and lets you shoot in both Raw and JPEG, making it a great option for experienced photographers.
✅ You want to be able to adjust the aperture: You also get an adjustable aperture on the main camera, letting you choose apertures between f/2.8 and f/11, with auto and manual focus possible from 1m to infinity.
Don't buy it if:
❌ You're a beginner: This isn't the most beginner-friendly drone and the price is probably enough to put off all but the most serious photographers.
The bottom line
🔎 DJI Mavic 3 This pricey but feature-packed drone is likely to appeal to serious photographers or content creators, with impressive functionality for still photographs that is equivalent to mirrorless or DSLR cameras and high-quality video capabilities to match. ★★★★
If you're a professional photographer or videographer looking for the highest possible image quality in a portable and lightweight drone, then look no further than the DJI Mavic 3. This drone features a dual camera with a large Four Thirds 20MP sensor and adjustable aperture in the main camera offering excellent image quality for stills and video.
With video possible at up to 5.1K in standard and Raw formats, stills in Raw and JPEG format and other advanced features it's a drone that's aimed at professionals. The Mavic 3's second camera is much more limited, however, and can only shoot images in JPEG and standard video at 4K 30fps in auto mode, but it does offer a hybrid zoom of up to 24x.
The Mavic 3 features a folding design for easy transportation and the two models available weigh 895g and 899g. The standard model provides 8GB of internal storage, while the more expensive and slightly heavier Cine model includes an internal 1TB SDD with support for Apple ProRes 422 HG video recording. Both models also feature a microSD card slot to expand onboard storage.
This drone is DJI's flagship 'consumer' model and provides up to 46 minutes of flight time with several incredibly useful safety features on offer. The Mavic 3 uses multi vision sensors to sense obstacles, as well as the Advanced Pilot Assistance System (APAS) 5.0, which uses six fish-eye sensors and two wide-angle sensors to sense obstacles in all directions. When enabled, the drone can be set to fly autonomously around obstacles when detected or to brake.
Swipe to scroll horizontally
Test results

| Attributes | Notes |
| --- | --- |
| Design | Large dual Hasselblad camera |
| Functionality | Advanced collision avoidance and ActiveTrack 5.0 |
| Performance | Impressive image quality and ISO |
Best non-DJI alternative
Buy it if
✅ You're looking for top-quality video: This drone shoots up to an impressive 5.4K, which easily gives the DJI drones a run for their money.
✅ You want photographic flexibility: The adjustable aperture on this drone is very handy for experienced photographers set on capturing the perfect shot.
Don't buy it if:
❌ You don't like using an app: The controller doesn't come with a built-in screen and relies on the AutelSky app on your smartphone to work.
❌ You want something ultra-portable: Even when folded, this drone measures 210×123×95mm and weighs 835g, so it's not the easiest to carry around with you.
The bottom line
🔎 Autel Evo Lite+ This drone offers extremely good image and video quality at a very competitive price, making it a good alternative to the DJI drone range. Whilst it's not the smallest or lightest drone out there, it comes with a relatively long battery life and good wind resistance, helping you to make the most of your aerial adventures. ★★★★½
If you're looking for the perfect balance of price, features and camera performance, the Autel EVO Lite+ could be the perfect drone for you. This versatile UAV features a 20MP 1-inch sensor in a camera with an equivalent focal length of 29mm and an adjustable f/2.8 – f/11 aperture, which is ideal for controlling exposure when shooting video.
Photos can be captured in JPEG and RAW, while video can be captured in Standard and Log Color in 5.4K up to 30fps, 4K up to 60fps, 2.7K up to 60fps and HD up to 120fps. Image quality for both photos and videos is excellent, with aperture settings between f/2.8 – f/5.6 providing the sharpest results before diffraction kicks in and reduces overall image sharpness.
Flight times are advertised at up to 40 minutes thanks to the high-capacity 6175 mAh flight batteries, and with speeds of up to 40mph possible and level 7 wind resistance (up to 38mph), the Lite+ performs well in a wide range of conditions. Plus, features including obstacle avoidance and GPS positioning make it incredibly easy and indeed safe to fly the drone.
The Lite+ features a folding design that makes it much more compact for transportation and storage. Folded, the drone is 210×123×95mm and 427×384×95mm unfolded, alongside a weight of 835g. It's not the smallest or lightest drone available, but the trade-off here is improved image quality, more advanced camera functionality and more power.
Available in two kits, the Lite+ Standard Bundle includes the drone, one battery, a controller and other useful accessories which costs $1379 / £1249. While the Premium Bundle offers everything in the Standard Bundle but also includes two additional batteries, extra spare propellers, an ND filter set, a three-battery charging hub and a shoulder bag which costs $1679 / £1519.
Swipe to scroll horizontally
Test results

| Attributes | Notes |
| --- | --- |
| Design | High-quality folding design with 20MP 1-inch sensor |
| Functionality | Level 7 wind resistance, subject tracking and collision avoidance |
| Performance | Excellent image quality with up to 5.4K video |