Best cameras 2023
1. The list in brief ↴
2. Best overall
3. Best full-frame resolution
4. Best hybrid camera
5. Best for professionals
6. Best Canon
7. Best for travel
8. Best pro-level Sony
9. Best DSLR
10. Best value mirrorless
11. Best for beginners
12. Best generalist camera
13. Best micro four-thirds
14. Best all-rounder
15. Best lightweight DSLR
16. Best beginners DSLR
17. Best compact APS-C
18. Honorable mentions
19. Camera FAQs
20. How we test
Using one of the best cameras for photos and videos will undeniably give photographers the best possible chance to capture fabulous shots, whether a full-frame, crop sensor or micro four-thirds, mirrorless, or DSLR camera. Even that list might feel overwhelming, and within each of those categories, there are countless models to choose from.
We're beginning to see early Black Friday camera deals, and Cyber Monday camera deals will soon follow when the annual sales event kicks off (from November 24 to 27 2023, respectively). Check the updated prices below to catch early discounts on your favorite camera models.
To help you narrow your search, our experts at Space.com have done the bulk of the hard work for you. We've put each camera through our rigorous review process and compiled this list of our favorites from every camera brand. We've also highlighted which type of photographer and styles would benefit from each model the most. We've covered all budgets and experience levels, so we're certain there will be something for you that will help you push your photography to the next level.
While this guide covers multiple photography disciplines, we have other, more tailored guides too, such as the best cameras for astrophotography, the best mirrorless cameras or the best DSLR cameras. If you've already purchased your camera and are now looking for accessories like one of the best camera backpacks or a travel tripod, or perhaps you're looking to pair it with one of the best lenses for astrophotography or the best zoom lenses, we have guides for those too.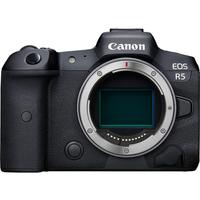 Best cameras for photos and videos we recommend in 2023
The quick list
Here are our top picks in a 'quick view' layout. For more information about each camera, scroll down. From there you can click through to our hands-on reviews.
Best overall
The best mirrorless camera overall
We can't think of a camera that is more versatile. It's best for professional shooters with a big budget, but it is more than capable in all shooting scenarios.
Best full-frame resolution
Best full-frame resolution
The successor to the popular A7R IV, this camera does everything the previous model did and more, with class-leading AI-based autofocus and hugely detailed images.
Best hybrid camera
Sony A7R IV mirrorless camera
Best hybrid camera
This previously sat at the top of our best cameras list thanks to its fast autofocusing and massive 61MP full-frame back-illuminated CMOS sensor and 4K UHD 30p video.
Best for pros
Best for professional shooters
This is a video shooting powerhouse with superb battery life and a rugged body that's built to last, regardless of the weather conditions.
Best Canon Camera
Best Canon camera
The Canon EOS R5 feels great in the hand, and the image stabilization and fast autofocus make it a pleasure to shoot with. It is quite expensive and the features are overkill for casual shooters.
Best for travel
Best for travel
This small and lightweight camera features excellent autofocus and tracking — it is a pleasure to shoot with. Travel vloggers will appreciate the eye tracking and autofocus, as well as the lack of recording limit.
Load the next 6 products ↴
Best pro-level Sony
Best pro-level Sony
Mindblowing specs and performance but with a huge price tag to match. It is extremely versatile and boasts an impressive 50.1 megapixels as well as 8K 30P video.
Best DSLR
Best DSLR
Despite being an old DSLR camera, this camera still holds its own. The impeccable weather sealing makes it robust and durable and it offers an incredible 45.4MP stills and 4K UHD 30p video.
Best value mirrorless
Best value mirrorless camera
Though this is an older model, it's the perfect camera for low-light shooters — this could be astrophotography, indoor sports or indoor weddings. The battery life is huge too.
Best for beginners
Best for beginners
This lightweight camera is suited to candid street photography thanks to its super quick power-up time. Its retro design will appeal to many and it's easy to use. It boasts a great sensor (the same as the Nikon Z50) for the price point.
Best generalist camera
Best generalist camera
The Fujifilm X-T5 is another small-bodied camera that is a good all-rounder. It has a classic aesthetic and features two SD memory card slots for peace of mind. It boasts impressive low-light performance.
Best Micro Four Thirds
Olympus OM-D E-M10 Mark IV
Best Micro Four Thirds camera
This camera weighs less than 1 lb but is still packed with useful functionality, so is a great everyday or travel camera. The autofocus system is fast, there are five stops of in-body image stabilization and the large LCD screen is remarkable.
Best cameras we recommend for photos and videos 2023
Best overall
Buy it if:
✅ You can afford it: This is a big investment but it's worth it if you'll be in the industry for years to come.
✅ You shoot stills and video: This camera is just as impressive at both of these tasks
Don't buy it if:
❌ You're looking or something lightweight and portable: This model is significantly heavier and bigger than its predecessor. It looks and feels like a professional camera.
The bottom line:
🔎 Nikon Z8: Professionals need to look no further — if you combined all the best parts of the flagship Nikon Z9 and the best DSLR in the world, the Nikon D850, you'd be left with this heavy-hitter; the Nikon Z8. ★★★★★
Wow, what can we say — this is the go-to camera for professionals who earn a living from their photography and shoot a range of styles or enthusiastic casual shooters with a sizeable budget (around $4000) to play with. It is the perfect blend of 'all the good bits' of the incredible Nikon D850 DSLR and Nikon's flagship Nikon Z9.
This camera performs excellently in both video and still photography, capturing high-quality video formats such as N-Log, ProRes, and Raw HQ data. It also handles noise exceptionally well and can take photos up to an insane 120FPS, making it ideal for indoor sports, concerts, weddings and other events. But, keep in mind that this camera is pretty big and heavy to hold.
For astrophotographers, Nikon has even included a customizable night vision mode that dims the rear screen and electronic viewfinder and displays red pixels to help preserve your night vision. It can focus down to -9EV in starlight mode, which is unheard of.
This is an incredible camera, and you can read more of our thoughts in our gushing Nikon Z8 review. It's simply the best camera body on the market right now — it performs so well across the board and while there are some worthy competitors, we can't think of another camera that matches its versatile prowess.
Swipe to scroll horizontally
Nikon Z8

| Attributes | Notes |
| --- | --- |
| Design | Outstanding build quality, but it's big and heavy. |
| Performance | Starlight mode enables autofocus detection down to an unheard of -9EV. |
| Functionality | Night vision mode for astrophotographers. |
Best full-frame resolution
Buy it if:
✅ You shoot portraits or weddings: The new AI-based autofocus system is on another level and makes shooting people easier than ever.

✅ You shoot multiple styles: This camera excels at most photographic styles and video, so if you like to shoot many different subjects then this could be the camera for you.
Don't buy it if:
❌ You mainly shoot astro: We noted that due to so many megapixels, the images were very noisy. Fine for occasional astro with AI denoise in post-processing, but there are better options for astro.
The bottom line:
🔎 Sony A7R V: The Sony A7R V builds on the power of its predecessor with its higher resolution EVF and LCD screen, more stops of image stabilization and a new AI autofocus unit, but the massive 61MP sensor provides too much noise for astrophotography. ★★★★½
The new Sony A7R V is a breath of fresh air in the photography world. We weren't sure how they could improve on the A7R IV, which used to sit in this place on this list, but we think this new model has blown it out of the water.
It comes with a new AI-powered autofocus system designed to recognize human movements, poses and various body parts, anticipating the subject's potential movements. Additionally, it efficiently tracks subjects such as cars, trains, planes, animals and insects.
It features 8 stops of image stabilization, which is especially effective in low-light conditions. In our Sony A7R V review, we successfully captured clean and sharp handheld shots at ISO 100 with a shutter speed of 1/3 second. However, when we used it for astrophotography, we noticed some noise in the images, which is to be expected with a 61MP sensor. While the noise could be cleaned up in editing software for occasional astro images, it might become tedious for frequent astrophotography enthusiasts.
Another feature we loved was the 4-axis, multi-angle LCD screen. It's incredibly detailed but also combines tilt screens with fully articulating screens, meaning you can achieve quite literally any angle you want to while still keeping the screen away from the ports on the side of the camera. Finally!
It's certainly an investment, but for the amount of tech you get, we think it's worth every cent and will last for years.
Swipe to scroll horizontally
Sony A7R V

| Attributes | Notes |
| --- | --- |
| Design | Most versatile LCD screen yet. |
| Performance | Sony's autofocus just keeps getting better thanks to the new AI system. |
| Functionality | Eight stops image stabilization proves great for low light. |
Best hybrid camera
Buy it if:
✅ If you shoot lots of portraits, weddings or studio work: This is one of the best cameras you can buy, it's excellent in low-light and there are many customizable buttons to get your set up just right.

✅ You dabble in astrophotography: This camera would be a perfect match for astrophotographers of any skill level. You can use the shots right out of the camera up to ISO 6400 before you start to see any unfavorable noise.
Don't buy it if:
❌ 61 megapixels might be overkill: Many photographers won't need this level of detail (or file size) and can save money on lower-resolution cameras.

❌ You want to shoot fast action sports: There are other cameras with higher burst speeds.
The bottom line:
🔎 Sony A7R IV: Despite the big price tag, this is an incredible camera in a class of its own. For landscape photographers, studio portraits, or professional wedding photography, this is a fantastic choice. ★★★★½
With its massive 61-megapixel sensor, the Sony A7R IV excels at capturing intricate details even in challenging low-light conditions, making it a top choice for astrophotography and various other photography genres. Its exceptional low-light performance has also earned it a spot in our best cameras for low-light photography guide. Handling 61-megapixel images can be demanding on memory cards and computer storage, but you do have the option to switch to a more file-friendly 26-megapixel APS-C sensor with a 1.5x crop factor.
In our hands-on Sony A7R IV mirrorless camera review, we found that even though the subtle upgrades following the Sony A7R III don't look like much on paper, they made a world of difference when it came to using it in the real world. The improved hand grip makes it much nicer and more comfortable to hold; it has more prominent and, thus, more tactile buttons, which are particularly helpful when operating with cold fingers or while wearing gloves.
The Sony A7R IV is not cheap, but if you want to make a long-term investment, you won't find much better for shooting weddings, portraits, studio work and landscapes. Plus, now that it's not the newest model in the A7R range, it's come down in price a bit compared to when it was first released, and we anticipate that it'll be discounted even more in the Black Friday and Cyber Monday deals.
This camera used to sit at the top of this guide, but after the release of the Sony A7R V and its impressive new features and improvements, we'd now recommend this as a good option if you can't quite stretch your budget to the A7R V but still want a fantastic, high-resolution hybrid camera.
Swipe to scroll horizontally
Sony A7R IV

| Attributes | Notes |
| --- | --- |
| Design | Superb build quality. |
| Performance | Bright, sharp and colorful images. |
| Functionality | High megapixel sensor means more image noise. |
Best for professionals
Buy it if:
✅ If you're going to shoot lots of fast action: The 'People AF' mode is eerily good at picking out eyes and faces, making capturing human motion easy and accurate.

✅ If you also shoot video: Its video capabilities are just as good as stills. The two CF card slots mean you can shoot hours of footage at 8K 60FPS.
Don't buy it if:
❌ You are an astro shooter restricted by budget: You could buy a cheaper camera such as the Nikon Z7 II, pair it with a specialized lens and get similar results.
The bottom line:
🔎 Nikon Z9: An absolute monster for stills and video, the Nikon Z9 is a brilliant astro camera. However, it comes at a high price and with features more suited to other photo styles like weddings and wildlife, it may be overkill for night sky photographers. ★★★★½
The Nikon Z9 is one of the best-performing digital cameras ever made, and in our Nikon Z9 review, we gave it a highly respectable four and a half out of five stars. Because of the price of this camera, it's realistic to say it's really only for professionals who earn their living taking photos or videos, as it is excellent at doing both.

It's ideal for capturing fast-paced moments in sports, wildlife, weddings and events, thanks to its outstanding burst shooting capabilities. It can shoot at an impressive 20FPS in RAW format and an astonishing 120FPS in lower-quality JPEG. With this camera, you won't miss any crucial shots. Additionally, it excels at recognizing and tracking faces and eyes.

Although this camera is fantastic, we think it would be overkill for astrophotographers who only shoot astro. Nonetheless, it would be fabulous for the occasional astro shoot combined with the photography styles we've discussed above.

The hefty battery on the Z9 is incredibly long-lasting. Even when we tested it while shooting over three hours of astrophotos, it lost less than 20 percent.
The range of connectivity options is also impressive. There's Snapbridge file transfer, Wi-Fi and Bluetooth, ethernet connection and USB-C. What more could you need?
Swipe to scroll horizontally
Nikon Z9

| Attributes | Notes |
| --- | --- |
| Design | Heavy, solidly built body. |
| Performance | Excellent astro performance. |
| Functionality | As capable at video as it is at stills. |
Best Canon
Buy it if:
✅ If you're a semi-pro photographer looking to upgrade: This is a camera for life; it's one of the most complete cameras Canon has ever produced.
Don't buy it if:
❌ You are a filmmaker: There have been problems with overheating when recording lots of video.

❌ You don't like to carry spare batteries: The battery life is a little disappointing when compared with competitor models.
The bottom line:
🔎 Canon EOS R5: One of the best cameras on the market at the moment and possibly Canon's finest-ever technical achievement. A superlative but very expensive package. ★★★★½
The Canon EOS R5 has outstanding features for multiple photography styles and needs. It boasts a 45MP CMOS full-frame image sensor and, as mentioned in our Canon EOS R5 review, we think it has one of the best autofocus systems we have ever used.

This camera performs excellently when it comes to tracking faces, eyes and even head movements, making it one of the top choices for sports and action photographers. Portrait photographers will also appreciate it, especially at events like weddings where capturing every moment matters.
It excels at revealing fine details even in low-light situations, thanks to its impressive 15-stop dynamic range and excellent noise control. For astrophotographers, it captures plenty of data that you can enhance during editing. Additionally, it can record beautiful high-quality 8K RAW videos.

The large flip-around screen is ideal for vloggers and content creators since it eliminates the need for any additional monitors while recording. This is one of Canon's most complete packages, and we wouldn't hesitate to recommend it, provided you can stretch your budget that far.
Swipe to scroll horizontally