Using one of the best cameras for photography and videography will give us the best chances of capturing the perfect shot. There are so many cameras on the market - from DSLRs to mirrorless - that it's difficult to decide which one to get, especially since each manufacturer claims their camera is 'the best' in one way or another. Luckily though, we've done the legwork and summarised our favorites here so you don't have to go trudging around the whole internet to find the answer.
There are two main types of cameras on the market when advancing from compacts and smartphones: the DSLR and the mirrorless. On DSLRs, the view through the viewfinder is piped up the lens by a mirror and prism arrangement, while on a mirrorless camera the viewfinder is simply a screen where a live feed from the sensor is presented. Mirrorless cameras are newer tech and tend to be smaller and lighter. For a more thorough comparison, take a look through our guide to DSLR vs mirrorless cameras.
This guide is separate from our alternate article on the best cameras for astrophotography, as here we've focused on more versatile models which cover broader photography types. If you want to dip your toe into astrophotography and are looking to get awesome pictures of the night sky, you might want to have a flick through the above article. We have also rounded up some of the best lenses for astrophotography here so you can choose the perfect combination. If you're here looking for a versatile camera suitable for multiple types of photography, then here are some of our top picks.
Best camera overall
(opens in new tab)
From its impressive expandable 204800 ISO ability to the -3EV autofocus range, the Sony A7 III is a winner for anyone who will be shooting in low light. With its full-frame 35mm sensor, even though it only shoots 24.5MP stills, which may seem low for this price point, this is the key to its ability to keep image noise incredibly low.
A versatile shooter, the A7 III also captures excellent video footage at 4K UHD 30fps, though it does top out at ISO 51200 as it can't make use of the expanded option as it does for stills. However, that's practically seeing in the dark so can forgive it. On a full charge, it can capture 710 still photos (probably many more in real-world shooting conditions).
Users can choose from the extensive range of E-mount lenses on offer which gives tremendous versatility for using this camera in any style shoot. The Sony A7 IV now supersedes this model, however, the A7 III is still a fantastic camera, and because it has been superseded, it is even more affordable.
Best mirrorless camera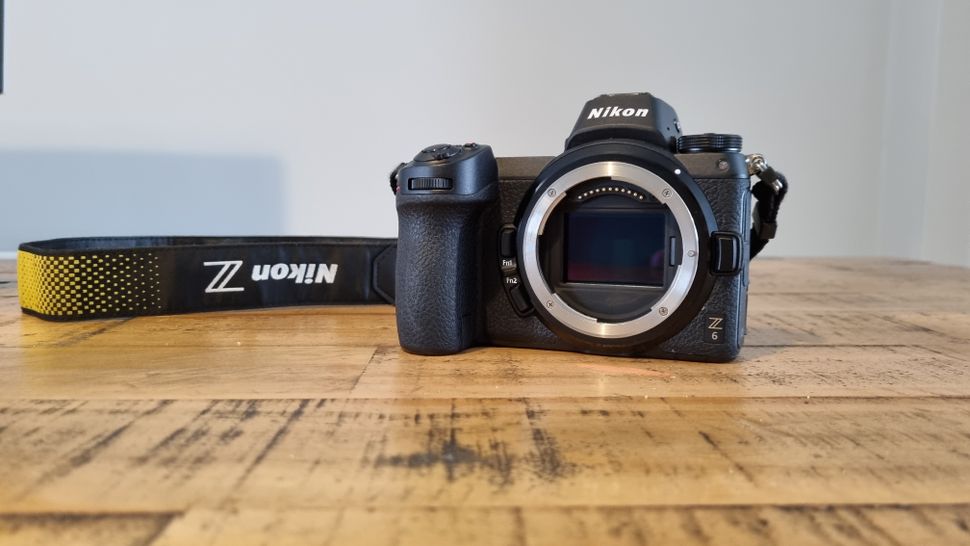 The Nikon Z6 is more accessible than its chunkier (and more expensive) sibling the Z7. Although it has a smaller stills resolution, the Z6 has the same five-axis in-body image stabilization as the Z7, and thanks to its lower 24.5MP it has much lower image noise — perfect for astrophotographers capturing the night sky when combined with one of the best lenses for astrophotography.
Five stops of in-body image stabilization, sharp Z-mount lenses, and the ability to use Nikon's back catalog of lenses through the FTZ adapter mean the Z6 is an excellent choice for almost any kind of shooting photography. Wildlife, sports, portraits, landscapes, product photography — you name it, the Z6 can do it. For fast captures, it runs at up to 12fps for stills, and, if you've updated to the latest firmware version, it has helpful eye/animal eye autofocus. If you need the professional video capture of ProRes RAW, then the Z6 outputs 12K raw video to an external recorder, but note you might need to have this set up at a Nikon service center first.
Best Micro Four Thirds camera
The OM-D E-M5 Mark III is a worthy successor of the Mark II. It has a sensor able to capture 20-megapixel stills, and has improved image stabilization capability. Despite its petite size, it can record full HD video, as well as 4K UHD and slow-motion video in full HD.
The OM-D E-M5 Mark III provides excellent specs at a reasonable price and all in a teeny, compact, lightweight body which you could even stash away in a coat pocket. It's perfect for solar or lunar photography, as well as sports or wildlife thanks to the 10fps stills shooting, extendable to an impressive 15fps with continuous autofocus or even higher at 30fps when in Pro Capture mode, though the focus will be locked on the first frame. Overall, the OM-D E-M5 Mark III is a lightweight MFT camera body that can keep up with the bigger mirrorless and DSLR competition and is perfect for those who want to step up from basic entry-level cameras but aren't ready to fork out big bucks for the highest-end professional bodies.
Best budget camera
If you need a camera that can do anything, and we really do mean anything, then pick up a Nikon D850. Even though it's coming up to five years old (at the time of writing) it still holds its own against the best mirrorless cameras around today.
It's at home when shooting wildlife or sports with up to 9fps (with additional battery grip) or capturing portraits with stunning clarity when paired with one of the huge range of F-mount lenses in Nikon's catalog.
Traditionalists will like the optical viewfinder as it allows them to view the scene directly, rather than on a screen (something you can't do with mirrorless cameras). With 4K UHD 30fps video, the movie footage is impressive. You can also capture slow-motion with 120fps full HD video. This allows fast-paced action to be slowed down four times.
This camera is weather-sealed and tough enough to withstand some rough and tough without compromising performance. It even has lit-up backlit buttons which display key settings in the dark so you can practice your astrophotography without impacting your night vision.
Best beginners DSLR
Also known as the EOS 250D, the Canon EOS Rebel SL3 is suited to any photographer who wants to lose weight, in their kit bag that is. Coined as the lightest DSLR in the world and with a movable screen it's ideal for travel photographers, those wanting to take a camera with them on holiday, or if their gear acquisition syndrome has them bogged down with a camera bag full of heavy kit.
The vari-angle touchscreen makes it easy to compose images whether held up above or down low to provide fresh vantage points without having to climb up or lay down in awkward positions. As it can be flipped 180-degrees, it can also be used to take or record selfies.
Having only 9 AF points and only being capable of using UHS-I SD cards, this camera is better suited for beginners and enthusiasts who don't want to break the bank.
There's even a useful Guided UI mode that turns the camera into a guide to help users new to photography to get their desired effect. With Creative Assist mode, you can add filters, effects, and color adjustments to perfect your images while you shoot, or you can edit them after taking the photo. This is especially helpful if you don't want to start experimenting with third-party image editing software right away.
Best for street and fast photography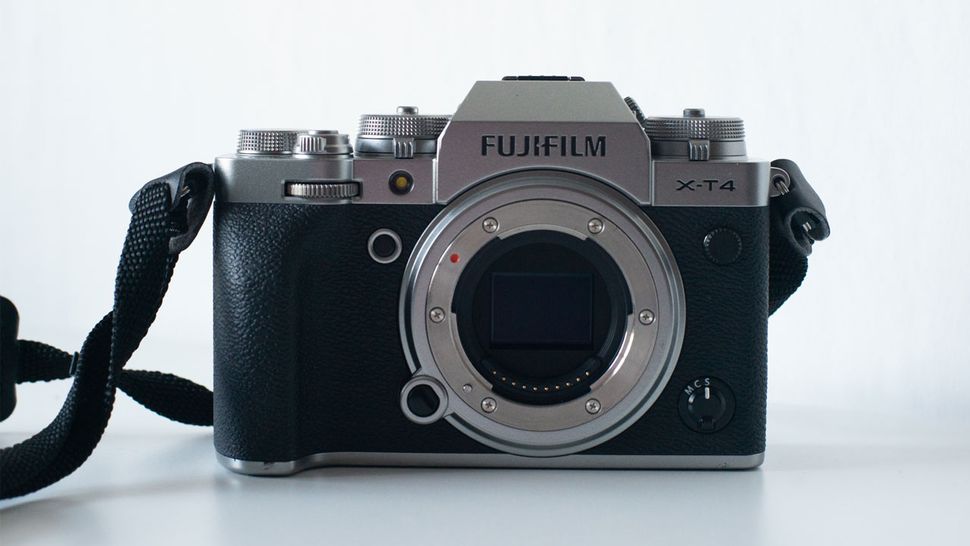 Fujifilm has packed a lot of camera into a small body in the X-T4 and certainly performs well enough for semi-pros to shoot with, or for professionals as a second body. As standard, it can capture stills at a blistering 15fps mechanically. Should you want to go faster, this little camera can use an electronic shutter with a 1.25x crop mode to reach up to 30fps – that means sports, wildlife, or any fast-paced action (even tracking solar or lunar events) is a breeze for the X-T4.
With the X-T4's hybrid contrast and phase-detection autofocusing technology, it uses a huge 425 AF points for dependable focus in every shot. This camera comes with two helpful SD card slots that are both UHS-II compatible, so you won't have to worry about losing a shot with its fast burst mode and 60 frames per second video. Because of its classically elegant design, and thanks to its latest mirrorless features, the Fujifilm X-T4 is reminiscent of old SLRs without any of the drawbacks. A delightful camera with great specs makes this one of the best APS-C cameras available to buy.
Read more with our Fujifilm X-T4 review.
Best for beginners
When we put together our Nikon D3500 review we found that it is a versatile entry-level camera, designed for those who want to get started in more advanced photography without spending the big bucks. The D3500's crop sensor means all lenses will have an extra 1.5x crop, which is useful for astrophotography, wildlife, and sports photography. The extra crop means more reach with cheaper lenses, allowing distant subjects to appear larger within the frame.
The Nikon D3500 has 11 autofocus points in the middle of the frame. While this sounds a little restrictive it isn't too much of a problem because you can use autofocus, lock it, and recompose. However, focus can be missed slightly when using fast telephoto lenses, because the movement between focus and shutter release alters the distance of the lens to the subject.
Its 24.5MP stills produce plenty of detail for photographs to be used online and in print, matching that of many flagship DSLR cameras across brands. This gives extra scope to crop in on subjects should composition need tweaking post-capture. The D3500 records 60fps full HD video footage which is brilliant for a camera of this price point. It means smooth movie capture, perfect for YouTube and social media. It looks small and lightweight even when compared to notoriously smaller and lighter mirrorless cameras. That, plus the affordability makes this camera ideal for beginners.
Best for online content creators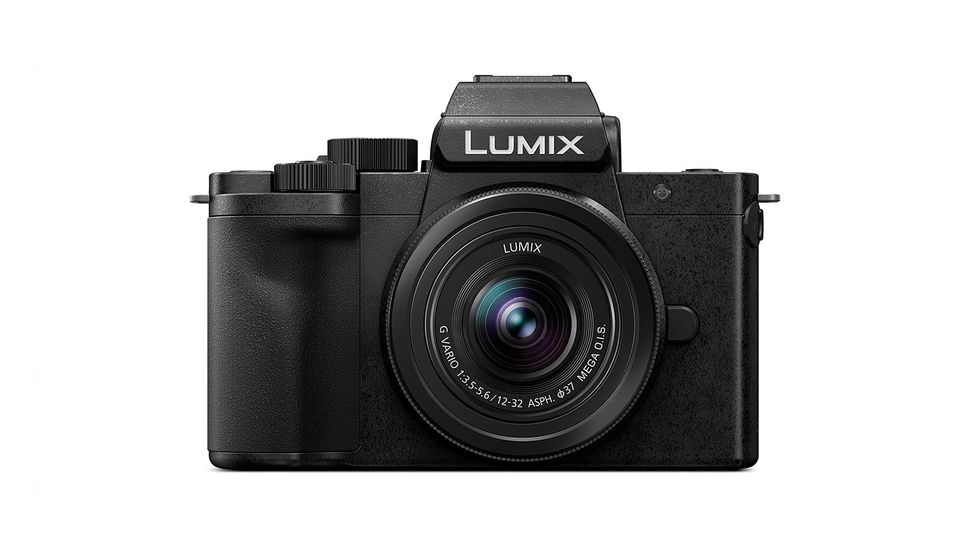 This compact mirrorless camera is aimed at content creators. Those who want to focus on producing good quality stills and especially video content for use on YouTube, Facebook, TikTok and other social media platforms. It comes with a 180-degree rotating monitor screen for selfie shooting, and it simultaneously enhances the depth of field while using face tracking so that it can keep both you and the background nice and sharp allowing you to move and speak freely.
There isn't any in-body image stabilization (a surprise as this is opposite to almost all the mirrorless bodies on this list) but it does have 5-axis IS. This hybrid approach to image stabilization uses the lens' optical stabilization and combines it with the camera's electronic stabilization to produce a smooth finish. Note, however, that this drops to 4-axis IS when shooting 4K video.
Pushing forward on the content creator design the G100 also features intelligent microphone audio called Ozo, designed by Nokia. This changes the directionality and sensitivity of the in-built microphone based on face recognition for clearer audio and negates the need for an external mic.
More benefits from this compact mirrorless include an option to shoot vertical video, ideal for quickly uploading to social media without the post-processing required to crop it down. The Bluetooth connectivity shares content to smartphones and tablets at the touch of a button.
Conclusion
We have given a range of options to suit individual photographer needs. If you're a beginner looking to get into photography for the first time you may want to get something a little less intimidating (and expensive) and go for a compact mirrorless or entry-level DSLR that can help guide you through camera settings and filters to make the best creative choices upfront. Those looking for a little more from their kit can rely on the bigger mirrorless and DSLR camera bodies to benefit from powerful in-body image stabilization, fast burst shooting speeds, high quality 4K video capture, and an interchangeable lens format to suit almost any shooting conditions.
The camera body isn't the only thing you'll need to consider. Lenses play a huge part in creating stunning images, so take some time to research what lens ranges are available (if the camera you're looking at allows for interchangeable lenses) because some cameras have a bigger range of compatible than others depending on their mount. Wide-angle lenses offer a bigger field of view for landscapes and astro, but telephoto lenses zoom in on far-away subjects like birds and athletes. Each will come with different maximum apertures, altering the camera's settings whilst shooting to maintain good exposures.
As well as shooting on decent cameras, you'll probably need a tripod as well. This is crucial if you're interested in astrophotography or landscape photography. When using a tripod the camera stays still during exposures. This allows for longer shutter speeds and lower ISO sensitivity lower to get sharp exposures with minimal image noise. This is also useful for shooting moving subjects as blurs such as moving clouds or waterfalls. See our shortlist of best travel tripods and best tripods for astrophotography and landscape photography to help you choose.