The best budget cameras are easy on the wallet. But a low price doesn't have to mean low quality, even in photography. In this guide, we've rounded up the best budget cameras you can buy right now for $500 or less that don't compromise on performance.
Whether you're a beginner or just looking for a way to upgrade your kit without spending too much money, we've included options for every need and budget. Although the cameras below might not have all the bells and whistles that top-of-the-line premium models do, they're perfectly fine for learning or developing photography skills, no matter your ability. Chances are, unless you're a pro photographer, you won't need the specs that come with more expensive full-frame cameras anyway. You can get great results using a cheaper piece of kit if you know how to use it well.
From action shots to vlogging, holiday snaps to portraits, we've thoroughly tested the cameras in this guide to ensure they meet our quality and durability standards while providing you with the best value for money. Some of the models are more compact and great for taking along on a trip, and others even have 4K video capabilities and come with extra accessories. So if you're on the hunt for a reliable bargain buy, read on to find your perfect match.
Best budget camera under $500 deal September 2023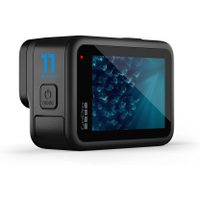 GoPro Hero 11 Black: was $499.99, now $449 at Amazon
Save 10%. With 5.3K video capability, it's great for shooting action videos, complete with a water-repellent lens and award-winning image stabilization. While it's most known for video capture, you can also shoot 27MP stills. This deal includes the camera only, but for just under $500, you can get a bundle including a hand grip, an extra battery, a carrying case and more.
---
Best budget cameras under $500 2023
Best budget cameras under $500 2023 ranked
If you're after a reliable compact camera, you could do a lot worse than the Sony A6000. It might be almost 10 years old, but it's still widely considered to be one of the best compact cameras out there.
Combining great design and handling with superb image quality and autofocus, the A6000 is great value for money. It doesn't have 4K video, but that won't matter if you mostly shoot stills and can do without the latest tech.
It's currently on sale for a little over $600 at Best Buy, but the price includes a lens. It's worth shopping around to make sure you find the best deal, as the price often changes from retailer to retailer. Amazon has a range of options including lenses and used cameras.
---
If you're interested in taking up DSLR photography, look no further than the Canon T7/2000D. Intuitive and reliable, this small budget camera is a great option for beginners.
It's far from the newest model in Canon's lineup, and it doesn't have all the specs you'll find in more expensive DSLRs, but it's perfectly functional and a good tool to build on your photography skills. With the Canon brand name, you can also rest assured you're getting a durable piece of kit. The added benefit of this camera being slightly older is you can now secure great bundles deals online, meaning you can get the camera, a lens and accessories for under $500.
---
GoPro is a household name when it comes to action shooting. We picked the Hero 11 because while it's a tiny bit over the $500 limit, we think the value you get from this camera is incredible.
For a little over $500, you get a 50-piece bundle including loads of accessories including an SD card and various mounts, straps and tripods to capture any live action moment perfectly. In terms of features, the Hero 11 is a great option - think 5K video, fantastic stabilization, time-lapse options, and more. While it's mostly thought of as a video camera, you can shoot 27MP stills as well. As with all products from GoPro, it's completely waterproof up to 33 feet and it's built to last, so you can truly take it anywhere on your adventures.
---
The Panasonic Lumix G100 impresses with its compact design packed with great features. With 4K video capability (although only for 10 minutes) up to 30FPS and 5-axis image stabilization system, it's a versatile piece of kit great for budding vloggers and content creators. The built-in microphone is of equally high quality, so you don't even need to add an external one to film videos (but the option is there if you need it). To top it all off, you can get fantastic bundle offers on this camera, like this deal at Best Buy which gets you a camera, a lens and a tripod grip for $599.99.
---
Another great budget buy from Panasonic, the ZS80 is an easy-to-use, lightweight camera with great features. Complete with 4K video capabilities, a 30x optical zoom, a pleasing retro design and a handy touchscreen, it's a nifty every day camera that produces good quality results. It fits into your pocket so you can take it on the go easily. And for less than $450, you can't ask for much more than that!
---
As its name indicates, the Olympus Tough TG-6 is a great buy for anyone looking for a hardy budget camera. It's waterproof up to 50 feet (even more than the GoPro Hero 11) and its shell can withstand more than 100kg of crushing force, so you won't have to worry about dropping it or lending it to your kids to try. And it's not just impressive in its resistance, either; it offers 4K video shooting at 120fps and five underwater shooting modes so you can capture all your adventures in HD.
---
How we test the best budget cameras
When it comes to buying the best cameras and our recommendations for what to buy, we make sure to rigorously review and test each product, so you're guaranteed an honest and up-to-date opinion. We test cameras based on construction, design as well as function and performance in the field.
We also look at how easy each camera is to operate, whether it can shoot high quality images and videos and if a camera has up-to-date technology or not. Sometimes, we like to make suggestions for a suitable alternative to a recommendation and look at any additional kit that would enhance the photography experience.
We only have expert staff and knowledgeable freelance contributors test out cameras, to ensure a fair, hands-on review from someone experienced in the field. This means that you get an informed and accurate review on cameras including their price point, class and destined use. So, for example, we wouldn't compare a 60MP full-frame mirrorless camera to a little crop-sensor DSLR as it wouldn't be appropriate, even if each camera was the best performing in its class.
Space.com operates with complete editorial independence to ensure you get the best buying advice on cameras possible. Whether or not you purchase an instrument or not, we strive to make all of our buying guides and reviews reliable and transparent.