Here we've rounded up the best cameras for astrophotography in one handy list to help point out the equipment which will help you capture your best astro images. When you've chosen one of the best cameras for astrophotography, the added bonus is that they are also typically versatile cameras that perform exceptionally in the daytime as well. This negates the need to spend on additional equipment, something we all want to avoid when living costs are forever rising. Remember, it's not all about the camera. Lenses are just as (if not more) important. That's why we've laid out the best lenses for astrophotography too. In our guide to the best zoom lenses, we highlight lenses for those individuals requiring more flexibility for a more straightforward composition.
DSLRs and mirrorless cameras have long been known for their night sky shooting prowess. Low image noise, high ISO capabilities, and flexibility for regular daytime shooting make them ideal devices for many users. However, there are also astro-specific cameras that traditional photographers often overlook. These specialized devices mount to telescopes for incredibly clear astrophotographs that can easily surpass DSLR or mirrorless cameras but are unsuitable for conventional photography.
You'll need to consider the performance of each system's noise-handling, a persistent issue in low light and night-time photography. Check how well the camera blocks infrared light, as this is the only way to view cosmic objects. Removing the IR filter can be done by a specialist post-purchase. Dimensions and weight are also essential factors for portability and durability.
Despite the common misconception, expensive doesn't necessarily mean best (for your purpose). Some cameras cost far less but give superior astro image quality. There does always tend to be a trade-off. That might be shooting flexibility or lens mount versatility. Of course, you won't be able to capture the stars without a tripod, so check out our guide to the best tripods for astrophotography to prepare yourself with the best possible setup.
Nikon D850: Best all-rounder
The Nikon D850 DSLR was released almost five years ago but still keeps up with the young kids on the block. The 45.7-megapixel image sensor on the D850 produces ultra-detailed stills photos while keeping image noise to a minimum. It even can shoot 4K UHD 30 frames per second video for those who want to make movies of the stars.
It is considerably heavier, bigger and bulkier than astro-specific cameras or its mirrorless competition. Still, thanks to its rugged construction and excellent weather sealing, it will last for many years, no matter what environment you choose to shoot in. Like all DSLRs, it has an optical viewfinder, making it a little more challenging to compose and focus for night sky imaging, but the rear tilting touchscreen fixes this problem. It has two card slots for SD and XQD/CF Express cards to ensure it can record all that incredible detail at speed.
As seen on the flagship D5 (opens in new tab), the D850 utilizes full button illumination, making it simple to operate in the dark without needing a headlamp. Its expandable ISO sensitivity range of 102400 practically sees in the dark. Although a high ISO will drastically reduce image quality, it can be helpful just to help you frame your composition if nothing else.
---
Fujifilm X-T4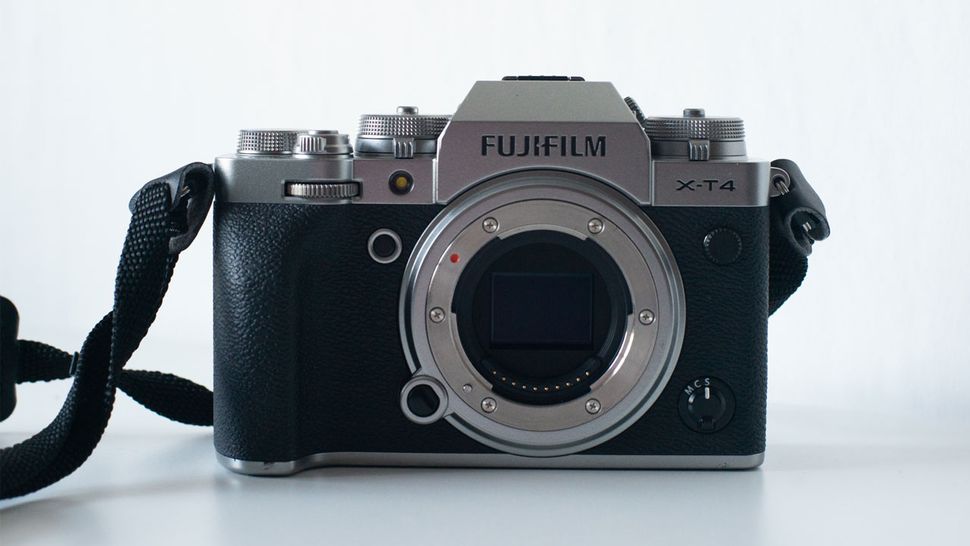 (opens in new tab)
The X-T4 is Fujifilm's flagship mirrorless camera and the most powerful X-series. It is an excellent option for astrophotography enthusiasts. The vari-angle screen makes composing shots much more comfortable than without, given the camera will be pointing at the sky.
The classic look of the camera makes it stylish, but the body-mounted dial controls make it easier to use in the dark if you can remember which dial does what. The 26.1MP APS-C sensor creates excellent image quality, and there are plenty of lenses available to fit this model to enhance them further. The Fuji X-T4 uses the NP-W235 battery with a CIPA rating of around 500 shots per charge in an everyday performance mode. When we carried out our full review, we found this can be much higher when shooting in the daytime. However, when shooting the night sky, the long exposures needed sap the battery more, so expect slightly fewer.
This camera is a versatile option for use with other types of photography. It has 6.5 stops of in-body image stabilization, excellent low light performance, and a high-speed processing engine, ideal for action or sports photography. It is also a top choice when it comes to timelapse photography. Check out our best cameras for timelapse videos for alternatives for this purpose.
---
Sony A7 III: Best for low noise astro shots
The Sony A7 III is a favorite among astrophotographers that like to shoot mirrorless and is one of the brightest stars of the astro camera world (pardon the pun). Though its electronic viewfinder isn't as detailed as others we've listed, it still provides a beneficial exposure-ramped view to aid with composing astrophotographs. Low light autofocus detection, while not as sophisticated as some in this list, still performs well by working in -3 EV.
Even when ramped up to a massive ISO 51200, this camera handles image noise well and produces excellent image results. For those not too worried about movie shooting (though it can capture 4K UHD at 30FPS), ISO can jump higher, expanding to an insane 204800 for stills photography.
Shooting for hours at night can drain the battery quickly, especially when you consider it has to run power both to the rear screen and the EVF. However, this camera is CIPA-rated well above average for a mirrorless of this type and can shoot 710 still shots via the rear LCD monitor. It is a touch more expensive than others in its class, but if you're after a natural low light performer that is also versatile enough to excel in other photography styles, the A7 III might be the one for you.
Sony A7 III Body: £1899 £1699 at very.co.uk (opens in new tab)
UK customers save £200.00. We;re not sure how long this deal will last but it's the cheapest on the UK market today.
---
Nikon Z6: Best all-rounder for mirrorless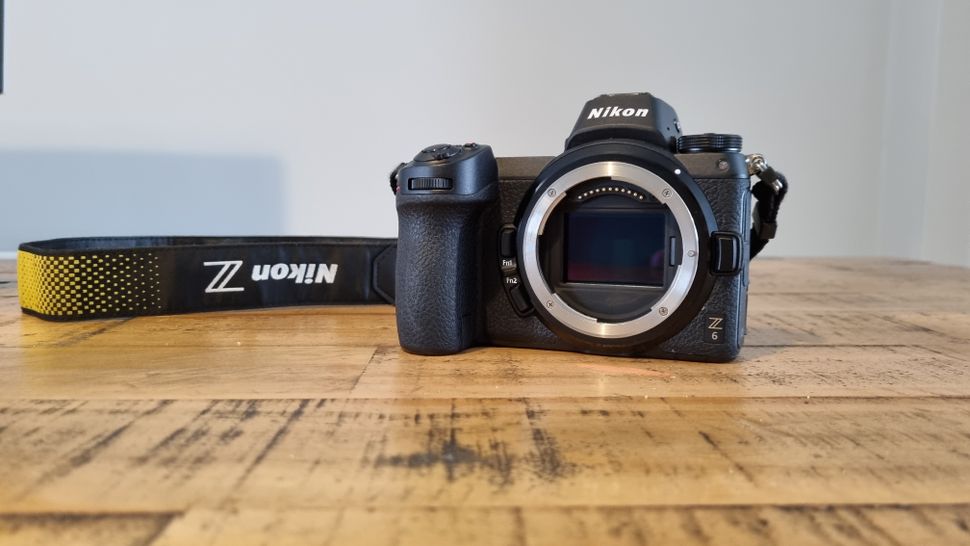 Though superseded a while back by the superior Nikon Z6 II (opens in new tab), the Z6 (one-half of the first two mirrorless cameras Nikon ever produced), is still one heck of a camera and excels in low light. For our money, we think the Z6 is better for astrophotographers than its big brother, the Z7, due to the lower resolution. A lower resolution on the same full-frame image sensor means less image noise detracting from the final shot.
The Electronic Viewfinder has excellent detail, with a million more dots than the Sony A7 III, and gives a realistic, clear image. Though the Z-mount lens range is expanding, it's still not as established as other models in this guide. Saying this, with an FTZ adapter, you can use any of Nikon's F-mount lenses from the past several decades, so this isn't a problem.
When reviewing this camera, we found that shooting even up as high as ISO 12,800 adds very little noise or softness to the image, making it perfect for low-light situations like astro. This is especially true if you're trying to pick out unlit objects or scenery to give the night sky some context. The image quality only degrades a little on the maximum and expanded settings.
---
Canon EOS 6D Mk2: Best budget astro camera
The Canon EOS 6D Mk 2 is an affordable DSLR for those wanting to dip their toes into astrophotography without breaking the bank. It does lack some modern features, but this is a brilliant full-frame option for its price point.
Its handy vari-angle touchscreen display makes it simple to compose the scene even if the camera is pointing skyward. For astro-shooters that like a moving image, the EOS 6D Mark II can shoot 4K time-lapses (in timelapse mode), making it perfect for detailed videos of the night sky, especially when paired with a slider or a star tracker.
Sadly, it only captures regular video footage at full-HD 1080p, but it records this at 60FPS for smooth results. Its dynamic range also leaves something to be desired, but if combined with plenty of calibration frames, this shouldn't make much difference after image processing. A single SD card slot might have nervous shooters biting their nails during longer sessions, but with 102400 expandable ISO and 26.2MP stills capture, you can relax knowing results will be clear and crisp every time.
---
ZWO Optical ASI183MC: Best for portability
This is a compact full color camera with it's own onboard cooling system to minimize noise whilst shooting long exposures. It is one of the best-dedicated astrophotography cameras out there, the ZWO Optical ASI183MC Pro is the color version of the ZWO Optical ASI183.
In our review of the ASI183MC Pro, we found it to represent a great step for those looking for a dedicated astro-imaging camera. You won't need to bring a stack of RGB filters when heading out to shoot. It's also much smaller and lighter than other astro cam. Still, at 1.6e read noise, it's a serious camera.
It's one of the more efficient camera models for astrophotography and provides a whopping 84% Quantum Efficiency peak. For an astro camera, it also has a high pixel count, at approximately 20.48MP. It shoots an all-out frame rate of 19FPS at full resolution, which makes the ZWO Optical ASI183MC ideal for solar or lunar imaging. However, if users drop the resolution down, there's the potential to shoot hundreds of frames a second if required. One downside, as with all dedicated astro cams, is that you'll need to plug it into a computer with dedicated software to run it. A fast USB3.0 port means a healthy data transfer for the higher frame rate captures.
---
QHY 8L CCD camera: Best for low image noise
With a price point comparable to many DSLRs, the QHY 8L cooled CCD camera is a one-shot color CCD camera worthy of being your next astrophotography camera. It comes with two-stage TEC cooling with construction designed to disperse heat quickly. This cooling method keeps the massive APS-C Sony ICX413AQ Super HAD CCD sensor below 40 degrees Celsius to minimize dark image noise.
Despite the cooling system, this astro camera is sufficiently portable, as it is narrow and lightweight. The overall build is good, with a matte finish to avoid glare and flare when used in Hyperstar systems. The maximum 6MP images, however, leave a lot to be desired. Compare this to DSLRs and mirrorless cameras which now capture around 50MP or more, and it seems paltry
---
ZWO Optical ASI533 Pro: Best for zero amp glow
The ZWO Optical ASI 533 Pro's most attractive feature is likely that it has zero amp glow. Although you can remove this in editing software, this additional processing time can stack up and reduce productivity, especially when considering that you could opt for an astro camera like this and avoid it altogether. By removing the need for extra processing, you're also keeping a cleaner, more efficient resulting image.
This camera only comes in a color version, so monochromatic enthusiasts should leave their RGB filters at home. It has a good 80% Quantum Efficiency and a quick 20FPS frame rate for those needing to shoot fast. As with almost all dedicated astro cameras, the ZWO Optical ASI 533 Pro needs an external power supply to work. A 9MP square sensor might seem a little unusual to some photographers, but it has 1.0e read noise and a 14-bit ADC for good dynamic range.
---
How we test the best cameras for astrophotography
In order to guarantee you're getting honest, up-to-date recommendations on the best cameras to buy here at Space.com we make sure to put every camera through a rigorous review to fully test each product. Each camera is reviewed based on a multitude of aspects, from its construction and design, to how well it functions as an optical instrument and its performance in the field.
Each camera is carefully tested by either our expert staff or knowledgeable freelance contributors who know their subject areas in depth. This ensures fair reviewing is backed by personal, hands-on experience with each camera and is judged based on its price point, class and destined use. For example, comparing a 60MP full-frame mirrorless camera to a sleek little crop-sensor DSLR wouldn't be appropriate, though each camera might be the best performing product in its own class.
We look at how easy each camera is to operate, whether it contains the latest up-to-date imaging technology, whether the cameras can shoot high-quality stills photos and high resolution video and also make suggestions if a particular camera would benefit from any additional kit to give you the best viewing experience possible.
With complete editorial independence, Space.com are here to ensure you get the best buying advice on cameras, whether you should purchase an instrument or not, making our buying guides and reviews reliable and transparent.
Conclusion
When searching the market for the best camera for astrophotography, there are some crucial factors to consider to help you decide. Budget is significant, with new users who want to dabble perhaps setting aside a little less than more seasoned photographers that will only settle for the very best images. However, image clarity is critical, and you'll find that larger sensors with fewer pixels can capture astro shots with minimal image noise. By negating the effects of image noise, we're able to process imagery more efficiently with better-detailed results.
While not particularly useful for astrophotography, autofocus may still be helpful for those who want to combine night-time shooting with near-twilight landscapes that show the brightest stars, planets, and satellites hanging above a beautiful foreground. A low EV rating on the autofocus ability is crucial for sharp shots in the dark.
Fiddling around with a dim-lit red head torch to set up your shot can be frustrating, so consider whether you need backlit illuminated buttons to help guide the camera setup in the dark.
Astrophotography-specific cameras have a predisposition to warm up during long exposure shots. Suppose you're interested in getting an astro camera that has built-in cooling to keep the performance of the image capture high, it will likely be larger and heavier, and a little noisier as the fans whir while operating.
Photographers must consider lens choice when choosing a camera for astrophotography. While most major manufacturers have excellent ranges of top-quality glass, not all camera models can accept the full range of lenses due to differences in mount types. Ideally, fast lenses with wide apertures and excellent optical sharpness and clarity are what to look for when shooting astrophotography. Pair this with a camera body that handles high ISO and image noise well and you should be ready to go.