Lego Star Wars deals 2023: top discounts on top sets
News
Contributions from
last updated
Discover the best Lego Star Wars deals this holiday season that credits can buy, with big discounts on top models.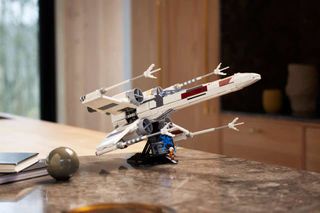 (Image credit: Lego )
Lego Star Wars deals are highly sought after, particularly during the holiday season and we've found the best credit-saving options from reputable retailers in the known galaxy.
There's no doubt that Lego Star Wars is one of, if not, Lego's most popular ranges and it's been that way since the late '90s. We're in a golden era of fresh Star Wars content with new movies and hit TV shows like "The Mandalorian" and "Ahsoka" and with that, comes plenty of fresh Lego Star Wars merch too. There's never been a better time to bag a bargain on a top Lego Star Wars deal as we head into holiday season at light-speed.
This page is updated year-round and we're paying extra attention to it for the holidays, so when new deals become available, you'll find them here. We've also been sure to include something suitable for everyone, whether that be fun builds with Padawans in mind, or serious behemoths, designed for collectors.
We do also have guides to the best Lego Star Wars sets and best deals on Lego Space sets if you want to do a little shopping around. So, if you would like to check out the best Lego Star Wars deals this Cyber Monday, read on below.
We've split this guide into sections, with the best Lego Star Wars deals at the top. After that, you'll find sections for Lego Star Wars helmets, and then Lego kits from each era of Star Wars, showing the lowest current prices on almost every Lego Star Wars kit on sale right now.
If you're looking for something specific, just hit "control + F" on your keyboard and type in the name of the kit you're looking for e.g. Millennium Falcon.
Best Lego Star Wars deals right now
Lego Star Wars Helmet deals
Star Wars isn't just about awesome spaceships and battle tanks. The iconic characters from the series are just as important, and you can celebrate many of them with the Star Wars helmets. Darth Vader, Boba Fett, even the humble Stormtrooper.
Obviously not everyone in the Star Wars universe is wearing a helmet, so you're not going to find a blocky bust of Luke Skywalker here. Now that we think about it, it's usually the baddies (aside from Finn, for example) who wear cool helmets, so you'll have to embrace the dark side of the Force if you starting collecting these.
The Mandalorian Lego Star Wars deals
The Mandalorian is, dare we say it, the best thing happening in Star Wars right now, and it has produced some fantastic Lego kits too. Whether you're looking for the Mando's iconic spaceship, The Razor Crest, or his adorable little companion Grogu (better known as Baby Yoda, or The Child), we've got you covered.
And for those of you still loyal to the empire, there are also a host of bad guy Lego kits from the show including the new Imperial Light Cruiser, a seriously impressive kit which also comes with a Moff Gideon Minifigure.
The Razor Crest - 75292
The Child - 75318
Mandalorian and The Child BrickHeadz - 75317
AT-ST Raider - 75254
Imperial Armored Marauder - 75311