We've rounded up the best Lego Star Wars sets that credits can buy this Cyber Monday and highlighted them below.
Black Friday may be over but we're still seeing discounts on some of the best Lego Star Wars sets as we head into Cyber Monday. Lego Star Wars sets have been around since the late '90s and we're living in a golden age of fresh Star Wars content, which means the there's more Lego options than ever before. We've even got a specific guide to the best Lego Star Wars helmets. The range of Lego Star Wars sets is highlighted below as you'll see something suitable for everyone, regardless of budget, building ability, budget and age. Such is the range available that you can get fun builds for kids as well as 7,000+ giant builds for serious collectors.
Of course, Star Wars isn't the only line of Lego sets available. If you want to do a bit of scouting around ahead of Cyber Monday, we also have guides for the best Lego Space sets and the best Lego Marvel sets as well as a Lego Star Wars deals hub.
We're hoping to see a number of discounts this Cyber Monday (November 27) as numerous discounts have continue through the Black Friday weekend. Retailers will compete with each other to offer the lowest prices so we hope that extends to the best Lego Star Wars sets. So, to check out the top models on the market, read on below.
The quick list
UCS Millennium Falcon
You know a set is going to be impressive when the Lego Store was recommending that people take it home using wheels rather than carry it. At the time, the UCS Millennium Falcon was the biggest set ever released. While Lego Millennium Falcons have impressed in the past with their detail, seeing this thing next to one of the lower cost models makes it look tiny in comparison. If you've got enough room to display this thing, and trust us, you might need to clear the spare room to do so, it's a must buy.
Yes, it's ludicrously expensive, but the price often drops quite significantly during sales. There will probably never be a better Lego Star Wars set, until they eventually make a 1:1 model of the Millennium Falcon you can actually fly. If there's any criticism at all, it's that it could do with a few more minifigures, but apart from that, it's perfect.
UCS Republic Gunship
Look, the prequel trilogy… wasn't great, but what was great about it, was the sheer number of cool new ship designs it introduced. One of the most iconic from Attack of the Clones is the Republic Gunship, and with Lego finally giving the prequel trilogy some UCS love, you can bring it home. The first thing you'll notice is a disappointing lack of minifigures.
While most collectors will have plenty of Clones, it's always nice to get more, especially for those that like to build up their armies. The ship itself though looks fantastic and captures the aesthetic of that era of Star Wars perfectly. It's pretty pricey for the lack of figures, but the Lego Star Wars Republic Gunship is a quality set packed with features, and will look pretty awesome on a shelf – as long as you've got enough space, of course.
X-Wing Starfighter
We've had a lot of X-Wings over the years. A lot. But undoubtedly, this Ultimate Collector's Series version of the iconic Starfighter is the one to beat them all. It doesn't look much different from the smaller versions we've had over the years until you see it up close and realize just how big it is. There's a great amount of detail here, and it earns its UCS status with gusto.
It also includes an excellently detailed Luke Skywalker minifigure, and the stand it comes with deserves praise for being so well-integrated to the model - there's little risk of it toppling over. You'll need a fair bit of desk space to get it on display, but you're going to want to show this one off if you pick it up.
Mos Eisley Cantina
Few Lego Star Wars sets are as impressive in size and scope as Lego Star Wars Mos Eisley Cantina. This gargantuan set really gives you a sense of the scale of the Mos Eisley Cantina, the Tatooine tavern that we were first introduced to in A New Hope. The set opens up to reveal a full interior inside, complete with seating booths, a well-stocked bar, and outside space to dock your landspeeder or Dewback.
The 21 minifigures included really finish Lego Star Wars Mos Eisley Cantina off, allowing you to bring it to life with familiar faces. Perhaps the only downside (aside from the big price tag) is that the size of the set makes it very awkward to display it to its full potential. It's the sort of thing you want in the middle of your dining table so you can look at it and open it up whenever you like. But, of course, that's just not practical.
AT-TE Walker
A new Lego AT-TE Walker has been at the top of Lego Star Wars fans' wishlists for years, and finally, Lego has delivered. It doesn't disappoint: this is the best AT-TE we've ever had. It packs in a ton of detail, particularly in the interior, with room for minifigures, a gunner control panel, weapons rack and more. Outside, you'll find moving joints, spinning guns and plenty of authentic detail.
There's a nice selection of minifigures here too, and it's one of the only sets you'll find Commander Cody in.
Luke Skywalker's Landspeeder
Forget the near-$800 price tag of the likes of the Ultimate Collector's Series AT-AT. This is one of our favorite UCS sets of recent years, and it's much more reasonably-priced. Lego Star Wars Luke Skywalker's Landspeeder looks fantastic, and regardless of how many Landspeeders have come before it, this is the one to end them all. Not only is it a lot of fun to put together, but the finished model makes an excellent display piece, thanks to the included stand and information plaque.
R2-D2
For a droid that's so famous for being shiny and smooth, we were very impressed by just how well R2-D2 fits the Lego style. Smartly built, this model not only leans back like the droid himself thanks to his retractable mid-leg, but can also open and extend his front hatches, pop out a moveable periscope, and rotate his head (inside of which is a secret compartment containing Luke Skywalker's lightsaber).
It's an expensive set at over $200, but there are few more beloved and recognizable Star Wars characters and it'll make a stunning centerpiece in any Star Wars fan's home. Plus, who doesn't want their very own sassy droid sidekick? It's also a fun build that combines some unique building techniques in order to accurately portray R2-D2 as the three-legged space dustbin he is. Now, when are we getting a 6-foot Lego Star Wars C-3PO?
Millennium Falcon
Would you like a Millennium Falcon Lego set that doesn't require you to move into a new five-bedroom house to store it? Well, you're in luck. Following the redesign in 2017 for Star Wars: The Force Awakens, this new Millennium Falcon design was used again for Rise of Skywalker, giving us an affordable option that looks great.
The minifigure selection is a bit of a mixed bag – on the one hand, it's cool to get an older Lando, but on the other, a Millennium Falcon without Han Solo just feels wrong. This set is also due to retire next year, as Disney steps away from the sequel trilogy era, so it may be worth picking this one up before your only option is to sell your car in order to get the big boy… more on that later.
Razor Crest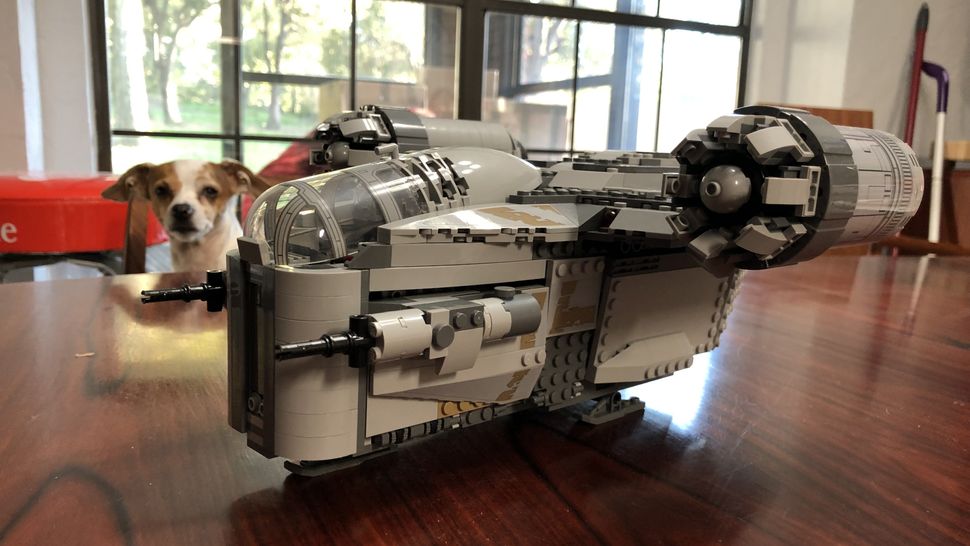 The Razor Crest is one of the very best designs of the modern Star Wars era. Everything about The Mandalorian was so cool, combining retro Star Wars aesthetics with modern technology to make something that just looks fantastic – it's as if the Razor Crest could have been a discarded concept ship from the 70s.
This set is also a great way to grab Mando, The Child, and a few more figures, making for a very complete set. It's getting harder to find as the years go on, so we'd recommend picking this one up sooner rather than later. This is the way.
AT-AT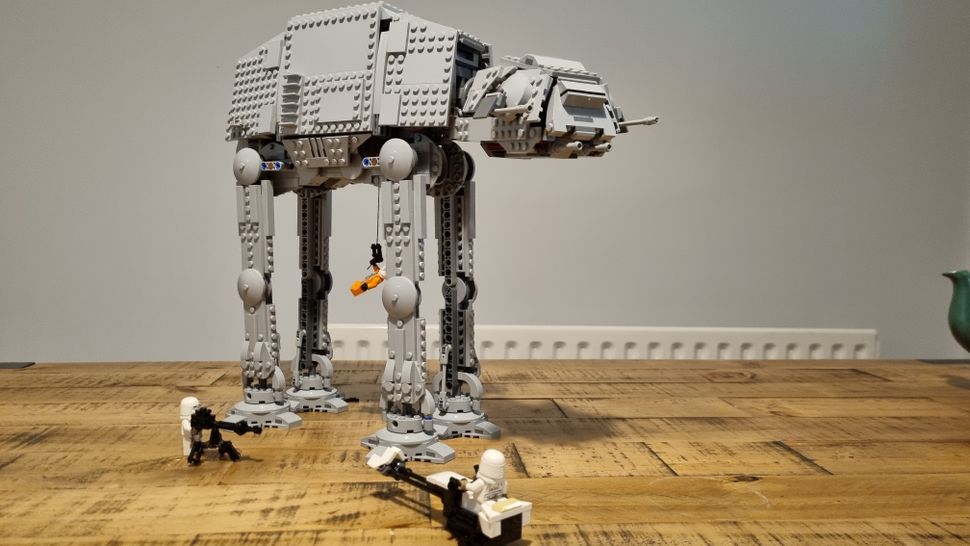 If you asked for the Lego Star Wars AT-AT, you might initially have a heart attack at the price. There's now a $850 AT-AT model in the Lego Star Wars family, making it the most expensive set in the history of the line. But, fear not, there's a cheaper set that looks almost as good, even if it's about half the size.
The Lego AT-AT comes with a cool selection of minifigures, and has space inside the model to display them. The legs could be a bit sturdier, but considering they were taken down by a dinky little ship with a bit of cable strapped to the end, it might be a more realistic depiction of the walker than we first thought.
Boba Fett's Starship
For its price point, you don't get many Star Wars ships as good as this. Boba Fett's Starship may be small compared to some, but it packs in a huge amount of detail. Honestly, we'd love to see more Star Wars ships get this treatment: it's the perfect size for play, while still having enough detail to be an excellent display set, too.
Our only complaint is that the cockpit is a little cramped, but it's just about big enough to get a minifigure in there. Elsewhere, there's room for a gamorrean in carbonite to be stored in the rear. What's particularly neat is it comes with a stand allowing you to display it upright – as the Starship should be!
BD-1
We're now at a point in time where even Star Wars video games are cannon, and that means we've got a Lego model of the fantastic BD-1, featured in the Star Wars Jedi video game series. It's a super recreation, too, with a great amount of detail. We particularly love the cabling around BD-1's legs - and the fact that it's posable.
Despite being over 1,000 pieces, this is a rather quick and easy build, and one that's great fun to put together. Our only real complaint about the set is that it doesn't come with a Cal Kestis minifigure - it would have looked great alongside the mini BD-1 on the display stand.
N-1 Starfighter