Space and Lego. Is there any better combination? We don't think so, especially when there's some great Lego space deals to be had. We've rounded up some of the biggest bargains from across the vastness of space right here.
Lego space sets come in a variety of shapes and sizes. There are fun, unrealistic playsets aimed at younger builders. Then there's giant models, based on real NASA properties, aimed at adult builders. Our best Lego space deals, which you can find below, encompass all types of sets, and we update them weekly to ensure you're always going to find the best bargain.
And so, whether you're looking for a deal on something as impressive as the Lego NASA Space Shuttle Discovery or a fun-loving space rocket featuring Mickey and Minnie Mouse (opens in new tab), if they're on offer, you'll find them below.
if you want to know more about some of the kits mentioned below, be sure to check out our guide to the best Lego space sets. We've got in-depth reviews on many of the space sets you'll see below that tell you what these kits are like to build.
For more unmissable Lego deals, be sure to check out our Lego Star Wars deals hub and our round-up of the best Lego deals in general.
Lego space deals
Lego Icons Galaxy Explorer - $99.99 at Lego (opens in new tab)
As part of Lego's 90 year anniversary celebrations, a number of classic sets are being revived. One of them is the 1979 Galaxy Explorer set: it's had a makeover and upscaling for 2022, and this 1,254 piece set is releasing on 1st August. Pre-orders are open now, and there's currently double VIP points available at Lego, meaning you'll get approximately 10% of the price back in points to go towards your next order.
Lego Creator 3-in-1 Space Mining Mec:h $24.99 $20.00 at Amazon. (opens in new tab)
Save 20% - This might not be the most realistic Lego space set, but it's a lot of fun and offers up a variety of play options for younger builders. As a Creator 3-in-1 set, it comes with two alternative builds: the primary mech, a spider-type robot, and a taller two-legged mech. It also features a ridiculously cute green alien.
Lego Creator 3-in-1 Space Mining Mech $24.99 $20.00 at Walmart (opens in new tab).
Save 20%: Same deal as above, only at Walmart this time. With this Lego Creator 3-in-1 Space Mining Mech when you get it from Walmart. There's plenty of fun to be had with this 327-piece set that allows you to build a mech toy, a cargo carrier and a cool space robot toy.
LEGO DUPLO Town Space Shuttle Mission $19.99 now $16.00 on Amazon (opens in new tab).
Save 20% on what could be the perfect deal for a young child in your life who loves all things space. It comes with 23 pieces, so is easy to build, features figures and a rocket too. At a time where deals are thin on the ground, launch some excitement into a child's life with this set.
Lego International Space Station $69.99 from Amazon (opens in new tab).
This impressive 864-piece buildable replica of the International Space Station is a hard to find set and you'll do well to find a better price. It comes with minifigures, rotatable joints, adjustable solar panels and more. It's not currently on offer, but this set is hard to find so we think it being in stock here is noteworthy.
NASA Lego sets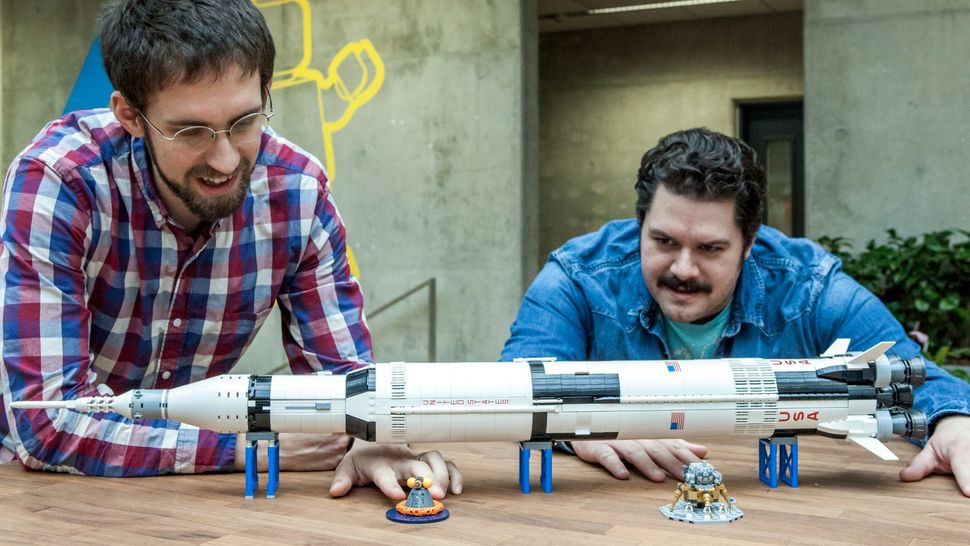 This section includes deals on some of the best sets Lego has to offer on kits that are based on real world spacecraft and space stations, designed in collaboration with NASA. Although you could use these sets as toys, they are centerpiece items and would work better on display, due to the number of pieces and the difficulty to build.
Ranging from rockets and shuttles to the International Space Station, the NASA Lego sets section of this guide has a great variety of products for you to choose from.
Lego NASA Apollo Lunar Lander
Lego NASA Space Shuttle Discovery
Lego NASA Apollo Saturn V
Lego International Space Station
Legp NASA-inspired Artemis sets
Like the above kits, the following Lego space kits were made in collaboration with NASA, but these are more inspired by NASA concepts than based on actual machines.
The Lunar Research Base and Lunar Space Station give us a glimpse into what the future of our efforts on the Moon will look like, while the Rocket Launch Center shows us how we might be getting there. It's all based on concepts drawn up for NASA's ambitious Artemis project.
Lego City Lunar Research Base
Lunar Space Station
Lunar Roving Vehicle
Lego City Rocket Launch Center
Lego space and alien sets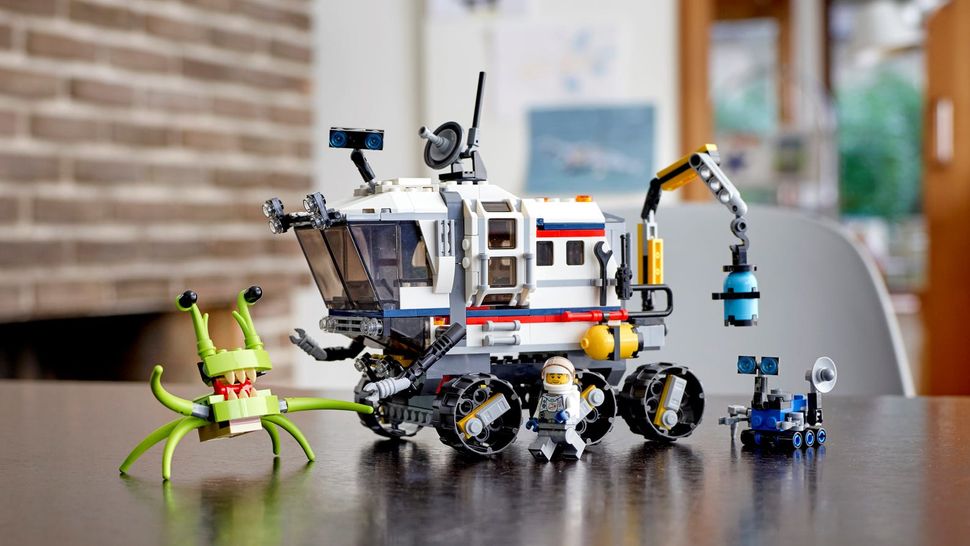 It's not just NASA inspired kits that Lego makes, but they're also responsible for more general space sets and cool toys. These Lego space sets are cheaper than the Lego NASA ones and are better for playing with. That said, the play sets don't necessarily have the display factor as collectable sets.
These sets are better suited for younger children, but that doesn't limit the fun to just children, anyone can have fun while building or playing with them.
Lego Space Shuttle Adventure
Lego City Deep Space Rocket and Launch Control
Lego City Mars Research Shuttle
Lego Space Rover Explorer
Lego Space Mining Mech
Lego Cyber Drone
Lego Mickey Mouse and Minnie Mouse's Space Rocket
Lego Satellite
Lego Duplo Space Shuttle Mission
Lego Overwatch Watchpoint: Gibraltar