If you're looking for the best tripods on the market, you've come to the right place. Finding the right tripod for you is important as it can be a crucial component of any photographer's arsenal. While they aren't necessary for every type of photography, tripods are essential for astrophotography and long-exposure photography, as well as all the other camera accessories for astrophotography.
To help you make an informed choice, we've tested, rated and reviewed the best tripods currently available, with options for every price range and level of photography expertise.
Partner one of these tripods with the best cameras for astrophotography and best lenses for astrophotography, and the sky's the limit. Get the angle you want, keep the camera perfectly still to shoot the cosmos, and get those out-of-this-world astro images you've always dreamed of. Then, edit them with one of the best photo editing apps and you'll see them with maximum wow factor.
Best tripods 2023
Best tripods 2023 ranked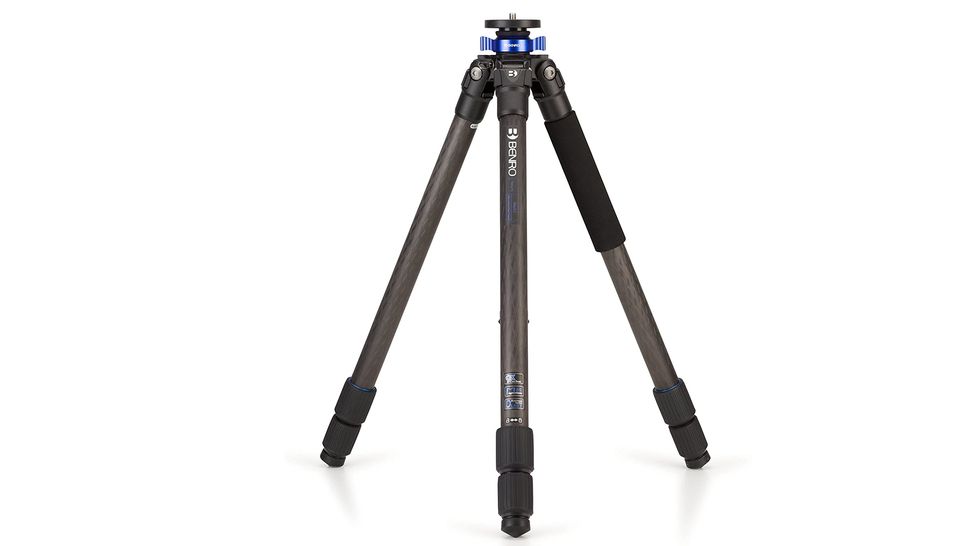 The Benro Mach3 9X CF TMA37C is a surprisingly light tripod, despite its chunky look and feel. While not a travel tripod, it has been made with the flexibility and portability requirements of serious landscape photographers in mind, making it a great option for dedicated astrophotographers as well. It has been designed for durability, reliability, as well as excellent performance in all weather conditions.
The Mach3 series of tripods feature a range of different configuration options and come in both carbon fiber and aluminum. At this size, the weight difference between the carbon fiber and aluminum models is quite apparent but as expected, the carbon fiber model is going to set you back more money.
Although adding the head separately will increase the tripod's already high cost, you can then customize it to suit your own preferences and requirements. However, there are a few extras you get for your money, like a set of spikey feet and a shorter central column, which are helpful when you are shooting low to the ground.
The carbon fiber version of this tripod is very pricey, so there's no way to ignore that it's a big investment for some. Nevertheless, you do get what you pay for in terms of quality, and because of its long-lasting build and meticulous attention to detail, you'll be able to use it for many years to come.
---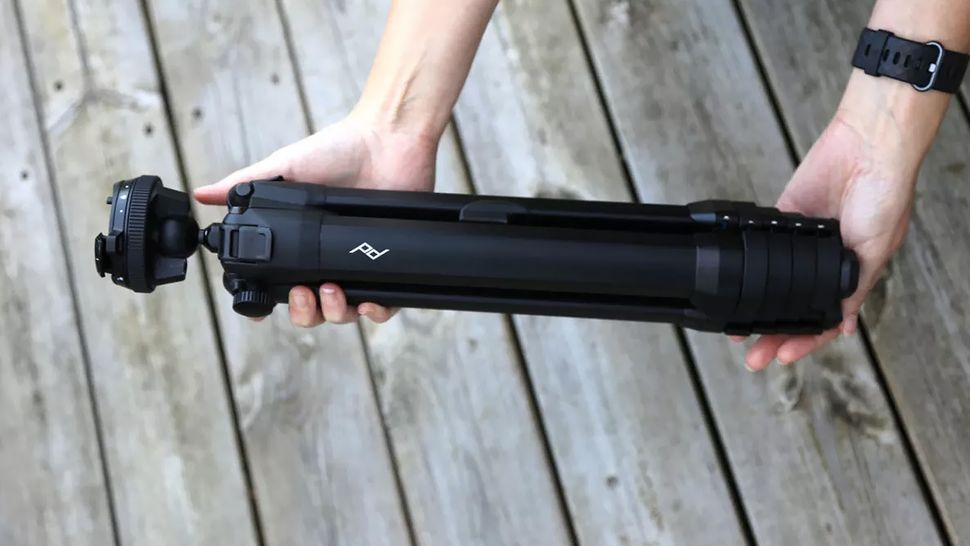 The Peak Design Travel Tripod is as compact a travel tripod as you're likely to find and it's ideal for anyone considering all types of photography, not just wide-field astrophotography. It has been cleverly designed into a super-sleek, neat and compact package with no wasted space. It can easily fit into a daypack or your luggage when space is precious since its three legs and ball-head collapse to meet with no gaps.
Although it's clearly designed for travel, it isn't the lightest travel tripod on the market. Both aluminum and carbon fiber versions are available, but as you'd expect, the carbon fiber version is almost double the price and weighs less. The carbon fiber model is only slightly lighter, at 2.8 lbs, and in our opinion, isn't really worth the extra money. We think the aluminum option, at 3.4 lbs, is a better choice in terms of value.
As we discussed in our Peak Design Travel Tripod review, the height of this tripod might be a bit of an issue for taller users. Despite having five leg sections, it is around ten inches shorter than comparable models available on the market. But, if you're using it with a camera that has a fully articulating screen, this shouldn't be an issue.
Although the Arca-Swiss quick-release tripod plate is incredibly stable and capable of supporting loads of up to 20 lbs, it does require a hex key to lock the camera in place, which is tricky to do in the dark. Another neat travel feature is a swivel lever to rotate the ball head, which means there's nothing protruding and getting in the way.
The Peak Design Travel Tripod will prove a smash hit for astrophotographers, especially those wanting something easy to transport and quick to set up. It's compact when packed up and proves great for outdoor performance.
---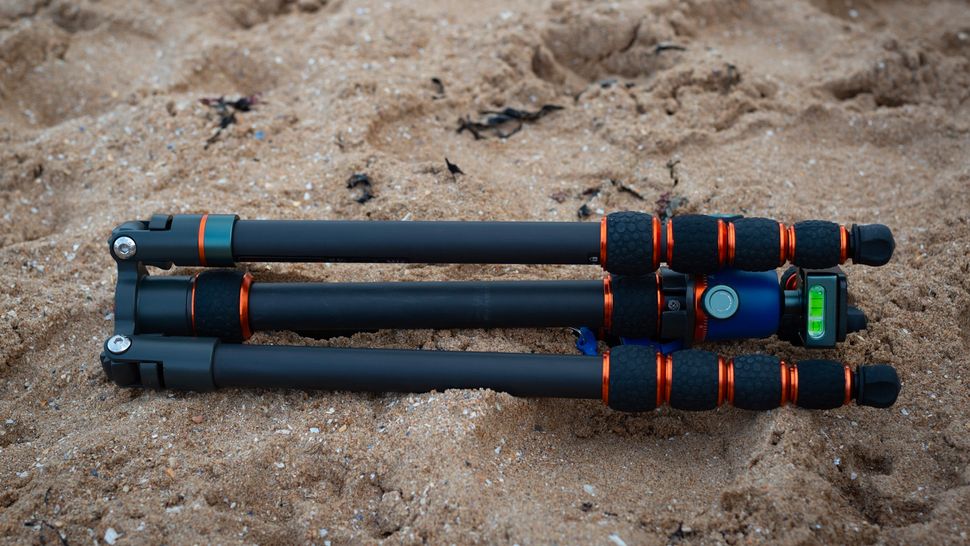 The Brian tripod by 3 Legged Thing is a highly portable travel tripod that incorporates some pretty solid engineering design. As we noted in our 3 Legged Thing PUNKS Brian Tripod review, it's simultaneously one of the tallest tripods when fully extended yet also one of the most compact when folded down, which is no mean feat.
While it's not the lightest tripod on the market, at 3.1 lbs, it's certainly not going to be too cumbersome to carry around for a day or night. Although it is more expensive than its nearest rivals, we believe it is worth the investment because it has an outstanding quality feel to it.
We found it to be easy to put up and take down in low-light conditions thanks to the tactile bubble grips on the knobs and leg extenders. However, the camera connects using a hex key rather than a D-ring, which can be a little difficult, especially in the dark, but they do include a tool for it that attaches to the tripod's body with a carabiner.
The Brian tripod from 3 Legged Thing can support up to 30 lbs of weight, and it did so with no complaints when a heavy DSLR with a short zoom lens was attached. Even though we did find instances of the camera "falling into place" after being fixed in its compositions with a very long lens, we think it has more to do with weight distribution than the actual weight. But this is really the only small criticism for a piece kit that otherwise meets the needs of an enthusiastic astrophotographer.
---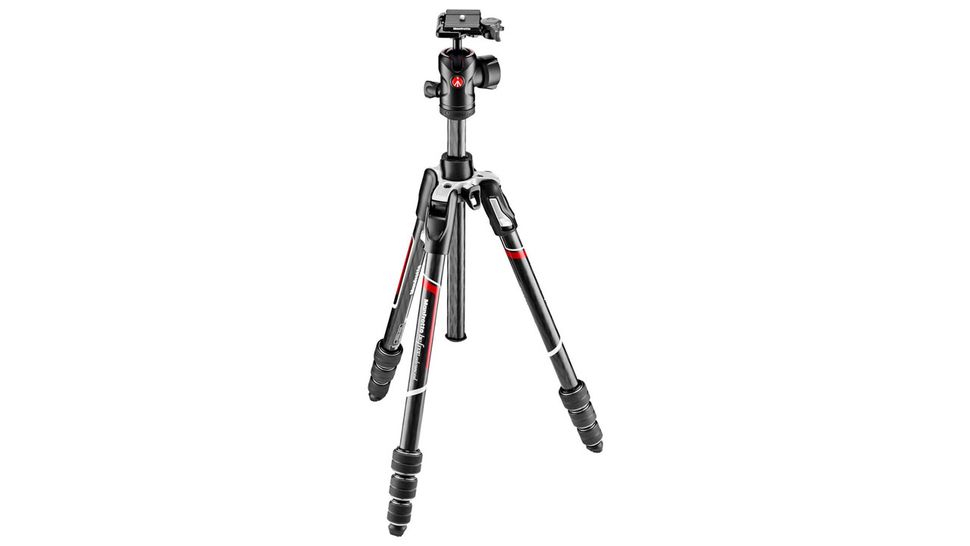 Although carbon fiber tripods are the lightest kind available, they are also more expensive than their aluminum siblings. The Manfrotto BeFree Advanced Travel Tripod keeps to a reasonable height and price tag due to being mid-size and constructed from aluminum.
The perfect tripod to use at night needs to be three things: a lightweight tripod that is portable, has quick-setup and quick-takedown fittings, and rigidity and solidity that can be trusted to hold your camera steady even in windy weather. The Manfrotto Befree Advanced Travel Tripod has all of that. It's one of the lightest aluminum travel tripods we've tried, but because it takes up a lot of room in luggage, it's not exactly the most travel-friendly design. But, its exceptional build quality and reliability in the field still make it a solid choice.
As we found in our Manfrotto Befree Advanced Travel Tripod review, it has an unusual fold-down configuration whereby the three legs fold through 180º to meet the ball head. Even though we initially found it fiddly, it's simple to do in the dark once you get the hang of it.
The four-section legs are fixed with soft twists and can be erected to a full height of 59 inches. The camera connects to the plate with a D-ring and is compatible with the RC2 and Arca-Swiss plate attachment. The same model is available in carbon fiber which is more expensive but weighs a little bit less at 2.75 lbs.
---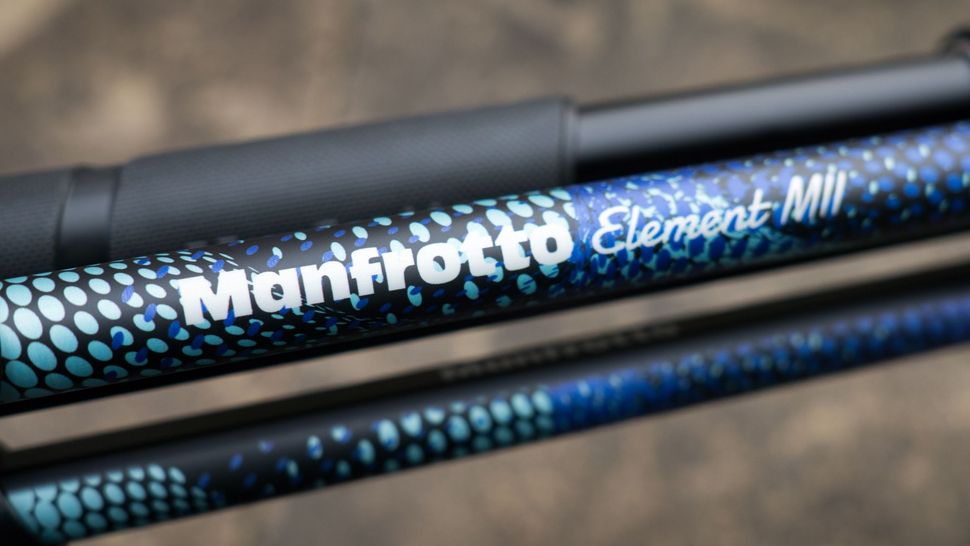 The Manfrotto Element MII tripod is a mixture of stylish design with practicality and ease of use. It would be a fantastic choice for any hobbyist or beginner photographer on a tighter budget, and it is sure to last you through plenty of shoots.
In our review of the Manfrotto Element MII, we liked how easy it was to set up and take down, with the rubber twist locks and compact size — which even made it easy to set up and take down in the dark. It is strong but lightweight, and it can bear weights of up to 8 kg, which is sufficient for the majority of photographers. It has four leg sections and extends to a height of 160cm, which should be ample for most shooters.
Although it did slightly dip when the legs were fully extended and widely splayed, it shouldn't be an enormous issue because we can't imagine a situation where you'd need this setup. There is also a bit of 'falling into place' if you're using a particularly heavy setup. But, if you're looking for something reliable that does the job for an affordable price, you can't go wrong with this tripod. It does what it says on the tin.
---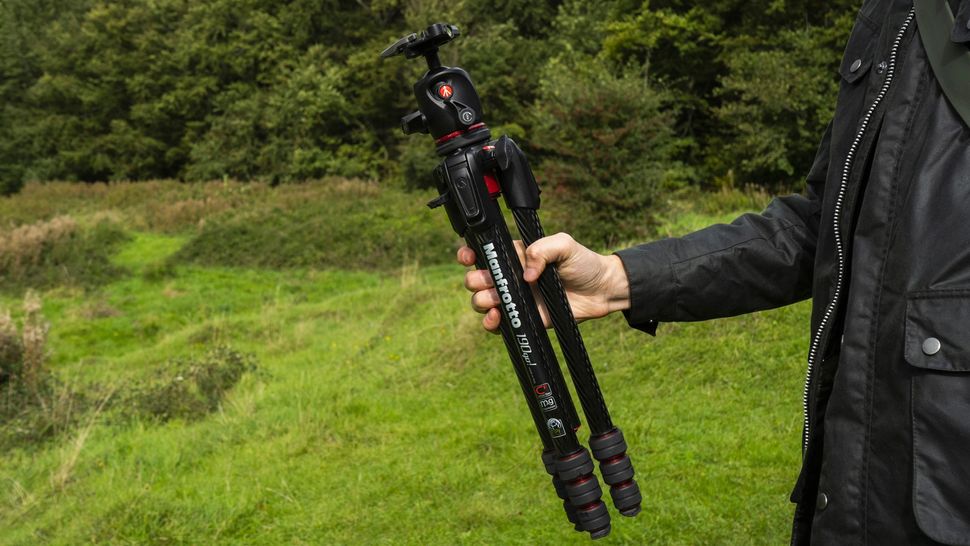 Advanced photographers and enthusiasts who need a portable, reliable base for their camera continue to appreciate the Manfrotto 190 Go! tripod series— even though it was launched almost five years ago. The price has only dropped slightly since our hands-on Manfrotto 190 Go! review of the carbon fiber version, which shows it's still a desirable product that will stand the test of time.
There are multiple variants available; you can choose from carbon fiber or aluminum construction, different heads, and leg sections, but the speed with which each 190 Go! tripod can be operated is what sets them apart. For amateurs or casual photographers, the highest-end model is probably too pricey, but the aluminum variant, which is more affordable, might be a better fit.
The easy assembly is thanks to an 'M-lock' mechanism, a super speedy twist lock that allows you to unlock the leg and set the right height up in just a few seconds. Other key features include a versatile 90-degree central column that can swing out into a horizontal position, plus a Link attachment for adding extra accessories. The leg positions can be held at 25, 46, 66, or 88 degrees. The whole combo weighs 4.1 lbs and can support a maximum load of 14.3 lbs which is not bad at all.
These discreet M-locks not only enable quick setup but also result in streamlined legs without any protruding parts that could get caught on a suitcase during packing. The rubber grips on the locks themselves are easy to get hold of even in the dark.
---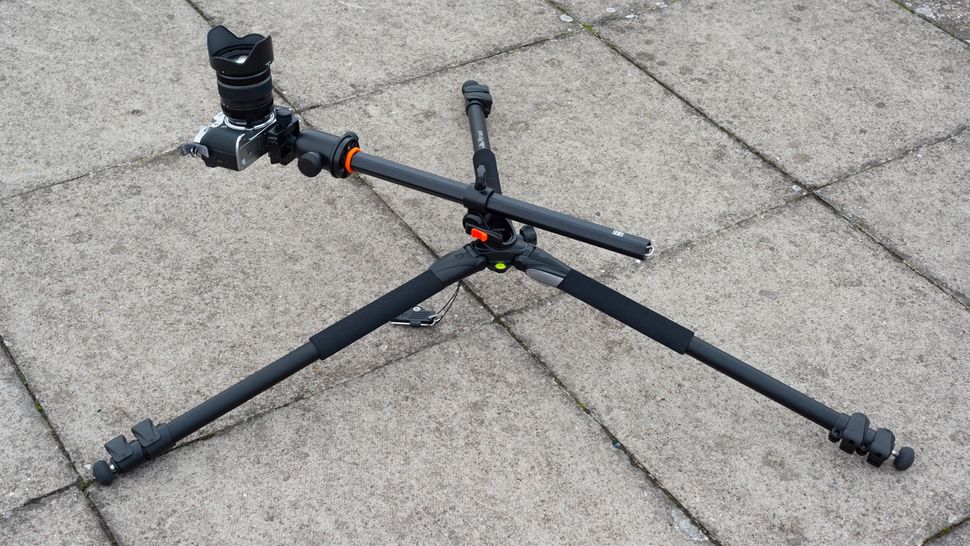 The star attraction of the Vanguard Alta Pro 263AB is its sheer flexibility and the various multiple positions it can be put into. In addition to the traditional tripod set up, the legs can be spread out from upright at a 25-degree angle all the way to approximately 90 degrees from the center column. Additionally, the center column comes out and can be angled at 90-degrees from the fully splayed legs, which means the camera can be as low as ten inches from the ground. The lower to the ground your camera is, the more stable it will be, which is particularly useful when capturing star trails with very long exposures.
With only three leg sections on each leg, there are only two clips to fix when setting up the tripod, and we found it to be sturdy enough to keep the camera still in a light-to-moderate breeze during long exposures. It was easy enough to put up and take down in the dark, though the same can't be said for the connector plate which requires a hex key. However, considering that the tripod comes with two plates, the idea is probably that you just leave it attached to your camera at all times rather than taking it off at the end of a shoot.
As we stated in our Vanguard Alta Pro 263AB tripod review, this tripod is a brilliant all-rounder. If you enjoy shooting a variety of different styles of photography, this could be the option for you. It might not be the best option solely for astrophotography, though, as its size and weight might make you reluctant to haul a 5.38-lb tripod about at night. Despite this, it's still a great, versatile tripod for the price you pay.
---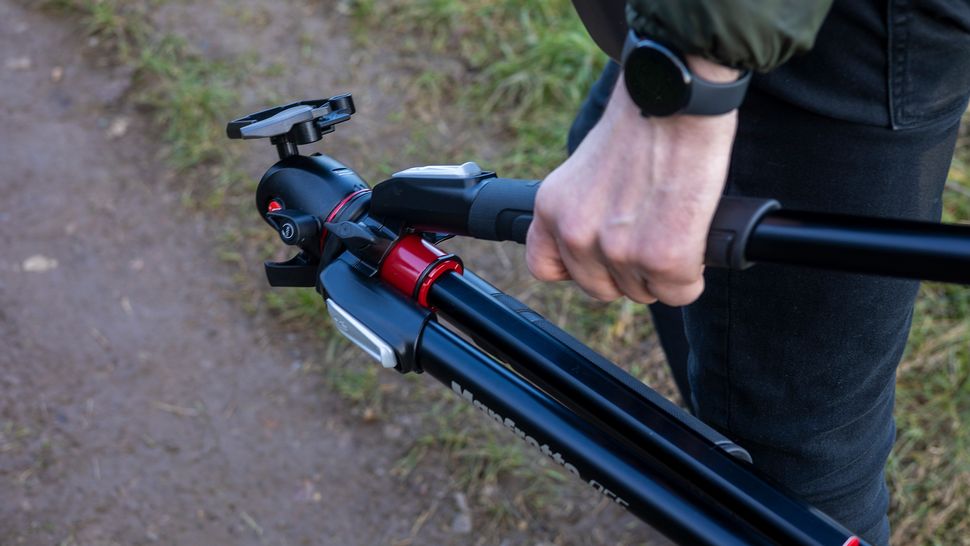 The Manfrotto MK055XPRO3 BHQ-2 is designed for studio photographers who often go out on location for shoots. Although it's primarily designed for mirrorless camera systems, tests suggest it can also happily carry a medium format rig. It's made of aluminum and has the weight and durability of a studio tripod, yet is nonetheless compact and lightweight enough to pack neatly and carry for short periods.
One of the key innovative features of this model is the Easy Link connector which is designed to attach arms, holders, lamps and reflectors. The legs are extended and secured with a new power lock system that uses flip locks rather than leg twists. In our Manfrotto MK055XPRO3 BHQ-2 review, we found it to be much more useful to a studio photographer working outdoors than it would be to an astrophotographer, and could quite possibly be overkill for beginners. That said, if you're planning on using lights creatively with the backdrop of the night sky, this could well be the tripod for you.
---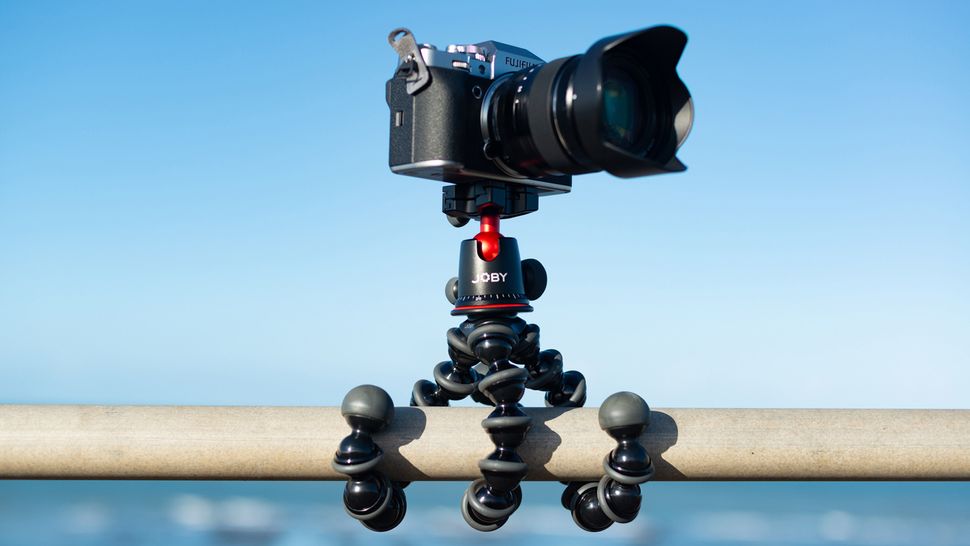 Instead of having extendable legs or intricate knobs and levers like larger tripods, the Joby GorillaPod 5K Tripod is made up of articulated ball joints, making it a totally different creature from conventional tripods. With a length of only 15 inches and a weight of just 2.09 lbs, it is remarkably lightweight, portable, and adaptable.
It's designed to be fixed in place by twisting into shape around railings, trees and just about anything in the urban landscape as well as rocks and craggy natural landscape features. It can also be free-standing but we found that it isn't quite as stable in this configuration.
It is made from aluminum, plastic and stainless steel, making it strong enough to carry the weight of a DSLR plus zoom lens as well as lighter equipment and smartphones. The major drawback, though, is that you have to rely on what you can attach it to in order to create your composition, which means you don't have nearly as much creative freedom as you would with a conventional tripod. We noted in our Joby GorillaPod 5K Tripod review that it was made with content creators, vloggers and Instagrammers in mind due to its portability and ease of on-the-go use. If you're using it for an astro shoot, it would be really difficult to level it, so if that's your specialty, we'd say it's probably not the best option.
It's a great option if you're just starting out with photography but for those who are more into it, it's more of a bonus addition to your kit for those 'just in case' moments rather than a replacement for a full-sized tripod.
---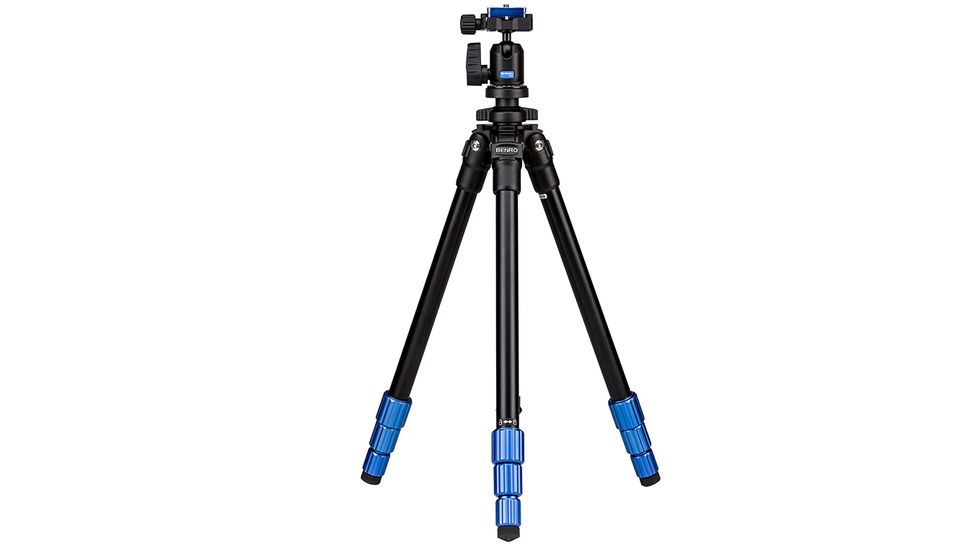 For those nights of trudging between vantage points or those days when you might need a tripod but don't quite know what the day holds in store, you can't beat the Benro Slim travel tripod. This compact, well-constructed tripod was designed with portability and movement in mind, and includes everything that a beginner landscape or astrophotographer needs to get started in long-exposure photography.
Although the Benro Slim was developed for the increasingly popular mirrorless systems, it can also handle the weight of a DSLR and zoom lens remarkably well too. Furthermore, it offers excellent construction from a reputable company at a price that won't break the bank, even for the carbon fiber version. It's sturdy, dependable, compact, and most importantly, lightweight enough that you can always keep it in your camera bag in case you need it.
It's available in both carbon fiber and aluminum versions which differ only in weight and price point, as you'd expect, the aluminum one is slightly weightier but also slightly cheaper. It's very easy to put up and take down in the dark and features anodized aluminum leg twists that secure into place with half a twist. It uses a standard Arca-Swiss connector plate that slides in easily and is secure enough for a range of mirrorless and DSLR lenses.
---
How we test the best tripods for astrophotography
To guarantee you're getting honest, up-to-date recommendations on the best tripods to buy here at Space.com, we make sure to put every tripod through a rigorous review to test each product fully. Each tripod is reviewed based on many aspects, from its construction and design, to how well it functions and performs in the field.
Each tripod is carefully tested by our expert staff or knowledgeable freelance contributors who thoroughly know their subject areas. This ensures fair reviewing is backed by personal, hands-on experience with each tripod and is judged based on its price point, class and destined use.
We look at how easy each tripod is to operate, whether it contains the latest up-to-date stabilizing technology and look at its weight and portability. We'll also suggest if a particular tripod would benefit from any additional kit to give you the best photographing experience possible.
With complete editorial independence, Space.com are here to ensure you get the best buying advice on tripods, whether you should purchase one or not, making our buying guides and reviews reliable and transparent.
Tripod Frequently Asked Questions
How many legs does a tripod have?
Tripods have three legs. The term 'tri' comes from the Latin 'tres' or Greek 'trias' which means 'three.' However, tripod legs can have multiple sections. There is no defined limit to how many leg sections a tripod can have, but they typically vary between one and five, with three and four leg sections being the commonest.
The Joby GorillaPod 5K has one leg section because its legs are flexible and don't extend in the traditional sense. However, the Peak Design Travel Tripod has five leg sections.
Generally, the fewer leg sections a tripod has, the more stable it is. However, a tripod with fewer leg sections may not pack down as small as something with more leg sections. Note the size difference between the Benro Mach3 TMA37C (three leg sections, folded height: 24.6 inches) and the Peak Design Travel Tripod (five leg sections, folded height: 15.4 inches) to see how that works.
How does a tripod work?
A traditional camera tripod is used to stabilize a camera for photography or videography in order to keep compositions still. This is useful during longer exposures because camera movement during the exposure will blur an image. Often this is unwanted when taking stills photographs, however some photographers like to use Intentional Camera Movement (ICM) to deliberately blur an image in one direction for artistic affect.
ICM is typically done through the use of a tripod head which can be locked off to move in one direction only, like a three-way head, rather than a ball-head which can move in 360-degrees.
What makes a good tripod?
Aluminum vs carbon fiber tripods: Which are best?
Most tripods are made of either aluminum or carbon fiber. The latter is much lighter and therefore easier to carry around, but typically more expensive. Aluminum tripods are generally cheaper but slightly heavier and can get colder, affecting handling and functioning on colder nights when taking astrophotographs.
There are a few things to consider before you grab one of the best tripods to ensure it meets your requirements. These are namely stability, portability, weight and price.
You'll have to weigh what you want to prioritize, especially if you're using one of the large and heavy best zoom lenses for your night sky images.
Removable feet, in-built spirit levels, and tripod head compatibility are all things to consider when picking your tripod. You can also check out our guides for the best lenses for astrophotography, and the best camera backpacks.
As you can see from our selection above, there's a lot to consider when investing in a tripod. But they're essential if combined with any of the best cameras.
What does tripod payload mean?
The tripod payload is the maximum weight (in pounds or kilograms) that it can support. The payload would be the combined weight of the camera, lens and any camera accessories attached to the tripod. Add up the combined weight of all these items to see if a tripod will support the gear you're planning on using.
Bear in mind that a tripod may support payloads greater than its stated maximum payload, but its sturdiness and resistance to wind may be compromised. So if a big gust of wind blows through and you're over the payload, the tripod may fall over.
What height tripod do I need?
Some people argue that smaller travel tripods don't always offer enough height for easy camera operation but that depends entirely on how tall you are and it's not quite so important for astrophotography.
Most of the models we've reviewed here have legs that can be splayed wider to allow the camera to be set up quite close to the ground. The lower center of gravity can increase stability for long-exposure night sky photos, but flexion in the legs must be noted when doing this.
Tripod legs: Twist or flip locks?
Tripod leg sections are extended and secured with either flip or twist locks. The twist lock design tends to be more secure but some manufacturers, notably Manfrotto, have bucked the trend and devised some particularly secure flip locks.
Should I change my tripod feet?
Tripod feet are generally made from a thick rubber that has good traction on an array of surfaces and many — but not all — are designed with the option to unscrew them and attach either spiked or clawed feet for better purchase on rougher ground and sand.