The best night vision binoculars allow us to see in the dark without the need for flashlights, headlamps, street lighting or the moon phases to help our vision after sunset. You can bag some great deals this holiday season if you're looking for a discount on a potential gift.
Night vision equipment uses sensors similar to digital cameras to collect light and amplify it. This information is displayed as a small on-screen display in front of your eyes, similar to an electronic viewfinder on a mirrorless camera. Many augment this with an infrared illuminator, which projects a light we can't see, then gathers its reflected returns and shifts them into something we can make sense of.
There is a vast range of options available to buy online. Unfortunately, many of these turn out to be either poor-quality, leaking light into the human visual range and thus ruining natural night vision, or quickly discontinued, making it near impossible to replace or repair if they go wrong. It's best to buy something reputable that comes with a warranty.
There is some good news when it comes to buying the best night vision binoculars because the holiday season is here and retailers are holding discounts so you could see some big offers.
Lots of devices labeled as night vision binoculars are not binoculars at all. They typically have two lenses at the front, one for the camera and one for the infrared illuminator. In other words, a night vision monocular is the same as many 'binoculars,' with a smaller display for a single eye. Keep reading to find our pick of the best night vision binoculars, monoculars, and goggles at every price point.
If being able to see in the dark isn't essential for you, have a read of our guide to the best binoculars, which feature more generalist all-purpose models. If you are simply looking for a means to light up dark areas or be able to work in the dark and discrete 'night vision' isn't essential, check out our guide to the best headlamps for astronomy and low light scenes on the market.
Today's best night vision binoculars deal:
Why you can trust Space Our expert reviewers spend hours testing and comparing products and services so you can choose the best for you. Find out more about how we test.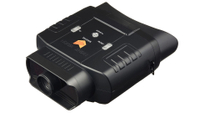 (opens in new tab)
Nightfox 100V night vision binoculars: was $99.99, now $79.99 on Amazon (opens in new tab)
A great option to dip your toe in the water, these night vision binoculars from Nightfox are about as cheap as they come which makes them ideal for beginners.
---
Best Night Vision Binoculars 2022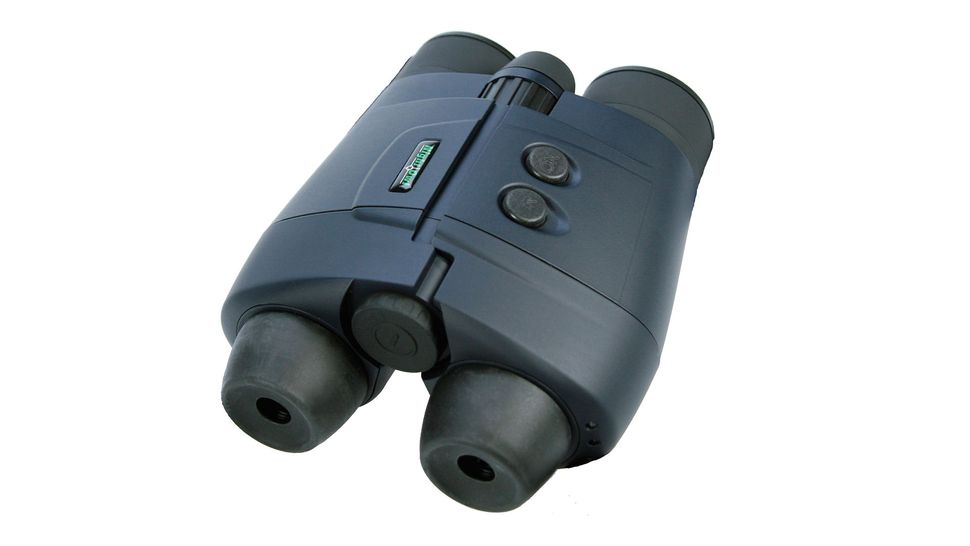 With one photomultiplier per eye, the NOB5X (opens in new tab) is a pair of binoculars rather than a monocular, making their night vision bright and clear, with close focus to just two meters.
The conventional binocular layout is familiar to anyone who has ever used a pair, with a central focus wheel and adjustable eyepieces. Their 5x magnification is a little higher than many other offerings. However, the 50mm objective lenses gather enough light while the sun's still up, and an IR illuminator kicks in when it's dark to illuminate objects 100m or so away (although, curiously, the manufacturer makes no specific claim for this).
Though heavy and relatively expensive, these are hard to beat for a fabulous night-vision image. Unlike some others mentioned in this guide, the NOB5X doesn't give us the option to record or stream video.
---
For less than $200 you can pick up these top-quality Nightfox Swift night vision goggles — you'd struggle to find better value. Nightfox doesn't pretend these are for anything other than close-quarters use, with a viewing distance of 75 yards (70 m).
The quality and craftsmanship are excellent, especially for the low cost, and the mounting options are plentiful. It comes with a head strap and is also helmet mountable. It has a Go Pro-style mounting point at the top which means you can use any Go-Pro accessories (and other action camera accessories (opens in new tab)) to mount them where you please. They are very light compared with all other models on this list, so they should be comfortable to wear for extended periods. You can walk around hands-free while wearing these goggles, but be aware that they they may compromise your peripheral vision.
We like that there is an integrated 3000mAh lithium battery which is rechargeable via USB. The battery will last up to three hours, depending on which brightness level you choose (out of seven), but it can be charged on the go using any USB power bank or device.
A more expensive but higher resolution offering from Nightfox comes in the form of Nightfox Red HD Night Vision Goggles (opens in new tab). They enable HD video and audio recording and have an extra wide field of view of 55 degrees. You can also remove the battery so you can keep a charged-up spare with you.
---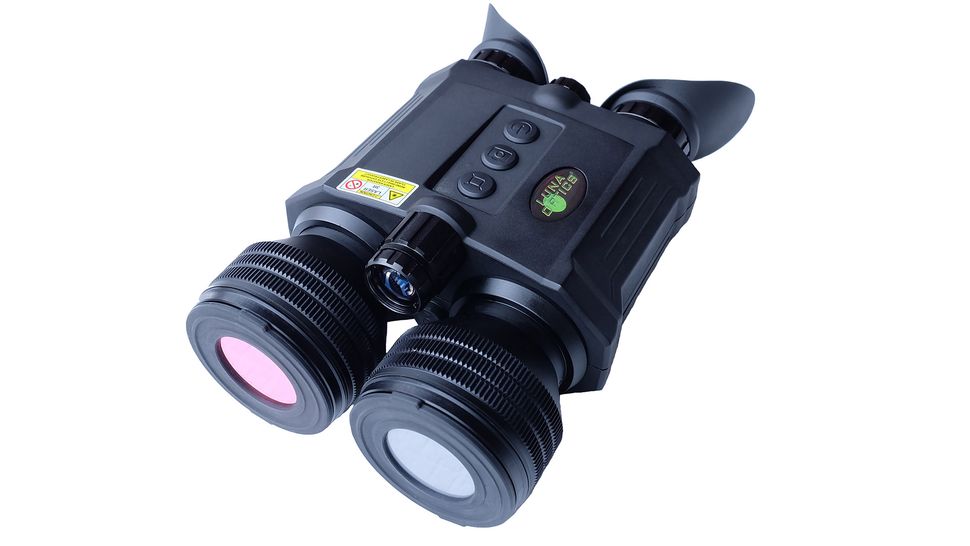 Another curious-looking pair of night-vision binoculars, Luna Optics' entry on this list brings high-quality AMOLED displays, giving a standard binocular-like feel. There's also a laser rangefinder and high-resolution imaging. It captures 16.1 megapixel still images and QHD (also known as 2K) resolution video at 30 frames per second, or 1080p at up to 60fps.
These come with a color filter that changes the daylight color balance to something more natural so you can use them during the day, while the night-time display can be either black and white, bright green, or amber. The IR illuminator should be suitable for subjects up to 600m away, while the laser rangefinder reaches up to 700m.
The viewing options on offer are decent too, with a digital zoom that goes all the way to 36x (though it will only record at up to 6x), the ability to stream over Wi-Fi, connect to storage over USB, or save to a memory card. The LN-G3-B50 comes with a strap, case, and all the cables you could need.
---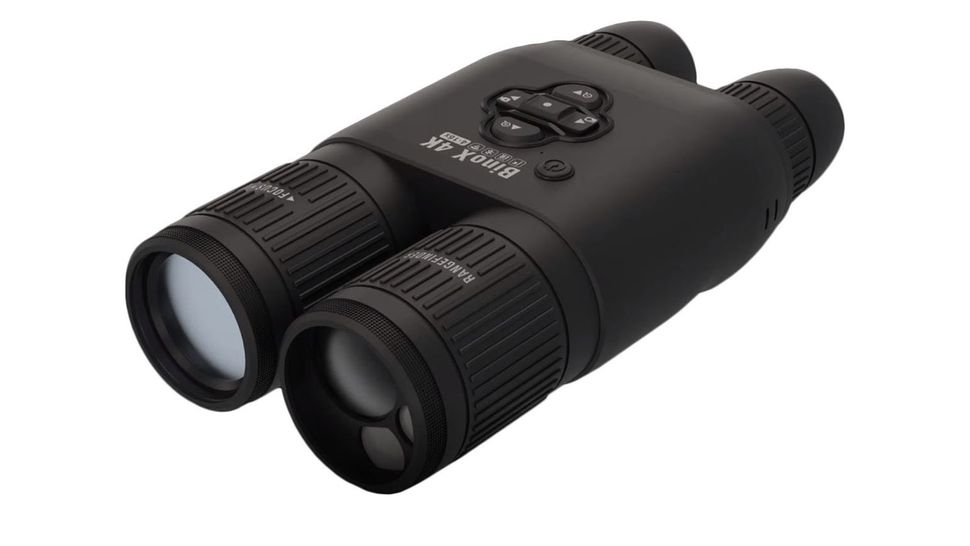 If you're looking to shoot high-speed video after dark or in challenging weather conditions, these weather-resistant ATN Binox 4K might be what you need. With the ability to record up to 120fps, you can create slow-motion effects when you play it back.
They can also share real-time rangefinder information with other people via mobile devices. You can send laser tags to help a team move into a position ready to observe or photograph wildlife.
You can share videos too, recording at 1080p and live streaming at 720p with an IR illuminator that boasts a range of 1km. You can stream video simultaneously as you record it over Wi-Fi, to an Apple or Android device running the ATN Obsidian 4 (opens in new tab) app. From here, you can save, playback, and share your content.
The ATN Binox 4K has ultra-low power consumption with an internal battery that can run for up to 15 hours and charge using a USB-C. A micro SD card is needed for storage but you'll need to supply your own as there isn't one supplied.
---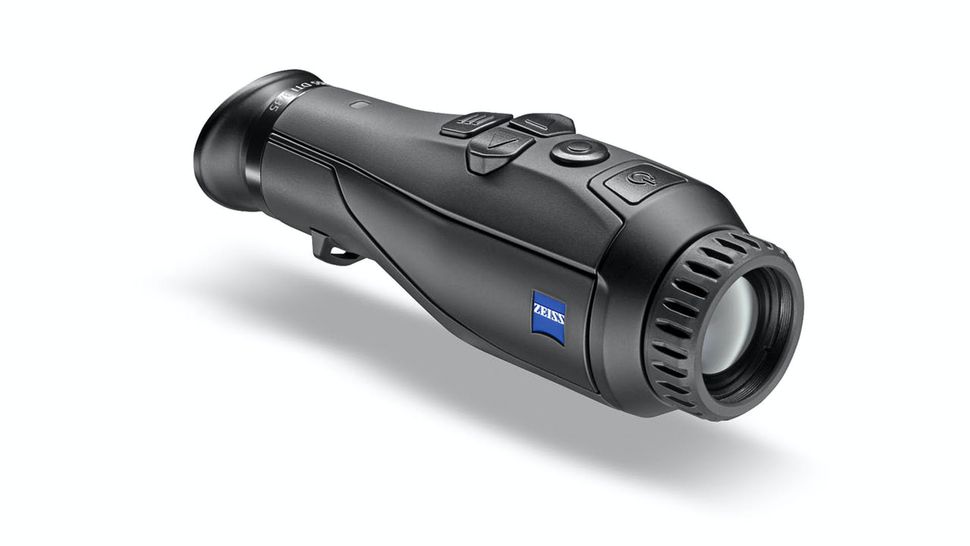 This can be considered as either as a thermal imaging camera or a monocular, the distinction makes little difference in use. With only one lens and eyepiece, it's not a pair of binoculars, but the quality of the optics and the clever additional built-in functions make all the difference, and make it a worthy contender on this list. It has a fast refresh rate of 50Hz for flicker-free images and offers a picture-in-picture feature that makes it easier to keep a moving subject centered in the field of view. Its range is a whopping 1350 yards with 2.5x optical magnification and 4 x digital zoom in 0.5x steps.
Four color modes for night-vision mean you can flick from classic white to an inverted dark image, place red overheat signatures, or display differences in temperature as a rainbow gradient. You can place brackets around heat sources, quickly identifying the hottest object in the frame, which is excellent for nature spotting. A variant model, the DTI3/25 (opens in new tab), has a lower magnification but a wider field of view and is a better choice for use in heavily wooded areas to make it easier to spot subjects.
You can record upto 15GB of video within the device itself, but also use the ZEISS App (opens in new tab) to livestream or share data on your phone.
---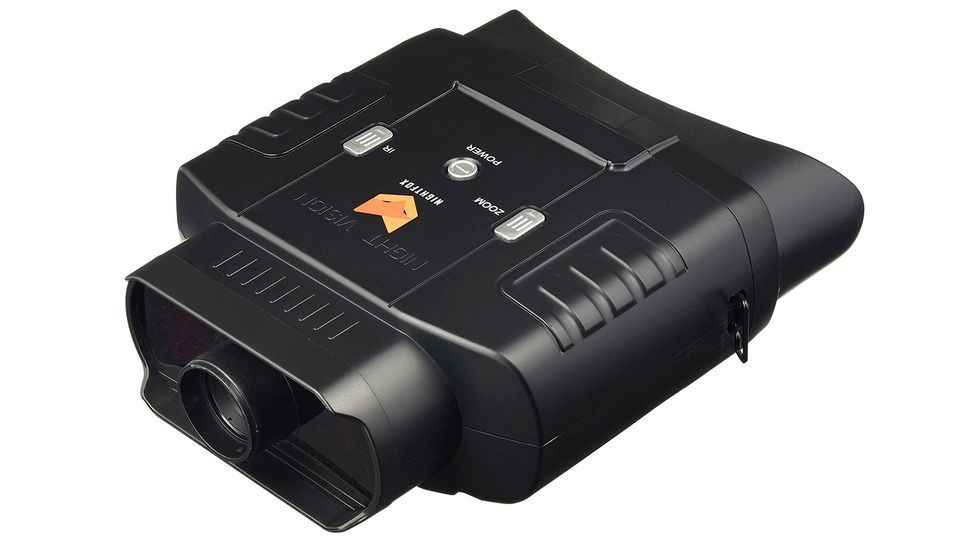 The Nightfox 100V are low-resolution, heavy, have limited range, and don't have a recording function, but they will enable you to see in the dark for six hours. They weren't designed with the professional in mind, and perhaps they lack sophistication, but we can't deny that they work.
With 100m of IR illumination broken into seven different levels (which allow you to turn down the brightness to save the power of the eight AA batteries), there's 6x magnification too. This 6x magnification, however, is broken into 3x optical and 2x digital, meaning you'll lose quality with max magnification. Still, they're a good, affordable introduction to the world of night vision that are easy to use, and there are no complex menus to navigate.
The Nightfox 100V has an 18-month warranty as standard for extra peace of mind.
---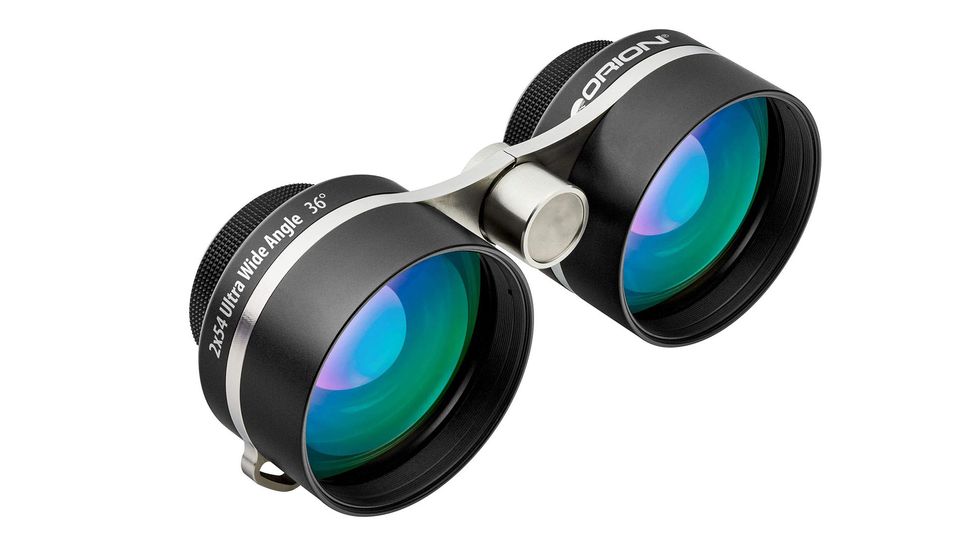 Here is something a little different: ditching light amplifiers and electronic magic for good old-fashioned physics. Binoculars gather light over a larger area than the human eye can manage, then magnify the result. A pair with larger objective lenses will show a brighter image than those with smaller objectives. What would happen if you took reasonably large 54mm objectives and applied a magnification of just 2x?
These are what happens, the Orion 2x54. They allow us to see subjects that would otherwise be in darkness because they collect light over 40 times larger than a dilated human pupil. They are intended mainly for astronomy, and we can assure you that you've never 'seen' the Milky Way until you've seen it with something like these. The massive 36-degree field of view is wide enough to fit entire constellations. They are ideal for bridging the gap between what you can see with your naked eye and what you would with large binoculars.
With no batteries or IR illuminators, they depend on having at least some light available, but the low-tech approach brings its own rewards. We have noticed the price of the Orion 2 x 54 increasing gradually, so if you're looking at purchasing them, we'd do it sooner rather than later.
---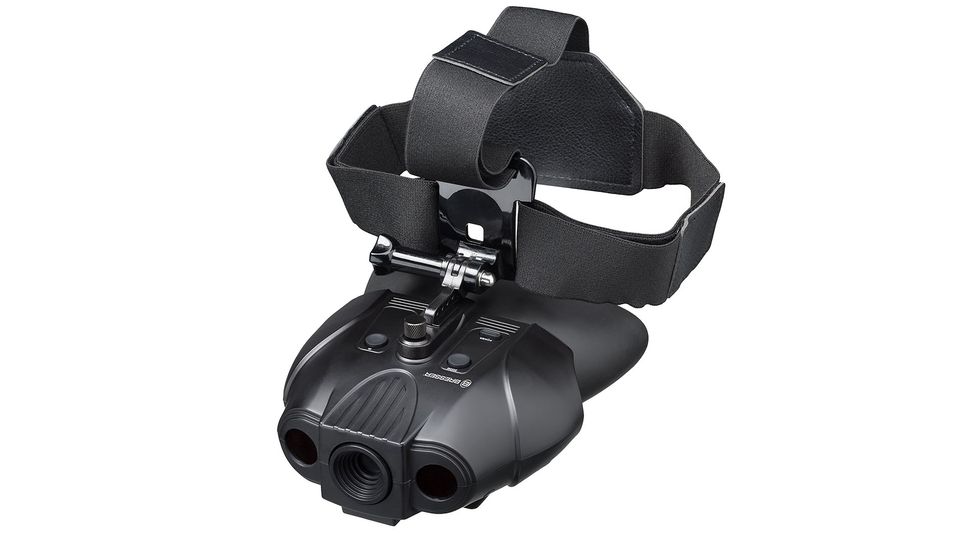 This head-mountable unit looks like it could be a prop from a TV show about special forces soldiers. It doesn't offer magnification beyond a 2x digital zoom. Instead, it's a handy device from Bresser, a well-known astronomy brand, that is for moving around in darkness as opposed to providing useful magnification, although there i s a 2x digital zoom to take a closer look at objects before you approach.
The IR illuminator should be good for seeing subjects up to 70m away, and the unit comes with a rechargeable battery that lasts up to eight hours, which we much prefer to single use batteries. An external power pack can also power it via USB. If you need the ability to record, there's a similar model from the same manufacturer, the Bresser Digital Night Vision Binocular (opens in new tab). It's a tad more expensive and isn't head-mounted like this one, but it does boast a record to micro-SD function.
---
While HEXEUM isn't a brand that springs to mind when you think of high-quality optics, these night vision binoculars are highly reviewed. We will tell you that they are often reduced around events like Prime Day, Black Friday and Cyber Monday, so if you can wait until one of those events to purchase, it might save you up to half the cost.
Even without the discount, these night vision binoculars have some impressive specs. Notable features include fully multi-coated optics to increase light transmission and decrease glare and HD image and video recording, which saves to a 32GB SD card (included).
These night vision binoculars feature a CMOS sensor for viewing up to 3x magnification and a 4x digital zoom. The aperture is 24mm they boast a 10-degree angle of view, perfect for scanning vast areas.
They also have a long continuous runtime of eight hours with adjustable IR or 17 hours without IR. They will work in the daytime as well as at night. THE IR is adjustable to seven different intensities to view things at different distances
They feature a CMOS sensor for viewing up to 3x magnification and a 4x digital zoom. The aperture is 24mm they boast a 10-degree angle of view.
The biggest downside is that they take 6 x AA batteries, and they don't take rechargeable ones, so be sure to find a good deal on batteries.
---
How we test the best night vision binoculars
To guarantee you're getting honest, up-to-date recommendations on the best binoculars to buy here at Space.com we make sure to put every binocular through a rigorous review to fully test each instrument. Each telescope is reviewed based on many aspects, from its construction and design, to how well it functions as an optical instrument and its performance in the field.
Each pair of binoculars is carefully tested by either our expert staff or knowledgeable freelance contributors who know their subject areas in depth. This ensures fair reviewing is backed by personal, hands-on experience with each binocular and is judged based on its price point, class and destined use. For example, comparing a pair of 25x100 mammoth binoculars to a compact pair of 8x25s wouldn't be appropriate though each binocular might be the best pick in their own class.
We look at how easy they are to operate, whether eye relief can be adjusted for spectacles wearer, if a binocular comes with appropriate accessories or carry bags and also make suggestions if a particular set of binos would benefit from any additional kit to give you the best viewing experience possible.
With complete editorial independence, we at Space.com are here to ensure you get the best buying advice on binoculars, whether you should purchase an instrument or not, making our buying guides and reviews reliable and transparent.
Best night vision binoculars 2022: What to look for
Modern night vision equipment can be affordable, powerful, and versatile, but not necessarily all three together. Be wary if you're thinking of buying a discontinued item (and there are many of these right now) as to save a few dollars, you take on the risk of not being able to troubleshoot or repair it in the future.
Don't forget, not all night vision kit is legal in all countries. Laws vary. In the USA, they can even vary state to state, which is understandable considering the potential for nefarious purposes of night vision binoculars. Check with a local retailer or club who will be able to advise you before you purchase if you are unsure, so you don't land yourself in any trouble.