The best monocular devices are excellent viewing choices for looking at anything from back garden wildlife to exploring constellations and nebulas in the night sky. While you might only consider binoculars or telescopes to enhance your viewing experience, the best monoculars can save on space and weight, and more often than not, they are easier to use.
In essence, a monocular is just one-half of a pair of binoculars so are easier to transport due to their smaller size. They don't rely on a hinge either and can be easier to share between users thanks to their simple setup and easy-to-use design.
If stargazing is your thing, there's no harm in looking at the best telescopes and telescope deals. In fact, we'd encourage it. The best binoculars and binocular deals are other options to consider as they can offer great night sky views as well as a good terrestrial viewing experience. However, a monocular is the most portable option and will likely even slip into your pocket.
While you're here, you can also consider some of the best headlamps or best flashlights and power them with one of the best power banks. But, this guide is all about the best monocular you can find, and you'll no doubt find one that takes your fancy below.
---
Best monocular deal of the day:
Best monocular deal March 2023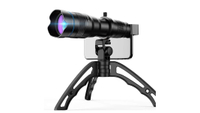 (opens in new tab)
Apexel High Power 36X HD Telephoto Lens with Phone Tripod: was $65.98, now $58.98 at Amazon (opens in new tab)
A tiny saving, but right now we'll take any discount we can! This is essentially a tiny telescope with a fixed zoom of 36x, and it comes with a smartphone tripod to ensure your images are still and steady. Read more in the guide below.
Best monocular 2023
Best monoculars 2023 ranked
Opticron's compact and lightweight Explorer WA ED-R 8x42 is a great choice for a stargazing monocular. Its 42mm objective lens lets in plenty of light while keeping the unit small for hiking and backpacking, it is easily pocketable. The 8x magnification (a 10x model (opens in new tab) is also available) is similar to what you'd find on many binoculars and gives a great view of sections of the night sky. Also making it easier for beginners to seek out their subjects.
The Opticron BGA WP 8x42 is waterproof to 3m and nitrogen-filled, so fog and condensation-proof. It comes with a soft neoprene carry case with a rain guard, padded strap and rubber objective lens covers. There is 17mm of eye relief so suitable for glasses wearers.
The optics feature the latest multi-coating technology throughout the wide-field ED optics, so it displays plenty of contrast, clarity and a premium feel, despite the modest price tag.
---
This lightweight 10x42 11.5oz/32KG monocular is ideal for travelers who want to enjoy the night sky while out and about. The minimum focusing distance is just seven feet, so it's perfect for backyard nature spotting too.
Despite its portability, Hawke hasn't scrimped on the glass. It's fitted with Hawke's System H5 optics, with extra-low dispersion (ED) glass to reduce color fringing and multi-coated lenses.
It's built to withstand the elements and comes with a waterproof chassis, high grip armoring, protective lens case, lanyard, lens covers and a built-in 1/4-inch tripod thread. It also comes with a no-fault lifetime warranty which is pretty impressive!
---
The Bushnell boasts exceptional optics, impressive build quality and useful extras. The magnification of 10x, coupled with a 42mm objective lens, means you'll get crisp, detailed images, enhanced by Bushnell's ED Prime HD glass, multi-coated and anti-reflective optics. All of that for a mere 13.2 oz.
Its twist-up eyecups offer great eye relief for those who wear glasses, and there's even an easy-to-grip ridge on top of the smooth external focuser where your thumb would naturally rest for added comfort.
The Bushnell Legend Ultra 10x42 stands out from its competition by shipping a top-quality padded oversized case (for ease) complete with a belt clip, a flip-style lens cap for the front, and a rear lens cap that attaches via a lanyard to prevent it from being misplaced.
---
The Opticron Oregon 4 PC 8x42 are Nitrogen-filled to eliminate fog, and are waterproof, making them the perfect option for those who need a hardy all-weather monocular. It has a 42mm objective lens allowing just enough light in for general astronomical use. The 8x magnification guarantees you get a good, stable view when sweeping across the night sky.
The roof prism design is all about wide-field viewing and top-quality optics. It has phase-corrected prism coatings and multi-coated optics to deliver clear, crisp views daily and in low light. The monocular incorporates an external focuser for easy single-handed operation, though it lacks a built-in 1/4-inch tripod adaptor. Spectacle wearers will appreciate its very generous 22mm eye relief.
The Opticron Oregon 4 PC 8x42 was discontinued in March 2022 so if you're thinking of getting one, don't delay. The product is still guaranteed for five years though, so don't let that put you off.
---
If you want to zoom in on anything, including the night sky, with your smartphone, the only accurate method (at least until periscope-style zoom lenses become common on cellphones) is to use a digital zoom. Using a digital zoom means the image is cropped, then rebuilt to its original size using algorithms or machine learning. It almost always results in a poor-quality image.
A far better option is a clip-on lens like this BaK-4 glass, roof prism-based monocular for its superior optics. It is essentially a tiny telescope with a fixed zoom of 36x. The Apexel 36x superzoom can be hand-held but is best on a tripod. You fit a clip around your smartphone's existing lens before attaching it to the Apexel 36x super zoom to align them.
It's not perfect, you first need to remove your smartphone's case, and there's no tripod thread built-in. Instead, a metal tripod ring adaptor is supplied. In any case, the tripod it is bundled with is quite flimsy. Supply your own tripod, and the Apexel 36x superzoom can be a good setup for taking basic images of the Moon (though don't expect it to fill the field of view). You can use it as a monocular by attaching a small rubber eyepiece, but remember; this does restrict the field of view.
---
Attaching a cell phone to a telescope, so the phone's camera peers down the barrel to see a magnified view is called digiscoping. The camera can produce excellent images of distant ducks during the daytime and the sky at night.
The Celestron Outland X 10x50 has a smartphone mount and could be considered an ideal digiscoping companion with its astronomy-centric optics. The 10x magnification and 50mm objective lenses are well-suited to searching for and studying open star clusters, the Moon, and the Milky Way.
The Celestron Outland is packed inside durable housing around BAK-4 prisms and features multi-coated optics. There is also plenty of eye relief, so it can be used easily by anyone who wears glasses. It is also waterproof and filled with nitrogen gas to prevent internal fogging.
It is provided with the smartphone adapter, a protective case, cleaning cloth and eyepiece covers for added protection.
---
It is always tempting to go for the most enormous magnification possible when looking at a new optical instrument, but this isn't always the best choice. Higher magnification means more weight and the need for larger objective lenses to maintain a bright view and the ability to use at night. It's also much more challenging to get a steady image (as the magnification also magnifies any movement). Moderate magnification factors of around 8x are preferred.
The 15x magnification of the incredibly expensive Vortex Recon R/T 15x50 will give you a closer look at objects than your average pair of astronomy-centric binoculars or monoculars. However, at night, that extra magnification creates a narrow exit pupil, which reduces the image's brightness, despite the Vortex Recon R/T 15x50's large 50mm objective lens.
So what is the Vortex Recon R/T 15x50 for in terms of night-sky viewing? The Moon. With its multi-coated extra-low dispersion glass, you can expect detailed and high-resolution images at long distances. It comes with a hand strap and a carry clip that you can use to attach the monocular to a belt or bag.
---
Slightly more expensive than the Olivon 8-24x40 (below) comes the Orion 10-25x42, another variable zoom monocular that offers 10x through 25x magnification and a slightly larger objective lens of 42mm to allow more light through.
As such, it's another option for impressive lunar viewing, with just a touch more magnification than its lighter rival. Since it doesn't have quite as wide an angle of view, it can focus on subjects just 20 inches/50cm away while offering 25x magnification. The 42mm objective aperture lens makes it versatile for daytime, low light or nighttime use. You shouldn't have any problems getting a closer look at the moon craters.
The Orion 10-25x42 is rugged. It's waterproof with a rubberized design and features multi-coated optics. It ships with a soft nylon case (complete with a belt loop) and a wrist strap. Perfect for taking on adventures and leaving the binos at home.
---
This is an affordable zoom monocular capable of magnification from 8-24x, an ideal alternative to zoom binoculars or larger scopes for when you want to pack lightly, especially as it's small and light enough to take out and about on a lanyard and pouch (both are supplied). It is capable of both observation and basic photography and its magnification is excellent for observing the Moon's craters and lava seas,
The BK-7 prism-based monocular with a push-pull zoom arrangement comes with a built-in 1.4-inch tripod adaptor to stabilize it, an easy-grip rubberized coating and multi-coated optics. There are monoculars with better optics in this guide, but this is an affordable option that can also be used as a simple digiscoping tool. When used for wildlife spotting, the Olivon 8-24x40 offers a close focus from 60-inch/1.6m. It also comes with a huge 10-year manufacturer guarantee.
---
Best monocular 2023: What to look for
To use a monocular for astronomy, you'll want to look at 40-50mm objective lenses with 7-15x magnification — anything smaller is better suited to wildlife spotting. Some monoculars have built-in image capture while others offer smartphone mounts for super-easy 'digiscoping' and a built-in tripod mount. Since you're going to be using them outside it's sensible to choose a monocular that has waterproofing and fog-proofing, too, especially as you'll likely be pulling it out of a warm bag or pocket to use in colder air. Here at Space.com, we've cast our eye over the market for the best monoculars and rounded up our favorites for all kinds of astronomy.
How we test the best monocular 2023
To guarantee you're getting honest, up-to-date recommendations on the best monocular to buy here at Space.com, we make sure to put every monocular through a rigorous review to test each instrument thoroughly. Each monocular is reviewed based on many aspects, from its construction and design, to how well it functions as an optical instrument and performs in the field.
Each monocular is carefully tested by our expert staff or knowledgeable freelance contributors who know their subject areas in depth. This ensures fair reviewing is backed by personal, hands-on experience with each monocular and is judged based on its price point, class and destined use.
We look at how easy it is to set up, and whether it comes with appropriate accessories. We suggest if a particular monocular would benefit from any additional equipment to give you the best viewing experience possible.
With complete editorial independence, Space.com are here to ensure you get the best buying advice on monoculars, whether you should purchase an instrument or not, making our buying guides and reviews reliable and transparent.