Best telescopes for beginners 2023: Jump Menu
1. The list in brief ↴
2. Best overall
3. Best for quick set up
4. Best for basic astrophotography
5. Best Maksutov-Cassegrain
6. Best for back yard
7. Best for wide field observation
8. Best computerized telescope
9. Best grab and go telescope
10. Best budget telescope
12. Best beginner telescopes FAQ
14. How we test
Searching for the best telescopes for beginners can be challenging, given the many options available from different brands and stores. To help you with your search, we've compiled this list of the best entry-level telescopes designed for beginners. We've included a range of different options, from small and lightweight (and easy to transport) to more advanced and capable models).
Whether you're looking for a gift for someone else or a treat for yourself, we've got you covered — and with some great sales events just around the corner heading up to the holidays, you could find yourself a bargain.
If you want a broader look at the best telescopes for all levels of experience, check out our guides to the Best telescopes, where we've got makes and models to suit all budgets and varying experience levels. For kid-friendly models, take a look at our guide to the Best telescopes for kids as an excellent starting point for budding young astronomers.
The telescopes we've selected for this guide are designed to meet the needs of different astronomers, depending on what they hope to achieve from their skywatching experience. Read the descriptions below to learn more about each telescope and what it's best suited for.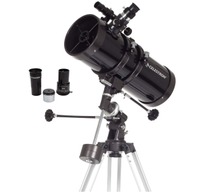 Celestron PowerSeeker 127EQ: was $219.95 now $132.58 from Amazon
Save 40% on this solid entry-level telescope from Celestron, a well-known brand in the stargazing space. With a five-inch aperture and above-average tripod and mount, the PowerSeeker 127EQ is an excellent buy for anyone looking for their first telescope this Cyber Monday.
The quick list
Load the next 3 products ↴
Best computerized telescope
Best computerized telescope
The motorized mount can initially be tricky to set up for beginners, but it comes at a reasonable price for a decent night sky view.
Best grab and go telescope
Celestron AstroMaster 102AZ
Best grab-and-go telescope
A great telescope that's perfect for beginners. It's easy to set up and use without any distracting bits of tech.
Best budget telescope
Best budget telescope
A decent budget telescope that's good for viewing the moon, but not a whole lot else. Keep an eye on the price as it often fluctuates.
---
Best telescopes for beginners 2023
Best overall
Buy it if
✅ You want to invest on something that's going to last: This telescope caters to both beginners who have no prior knowledge of the night sky, and pros who have a lot of astronomy experience, so you're unlikely to outgrow it.
Don't buy it if:
❌ You don't have a big budget: Although it is worth the money, this telescope is incredibly expensive, so most beginners likely wouldn't be able to afford it.

❌ You want a 'traditional' telescope: This is very much a telescope for the tech lovers, so if you want a more traditional instrument, this may not be the one for you.
The bottom line
🔎 Unistellar eQuinox 2 A very impressive smart telescope that can do it all, it's incredibly easy to use and guides you around the night sky even if you have no prior astronomy knowledge, though the image resolution is average. ★★★★½
The Unistellar eQuinox 2 is the second iteration of this line of smart telescopes (Unistellar also produces the much more expensive eVscope 2) and is a modern take on a traditional telescope.
This smart telescope is incredibly user-friendly, with just one button for operation. It's controlled through the Unistellar smartphone app, which offers two main functions. First, it allows you to manually slew the telescope to specific objects in the sky. Second, there's the 'explore mode' which utilizes the telescope's current time and location to identify and automatically point out celestial objects visible in the night sky. Additionally, this explore mode enables users to capture astrophotographs.
During our Unistellar eQuinox 2 review we were particularly impressed with the Smart Light Pollution Reduction feature, which makes the telescope more usable in densely populated areas by digitally removing city glow from the images of the night sky.
This telescope is ideal for beginners, as it removes the challenges of setting up a traditional telescope while offering the joy of exploring the night sky. It requires minimal collimation alignment, eliminates the need for a finderscope, and simplifies the star alignment process. Setting it up is easy with the user-friendly Unistellar app on your smart device, providing a seamless observing experience.
While the price is undeniably steep, the best tech often comes with a premium price tag. However, it's important to remember that this telescope is a long-term investment. It's suitable for all skill levels, so you're unlikely to outgrow its capabilities anytime soon, making it a purchase that will serve you well for years to come.
Swipe to scroll horizontally
Unistellar eQuinox 2

| Attributes | Notes |
| --- | --- |
| Design | Sleek, simple design. |
| Performance | Incredibly easy to use, but image resolution is average. |
| Functionality | Backpack needed to travel with easily. |
Best for quick set up
Buy it if
✅ You want a hassle-free setup: Our top pick in this category, this telescope assembles and packs down very quickly and easily.

✅ You want to do basic astrophotography: There's a clever dust cap that doubles as a smartphone holder, so you can easily take photos with your phone.
Don't buy it if:
❌ You want something super portable: It's not a heavy telescope by any means, but it does have a fairly large footprint. You could take it to dark sky locations in your car, but you might not want to carry it too far.
The bottom line
🔎 Celestron Inspire 100AZ Aimed at beginners and users looking to upgrade, this telescope is at its best when viewing the moon and planets and comes with a lens cap that doubles as a smartphone holder for easy astrophotography. ★★★★
The Celestron Inspire 100AZ (which features the largest aperture in the Inspire family) is a top, top choice of telescope for beginners and, we think, one of the best beginner telescopes for astrophotography. Also in the Inspire range is the Inspire 80AZ with a focal ratio of f/11.3 and the Celestron Inspire 70AZ with a focal ratio of f/11. However, the 100AZ's focal ratio is f/6.6 which lets in more light, so we'd recommend this model if you're looking for brighter nighttime observations.
The Celestron Inspire 100AZ telescope is a great choice for beginners who want a simple and user-friendly introduction to astronomy. It's easy to set up and comes with a variety of accessories, making it a comprehensive and affordable option for those who are excited to start exploring the mysteries of the night sky.
While it is suitable for beginners, it isn't a perfect telescope. During our Celestron Inspire 100AZ review, we did detect some false color (which we'd expect at this price) and some blurring in the field of view. However, the latter is easily resolved with a careful selection of one of the best eyepieces.
The Inspire 100AZ comes with several accessories, including two eyepieces (20mm and 10mm), a red LED flashlight for low-light visibility without disrupting night vision, an accessory tray for gear storage, a StarPointer Pro finderscope for locating celestial objects and a smartphone adapter for basic astrophotography. This telescope is versatile and suitable for both daytime (terrestrial) and nighttime (celestial) viewing.
Unlike some beginner telescopes with fragile optical finders that can only locate the brightest stars, the Celestron Inspire 100AZ telescope's StarPointer Pro provides a substantial upgrade. Its improved accuracy and reliability make it easier for beginners to navigate the night sky. The StarPointer's impressive ability to identify faint stars, even in moderately light-polluted areas, enhances the overall stargazing experience.
Swipe to scroll horizontally
Celestron Inspire 100AZ

| Attributes | Notes |
| --- | --- |
| Design | Comes with a lens cap that doubles as a phone holder. |
| Performance | Excels with lunar views. |
| Functionality | Easy to assemble and take down. |
Best for basic astrophotography
Buy it if
✅ You want to do basic astrophotography: This telescope offers great views for anyone wanting an intro to basic astrophotography, but for any real long-exposure shooting it would be impossible.

✅ You want it to offer target suggestions: The StarSense app will display a simulated view of the night sky where you can select a range of options to view from the menus.
Don't buy it if:
❌ You want good eyepieces: We noted that the included 10mm eyepiece, in particular, is lacking in quality, so either choose a different model or invest in better eyepieces.

❌ You're a seasoned astrophotographer: As it doesn't have an EQ mount, long exposure photography will be near impossible.
The bottom line
🔎 Celestron StarSense Explorer DX 130AZ An exquisite telescope for a beginner, fully equipped and supplied with everything the skywatcher needs for a successful observing session under the stars ★★★★
The development of the smartphone has revolutionized how we interact with technology, and Celestron's StarSense series of beginner telescopes take full advantage of that fact. In our Celestron StarSense Explorer DX 130AZ review, we found it owes its ingenious design and ease of use to the Starsense app, combined with the magic of GPS. It's no wonder it is a B&H Photo best seller.
When you use GoTo telescopes, the usual process involves manually pointing the telescope at a few bright stars to help the computer understand where it's located. This can be a bit overwhelming for beginners who want to start stargazing without spending a lot of time on setup. Thankfully, Celestron's StarSense technology handles all the necessary calibrations and alignments in just a few minutes. This simplifies things significantly, letting you dive into the wonders of the night sky without any fuss. It's an excellent feature for newcomers to astronomy.
We reviewed the StarSense Explorer DX 130AZ last year. We thought it was an outstanding instrument for a beginner interested in astronomy or astrophotography using one of the best cameras for astrophotography.
When you've downloaded and opened the StarSense app to your Apple or Android device, you'll see a simulated view of the night sky, and you can select which celestial objects you want to see from the menus. The app will then show arrows on the screen, directing you to manually move the telescope in the direction of your chosen object, then it'll alert you once the issue is in your field of view so you can look through the eyepiece to see it. You can use the telescope without the app if you prefer, but we think the app adds more enjoyment and education to the experience.
Celestron's StarSense Explorer range also includes a 4.5-inch aperture Newtonian and a 4-inch refractor — be sure to check out our Celestron StarSense Explorer DX 102AZ review. But because the DX 130AZ boasts an aperture of 5.11 inches, we feel this is the superior instrument.
The Celestron StarSense Explorer DX 130AZ includes two eyepieces: a 25mm and a 10mm, giving magnifications of 26x and 65x. However, like with many budget telescopes, it's a good idea to invest in some extra accessories to fully maximize the telescope's optical capabilities. We found the 10mm eyepiece in particular to be a bit disappointing, so upgrading it could be worthwhile.
Swipe to scroll horizontally
Celestron StarSense Explorer DX 130AZ

| Attributes | Notes |
| --- | --- |
| Design | Good quality optical tube and mount. |
| Performance | Views are good — clear, crisp and contrasty. |
| Functionality | Easy to use for navigation. |
Best Maksutov-Cassegrain
Buy it if
✅ You want a stress-free setup: There's basically no setup required with this telescope, so you can get to observing straight away.

✅ You want to view deep-sky objects: The narrow FOV makes deep-sky viewing tricky, so this is a telescope best suited to lunar and planetary viewing.
Don't buy it if:
❌ You want portability: While it's certainly doable, it's not the most lightweight option, so if you plan on traveling a lot with it we'd suggest a more suited option.
The bottom line
🔎 Celestron NexStar 4SE Aside from some questionable design choices, the NexStar 4SE is a good buy for the beginner astronomer for its ease of use and sharp, bright optics. ★★★★
We've featured the Celestron NexStar 4SE in this guide because it is easy to set up and allows you to start observing right away without requiring any complicated setup. This is just one of the reasons we gave it four out of five stars in our Celestron NextStar 4SE review.
The SkyAlign technology from Celestron can help you find anything you want to observe automatically and electronically slew (move) to put your desired object in the center of the field of view once you've set it up (a straightforward process that involves pointing the telescope at three bright objects in the sky, including the moon and bright planets). Unlike the aforementioned Celestron StarSense Explorer DX 130AZ, it ships with a chunky hand controller rather than having to rely on an app.
Considering the price tends to fluctuate around the $550 - $600 mark, you'll be treated to surprisingly bright and sharp images. It's tricky to do deep-sky viewing with this model due to its small field of view (for that you'll want to check out our guide to the best telescopes for deep space), but if you're only going to be looking at the moon and planets, you won't be disappointed.

This beginner telescope, although not the most portable at around 8kg (excluding the tripod, etc.), has a slim design that keeps the accessories securely attached to the tube, reducing the risk of accidental damage when transporting it. Like other Celestron NexStar models, it's advisable to use a power source instead of relying on AA batteries, as this telescope can consume a substantial amount of power.
Swipe to scroll horizontally
Celestron NexStar 4SE

| Attributes | Notes |
| --- | --- |
| Design | Solid and sturdy build, but drains batteries fast. |
| Performance | Crisp, detailed views of the moon and planets. |
| Functionality | Celestron's Skyalign and GoTo system automates most of the viewing work. |
Best for the back yard
Buy it if
✅ You want to view galaxies and nebulas This telescope has impressive observing power, allowing you to see deep sky objects in incredible detail.
Don't buy it if:
❌ You want something lightweight: The tube and mount weigh around 50 lbs, so it's not a telescope you can easily pack up and lug to dark sky sites.

❌ You're on a budget: While we've featured it in this beginner's guide, it's not at the cheaper end of the spectrum, so if you're on a budget you'd be better off with one of the more affordable models.
The bottom line
🔎 Sky-Watcher Skyliner 200P While technically very portable, it's actually quite a heavy bit of kit, so it would be a pain to transport anywhere — better suited to the back yard. That said, it'll reward you with incredible views of the night sky in stunning detail. ★★★★
The Sky-Watcher Skyliner 200P is a great choice if you want powerful telescope observations. Dobsonian telescopes are renowned for their excellent observing capabilities, featuring large tubes mounted on straightforward alt-azimuth rocker mounts, eliminating the need for a tripod. While they can be heavy and challenging to transport, the Skyliner Dobsonians from Sky-Watcher stand out with a unique feature — they can be split into two parts, making them more convenient to extend along trusses or fold into a compact shape. This clever design addresses any portability concerns you might have.
Dobsonian mounts are well-known for their ability to support larger aperture telescopes without the high cost associated with tripod-mounted telescopes. The Skyliner 200P, featuring a 200mm aperture, provides remarkable value considering the stunning views it delivers. Its excellent light-collecting capabilities allow you to observe distant galaxies and nebulas with incredible detail. If you've ever dreamt of exploring the distant corners of the universe up close, this telescope is an ideal choice.
However, the Skyliner 200P does have a drawback — it requires frequent collimation, which involves aligning the primary and secondary mirrors using tiny screws that hold them in place. Even a few small little jolts can knock the mirrors out of alignment, but if you enjoy tinkering then this may well be an enjoyable process.
The aperture size also brings up another consideration. Even though the truss-tube design enhances portability, the combined weight of the tube and mount is over 50 lbs (22.7kg). It's not exactly a telescope you can easily grab and take on the go, so it's important to keep this in mind when you're planning trips to those dark-sky locations.
The Skyliner 200P has two eyepieces — a 10mm (120x) eyepiece for displaying wide fields of view, such as the full moon or entire galaxies, and a 25mm (48x) eyepiece for working in more detail, like on a close-up of the rugged lunar surface or the planets.
Swipe to scroll horizontally
Sky-Watcher Skyliner 200P

| Attributes | Notes |
| --- | --- |
| Design | Portable, but heavy. |
| Performance | Excels at gathering light. |
| Functionality | Requires frequent collimation. |
Best for wide field observation
Buy it if
✅ You want an EQ mount: The equatorial mount, although tricky to get used to if you're a beginner, will reward you with better tracking.
Don't buy it if:
❌ You don't want a learning curve: remember that helping people quickly identify if a product ISN'T right for them is just as helpful as pointing out the ones that are.
The bottom line
🔎 Orion StarBlast II 4.5 EQ A brilliant all-rounder that offers outstanding value for an extensive piece of equipment. The EQ mount does take some getting used to for beginners, but the initial setup is a breeze. ★★★★
For anyone looking for an extensive bit of equipment that offers outstanding value, the Orion StarBlast II 4.5 is a fantastic all-rounder. The equatorial mount isn't the norm for beginner telescopes and can take a bit of getting used to compared to the simpler alt-azimuth mount. However, if you're willing to overcome this learning curve you'll be rewarded with much better tracking when you're using it.
Setting up the Orion StarBlast II 4.5 is really easy. It's designed to be user-friendly, but there's a manual included if you prefer step-by-step guidance. You'll find everything you need with it: a mount, tripod, optical tube assembly, two eyepieces with magnifications of 18x and 45x (10mm and 25mm), a 2x Barlow lens, a moon map, a red LED light to preserve your night vision, a red-dot finder and Orion's Star Target Planisphere and Telescope Observer's Guide to help you plan your observations. We think it's an excellent choice for beginners at a very competitive price.
While we haven't posted a full review yet, we have used this telescope. During our stargazing trip, Jupiter was visible in the southeast, shining brightly with a magnitude of -2.7. The conditions were decent, allowing us to distinguish the atmospheric belts and largest moons of the gas giant. We noticed a slight amount of coma, causing our images to appear as if they were 'falling inwards' near the edge of the field of view. However, with this telescope in particular, we had to look closely to spot any distortion. It didn't impact our views or our enjoyment of the night sky.
As the telescope is better suited to wide-angle subjects, we turned the tube to the Pleiades (Messier 45), which dazzled in the field of view. The major member stars were pin-sharp, like white jewels. We were also able to spot the Merope Nebula, a reflection nebula surrounding the 4th-magnitude star, Merope.
Swipe to scroll horizontally
Orion StarBlast II 4.5 EQ

| Attributes | Notes |
| --- | --- |
| Design | EQ mount is unusual for beginner telescopes. |
| Performance | Stars are pin sharp, but we did detect a small amount of coma. |
| Functionality | Better suited to wide angle subjects. |