The best travel tripods are an essential component in many amateur and professional settings because they offer stability while taking landscape and studio images, improve low-light performance, and give you the freedom to capture unusual or abstract angles.
The best travel tripods combine the stability, toughness, adaptability, and versatility of standard tripods with the added need of being lightweight. They can therefore be carried for more extended periods because they fold down to a size that makes them easier to carry. There are some differences in terms of height and maximum payloads, but generally, these days, the improvement in carbon fiber and light aluminum materials has contributed to travel tripods being some of the best tripods out there.
In this guide, we'll examine the advantages and disadvantages of a variety of tripod types, offer buying tips, and highlight some of the trade-offs you might have to make when choosing a compact, lightweight setup. In the meantime, though, if you're not sure travel tripods are right for you, check out our guide to the best tripods for astrophotography. Or if you want to have a look at the best cameras for astrophotography or the best lenses for astrophotography to get the right kit this festive period to mount on that tripod.
---
Best travel tripods of 2023
Why you can trust Space Our expert reviewers spend hours testing and comparing products and services so you can choose the best for you. Find out more about how we test.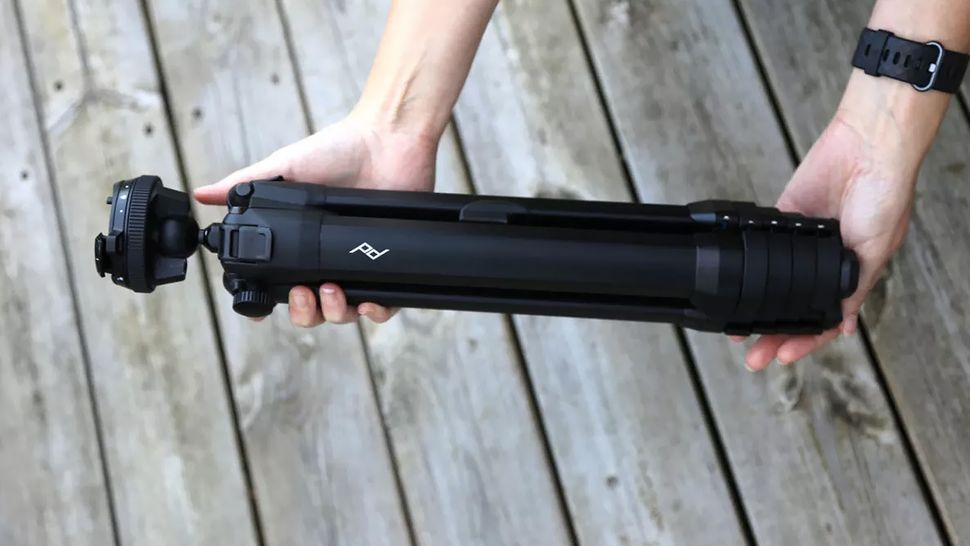 Peak Design provides some excellent, thoughtful and well-designed products designed for photographers on the move, and the Peak Design Travel Tripod is no exception. When we reviewed the Peak Design Travel Tripod, we thought it was excellently designed and came in a very neat little package — we could fit it into our cabin bags and rucksacks as well as strap it to the outside.
They've even included a phone mount inside the package due to the rise of smartphone photography, but we were a little disappointed by the high cost. However, an aluminum variant is available for almost half this price.
---
The premium end of Benro's travel lineup is represented by the Rhino series, and with a detachable monopod, an included phone mount, and studied carbon fiber tubes, this is one of the best tripods we've given a closer look at.
The braided material used to construct the carbon tubes increases stiffness, and at normal operating heights, the FRHN24C performs as well as some other non-travel-oriented tripods. This tripod is in a higher price range than some of the others on this list, but it would be a well-designed investment for many travel-oriented photographers.
---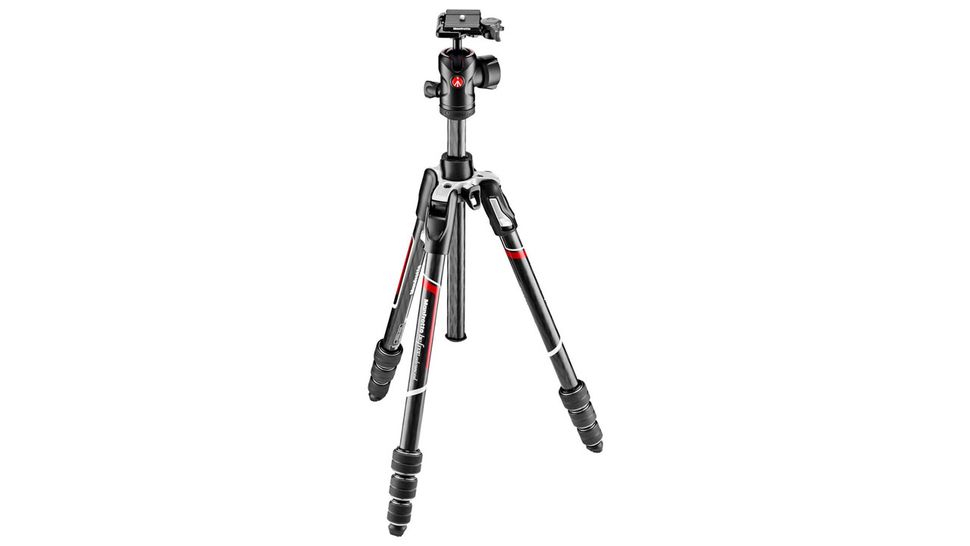 Manfrotto provides an excellent range of tripods well suited to photographers of all disciplines, and we think the Befree 3 Way Advanced Tripod is an excellent all-around option. It's not too expensive but has enough versatility to keep both photographers and filmmakers happy, thanks to its excellent three-way fluid head. To ensure the camera moves smoothly, the three-way head also uses a hydraulic dampening system.
When we reviewed the Manfrotto Befree tripod, we noticed that a couple of design quirks meant that we had to remove the camera from the plate to get to the battery and card doors, but for the minimal financial outlay, this is a travel tripod that's worthy of recommendation.
---
With the Legende series, Gitzo has taken a premium, aesthetically conscious approach to travel tripods and other camera accessories. We really like the look of the Legende Traveller Tripod Kit, which operates as nicely as it looks, with ultra-smooth knobs, dials and adjustments that have been well-engineered.
The attention to detail is excellent, with nice little features such as the specially designed matte silver aluminum Center Ball Head and the leather strap adding to the discerning feel. We think this is a pretty good tripod to use if you have the money, but our one complaint is that there are many other tripods on the market and even on this list that can accomplish the same task for a lot less money.
---
With a carrying capacity of 8 kg, this option from Benro holds less weight and is a more compact and less pro-style setup altogether, but that doesn't mean it can't compete with some of the other travel tripods on the market. It features five leg sections that can raise to 60 inches, which is impressive.
We really enjoyed the tripod's graduated panning scale, which lets you keep the tripod level while panning or photographing panoramas of the landscape. We found the twist locks to work well, but set-up time can be a bit longer if you have to go through and twist or unscrew each one. That being said, we got on with it well, and think it's a hassle-free option that is kinder on the bank balance for hobbyist travel image-makers.
---
The Vanguard VEO 2 is the newest in a long line of reputable and high-quality camera equipment from Vanguard. It is only available as a kit, so there is no need to buy a tripod head separately. We've used the VEO 2 extensively as one of our main tripods for outdoor use, and we like how easy, quick, and smooth it is to put up and operate. It has a quality feel from the carbon-fiber components that belie its relatively affordable cost.
Weighing only 1.2kg, it does suffer slightly from having a limited maximum load of 6kg. Still, we've found in our use of the tripod that this is more than sufficient to host a full-frame DSLR camera and several prime and zoom lenses suitable for traveling. The three leg angles also make it easy to set up on relatively uneven terrain.
---
JOBY has a well-known and ever-expanding line of affordable, lightweight, and easy-to-use everyday tripods aimed at beginner and entry-level users looking for something to get started with. Happily, the JOBY Compact Advanced Kit enables you to progress a little beyond a beginner level. With an interchangeable JOBY quick-release plate, a 1/4-inch standard tripod attachment screw, and five leg sections with a lateral tilt of -30 to +90 degrees, it makes getting exciting and unique angles easy.
The maximum payload is minimal, so there's no point attaching a heavy pro kit to it. But for the content creator or photographer looking to make stable visuals, there's no reason not to recommend this option — especially for the money.
---
3-Legged Thing started as a grassroots business in the UK. Using his photography and lighting expertise, company founder Danny Lenihan developed extremely adaptable, lightweight tripods and other equipment for various uses.
Compact and made out of magnesium alloy, their Punks range is most suited to travel because they're so light. Amazingly, they can still support 30 lbs of weight, which is over 8 times their own weight.
Although we appreciated the tripods' bright colors, bold design, and overall functionality, some seasoned amateurs or experts might be looking for more bells and whistles, such as more intricate head systems.
---
Best travel tripods: What to look for
Travel tripods are not all created equally, and in this round-up, we've highlighted a few of the best options for different types of equipment, cameras and loads that take into account different photographers' requirements.
With most travel tripods, there's always a balance to be struck, and increased portability frequently comes at the expense of the restricted maximum payloads. More money means a higher maximum load, but if you want to travel with professional-grade cameras and lenses, be prepared to pay more and choose slightly heavier gear.
Most of the budget or ultra-lightweight options also have phone mounts too, which is a useful addition for travelers or content creators that need to take images on the go. With the advance in camera technology when it comes to producing high-grade kit that doesn't weigh much, most of the mid-range or even budget travel tripods will be
If you're trekking or want to set up your camera on uneven ground, it's worth testing out tripods that have multiple leg angles and the ability to adjust quickly. For astrophotography or photography that requires long exposures, look for carbon-fiber tripods that have an extra bit of security and sturdiness to prevent the kit from shaking in poor weather or wind. Personal preference is always important, so we'd always recommend testing out any tripods you're thinking about buying before purchasing to ensure it's the right fit for you. Here are some of our recommendations for the best travel tripods out there at the moment.
How we test the best travel tripods
In order to guarantee you're getting honest, up-to-date recommendations on the best travel tripods to buy here at Space.com we make sure to put every travel tripod through a rigorous review to fully test each product. Each travel tripod is reviewed based on a multitude of aspects, from its construction and design, to how well it functions and its performance in the field.
Each travel tripod is carefully tested by either our expert staff or knowledgeable freelance contributors who know their subject areas in depth. This ensures fair reviewing is backed by personal, hands-on experience with each travel tripod and is judged based on its price point, class and destined use.
We look at how easy each travel tripod is to operate, whether it contains the latest up-to-date material technology, and also make suggestions if a particular travel tripod would benefit from any additional equipment to give you the best user experience possible.
With complete editorial independence, Space.com are here to ensure you get the best buying advice on travel tripods, whether you should purchase a travel tripod or not, making our buying guides and reviews reliable and transparent.