The best travel tripods are essential in a variety of amateur and professional settings because they offer stability when shooting in landscape and studio settings, enhance low-light capabilities, and allow you to take steady pictures from unusual or abstract angles.
The best tripods for traveling combine the stability, toughness, adaptability, and versatility of standard tripods with the added need of being lightweight and compact. Consequently, they can be carried for longer periods of time because they fold down to a smaller size that makes them easier to carry, either in your camera bag or compact enough to fit into your carry-on luggage. There are some differences in terms of height and maximum payloads, but generally, these days, the improvement in carbon fiber and light aluminum materials has contributed to travel tripods being some of the best tripods out there.
In this guide, we'll look at the pros and cons of several types of tripods, provide buying advice, and highlight some of the trade-offs you might have to make when selecting a compact, lightweight setup. In the meantime, though, if you're not sure travel tripods are right for you, check out our guide to the best tripods for astrophotography. Or if you want to, have a look at the best cameras for photos and videos, best cameras for astrophotography or the best lenses for astrophotography to get all the kit you need to accompany your new tripod.
---
Best travel tripods 2023
Best travel tripods 2023 ranked
The Peak Design Travel Tripod is just one of the fantastic, thoughtfully designed and beautifully made products that Peak Design offers for photographers on the go. When we reviewed the Peak Design Travel Tripod, we thought it was excellently designed and came in a very neat little package. Measuring 14.5 inches long when folded, we could easily fit it into our cabin bags and rucksacks as well as strap it to the outside. It is not the tallest tripod on the market, but it is sufficient for most situations when fully extended, reaching a height of 60 inches. Besides, you're not going to find a travel tripod that reaches the heights that standard tripods do.
They've even included a phone mount inside the package due to the rise of smartphone photography and social media content creation, but we were a little disappointed by the high cost, particularly of the carbon fiber version, which is almost double the price of the aluminum one.
---
The premium end of Benro's travel lineup is represented by the Rhino series, and with a detachable monopod, an included phone mount, and carbon fiber tubes, the Benro Rhino FRHN24C tripod is one of the best tripods we've given a closer look at. Its sleek design, reliability, and portability make it a fantastic choice for studio work or travel.
The braided material used to construct the carbon tubes increases stiffness, and at standard operating heights, the FRHN24C performs as well as some other non-travel-oriented tripods. When the four leg sections are completely extended, it measures 169 cm (66.3 inches) and collapses to just over 25 inches. Although this tripod is more expensive than some of the others on the list, many professional travel photographers would find it to be a wise investment.
---
We couldn't write the best travel tripods guide without including a tripod series that is literally called 'Travel Angel' — and we think the Benro Travel Angel 9X CF Series Tripod fits the bill perfectly.
Although expensive, Benro is known for producing high-quality products, and we think this tripod would last you for many years. It isn't the lightest tripod on this list at 3.99 lbs, but it has a maximum payload of 22 lbs (10kg) which is decent and would certainly suit serious photographers. It is the tallest tripod on this list and can extend to a height of 66.92 inches (170 cm). When collapsed, it measures 17.3 inches (43 cm). The legs are constructed from nine layers of carbon fiber, giving you enough sturdiness to hold heavy loads without weighing you down when carrying it.
---
The Vanguard VEO 3 GO 204CB tripod is one of the lightest full-size tripods we've ever come across, and it's the lightest on this list by a long shot, weighing in at just 1.8 lbs. It can extend to a height of 51.6 inches and hold a load capacity of 6.6 lbs, then folds down to 13.6 inches, which is impressive. We think this would make it a great tripod for traveling or hiking to dark locations to get that dark sky shot you've been dreaming of. Although it's not the tallest tripod on the market, we believe that the weight and folded size of this tripod make it worth considering, given that this guide is more geared towards traveling.
It's also really affordable, especially for a carbon fiber tripod. There is an aluminum version available, but it's actually not that much cheaper and you'll be bumping the weight up by a few ounces to 2.1 lbs. It can also be converted into a monopod or selfie stick, making it a solid choice for vloggers and people who produce content for social media.
---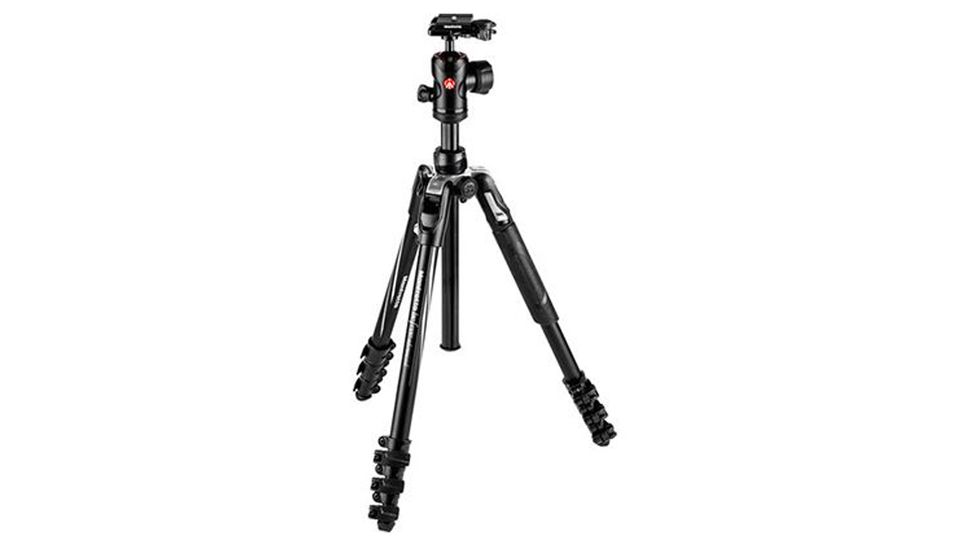 Manfrotto has a wide selection of tripods that are suitable for photographers in different fields, but we think the Befree 3 Way Advanced Tripod is a great all-round choice. It's not too expensive but has enough versatility to keep both photographers and filmmakers happy, thanks to its excellent three-way fluid head. The three-way ball head also employs a hydraulic dampening mechanism to ensure the camera moves smoothly.
The tripod has four leg sections and measures 59 inches when fully extended, and packs down to 15.7 inches when folded. It weighs 3.28 lbs which would make it great for travel, plus it comes in its own shoulder bag with a padded strap.
When we reviewed the Manfrotto Befree tripod, we noticed that a couple of design quirks meant that we had to remove the camera from the plate to get to the battery and card doors, which was inconvenient. But, for the minimal financial outlay, this is a travel tripod that's worthy of recommendation.
---
For beginner and entry-level users searching for a tripod to start with, JOBY offers a well-known and ever-expanding line of tripods that are inexpensive, lightweight, and simple to operate. But the JOBY GorillaPod 3K Pro isn't your typical tripod. It doesn't extend, and it doesn't fold down. The beauty of the JOBY GorillaPod is its flexible legs that can bend, twist and grip onto almost anything — making it a fantastic option for vloggers and content creators.
The maximum payload is minimal, so there's no point attaching a heavy pro kit to it. Although, in our review of the JOBY Gorilla Pod 3K Pro Kit, we were able to attach a DSLR camera with a big telephoto lens to it without any issues. The legs can occasionally be a little stiff and difficult to position, but they need to have some rigidity in order to support up to 3 kg of weight when wrapped around various objects. There is no reason not to recommend this option for the photographer or content creator seeking to produce stable images, especially for the money.
---
Gitzo has taken a premium, aesthetically conscious approach to travel tripods and other camera accessories with the Legende series. The Legende Traveller Tripod Kit has a great design and performs just as nicely as it looks thanks to its well-designed, ultra-smooth knobs, dials, and adjustments.
The attention to detail is excellent, with nice little features such as the specially designed matte silver aluminum Center Ball Head and the leather strap adding to the discerning feel. It reaches a maximum height of 65 inches with the central column and folds down to a compact collapsed length of 16.9 inches. It has four leg sections and can carry loads of up to 17.6 lbs.
If you have the money, we believe this is a pretty nice tripod to use, but we do have one criticism: there are many tripods on the market, including several that are included in this list, that can do the same tasks for a lot less money.
---
This 6-in-1 tripod from Benro really can do it all — it can act as a tripod, monopod, boom pole, selfie stick, high hat and tabletop tripod. With a carrying capacity of 8 kg, this option from Benro holds less weight and is a more compact and less pro-style setup, but that doesn't mean it can't compete with some of the other travel tripods on the market. It features five leg sections that can extend up to 60 inches (155cm), which is impressive — the central column also has two sections. It weighs just 3.6 lbs and collapses down to 15.4 inches.
We really enjoy the tripod's graduated panning scale, which lets you keep the tripod level while panning or photographing panoramas of the landscape. We think the twist locks function well, however, if you have to go through and twist or unscrew each one, setup time may be a little longer. Having said that, we think you'll get along with it well, and it's a hassle-free option that is easier on the wallet for amateur travelers who want to take pictures.
---
3-Legged Thing started as a grassroots business in the UK. Danny Lenihan, the company's creator, used his knowledge in lighting and photography to create extremely versatile, lightweight tripods and other equipment.
Compact and made out of magnesium alloy, their Punks range is most suited to travel because they're so ultralight and ultra-compact. Amazingly, they can still support 30 lbs of weight, which is over 8 times their own weight of 3.95 lbs. The 3 Legged Thing Punks Corey 2.0 Tripod can extend to 54.3 inches and folds down to 14.2 inches, making it suitable for packing into your carry-on luggage when flying. You can substitute the feet to make low-level or tabletop tripods, or you can remove the legs entirely to make a monopod or selfie stick.
Despite the fact that we liked the tripods' vivid colors, strong designs, and general performance, some seasoned amateurs or professionals might be looking for more bells and whistles, such as more complex head systems.
---
Travel tripods: Frequently Asked Questions
What is the lightest travel tripod?
The lightest travel tripod in our guide is the Joby GorillaPod 3K Pro Tripod that weighs 1.02 lbs / 463g. But this is a unique tripod that specializes in wrapping around everyday objects like branches and fences. The second lightest travel tripod, that has traditional operation with legs that extend in sections is the Vanguard VEO 3 GO 204CB Carbon Fiber Tripod and weighs 1.6 lbs / 725g.
Can I use a travel tripod with my smartphone?
Yes you can. Depending on the model some travel tripods come with a phone adapter, but tripod smartphone mounts can also be purchased separately. Tripods that come with a phone mount include the: Peak Design Travel Tripod, Benro Rhino FRHN24C+VX25 Head and Benro MeFoto Road Trip Pro.
A tripod smartphone mount is a useful addition for travelers or content creators that need to take images on the go and need to pack light. With the advance in smartphone camera technology when it comes to producing high-grade kit that doesn't weigh much, all of the tripods in this guide are suitable.
Which travel tripod should I buy? Carbon fiber or aluminum?
Carbon fiber tripods generally weigh less than their aluminum counterparts but cost more. Some models will cost significantly more, so if you want to save money on a tripod look to purchase an aluminum model. However, if traveling light is your priority then opt for a carbon fiber model.
For example, the Peak Design aluminum travel tripod costs around $380 at time of writing, whereas the carbon fiber version costs $650 which is $270 or 1.7x more expensive. However, the Vanguard VEO 3 GO 204 aluminum tripod costs $130 and its carbon fiber version costs $150, just $20 or 1.25x more.
What is the best travel tripod for astrophotography?
This depends on the overall payload of your camera, lens and camera accessories. We'd recommend the Peak Design Travel Tripod as the best travel tripod overall, if your budget stretches. But a more budget-friendly option which we still rate highly would be the Vanguard VEO 3 GO 204CB.
It's important to add up the weight of all the gear you will be placing on any given tripod because tripods have a maximum payload, see below.
What is a tripod maximum payload?
This is the maximum weight a tripod is designed to hold steady when taking photographs or video footage. To calculate this, add up the weight of everything you will place on the tripod, this may include: The camera, a lens and camera accessories like an intervalometer/remote shutter release, or a star tracker mount.
If it is just slightly over the manufacturer's stated maximum payload for the tripod there's a chance things will be fine. But bear in mind that there are no guarantees for its stability, especially in high winds. If in doubt, go for a tripod that is designed to hold the maximum payload of your camera gear, even if it means investing a little more money.
Travel tripods are designed to be lightweight and compact, so there's a chance none on this list will support your maximum payload. In which case, we'd recommend a bigger, more generalist tripod from our Best tripods guide, in which the Benro Mach3 TMA37C ranks number one.
How many leg sections should my tripod have?
Generally between three and five leg sections is the most common. The leg sections are designed to extend to increase or decrease the tripod's height to aid composition. The Benro Rhino FRHN24C+VX25 Head has four leg sections and reaches a maximum height of 66.3 inches. However, the Joby GorillaPod 3K Pro Tripod which has a maximum height of 11.81-inches with just one leg section, but this is intentional because it's designed to wrap around and onto tall objects so
If you're trekking or want to set up your camera on uneven ground, it's worth testing out tripods that have multiple leg angles and the ability to adjust quickly. Usually a small pin or lever at the top of the legs can be pulled out to increase the leg angle and therefore change the height and stability of the travel tripod.
How we test the best travel tripods
To guarantee you're getting honest, up-to-date recommendations on the best travel tripods to buy here at Space.com we make sure to put every travel tripod through a rigorous review to fully test each product. Each travel tripod is reviewed based on a multitude of aspects, from its construction and design, to how well it functions and its performance in the field.
Each travel tripod is carefully tested by our expert staff or knowledgeable freelance contributors who know their subject areas in depth. This ensures fair reviewing is backed by personal, hands-on experience with each travel tripod and is judged based on its price point, class and destined use.
We look at how easy each travel tripod is to operate, whether it contains the latest up-to-date material technology, and also make suggestions if a particular travel tripod would benefit from any additional equipment to give you the best user experience possible.
With complete editorial independence, Space.com are here to ensure you get the best buying advice on travel tripods, whether you should purchase a travel tripod or not, making our buying guides and reviews reliable and transparent.