Best Camera Drones: Quick Menu
One of the main reasons for flying drones is to capture the world from aerial viewpoints to create unique photos and videos. After all, the best camera drones are essentially flying cameras, with many of them now offering stunning image quality.
The best camera drones come in a variety of sizes and weights, so you can choose the one that fits perfectly with your way of shooting. If you'd like something small and lightweight, consider the sub-250g models, which can be flown in more places than larger and heavier models. But if you're looking for the very best in image quality, features and power, a larger model may be more suitable. Whichever you opt for, most models are foldable which makes them incredibly easy to carry.
Learning how to shoot aerial photography and video takes time, but you can give yourself a running start by checking out our drone photography tips guide and our beginner's guide to drone video. where we cover all of the essentials and much more to help you to get started.
We've also got guides to the best FPV drones if you want to dive head first into drone flying, so to speak, as well an overarching best drones guide that covers the top models in all categories.
The Quick List
Best camera drone overall
The world's first consumer drone with three cameras - the Mavic 3 Pro offers exceptional image quality. Probably overkill for most users.
Read more below.
Best camera drone overall
The DJI Mavic 3 / Mavic 3 Cine are dual-camera drones offering excellent image quality with the main Four Thirds Hasselblad camera.
Best value for money
If the only camera you need on a Mavic 3 is the Four Thirds Hasselblad camera with an adjustable aperture, the Mavic 3 Classic is the perfect option.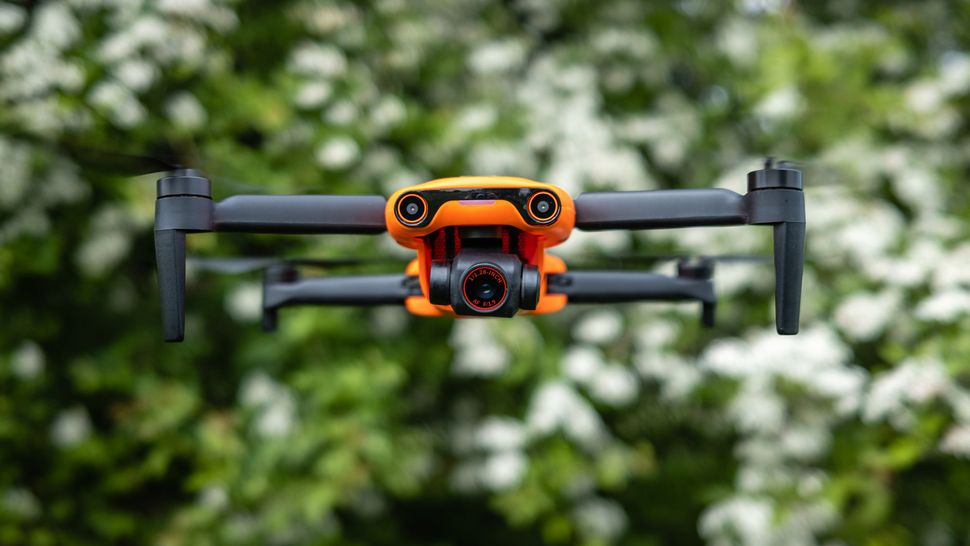 Best small camera drone
With 4K 30fps video in a small and foldable 249g drone, The Autel EVO Nano+ also offers collision avoidance for safer flights in complex environments.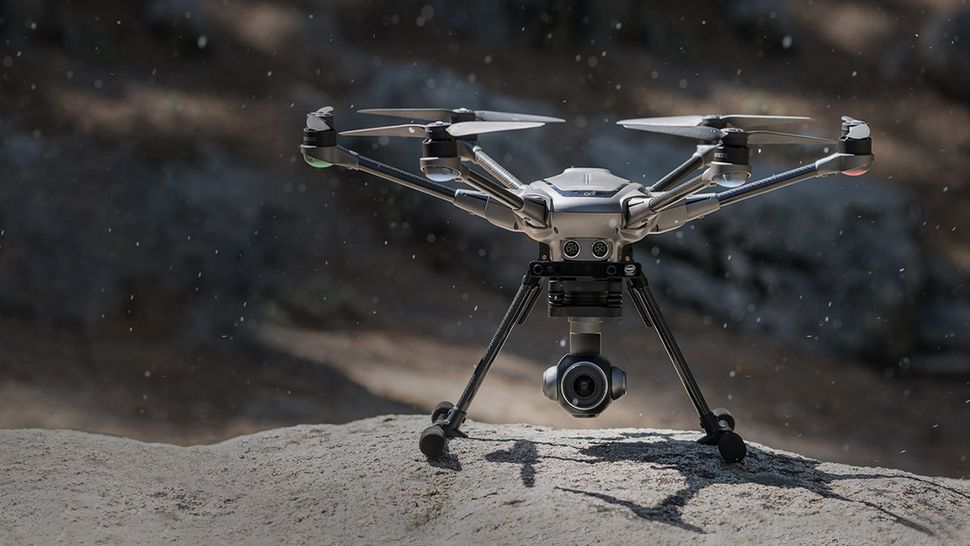 Best for stability
With six rotors and retractable legs, the Yuneec Typhoon H Plus offers stability in strong wind with a gimbal that can rotate the camera a full 360°.
Best for portability
Thanks to excellent image quality, power and advanced features in this medium-sized drone, the DJI Mavic Air 2S is a versatile option for shooting photos and videos.
Load the next 6 products...
Best DJI mini drone
The DJI Mini 3 Pro is the best sub-250g drone available offering excellent image quality for photos and videos and portrait format shooting.
Best cheap mini drone
The DJI Mini 3 may not have all the features of the more expensive DJI Mini 3 Pro, but it shares the same camera and many features for a budget price.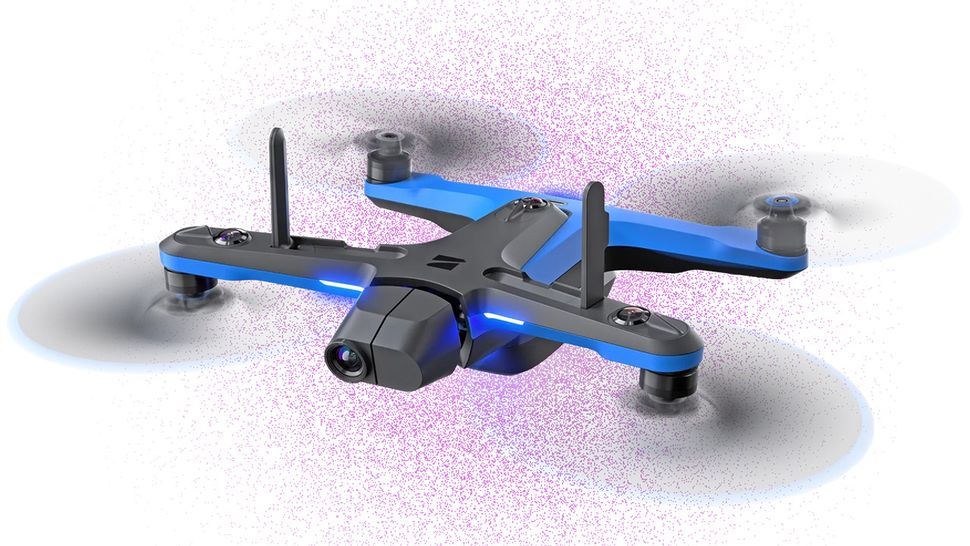 Best for safety features
Most drones are pretty mediocre when it comes to safe autonomous flight, but the Skydio 2+ is one of the best when it comes to collision avoidance.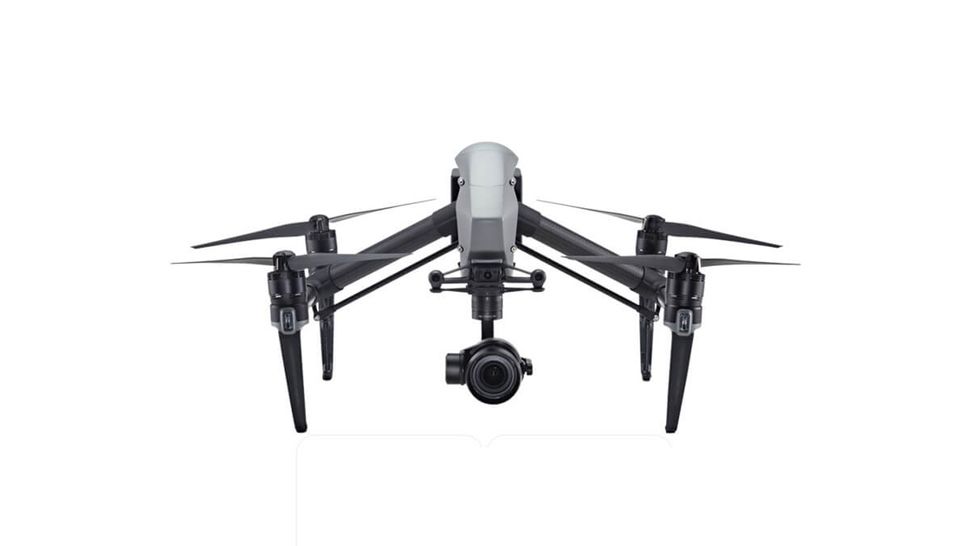 DJI Inspire 2 & Zenmuse X5S
Best professional-use drone
With the release of the DJI Inspire 3, the DJI Inspire 2 & Zenmuse X5S can be picked up for great prices and offer fantastic image quality and features.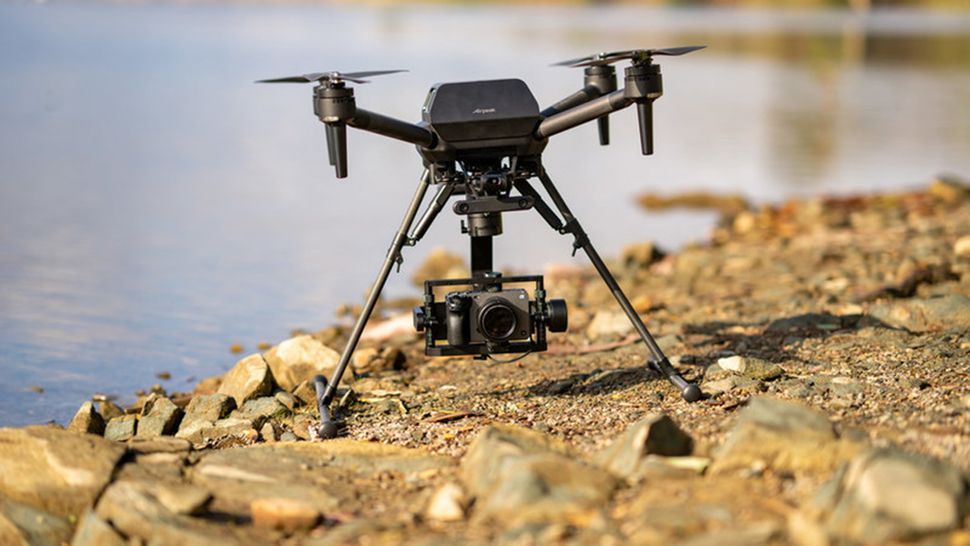 Best pro drone for image quality
With the ability to carry Sony A1, A7 and A9 series cameras, the Sony Airpeak S1 has great potential for image quality for photos and videos.
Best attachable drone camera
If you'd like to be able to create FPV-style videos with a DJI Mavic Air2/2S, the Insta260 Sphere is a 360° camera that will allow you to do exactly that.
Best camera drone overall
The DJI Mavic 3 Pro is DJI's new flagship consumer model and the world's first consumer drone to feature three cameras. The main camera is a Four Thirds 20MP Hasselblad offering the most features and functionality including an adjustable f/2.8-f/11 aperture. While the 70mm medium telephoto uses the same 1/1.3-inch sensor as the Mavic Mini 3 Pro, and then there's the 166mm telephoto which features a 12MP 1/2-inch sensor. All three can capture Raw photos and video in Apple ProRes and Normal profiles, while the Hasselblad and 70mm can also capture video in the flat D-Log M profile.
Flight times are slightly reduced when compared to other Mavic 3 models, but the advertised flight time still comes in at a respectable 43 minutes. In reality, this sits around the 30-minute mark depending on how you fly. Plus, there are three flight modes and Quickshots automated flight patterns for quickly and easily capturing professional-looking video.
With advanced safety features including GPS positioning and an Omnidirectional Obstacle Sensing system for collision avoidance, the Mavic 3 Pro is incredibly safe and easy to fly whether you're a beginner or an experienced drone pilot. Plus, with a folding design and a weight of 33.79 oz / 958 g, this is a powerful drone that you can carry around comfortably. There are several kits available, with two smart controller options, both with built-in 5.5-inch touchscreens, so you can choose the option that best meets your budget.
Best dual camera drone
The DJI Mavic 3 is what you could call DJI's flagship model despite not being the most advanced or expensive model in the company's line-up. It is, however, the company's most advanced folding drone that's a highly portable 221x96.3x90.3mm when folded, and both models weigh less than 900g.
There are two models available – the Standard and the Cine – with the latter being the more advanced model. The main differences between them are that the Cine features a built-in 1TB SSD rather than 8GB of internal storage, with support for Apple ProRes 422 HQ video recording and comes with a Smart Controller with a built-in LCD touchscreen.
The dual Hasselblad camera is the jewel in the Mavic 3's crown, with the main Four Thirds camera offering excellent image quality alongside an adjustable f/2.8 to f/11 aperture capable of capturing in JPEG and Raw. The second camera uses a 1/2-Inch CMOS sensor with an equivalent focal length of 162mm, a fixed f/4.4 aperture and a 28x hybrid zoom with limited functionality.
The Mavic 3 offers a level of control comparable to standard cameras for stills photography. Video shooting with the main camera is available at 5.1K up to 50fps, 4K at up to 120fps, FHD up to 120fps and when shooting Apple ProRes on the Cine model up to 50fps in 5.1K and up to 120fps in 4K. With both models, you can shoot in the flat D-Log profile for colour grading or in Standard profiles for footage that's processed in-camera.
Best value for money
The original DJI Mavic 3 models set a new benchmark for prosumer drones thanks to advanced features and dual cameras; the main Hasselblad camera provides an equivalent focal length of 24mm and features an amazing 20MP Four Thirds sensor that produces incredible image quality.
The DJI Mavic 3 Classic has maintained the main Four Thirds camera with its adjustable f/2.8-f/11 aperture, but the second camera has been removed to produce a less expensive option for drone pilots who don't need the telephoto camera with limited photo and video functionality. Some other functions are also absent, but the Mavic 3 Classic remains a compelling option for more advanced pilots.
The camera itself is incredible and provides the best image quality possible with a folding prosumer drone. Photos can be captured in 12-bit Raw and JPEG, while video can be shot at up to 5.1K at 50fps, and 4K can be captured at up to 120fps for slow motion video. Footage can be captured in 10-bit D-Log for color grading or the Normal profile for straight out of camera footage.
The Mavic 3 Classic provides advanced collision avoidance and subject tracking modes making flights easier and safer. So, although this isn't a drone aimed at beginners, it's incredibly easy to fly which is impressive for such a capable drone. If you would like one of the best portable drones available, this is one to consider.
Best small camera drone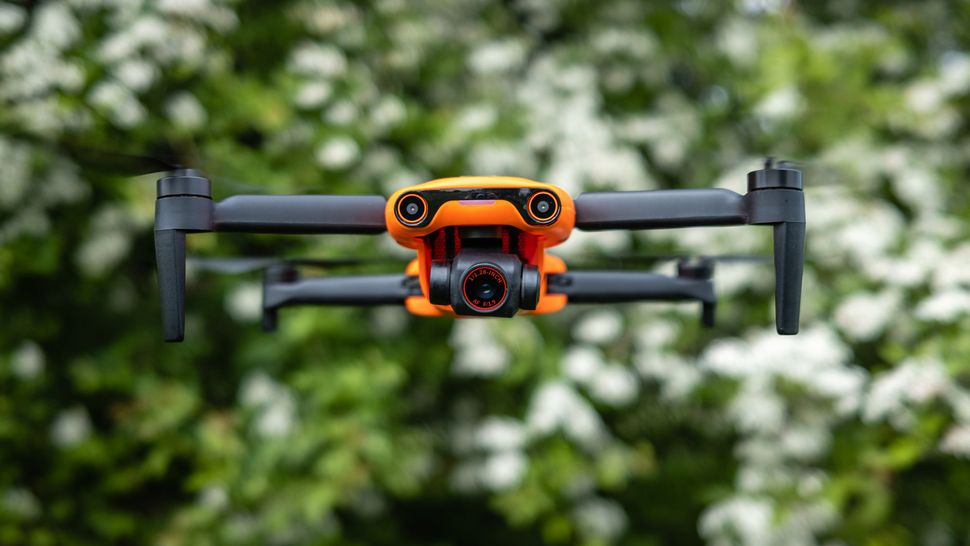 Sub-250g drones are popular options for beginners and professionals alike because of their regulator-friendly nature which sees them under fewer restrictions than larger models. The Autel EVO Nano+ was the first drone in this category to feature obstacle avoidance, which in turn brings into play Quickshots. These are automated flight patterns that allow you to capture professional-looking videos at the touch of a button.
The Nano+ is available in four colors – Classic Orange, Deep Space Grey, Blazing Red and Arctic White, and features a folding design that makes it extremely small for transportation. Build quality is excellent, and this 249g drone, including a battery, is just 142×94×55mm when folded and 260×325×55mm unfolded, while spare batteries weigh just 82g.
Image quality from the camera with a 12.5MP 1/1.28-inch sensor, an equivalent focal length of 23mm and a fast f/1.9 aperture is excellent overall. For stills photography, you can shoot in Raw, JPEG or both when shooting 12.5MP photos, but when taking advantage of the 50MP photo feature, you can only capture photos as JPEGs.
In terms of video, you can shoot at 4K up to 30fps, 2.7K up to 30fps and FHD up to 60fps with a maximum bitrate of 100Mbps. Video can be captured in both Standard and D-Log color profiles, with the former for straight-out-of-camera footage and the latter for color grading and use within professional workflows.
The Nano+ is available in two kits; the first is the standard bundle, which costs $899 / £719 and comes with everything you need to get started including a single battery, While the premium bundle comes with everything in the standard bundle but also includes two additional batteries, a carry bag, additional spare propellers, a power adaptor, a three battery charging hub and a propeller holder.
Best for stability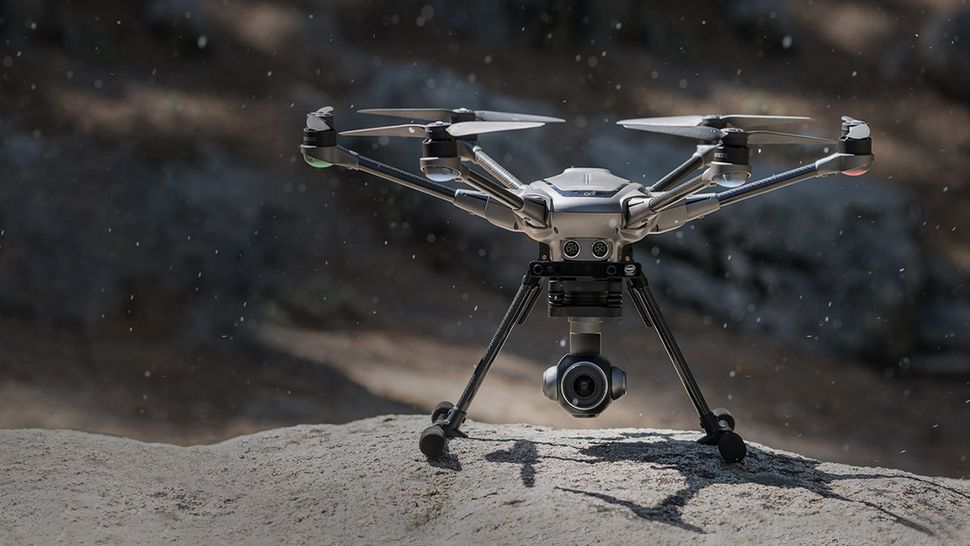 Offering stability in higher winds, the Yuneec Typhoon H Plus is a hexacopter featuring six propellers with the ability to maintain flight with five propellers if one fails. This is a large and heavy drone that weighs 1995g and does fold down, but it remains much bulkier than other folding models so it's not as easily transportable as DJI Mavic drones or the Autel Evo II Pro.
The C23 4K camera features a 1-inch sensor capable of capturing 20MP stills in JPEG and Raw formats, with 4K video available up to 60fps alongside FHD and HD at up to 120fps. The gimbal can rotate a full 360° for photo and video capture since the landing gear is raised once the drone has taken off so you don't need to rotate the drone to compose your shots – great for subject tracking videos.
The controller features a 7-inch touchscreen display powered by Android and features an HDMI port to connect to an external monitor. What's more, the Typhoon H Plus offers Team Mode which allows you to control the drone and camera independently using two remote controls. This means that the pilot can focus on flight while a camera operator takes control of the camera – perfect for professional filmmaking.
Best for portability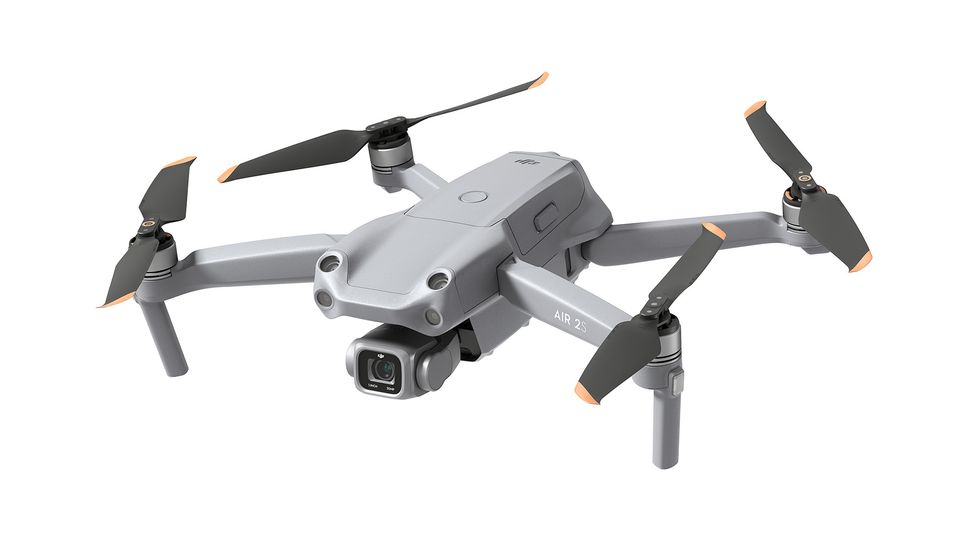 Taking the crown for best DJI drone with a 1-inch sensor from the Mavic 2 Pro, the Air 2S is now the best and indeed newest model available with this sensor size. The Air 2S features a folding design with a folded size of 180x97x77mm and a weight of just 595g, making it the smallest and lightest drone available with a 1-inch sensor. This makes it the perfect choice for photographers and videographers requiring excellent image quality in a small package that can be easily carried alongside other equipment.
The camera features a 1-inch 20MP sensor with an equivalent focal length of 22mm. It's capable of capturing stills in both Raw and JPEG formats, although it doesn't offer an adjustable aperture so videographers will need to rely on ND filters to control shutter speed when filming. This is less convenient than having an adjustable aperture that can be used in conjunction with ND filters to control exposure, but the trade-off here is the small size and light weight of the drone.
In terms of video, you can shoot 5.4K up to 30fps, 4K up to 60fps, 2.7K up to 60fps and FHD up to 120fps with both Standard and D-Log profiles available for in-camera processed footage or footage that can be color graded. A digital zoom provides up to 8x magnification when shooting FHD videos with a sliding scale to 4x at 4K, allowing you to film subjects without needing to physically fly closer. Zoom recording isn't available while shooting 10-bit videos and 120fps videos, however.
Best DJI mini drone
If you would like to enjoy professional photo and video features in a small and lightweight package, the DJI Mavic Mini 3 Pro could be exactly what you're looking for. This folding palm-sized drone weighs just 249g which means that as well as being comfortable to carry, it can also be flown in more locations than larger models that have to be flown further away from people and buildings.
This is the best Mavic Mini model to date, as well as the best sub 249g drone currently available. It's not as full-featured as the Mavic 3 / Mavic 3 Classic, but it still has some impressive camera features beginners and pros alike will enjoy. The 1/1.3-inch 12MP sensor can capture Raw files and JPEGs in both 12MP and 48MP, with incredible high ISO noise handling thanks to dual native ISO capturing technology.
The camera can also be rotated 90° so users can capture photos and videos in both landscape and portrait formats. Video can be captured in 4K up to 60fps, 2.7K up to 60fps and FHD up to 120fps with Normal and D-Cinelike colour profiles available. There's also a digital zoom providing 2x at 4K, 3x at 2.7K and 4x at FHD.
Best cheap mini drone
The DJI Mavic Mini 3 is an impressive beginner drone, sharing many of the same features and functionality as its more advanced sibling: the DJI Mavic Mini 3 Pro. Both share the same camera with a 24mm equivalent focal length, fixed f/1.7 aperture, a 1/1.3-inch 12MP sensor and the ability to rotate the camera 90° to shoot photos and videos in both landscape and portrait formats.
This means that beginners and those on a budget can enjoy the same image quality as the Mini 3 Pro, but you'll have to be prepared to miss out on a handful of key features. The Mini 3's features are comprehensive overall with Quickshots automated flight patterns available for capturing professional-looking video with ease, although collision avoidance has been omitted.
In terms of shooting, 4K video tops off at 30fps rather than 60fps, while the (flat/Raw) D-Cinelike color profile is unavailable so you can only shoot video in the Normal profile. 48MP photos, Timelapse and subject tracking capabilities are also absent. This may sound like a lot, but the Mini 3 remains an outstanding sub 250g model that's competitively priced.
Best for class-leading safety features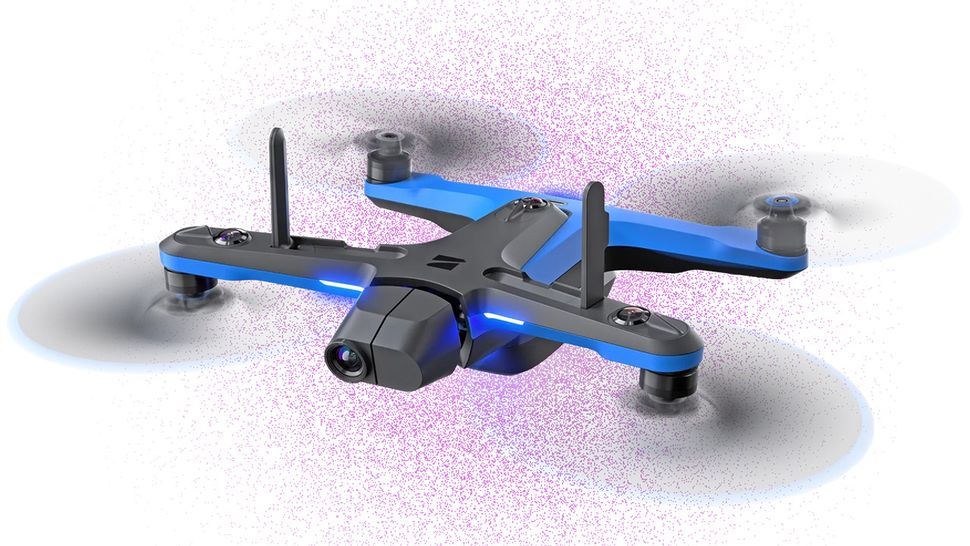 The Skydio 2+ may not provide the highest resolution for stills photography but it does offer 4K video. And where this drone ultimately excels is when it comes to intelligent autonomous flight thanks to class-leading subject tracking. The subject tracking performance of the Skydio 2+, even in complex locations such as woodland, is remarkable and provides much smoother video footage than other drones making it a great option for action and sports videos.
With a fixed body, the Skydio 2+ is bulkier than foldable drones but it's still reasonably small at 229x274x76mm with a weight of just 800g so it's still a highly portable option. The Skydio 2+ uses a dedicated autonomous flight system with Omnidirectional Super fisheye lenses to provide a 360° view for collision avoidance to help pilots maintain safe flight whether flying manually or taking advantage of the automated flight and subject tracking modes.
The 20mm equivalent camera uses a 1/2.3-inch 12.3MP sensor with a fixed f/2.8 aperture with the ability to capture photos in JPEG and Raw formats. Video is slightly more limited than other drone models, but you can shoot 4K at up to 60fps and FHD at up to 120fps so you ultimately have the main resolutions required by both enthusiasts and professionals.
Best professional-use drone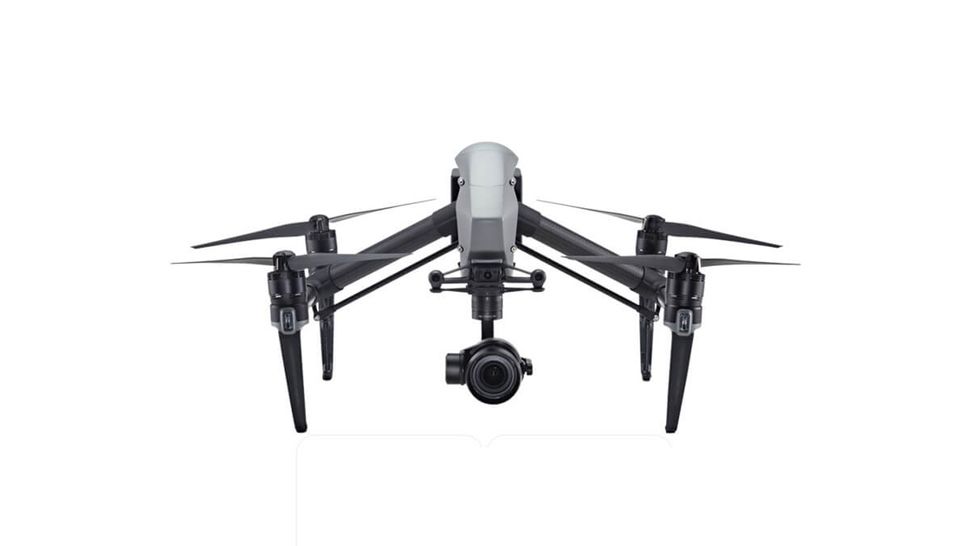 There are drone models aimed at every type of drone pilot, and the DJI Inspire 2 is firmly aimed at the professional market and comes in at a hefty cost to match. This large and heavy drone has a diagonal length of 605mm and weighs just under 4kg with a camera attached, so it's far from a portable model. There are also several different cameras available for the drone, so we'll consider it here with the mid-range Zenmuse X5S.
The Zenmuse X5S features a 20.9MP Micro Four Thirds sensor and lens mount compatible with eight DJI, Panasonic and Olympus MFT lenses. This camera provides 12.8 stops of dynamic range and the ability to shoot in JPEG and 12-bit Raw. Video can be captured at 5.2K up to 30fps, 4K DCI (cinematic 4K) up to 30fps, 4K up to 60fps and FHD up to 60fps. Raw video profiles include CinemaDNG and ProRes.
The Inspire 2 is a large and powerful drone with a top speed of 58mph in Sport Mode that can accelerate from 0-50mph in five seconds. It even features self-heating technology for use in colder environments and the gimbal that can rotate the camera 360°. It's a seriously well-featured drone before you even consider the stellar safety technology, flight and camera functionality available.
Best camera carrying drone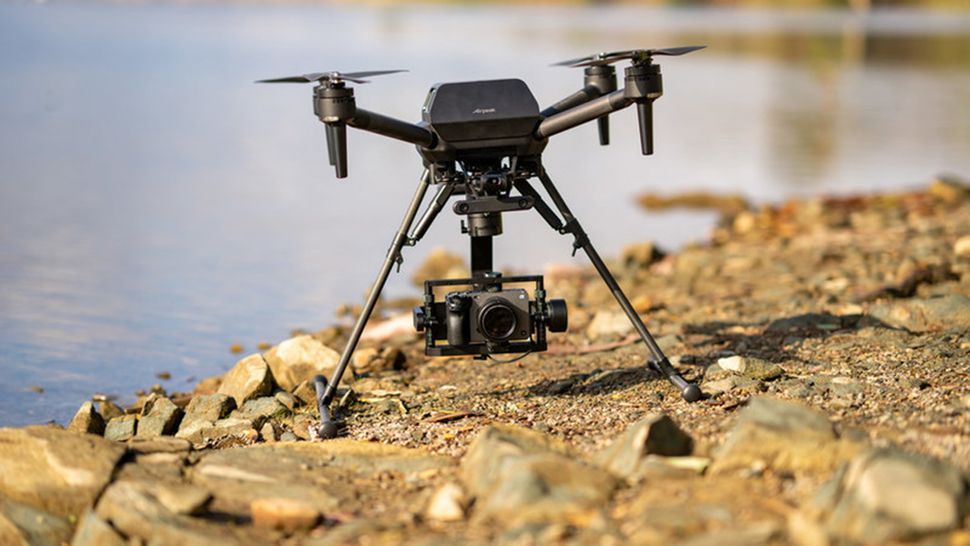 Top-end professional drones are notoriously expensive and tricky to use, not least because of the batteries they use. But where these were once almost exclusively custom-built, the Sony Airpeak S1 is what you might call a ready-made drone offering ease of use and the ability to attach Sony's full-frame A1, A7 and A9 series cameras. It's an extremely expensive drone before you even consider the cost of the camera, but what it offers is the ability to capture the best image quality possible.
This is an incredibly powerful drone with a top speed of 55.9mph (without a camera) with wind resistance of up to 44.7mph, so it can be flown in even the most challenging conditions and still capture smooth video footage. Battery life is short at up to just 22 minutes without a camera attached, but this would be sufficient for many professional filmmaking situations. When purchasing the Airpeak S1, you will also need a compatible camera and gimbal mount.
The drone and camera can be controlled individually so a pilot can focus on flight while the camera operator focuses on filming. And with retractable landing gear, the gimbal and mounted camera can be rotated 360°. In terms of image quality, whether shooting stills or video, you can enjoy the best image quality for stills and video possible thanks to being able to mount Sony's A1, A7 and A9 series cameras. Take a look at the specs of individual camera models to see what they're capable of in terms of photography and video.
Best attachable drone camera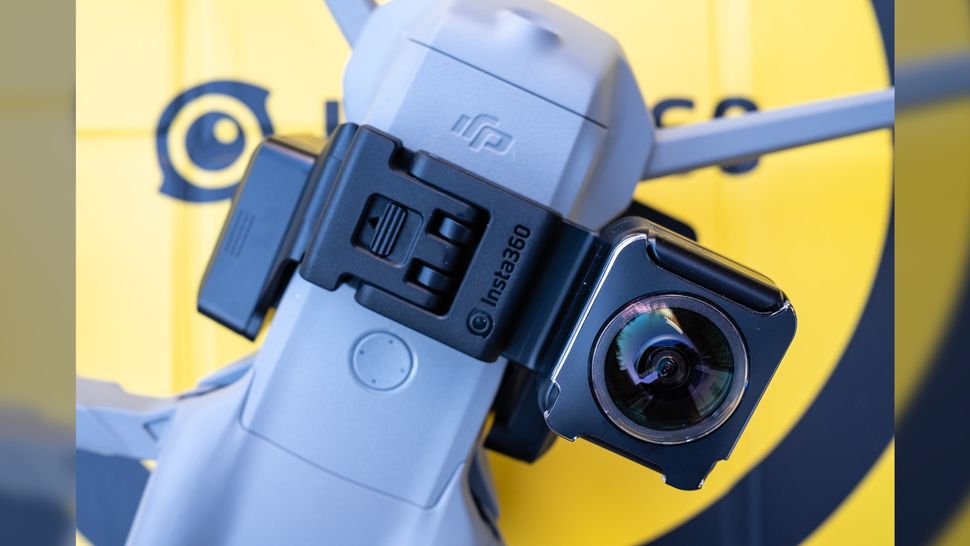 Capturing 360° is becoming increasingly popular in drone photography and video, but simply strapping a 360° camera to your drone will also capture the drone itself; removing it from the footage to be able to take advantage of a full 360° view is extremely tricky and time-consuming, but there is another option if you're the owner of a DJI Mavic Air 2 or DJI Air 2S: the Insta360 Sphere.
The Insta360 Sphere is an innovative camera that uses two cameras to capture a seamless 360° view where the drone is essentially invisible. The dual 7.2mm f/2 cameras can capture video in 5.7K up to 30ps, 4K up to 50fps and 3K at 100fps. Video modes include Standard Video, HDR, Timelapse, TimeShift, Bullet Time and Loop Recording, with Standard, Vivid and LOG color profiles available. And in most situations, simply setting the camera to capture video in 5.7K and flying the drone for a few minutes captures enough footage to create a much more exciting video.
After simple and slow flights with the drone over, under and around obstacles while capturing 360° footage, you can use the Insta360 phone app or Insta360 Studio desktop app to create immersive FPV-style video with ease. video effects such as camera direction, movement, speed, drone rolls, flips, dives and other effects can be applied during editing using templates and keyframes
The Standalone kit costs $423/£440 and includes the Sphere camera, two sticky lens guards, two lens caps, one battery, a charging cable, a lens cloth and a landing mat. The Memory Card Kit costs $440/£456 and includes all of the above alongside a 64GB microSD card. The price on the Insta360 website includes customs duty and import tax.
More information about drone flight
For some, flying a drone is a fun end in itself. But for most people, the whole point of buying a drone is to be able to capture amazing aerial photos and videos, alongside being able to get a camera into locations and positions not accessible on foot. This means that the camera and the image quality it produces are important considerations when choosing the right drone for you.
All the drones covered in this article require you to register with the FAA (US) and CAA (UK) because they all weigh over 249g. It's a simple process that involves a basic multiple-choice test, and once completed you'll have a better idea of what you should and shouldn't do with your drone. And most importantly, you'll be legal to fly your drone and not be at risk of receiving a hefty fine. For more detailed information, check out our guide to drone regulations.
We've covered the best camera drones available right now in this article, but even if you're looking for something smaller, lighter and/or less expensive, even beginner drones can provide excellent image quality. And if they're too expensive, we do have a look at the cheapest drone deals right now too.
How we test camera drones
Camera drones are typically tested over several days in different locations, environments and weather conditions (excluding rain) to test flight performance, flight features, overall handling and image quality for both photo and video capture. With these models, the emphasis is on the camera features and functionality, although flight performance remains an important aspect of testing.
Drones are flown using manual flight patterns to test the connection between the aircraft and the controller, latency between the two, the accuracy of the controls, app connection and reliability and flight in general. And if automated flight patterns and collision avoidance are available, these are always tested to assess accuracy and performance when capturing video.
All testing is conducted in a way that meets local aviation laws and restrictions to ensure that all flights are safe and legal. Drone laws vary from region to region, so you must check local laws to ensure that you're following the guidelines for your country before embarking on your first drone flights.