The best DSLR cameras are still desired by many photographers of varying disciplines. DSLRs (digital single-lens reflex) cameras rose to prominence in the early to mid-2000s and remained so for around two decades. They were notable for being able to attach interchangeable lenses to the same body, which was not possible with digital compact cameras.
The debate now exists between DSLR cameras v mirrorless cameras and that debate is relentless. But even if you're a beginner or seasoned photographer looking for a new shooting partner, you shouldn't rule them out as a possibility. The best DSLR cameras still rank highly in our Best cameras for astrophotography guide, we firmly believe they can still hold their own, especially in this particular field. We discuss this in our 'Should you buy a DSLR' article.
Don't let DSLR cameras' larger size and heavier weight discourage you; while they are often a little bigger and heavier than other types of cameras, they aren't any more obtrusive or clunky than they once were. Some photographers even prefer the chunky feel in the hand to a lightweight mirrorless.
You can still check out our round-up of the best beginner cameras if this is your first camera, or check out our best camera deals guide to see if you can grab a bargain discount. Being skywatchers and astrophotographers, we really love DSLRs — if you want to see the rundown of the best DSLR cameras then stay on this page.
If you're more lured by the competition, a mirrorless camera, then take a look at our best mirrorless cameras guide instead, where we round up our favorites.
---
Best DSLR cameras in 2023
Why you can trust Space Our expert reviewers spend hours testing and comparing products and services so you can choose the best for you. Find out more about how we test.
Best DSLR cameras ranked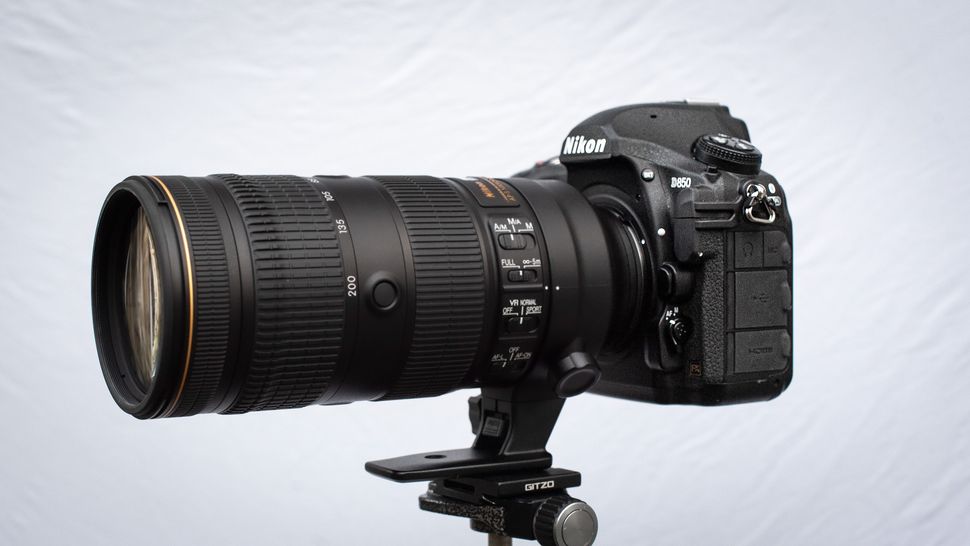 The D850 is possibly one of the best DSLRs of all time alongside the likes of the pro-level, expensive Nikon D6 (opens in new tab). It was first released in 2017 and offers 45.7MP still photos at up to 9fps (when using a dedicated battery grip, without this it is 7fps). Although the buffering speed is slower than some of the other models in this guide, keep in mind that this model offers 9fps at 45.7MP still photographs — these files are absolutely huge and the resolution is insane!
Although the D850 is an expensive camera, it is well worth considering if you frequently switch between taking still photos and recording videos as it also supports 4K UHD and stunning 8K time-lapse videos.
There isn't a specific style of photography that this camera lends itself to more than others, because, to put it simply, it can do anything. We reviewed the Nikon D850 and loved the astrophotography-friendly features such as backlit buttons, excellent low light autofocus, and good ISO noise handling capabilities. It's also compatible with practically every F-mount lens, so there is a large selection of lenses to choose from to meet your needs.
The Nikon D850 is a camera you can take anywhere, for any occasion, and get maximum results without fretting about the elements or dust as it is extensively weather-sealed, and even the battery grip is protected from dust and water ingress. It would be happy in any of the best locations for astrophotography and skywatching.
---
Although being released more than 5 years ago, the Canon EOS 5D Mark IV is still a popular tool among pros and is often described as a "workhorse" due to its excellent build quality and versatility. If only for the quality of the images it produces (30.4MP stills and 4K DCI video for cinematic movie quality), it is a must-have.
A large, detailed rear screen complements the bright optical viewfinder (although we wish it had a tilting screen), and peripherals can be attached with USB 3.0, HDMI out, and headphone outputs. In order to enable wireless shooting and simple image sharing, it also has a microphone input, a flash connection connector, WiFi, and NFC technology.
In our Canon EOS 5D Mark IV review, we surmised that, although on the pricey side, it is ideal for enthusiasts and pro photographers seeking an all-rounder that handles well.
---
Another Nikon here, and deservingly so. The D780 supersedes the magnificent Nikon D750 (opens in new tab) and is aimed at professionals and serious enthusiasts with a handsome budget. While having a relatively small form factor in contrast to other DSLRs, it builds upon the features of its predecessor and has a more detailed rear screen with a massive 2359K dots and a huge maximum burst speed of 12FPS. For wildlife, sports, and action photography, it is the perfect DSLR companion. It shoots 4K UHD video with 10-bit N-log recording and 12 stops of dynamic range. It can also shoot at 120FPS for (5x) slow-motion footage.
As well as an admirable burst speed, the D780 is also a low-light master, and we put it to the test in our comprehensive Nikon D780 review. The ISO range expands to an eye-watering 204,800 and the noise reduction algorithms are impeccable at keeping the images clean. Also, due to the camera's low-light-specific abilities, the AF range can be decreased by as much as -7EV when live view is on.
All in all, this camera is especially useful for astrophotography, but an excellent performer across all disciplines.
---
Crop sensor DSLRs benefit from the perceived extra zoom afforded by the 1.5/1.6x effective crop. That's exactly where Canon excels with this powerhouse of a camera which is aimed at enthusiasts. The longer effective focal length and fast 10FPS burst speed are complemented by a huge 32.5MP CMOS image sensor which was once the highest resolution of any APS-C camera.
Although 4K DCI would be good to have on this camera, 4K UHD more than keeps up in its class and is suitable for the majority of shooters. You can maintain sharpness on moving objects even as you move the camera thanks to the iTR focus tracking system, which is powered by a 220,000 RGB and IR metering sensor. You can shoot at 120fps for slow-motion movies, although when doing this, you won't benefit from continuous AF.
The 90D has Canon's Dual Pixel CMOS autofocus system, so autofocus won't be compromised even while in live view mode, much like a mirrorless camera.
The camera feels chunky and robust to the touch, with lots of space to comfortably grip and change settings simultaneously. We would like to see two memory card slots; there is certainly enough room for another and it would provide extra peace of mind on a shoot, but we can't have it all.
---
The Canon EOS 6D Mark II is a benchmark DSLR for Canon. It sits comfortably between less expensive entry-level and more expensive professional models, and it can produce close-up images with stunning quality.
Photographers who like to push the limits of the entry-level versions can exploit the integrated weather and dust sealing features and take advantage of slightly elevated, but not exceptional burst shoot speeds of up to 6.5FPS.
In our Canon EOS 6D Mark II review, we found it to be nicely ergonomic with a good hand grip, easy-to-use round buttons, dials and thumbwheels, and the body has well-rounded edges for comfort. The vari-angled touch screen is great for composing shots at awkward angles and feels less intrusive when trying to capture candid shots. Both new and experienced photographers value the clarity and detail that the images produce, even in poor lighting conditions.
When recording video, the Dual Pixel CMOS AF easily adjusts the focus, and there is a five-axis digital image stabilization to help with handheld shooting. The 26.2MP image resolution allows it to take 4K time-lapses, but the only major drawback to an otherwise excellent intermediate-level camera is that video resolution only goes up to 1080p 60FPS.
---
The D7500 is Nikon's flagship DX (crop sensor) camera body, designed for photographers who want to advance their photographic skills. While shooting at unusual angles, as is often the case with astrophotography, its huge, 3.2-inch rear-tilting LCD comes in handy. It's also a touchscreen, which makes composing and shooting a breeze with as few clicks as possible.
The 8FPS maximum burst speed makes it suitable for some sports and wildlife photography, while the 20.9MP CMOS image sensor is more than enough to record 4K UHD video. Due to its complete weather sealing, which keeps dust and water out, this camera is protected from the elements.
In our Nikon D7500 review, we liked the button layout which feels professional and makes good use of the space available on the body. We also like the large touch screen which is very responsive and easy to use, and the high ISO handling impressed us.
---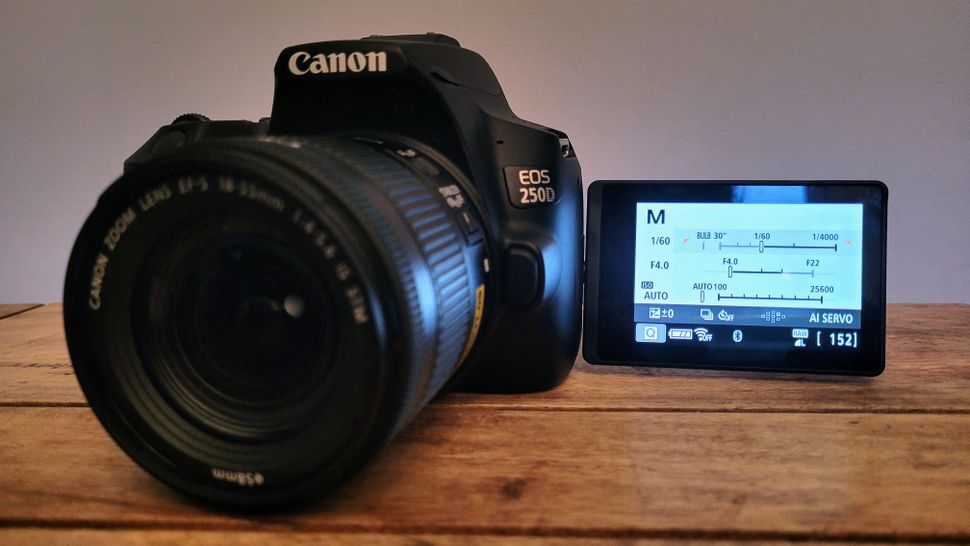 While cheaper entry-level crop sensor cameras are available, the tiny Canon EOS Rebel SL3 / 250D is the best, with a 24.1MP CMOS sensor and DIGIC 8 image processor that produces vivid, minimal-noise photos. The viewfinder only has nine AF points available, but by turning on the live view feature on the rear vari-angle touchscreen, this number can be increased to 143 through the camera's automatic selection.
With a maximum expanded ISO sensitivity of 51200 and an autofocus working range of -4EV, this Canon is a useful camera in low light, especially when paired with a lens that has built-in image stabilization. We were pleasantly surprised when we used it for some very basic astrophotography.
In our Canon Rebel SL3/250D review, our verdict was that it is an excellent easy-to-use camera, which is compact and durable and would be best suited to newcomers who want to shoot a range of styles.
---
The D3500 is Nikon's cheapest DSLR and is aimed at the beginner market. It is compact and lightweight, yet it is also comfortable to hold, and it has a solid, deep grip that both looks and feels professional. Its APS-C CMOS sensor kicks out a generous 24.2MP stills resolution which is impressive for this entry-level beauty.
In our Nikon D3500 review, our verdict was that although it lacks features found higher up in the range, it's hard to argue with for the price you pay.
While movie recording is limited to Full HD at 60FPS, the dynamic range is good and the rear 3-inch LCD is clear and bright with 921K dots providing ample detail. When paired with one of the various DX zoom lenses, especially one that has Vibration Reduction, anybody new to photography should have no trouble capturing fantastic, sharp images.
---
How we test the best DSLR cameras
To guarantee you're getting honest, up-to-date recommendations on the best cameras to buy here at Space.com we make sure to put every camera through a rigorous review to fully test each product. Each camera is reviewed based on many aspects, from its construction and design, to how well it functions as an optical instrument and its performance in the field.
Each camera is carefully tested by either our expert staff or knowledgeable freelance contributors who know their subject areas in depth. This ensures fair reviewing is backed by personal, hands-on experience with each camera and is judged based on its price point, class and destined use. For example, comparing a 60MP full-frame mirrorless camera to a sleek little crop-sensor DSLR wouldn't be appropriate, though each camera might be the best-performing product in its own class.
We look at how easy each camera is to operate, whether it contains the latest up-to-date imaging technology, whether the cameras can shoot high-quality stills photos and high-resolution video and also suggest if a particular camera would benefit from any additional kit to give you the best viewing experience possible.
With complete editorial independence, Space.com are here to ensure you get the best buying advice on cameras, whether you should purchase an instrument or not, making our buying guides and reviews reliable and transparent.
Best DSLR cameras: What to look for
This list rounds up the best DSLRs available from stand-out entry-level cameras that are perfect for the budget-conscious or beginner photographer to high-end enthusiasts and professionals.
Make sure you carefully consider your requirements and ensure you seek out a camera to suit your current and future needs. Whether that is high-resolution stills imaging, a wide dynamic range, or crisp 4K video recording. It is equally important to remember that the range of lens choice is crucially important when choosing any interchangeable lens camera so do take a look at the scope of lenses available for your favorite camera before purchasing it.
Key areas to be aware of when choosing a DSLR are:
Stills image resolution
Shooting burst speed (Frames Per Second)
Dynamic range
ISO noise handling
Image sensor size (whether crop-sensor or full-frame)
Lens compatibility (full-frame lenses are much more expensive)
1080p, 4K or 8K video resolution
Rear screen (whether vari-angle, tilting or fixed)