There's a range of Orion telescope and binocular deals out there and we've scoped out the very best. We've made sure to include the best prices on top Orion models from trusted retailers, so you know you're getting a good deal.
In terms of astronomy, Orion is one of the first names people think of. The manufacturer is a widely trusted name and makes some of the best telescopes and best binoculars on the market. Below, we highlight all the best discounts out there, and the good news is, there's an Orion telescope and binocular deal to suit everyone and every budget.
If you're looking for a new way to view the night sky and you're wanting a discount too, you can always check out our guides for the best telescope deals and binoculars deals. We also have a handy round-up of budget telescopes under $500. But, because of the reliability and quality of optics Orion offers in their models, you can't go wrong with an Orion telescope or binocular, especially when discounted.
You'll be forgiven for thinking of telescopes first when thinking of astronomy but binoculars can offer stunning night sky views too, and can be a cost-effective alternative. Orion telescope and binocular deals aren't the only discounts out there either, so be sure to check out our guides for Celestron, Meade Instruments, Vixen and Sky-Watcher deals. But, for Orion telescope and binocular deals, read our round-up below.
Today's best Orion telescope deals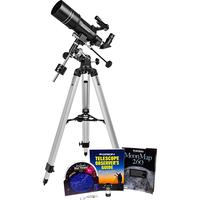 (opens in new tab)
Orion Observer 80ST 80mm Equatorial Refractor Telescope $199.99 $179.99 on Amazon (opens in new tab).
Save 10% on this refractor telescope when you grab it on Amazon. Here, you get a few extra accessories to add to your stargazing experience including two Barlow lenses, a moon map, an observers guide book, a keychain flashlight, a tripod and more.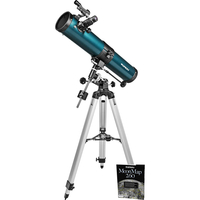 (opens in new tab)
Orion SpaceProbe II 76mm Equatorial Reflector $109.99 $129.99 on Amazon (opens in new tab).
Save $20 on this beginner Orion telescope when you grab it on Amazon. A 76mm aperture and 700mm objective lens means viewing the moon and planets is ideal as well as bright star clusters. For your money you get an adjustable tripod, two eyepieces, a red dot finder and slow motion controls, all to make locating and tracking targets easier.
Today's best Orion binoculars deals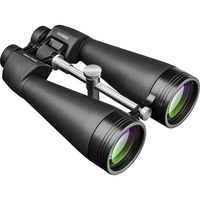 (opens in new tab)
Orion Giant View ED Waterproof Binoculars $329.99 $299.99 on Amazon (opens in new tab).
Save $30 on these 20x80 binoculars when you grab them from Amazon. It features 80mm extra-low dispersion lenses for maximum light passing through and clear views of your targets. You also get a lens cap, neck strap, carry bag and a tripod mount for your money.
Which Orion telescope should you buy?
When it comes to the best Orion telescope and binoculars deals, experience is irrelevant. The range of Orion products on the market to suit everyone from first timers to seasoned astronomers is impressive and that means you should be able to find a discount on whatever type of telescope you're looking for. If you're looking for something easy to use and to give you an effective viewing experience, the Orion Observer II 60 mm telescope (opens in new tab) is less than $100. If you're a serious skywatcher and want to splash the cash then the Orion SkyQuest XX16g GoTo Dobsonian for $4,000 is a great option (although it's hard to find in stock at the moment).
When it comes to astrophotography, Orion's series of astrographs lead the market too. Again, there's something for everyone and every budget, as those looking to get the best images possible while saving every penny can opt for a reflector whereas Ritchey-Chrétien models are available if you're looking to make an investment too.
If you're looking for something for around $100 then we recommend the Orion SpaceProbe II 76 mm (opens in new tab). It provides good views of the moon's surface, planets and brighter galaxies and nebulas. It's less expensive than a lot of other telescopes on the market and it's easy to set up and assemble, which is handy as it means you're ready to observe your night sky targets within minutes.
However, if you're a beginner looking for more detailed views of deep-sky targets then you'll want a telescope with a larger aperture. If you're willing to invest a little more in your telescope then something to consider is the Orion StarMax and Orion SkyQuest XT lineup of telescopes for great contrast and clarity through the optical system. It's worth reminding that the larger the aperture, the higher the price tends to be.
Heading into hobbyist territory, skywatchers often look to invest more in a telescope — especially when it comes to upgrading. For intermediate skywatchers, who have experience with advanced equatorial mounts and don't require the assistance of a computerized setup, we recommend the Orion AstroView 120ST EQ refractor or the Orion StarMax 127 mm for breathtaking views of the solar system and deep sky.
The computerized telescope, also known as a GoTo, isn't aimed at any particular level of experience and is enjoyed by beginners and seasoned skywatchers. If you would rather have the telescope do all of the tracking and aligning for you, and at the touch of a button, then the Orion StarSeeker IV 150 mm GoTo is a worthy investment alongside the Orion SkyQuest XX 12i IntelliScope Truss Dobsonian. You should look to spend between $500 and $4,500 on one of these revolutionary instruments, depending on the size of the telescope's objective lens or mirror.