Looking for a great gift for Father's Day or a brand-new graduate with eyes on the skies, or just something special for the space nerd in your life? These space-themed standbys will delight your favorite space lovers, sci-fi fans and collector friends.
Solar Orbit Necklace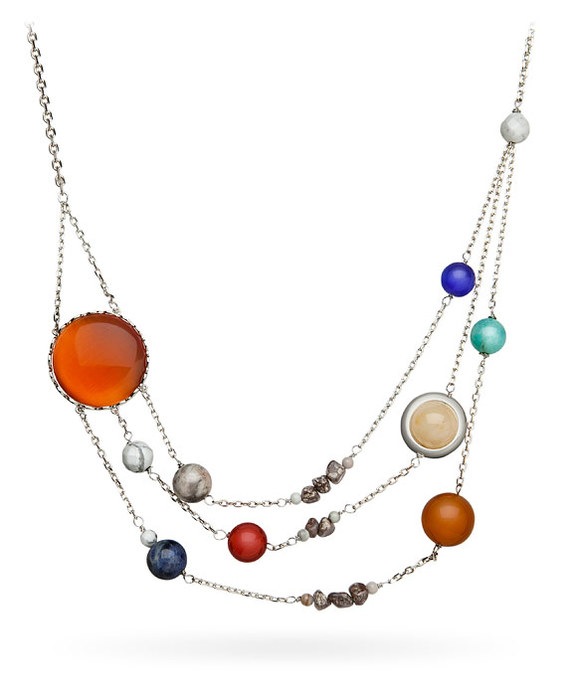 This necklace has it all — the whole solar system, that is! The sun, planets, Pluto and even the asteroid belt bewteen Mars and Jupiter find colorful representation in a surprisingly accurate solar system for your neck. Celestial bodies and orbits not to scale.
Why we love it: Tiny moon next to Earth is adorable enough we forgive the oversight of the solar system's other awesome moons.
---
Asteroids T-Shirt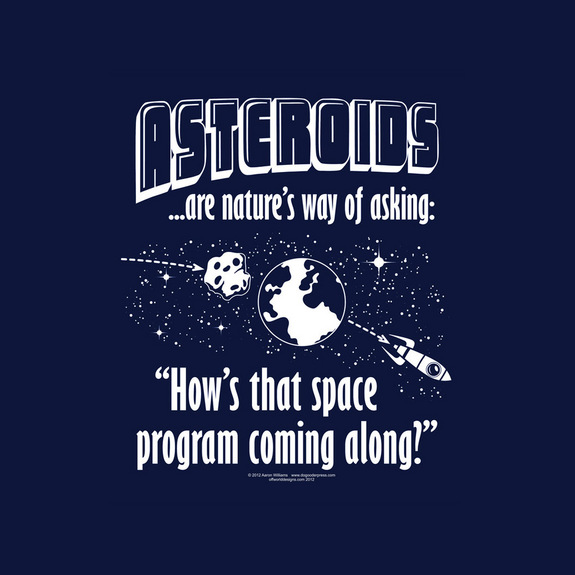 Support your local space program with this tongue-in-cheek reminder of the stakes behind human space travel! The navy-blue cotton t-shirt ($20) is sure to draw a laugh, or at least a nervous chuckle.
Why we love it: Entertaining, cartoonish, understated — everything you DON'T want a global space defense program to be.
---
Millennium Falcon Silicone Ice Cube Tray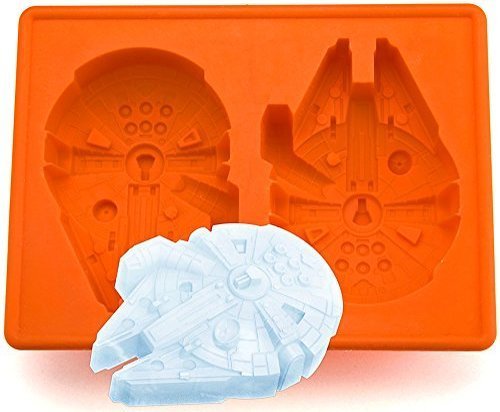 Hot summer weather means ice for your drink. Why not be extra cool by shaping your ice to resemble the infamous Millennium Falcon? These silicone trays can create ice or jello, helping to bring a chill to hot summer nights.
Why we love it: If you're going to have ice, why not ice that freezes in less than 12 parsecs…
---
New Horizons Cuff Links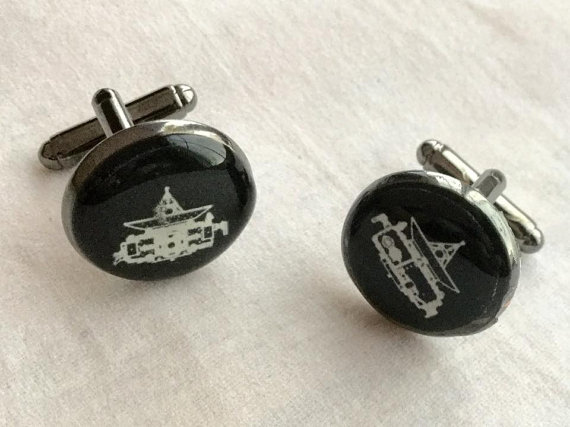 New Horizons raced by Pluto and its moons last July, gathering data along the way. And although the probe quickly flew past the faraway dwarf planet, the spacecraft will continue to transmit the detailed measurements and photographs it took of the brief encounter until late 2016. The spacecraft certainly makes some stylish cuff links, too ($26.00).
Why we love it: The handsome design is based on NASA's original line drawings for the probe, and would definitely be an intriguing conversation starter — whether or not people recognized the sketch.
---
Gravitational Waves Dress
This fantastic printed dress ($179) features the historic first observations of gravitational waves. While the untrained eye might see only a stylish plaid, those in the know recognize data from the LIGO detectors. Colliding black holes won't be required after you walk into the room! If you're not a fan of gravitational waves, the company also offers a spectacular Jupiter-print dress, as well as several other scientific prints.
Why we love it: The dress is both professional and fun, and makes science look incredible!
---
Star Wars Boba Fett Apron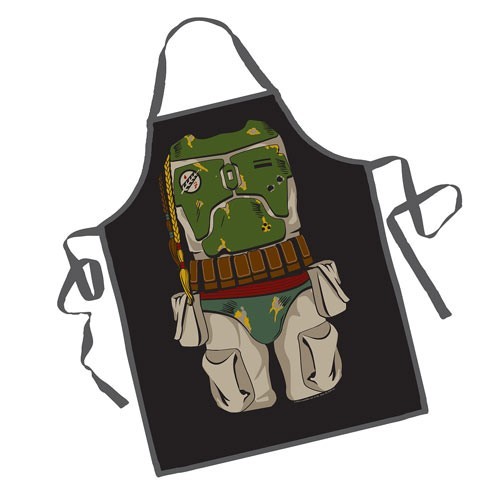 Summertime means grilling. Forego the classic "kiss the cook" aprons and instead portray legendary bounty hunter Boba Fett as you grill up hamburgers, steaks or your own tauntaun. This Star Wars apron is $15.99.
Why we love it: What better way to show off your geekiness while you grill?
---
Doctor Who Sonic Screwdriver Pizza Cutter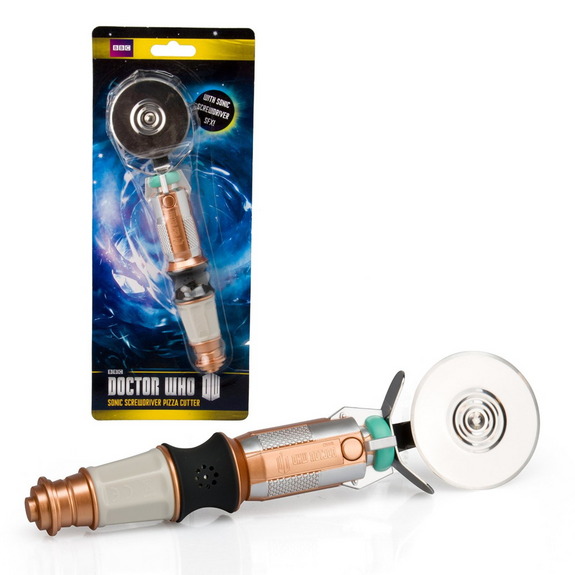 Keep all of space and time at your fingertips — even pizza time — with this "Doctor Who" Sonic Screwdriver Pizza Cutter ($12.00 on Amazon) from Underground Toys. Last year we featured the Star Trek Enterprise D Pizza Cutter, but are mixing it up: as long as your pizza's not deadlocked, this is surely the cutter for you.
Why we love it: "When you roll it, it makes the 'bzzzz' sound!" said Tariq Malik, managing editor of Space.com and new pizza-cutter owner. "It's really funny, and a satisfying 'bzzzz'." Plus, the pizza cutter part ejects from the plastic replica base for easy cleaning, and the price is right at just $12.
---
LilMents Solar System Earrings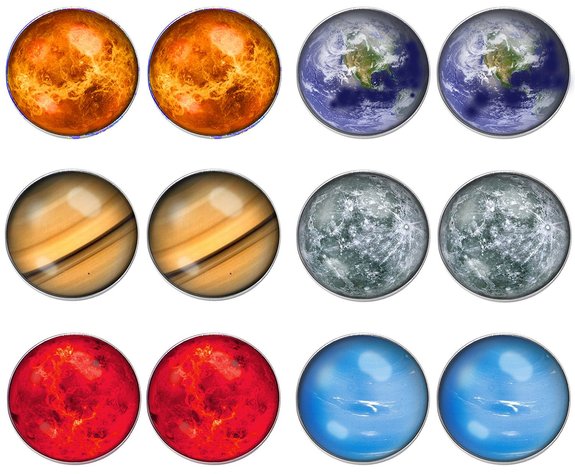 These vivid astronomical earrings ($9.99 on Amazon) provide excellent conversation starters as you reveal your love of the solar system. The array of colors makes them easy to mix and match, as well — and even more options are available online.
Why we love it: Space.com contributor Nola Taylor Redd has long sought astronomy-themed jewelry, so when she saw these planetary earrings, she knew she had to have them. Despite her sensitive ears, she has had no problems with the stainless steel posts. This set features Earth, Saturn, the moon, Venus and Neptune; LilMents also has a galaxy collection and a pair of glow-in-the-dark full moon earrings.
---
2016 Year In Space Calendar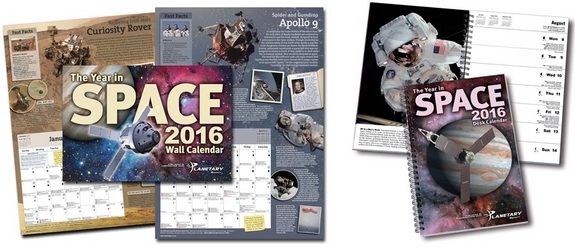 The 2016 Year In Space calendar from Starry Messenger press comes in two versions, both for $13.95: a large-format 16-inch by 22-inch wall calendar and a handy spiral-bound desk calendar for space fans on the go. Discounts are available for bulk purchases, as well as for Space.com fans, so make sure you say you saw it here.
Why we love it: Every Year In Space calendar comes packed with spectacular space photos to enjoy and vital reminders on major spaceflight and astronomy anniversaries, as well as celestial events like planet movements or meteor showers. Map out your skywatching year! Plus, it comes with a foreword by Bill Nye.
---
Celestron SkyProdigy 130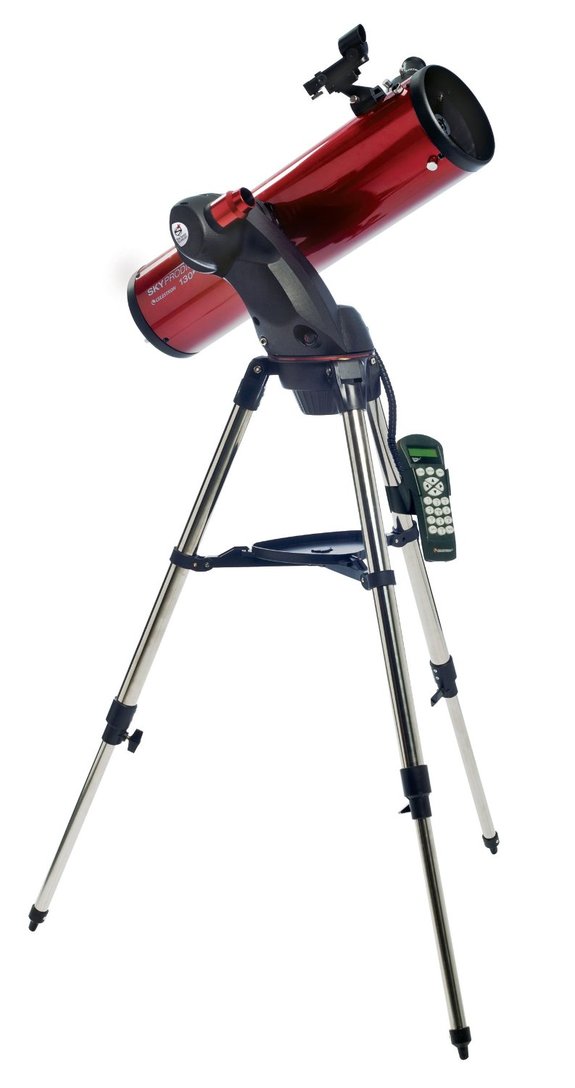 Peruse the glittering stars and planets once this telescope automatically aligns itself under the night sky. The Celestron SkyProdigy 130 ($699) was our 2015 pick for "Best Telescope for Hobbyists and Learners," but you can check the full listing (or our beginners telescope list) if you're looking for slightly less commitment.
Why we love it: It orients itself to the stars in just 3 minutes while you relax, and it comes in a classy red. Plus, this is a seriously good telescope.
---
Lego Star Wars Millennium Falcon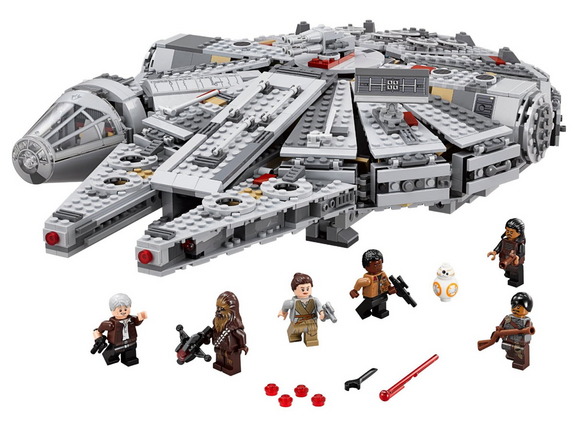 We could have put this latest Lego Millennium Falcon on the Best Kids' Gifts list, but we think there's enough detail and complexity in this "Star Wars: The Force Awakens" build to keep adult Lego fans enthralled as well. (And for $149.99, moms and dads had better be just as excited to get their hands on it as the kids.) If this Millennium Falcon set doesn't do it for you, maybe the awesome Poe's X-Wing Fighter kit is more your speed.
Why we love it: The minifigs! Gray-haired Han Solo with two eminently Han-like expressions, tiny BB-8 and a Chewbacca whose crossbow can fire real Legos! (Fun fact: BB-8 is also in the X-Wing set, but otherwise these minifigs are all unique.)
---
Martian Alpha Watch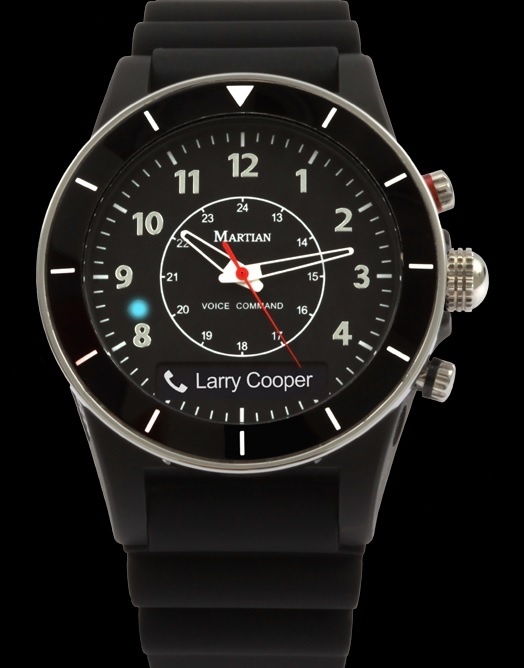 On Mars, with no cell reception, this would be an ordinary analog watch. But here on Earth, a subtle inset screen comes to life on the Martian Alpha watch ($279.99) to display text messages and notifications from your phone, interact via voice and even check the weather (hopefully not too many dust storms). Watch users can also assign customized patterns of vibrations to different kinds of notifications.
Why we love it: For someone who's willing to read texts slowly scrolling across a tiny screen, it offers the best of analog watches and smartwatches at once — with a 5-day rechargable battery on the smartwatch features and ordinary long-lasting watch battery powering the analog one for when you're stranded on another planet.
Visit Martian Watches to learn more about the Martian Alpha watch
---
Star Wars: The Complete Saga (Episodes I-VI)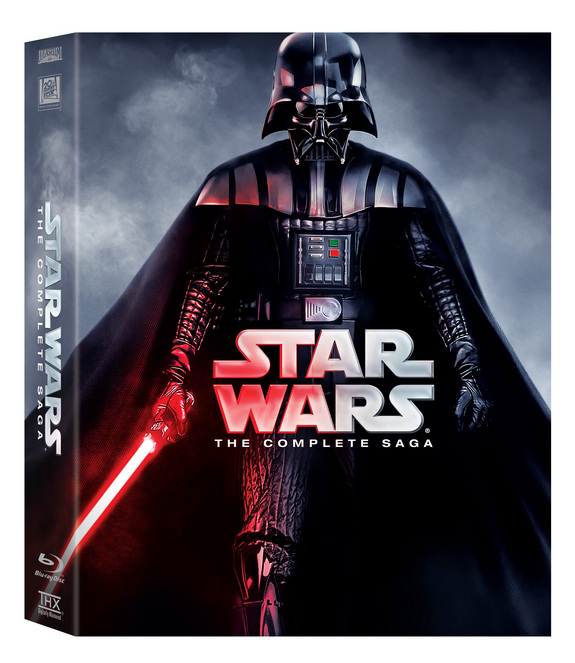 Get ready for "The Force Awakens" in style with this gift set of all six previous "Star Wars" films — but best make sure your gift-ee isn't holding out for rumored unedited versions from Disney. Regardless, whether traveling to "a galaxy far, far away" for the first time or riding a wave of nostalgia, these movies and special features will hit the space epic's high points and look great doing it. ($98.29 on Amazon — or grab the digital version for a discount)
Why we love it: Look around: Statistically, at least one in five people in your vicinity may not have seen any "Star Wars" movies. To fix that, The Force is with you.
---
"The Right Kind of Crazy: A True Story of Teamwork, Leadership and High-Stakes Innovation" by Adam Steltzner, with William Patrick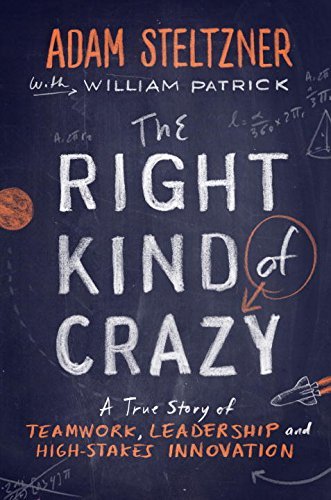 Jet Propulsion Laboratory engineer Adam Steltzner, the rock 'n' roll engineer of NASA's Curiosity mission, walks readers through the process of getting a rover to Mars. Along the way, he provides insight into teamwork and thinking outside the box that results in that skycrane making a very unlikely delivery.
Why we love it: Steltzner didn't take the typical path to engineering; instead, he barely graduated from high school. An interest in astronomy took him back to the local community college. We'd recommend this as a great read for teens but for the occasional profanity and partying that might inhibit some parents from sharing. Still, it's an inspirational reminder that it's never too late to follow your dreams, that you don't have to be an academic success as a kid to make it and that thinking outside of the box can still be the route to victory.
---
"The Ordinary Spaceman: From Boyhood Dreams to Astronaut" by Clayton C. Anderson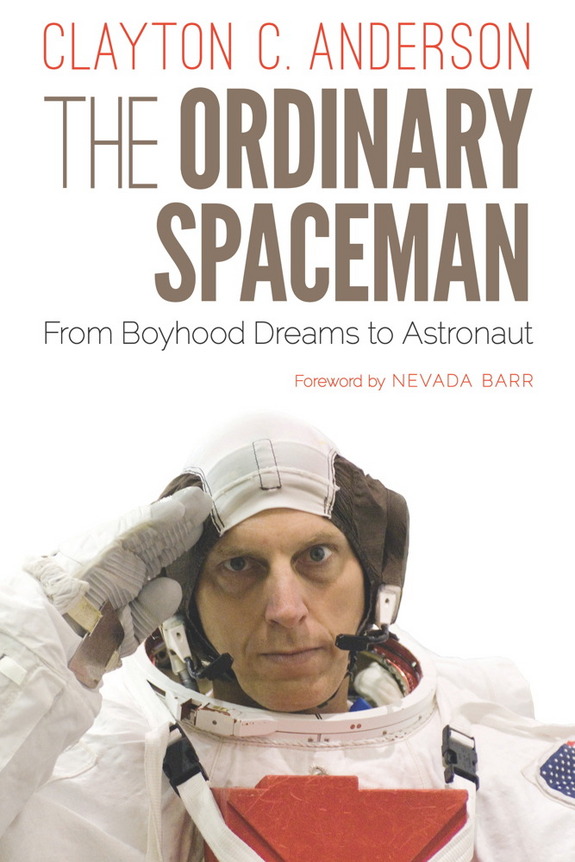 Clayton Anderson applied 15 separate times to the astronaut traning program — and luckily for us, he was eventually accepted! His new memoir, "The Ordinary Spaceman: From Boyhood Dreams to Astronaut" spans his 30-year NASA career and his two flights into space and covers all the highs and lows of becoming (and staying) an astronaut, plus some stories you definitely won't read anywhere else. (Read a Q&A with the author and an excerpt about his first ride in a T-38 supersonic jet plane.)
Why we love it: This book covers the astronaut application and training process in incredible detail, and it doesn't shy away from the struggles he faced in the process.