Virtual reality, or VR, is more affordable and accessible these days than it has been in the past and that's - in part - thanks to deals like the back to school ones from HTC. There are deals on the HTC VIVE Pro 2 full kit version, headset-only option and VIVE XR Elite.
The two headsets mentioned above feature in our best VR headsets guide and you can check out their specs below. When we reviewed the HTC VIVE Pro 2 we found that it is the best high resolution headset on the market. It features top visual and audio qualities as well as a wide field of view and access to lots of top VR titles. Now you can save £300 on the full kit or £200 off for the the headset only, so these are VR headset deals worth checking out.
The VIVE XR Elite is £100 off and we found that it's the best hybrid model out there. That means you get a mix of VR and AR (augmented reality) in a lightweight, goggle-like package. It's arguably HTC's freshest venture in the VR world to date with it's biggest downside being the price, so now that it's discounted by £100, that's less of an issue. Our US readers have an even better deal available, with $200 off on Amazon.
If you're looking for more VR content and other-worldly views, you can always check out the best free VR experiences, the best telescopes, and the best star projectors.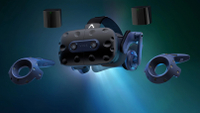 HTC VIVE Pro 2 Full Kit was £1399 now £1099 from VIVE.
Save £300 on HTC's VIVE Pro 2 full kit when you grab it from their website. The full kit includes the headset, base stations, power adaptors, controllers, a cleaning cloth, power cables and more. There's no hiding from the price tag but you do get high-end visuals and audio from this VR set.
Note: This also comes with 2 months of Viveport Infinity for free.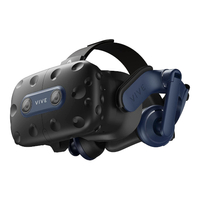 HTC VIVE Pro 2 (Headset Only) was £779 now £579 from VIVE.
Save £200 on the HTC VIVE Pro 2 (headset only) when you grab it from their website. This is for the headset only and you do need base stations and controllers to complete the set up.
Key specs: it features a 2448x2448 per eye resolution (5K), a 120 degree field of view, a 120HZ refresh rate and Hi-res certified headphones. The full kit also comes with the relevant base stations, controllers, adaptors, cables and more.
Consensus: we rate this very highly, so highly that we think it's the best high resolution VR headset out there. We gave it 4/5 stars as the audio and visual features are of extremely high quality. You also have access to a lot of top VR headset titles and it has a wide field of view. However, it can get hot, it is on the more expensive side of the market and the controllers can seem a little dated compared to the competition.
Buy if: you want top-of-the-range visuals and an overall stunning VR experience. Also buy if the price tag isn't too much of a concern.
Don't buy if: you're on a budget or you want a more specialised headset like Playstation VR.
Alternative models: this is genuinely a great option if you're looking for your next VR experience but if it's not quite for you, the Valve Index is an absolute powerhouse of a VR headset. The Meta Quest 2 is a far more affordable option, and still offers plenty.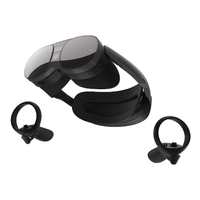 HTC VIVE XR Elite was £1299 now £1199 from VIVE.
Save £100 on a VR headset that offers a great mix of VR and AR. You get the headset as well as two controllers, lanyards, a battery cradle, a lens protection card and more. With this purchase you also get access to five free titles.
Key Specs: it features 1920x1920 per eye resolution, a 90Hz refresh rate, up to 110 degrees field of view and offers 128GB ROM and 12 GB RAM storage and memory. It also has dual integrated microphones and embedded speakers for echo cancellation.
Consensus: we gave it 4/5 stars in our best VR headsets guide as it's lightweight and has a goggle-like design and features mixed reality, which is very impressive. It's probably VIVE's most adventurous outing in the VR world but what let's this down is the price tag and the lack of top titles to choose from. So, maybe saving £100 and getting access to five free titles is the deal this headset needs.
Buy if: you like the idea of mixed reality and if you're not on a strict budget. It's also ideal for its lightweight design.
Don't buy if: you're not too excited about the idea of mixed reality as that is that unique selling point of this headset. If you're priority is great titles and experiences, then you might be better off looking elsewhere.
Alternative models: it's hard to suggest alternative models given the USP of this model but the HP Reverb G2 is the best mid-range model on the market. It features the same refresh rate but is more affordable and has a higher resolution. The HTC VIVE Flow is also lightweight and portable but is better suited for movies and experiences rather than games.