Two of Celestron's telescopes, ideal for beginners, are on offer for over 30% (35 and 36 percent respectively) right now on Amazon.
If you're looking to try your hand at astronomy or you're looking to inspire a budding astronomer, then it might be worth considering the Celestron AstroMaster 114EQ or their Travel Scope 70mm DX telescope. You can save over $113 on the 114EQ or grab the Travel Scope for under $80. Both are suited to those without much prior experience, both come with accessories to enhance the user's experience and both feature in our best telescope deals guide.
Crucially, both telescopes feature fully-coated glass optics so you get clear views of your night sky targets. The 114EQ is a Newtonian reflector telescope whereas the Travel Scope is a refractor. The former is more powerful and better suited to navigating the night sky from one position whereas the latter is far lighter and easier to transport around. You can check out the specs for both telescopes in more detail below.
If it's top telescope content you're after, or you want to do more research before purchasing, it could be a good idea to check out our best telescopes, budget telescopes under $500 and best telescopes for beginners guides.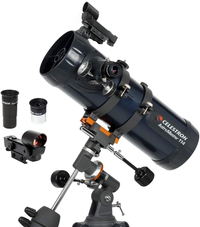 Celestron AstroMaster 114EQ Newtonian: Was $319.95, now $206.86 on Amazon.
Save over $113 on this 114mm push-to German Equatorial Newtonian telescope. The telescope ships with a fully adjustable steel tripod, finderscope, 20mm and 10mm eyepieces and a free download of astronomy software. It features a 114mm objective lens diameter and a focal length of 1000mm.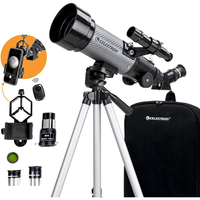 Celestron Travel Scope DX 70: Was $119.95, now $76.46 at Amazon.

Save 36% on the Celestron Travel Scope DX 70 at Amazon. Complete with two eyepieces (20mm and 10mm), 2x Barlow lens, star diagonal, backpack, finder scope, moon filter, tripod and smartphone adapter, this grab-and-go telescope offers a fully equipped option for beginners and kids.
The Celestron AstroMaster 114EQ is a telescope that's worth getting, even if it wasn't on sale (but it is on sale for over $113 off). It features fully-coated glass optics to partner the 114mm aperture and 1000mm focal length. That means plenty of light passes through the lens so images of targets in our solar system appear bright and clear. The accessories included are an adjustable tripod, two eyepieces, a finder scope and a free download of astronomy software.
The Travel Scope 70AZ includes those glass optics and a 70mm aperture. It's much lighter and it comes as no surprise as one of its plus points is its easiness to transport. It comes with two eyepieces, a full-height tripod, 2x Barlow Lens, smartphone adaptor and Bluetooth shutter release as well as a backpack to carry everything and a download of astronomy software. It's great value now that it's over $50 off.
Both telescopes are on offer but we're not entirely sure how long they're on offer for. A nice bonus is that you get 90 days of Amazon Music Unlimited for free with a purchase of either scope. If you're an adult wanting to get into astronomy by looking at targets within our solar system, the 114EQ is a good option. If you're thinking about inspiring a younger astronomer, or you want to take your telescope to different locations to view the night sky, then the 70AZ is a good way to go.
Not sure these are right for you? Check out our round-up of the best models over on our buying guides to the Best telescopes and Best telescopes for beginners. Or find a bargain on our Telescopes deals, telescopes under $500, or Celestron telescope deals pages.