If it's telescopes at Best Buy you're looking for, you've come to the right place as we've searched through retailers extensive range of scopes and discovered the best deals. The good news is, there's something to suit a range of budgets and needs.
You can find some of the best telescopes at Best Buy and as you'll see in this guide, you can pick up some pretty good telescopes deals too. Now is the time to bag a bargain if you're looking for a new telescope and we keep this page updated year-round so it's always worth checking back as when a new deal pops up, we'll be sure to add it.
We recommend sticking to trusted and known brands, because we cannot vouch for the quality of lesser-known brands and sometimes, if something seems too good to be true, it normally is. If you know what you like, you can always check out our Celestron, Sky-Watcher, Meade and Orion telescope deals guides.
However, this guide is for telescopes at Best Buy and while you can grab telescopes without breaking the bank by checking out budget telescopes for under $500, best telescopes for beginners and best telescopes for kids, you'll find the best deals the retailer has to offer below.
Today's best telescope deals at Best Buy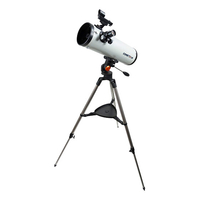 (opens in new tab)
Celestron Cometron 114AZ 450mm Reflector Telescope Was $239.95 Now $191.99 (opens in new tab).
Save over $47 on a quality reflector telescope that comes in at under $200. The 114mm aperture means plenty of light passes through the lens for clear views and the 450mm focal length means the comets and the stars are prime targets. Two eyepieces, a tripod and a panning handle are included with the telescope.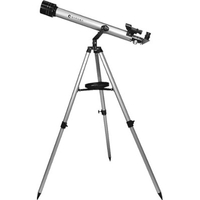 (opens in new tab)
Barska Starwatcher 700mm Refractor Telescope $98.99 $90.99 (opens in new tab)
Save $8 on something for newcomers and kids who are looking to kick off their stargazing careers. This high-power reflector telescope is an ideal entry level model.
Buying advice
There are three basic types of telescopes: refractors, reflectors and catadioptrics. Refractors are great for highly magnified views of planets and moons, while reflectors offer better views of deep-sky objects, star clusters and galaxies. Catadioptric telescopes correct some of the visual problems found in these older styles – such as chromatic aberration – but they tend to be a little more expensive.
Reflectors
Reflectors are usually either Newtonian or Dobsonian in design. Newtonian telescopes are good for a wide range of viewing targets and are often useful for astrophotography – however, they require a lot of maintenance and can be complicated to set up, whereas Dobsonians are more straightforward.
Refractors
This type of telescope is ideal for beginners, offering a straight-forward assembly and a lower price point. They do, however, tend to suffer from chromatic aberration, where bright objects appear to have a kind of halo. This doesn't ruin the viewing experience, so don't let this put you off too much.
Catadioptric
Catadioptric telescopes fall into two broad categories: Maksutov-Cassegrain and Schmidt-Cassegrain. Schmidt-Cassegrains traditionally have bigger apertures, while Maksutov-Cassegrains usually have small apertures. As such, the Schmidt-Cassegrain is usually better for astrophotography and for broader views, while the Maksutov-Cassegrain is great for sharp views of planets and moons. Both types often come with a computerized GoTo system, which can work out which way the telescope is pointing and automatically adjust it to align with chosen targets.
Choosing a telescope
With all these variations, it can be tricky to figure out which telescope is best for you. We recommend taking two main things into consideration: personal budget and what you'd prefer to view in the night sky.
Lower budget models will usually be reflector or refractor telescopes, while catadioptrics are more expensive. If you'd prefer high magnification views of planets and moons, go for either a refractor or a Maksutov-Cassegrain design. For views of deep-sky objects, star clusters and galaxies, opt for a reflector or a Schmidt-Cassegrain telescope. And if you need more detailed guidance, have a look through our piece on the best telescopes, which goes into more detail on all of the above.