Unistellar is offering $500 cashback when you purchase either their eVscope 2 or eQuinox 2 telescopes before June 25, which is ideal if you're looking for a premium quality smart telescope at a discount.
These two telescopes feature in our best telescopes guide, so now that you can claim $500 cashback, they're worth checking out more than ever. We don't just think these are some of the best telescopes on the market, but some of the best smart telescopes and best for larger budgets. Of course, not everyone is willing to break the bank on high-end, high-budget telescopes, but the $500 cashback does make these models more accessible.
The eQuinox 2 is a Newtonian telescope with a simple but good-looking layout, its views of the cosmos are incredible thanks to the Smart Light Pollution Reduction feature which readies it for backyard use even in light-polluted towns and cities. The eVscope 2 is a reflector telescope with the simplest of setups, a stunning design and traditional astronomers will be pleased to find a Nikon eyepiece that is unique for a smart telescope.
If you want to discover more great telescopes and discounts then be sure to check out our telescope deals, budget telescopes under $500 and telescopes on Amazon round-ups.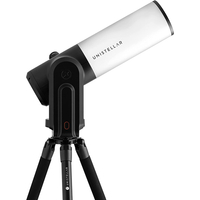 Unistellar eQuinox 2 And eVscope 2 Smart Telescopes Now With $500 Cashback.
Get $500 cashback when you purchase either the Unistellar eQuinox 2 or eVscope 2 telescopes from the manufacturer's website before June 25. Both feature in our best telescopes guide and you can check out the specs in detail below.
When we reviewed the Unistellar eVscope 2 telescope, we found that it automatically navigates the night sky automatically and with ease. The 114mm aperture and 450mm focal length combined with a useful digital magnification of up to 150x means you get crisp, bright views of deep space targets, as you'd expect for a telescope at this price point. It has a brilliant Nikon eyepiece and can take photos (all controlled through the app which is simple to use) so that negates the need for further equipment.
In our Unistellar eQuinox 2 telescope review, we found the 450mm focal length allowed for a field of view of 34x47 arc minutes. Users don't have to rely on eyepieces and for their eyes to adjust to get clear views as all the views appear on your smartphone immediately. It's quietly motorized and the app is able to guide you through a host of night sky targets (millions) once it's set up.
Both telescopes are excellently made and offer up-to-date technology that negates the need for extras, accessories and astrophotography equipment. They do come in at the top end of most budgets which is why getting $500 cashback makes this a great time to cash in. Yes, they are expensive but they are premium telescopes and you don't have to spend money on extras to maximize their potential.