If you've got some cash to splash this Prime Day but still want to find a good deal — here's one you might like. Amazon has slashed $500 off the Canon EOS R3, taking it down to $5499 instead of its usual $5999.
We won't beat around the bush here, it's still a lot of money, but for a professional-level, flagship mirrorless camera from Canon, we would expect that. Plus you could put that extra $500 towards one of the best zoom lenses, such as the Canon RF 28-70mm f/2L USM.
We reviewed the Canon EOS R3 last year after having shot exclusively with it for 6 months, and were incredibly impressed with its excellent autofocus (something Canon is rapidly catching up to Sony for), the ability to shoot up to 30FPS with no buffering issues and we loved the overall feel of the camera and how comfortable it was to hold and shoot with. It's no wonder it scored four and a half out of five stars during our full test.
It has built-in horizontal and vertical grips meaning it would be great for anyone with larger hands who want something a bit more substantial to grip onto, and it features a plethora of customizable buttons to really make it your own and tailor the settings to your personal shooting requirements.
This is the cheapest price we've ever seen on Amazon as it was only released back in late 2021, so if you're thinking about investing in this camera, now is the time to do so.
---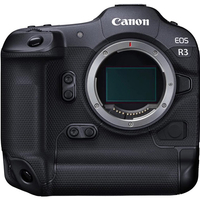 Canon EOS R3 was $5999 now $5499 at Amazon.
Save $500 on this fantastic pro-level mirrorless Canon EOS R3 on Amazon — we loved it when we reviewed it shortly after its release and it could effortlessly handle anything we threw at it. If you're a professional, this camera will suit you perfectly.
---
There is genuinely no style of photography this camera cannot do. Wildlife or sports? It has outstanding tracking and can shoot up to 30FPS. Wedding photographer? It has Registered Person Priority, which means that it can always make sure the bride and groom are in focus. Astrophotography? It has an ISO range of 100-102400 (expandable to 204,800). Videographer? It can shoot 6K 60p video. You name it, it can do it.
Our only complaint with it was that the 24MP sensor was a little on the low side for a camera of this price, but it still does the job excellently. That and the astronomically high price, of course. However, if you're looking purely for a camera for astrophotography then this isn't it because it's an expensive tank built for the hardest-working pros in the industry.
Don't forget, if you want to make the most of Amazon Prime Day 2023, check out our Amazon Prime Day hub for a roundup of the best discounts and deals on telescopes, binoculars, cameras, star projectors, drones, lego and much more.
Key Specs: The 24MP sensor may be a little underwhelming on paper, but it still produces excellent quality shots. It weighs 2.24 lbs (1kg) including the battery, and has dual card slots for added peace of mind when out on a shoot. The LCD screen has 4.15M dots and the viewfinder resolution is 5.76M dots — both of which are not the best, but still good nonetheless.
Consensus: If you have the cash and are a serious professional, you can't go wrong with this camera as it'll see you through any style of photography and you'll use it for years to come.
Buy if: You're a professional photographer who makes money from photography or you shoot many different styles.
Don't buy if: You're a beginner or only just now making the move over to mirrorless, or you're looking for one of the best budget cameras.
Alternative models: For an equally big & beefy mirrorless camera, you can't go wrong with the flagship Nikon Z9. It's around the same price as the R3 but has unarguably better specs. We ranked it #2 in our best cameras for photo & video guide
If it's resolution you want, check out the Sony A7R IV (also $200 off in the Prime Day sale) — when we reviewed it last year we were astounded by its whoppingly powerful 61MP sensor. We even ranked it #1 in our best cameras for photo and video guide.
If you're more of a beginner and are looking for a more gentle first step into the mirrorless camera range but still want good specs, the Sony A6600 is currently at its lowest-ever price on Amazon. We featured this camera in both our best cameras for astrophotography and best cameras for photo and video guides.