For anyone looking to get into astronomy, look no further than this beginner-friendly telescope — the Celestron AstroMaster 90AZ is more than 50% off in the Amazon Prime Day sale. This 90mm telescope would be a great starting point for beginners who want to explore the stars, gaze at the moon and search for galaxies, nebulas and more.

Celestron is a well-known and trusted brand in the world of astronomy, and we've featured many of their scopes in our best beginner telescopes, best telescopes for kids and best telescopes guides. We love their great quality optics in an easy-to-use package, and they're a brand we are happy to recommend time and time again.
While we haven't yet tested the 90AZ discounted here we have reviewed the Celestron AstroMaster 70AZ which is the shorter focal length model and thought it was a solid choice for beginners. The 90AZ can let in 65% more light than the 70AZ, so we think it's a no-brainer if you want clearer, brighter and more detailed views of the night skies for less. The Celestron AstroMaster 90AZ is now only $145.60 on Amazon.
---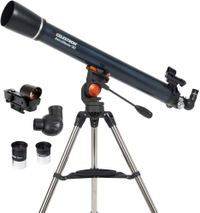 Celestron AstroMaster 90AZ: was $319.95 now $145.60 at Amazon.
Save over $170 on a telescope that offers a super-simple set-up, detailed views of the moon, planets and nebulas and is great for budding astronomers of all ages. We think it's one of the best beginner telescopes you can buy.
---
In this deal, you'll also get two eyepieces; a 20mm (50x magnification) and a 10mm (100x magnification), as well as everything you need to get setup and you'll even receive their BONUS Starry Night Basic Edition astronomy software for interactive sky simulations, a 36,000-object database and printable sky map. The tripod comes fully assembled so there's no messing around getting everything set up — which is music to a beginner's ears.
Not only is this scope great for exploring the skies, but it can also double as a terrestrial scope, too, giving you the best of both worlds.
Don't forget if you want to make the most of Amazon Prime Day 2023, check out our Amazon Prime Day hub for a roundup of the best discounts and deals on telescopes, binoculars, cameras, star projectors, drones, lego and much more.
For more of our favorite telescopes, check out our guides on the best telescopes for deep space, best telescopes for seeing planets and best eyepieces for telescopes.
Key Specs: It has some pretty good specs for an all-rounder beginner scope — the focal length is 1000mm, making it good for seeing Saturn's rings, Jupiter's moons and galaxies & nebulas. This focal length is also good for anyone interested in astrophotography, and the 90mm aperture lets a good amount of light in. It weighs 12.4 lbs (5.6kg) which isn't the lightest scope we've seen, but it's also not the heaviest — certainly manageable for most.
Consensus: A great beginner scope even at full price, but with over 50% off it's an absolute steal — you can't go wrong with this deal. It's not the fanciest telescope and definitely has the potential to be outgrown as your skills improve, but we think it's a great starting point.
Buy if: You're a beginner wanting to start your astronomy journey, or are looking for a decent telescope as a gift but don't want to break the bank.
Don't buy if: You already have a telescope but are wanting to upgrade to something a bit more technical and sophisticated, like a GoTo.
Alternative models: The Celestron Inspire 100AZ would be a good step up from the AstroMaster 90AZ, and it even features a smartphone camera mount, making it good for basic astrophotography. In our review, we thought it gave sharp views of the moon and planets and we liked its lightweight frame.
If the AstroMaster 90AZ seems a little basic for you, the Celestron NexStar 4SE could make a good 'next telescope'. Although there is a slight jump in price, this scope can automatically locate objects in the night sky and when we reviewed it, we loved how quick and easy it was to set up and thought it had a high-quality, sturdy build.