As summer approaches, these fun and educational toys, books and kits can occupy your kids while they're at home. Be warned: they might distract parents, as well!
Space Module Tent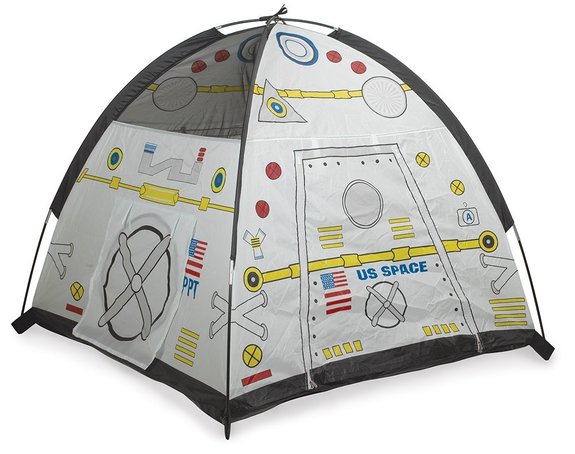 Summer means camping, and camping requires a tent. Why not head into the woods with your own space shuttle, mixing the outdoors with the technical? This themed tent ($35) can provide shelter in the great outdoors or hours of make-believe in the front yard, making it a great summer gift for the kids.
Why we love it: For younger kids, the tent can provide hours of fun, while older kids and parents can use it to camp. For more indoor fun, pick up the tunnel attachment that allows your kids to crawl into their spaceport home.
---
R/C Snap Rover Electronics Discovery Kit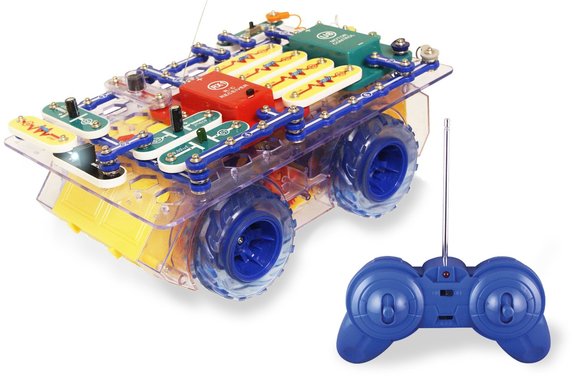 Kids love to take things apart and put them together, but when it comes to electricity the results can sometimes be rather shocking. Enter Snap Circuits, which provides a range of kits with simple instructions on how to build circuits and create everything from a radio to a doorbell to a UFO. For space lovers, the company provides a remote-controlled rover ($58.99 on Amazon) that kids can build themselves, connecting the necessary electronics to get things moving.
Why we love it: Many children hate learning — unless they don't realize that's what they're doing. Snap Circuits combines a great education on electricity and circuits with the fun of a remote-controlled vehicle. The rover is just one of many kits available, including Snap Circuits Jr with 100 simple experiments and Snap Circuits 300 with a wider variety of projects.
---
Celestial Buddies: Pluto and Charon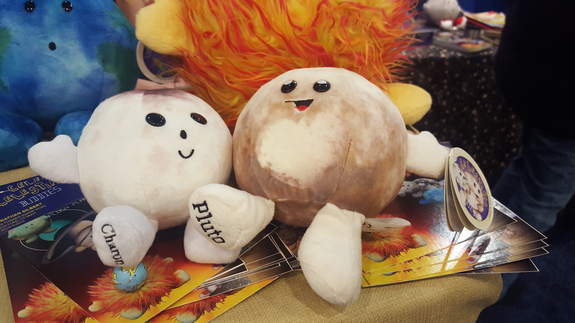 When NASA's New Horizons spacecraft reached Pluto last July, it sent back the most detailed views ever of the dwarf planet and its biggest moon, Charon. This data is already revolutionizing our understanding of the dwarf planet's surface and atmosphere — and most important of all, it's given us these adorable, all-new Celestial Buddies plush toys ($27.99 for the pair), which Space.com first spotted at Toy Fair in February.
Why we love it: Pluto's true-to-life heart, actually a flat, icy plain, makes it perhaps the most adorable in the line of planetary pals.
---
GoldieBlox Nacho's Rocket Ride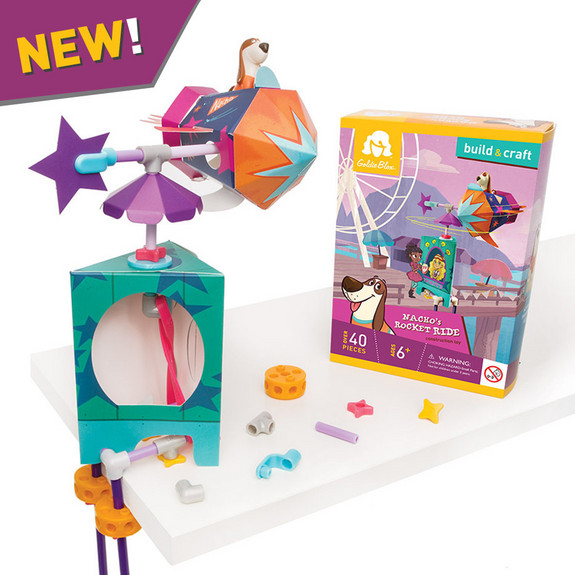 GoldieBlox is a company on a mission. The organization has put out a series of toys designed to help girls get into math and engineering from a young age. This newest set, Nacho's Rocket Ride ($9.99), tasks children with building a spinning rocket for Goldie's stinky dog to ride by walking them through the engineering and problem-solving process.
Why we love it: GoldieBlox building kits come with a storybook about the kit that encourages girls to invest in the story behind their project. And we've seen it work, too, as Space.com managing editor Tariq Malik's 6-year-old daughter can attest. The Rocket Ride project is one of several kits available, including a dunk tank ($18.22) spinning machine ($21.99), a parade float ($18.49), a movie machine ($29.99) and a massive Builder's Survival Kit expansion pack ($59.99).
---
Star Wars Remote Control BB-8 Droid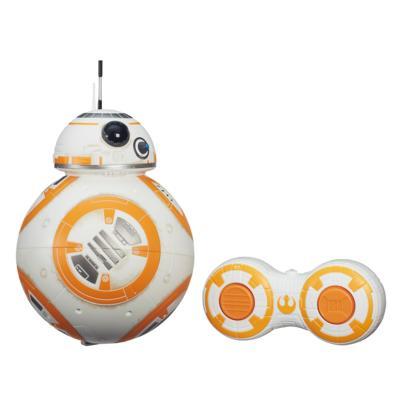 We featured the smaller, Sphero app-controlled BB-8 over on our adult gift list, because while adorable it's a bit of an investment. Hasbro's remote-control incarnation of the "Star Wars: The Force Awakens" star is bigger, bolder and kinder to the wallet ($109.99 at the time of writing). Plus, it has a neat motor mechanism easily accessible inside.
Why we love it: Control your own spherical droid — what's not to love? Plus, it makes noises from its body instead of from a smartphone, unlike other droids we could mention.
---
Thames & Kosmos Remote-Control Machines: Space Explorers Science Kit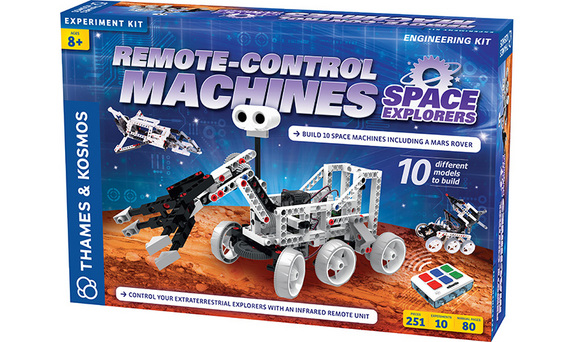 This build-it-yourself robot kit can model 10 different space-based robots, including a Mars rover, robotic arm and satellite ($68.50). All 10 have up to three motors moveable by remote control — and of course, kids are free to get creative and build their own motorized space explorers or gadgets.
Why we love it: Kids get the chance to learn about space exploration while building awesome robots and inventions. Plus, driving around something you built is pretty great.

---
Army vs. Aliens Dice Game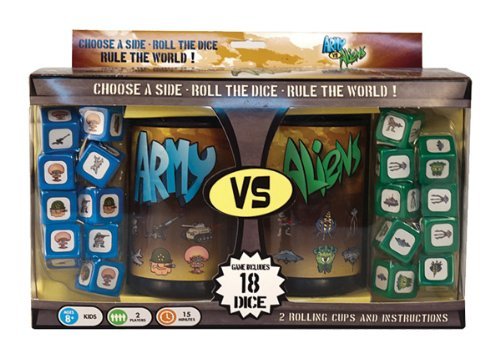 A strategy game wiht dice rather than cards, Army vs. Aliens will keep kids rolling for just $13.95. While the concept is simple, the game can be both intriguing and addictive as players master the strategies behind it. Great for rainy days inside.
Why we love it: Sometimes you're the alien, sometimes you blast them.
---
Star Wars Death Star Planetarium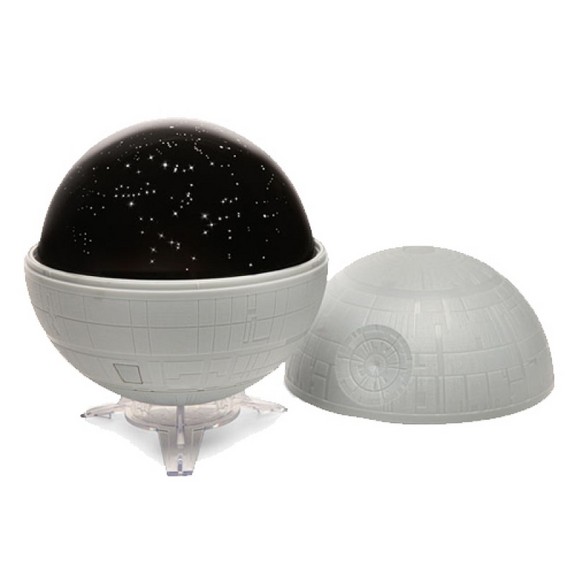 Hidden inside the planet-destroying Death Star on your nightstand ($25.99) is a portal to the "Star Wars" galaxy as well as our own — the planetarium projects the movie galaxy or Earth's actual night sky for late-night perusal.
Why we love it: Comes with a fun learning guide — bolster "Star Wars" planetary trivia skills as well as a real-world understanding of the constellations.
---
Estes Tandem-X Launch Set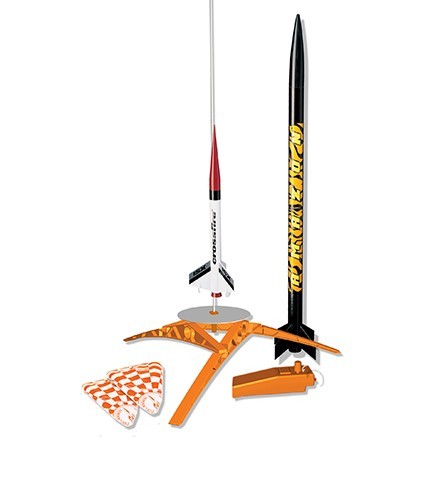 Future rocket scientists — and build-it-yourself enthusiasts — rejoice: This introduction model rocket kit ($29.99) builds two rockets, one 13-inch and one 3-foot tall, and comes with a stabilizing launch pad. You'll need to grab Estes engines and igniters, specified in the Amazon listing, but they're inexpensive and let these rockets reach up to 600 feet and 1,150 feet respectively!
Why we love it: A fun build-and-paint project for children aged 10 and up; goes high enough to thrill even the most stalwart adult.
---
Lego Benny's Spaceship, Spaceship, SPACESHIP!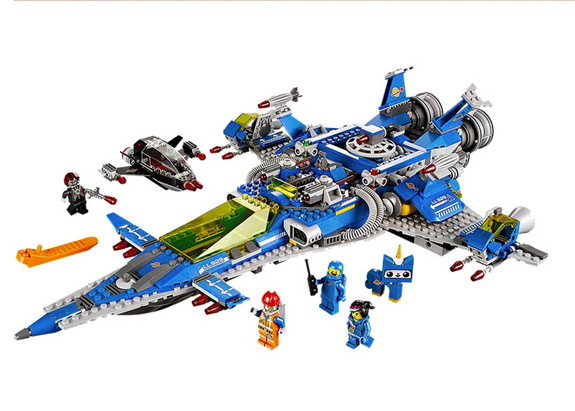 "The Lego Movie" entranced viewers of all ages, and now, space fans young and old can put together Benny's Lego Spaceship, Spaceship, SPACESHIP (from $98.88 on Amazon) from the hit film. The 1980s blue spaceman helped save the day with his spaceship idea, and now, people everywhere can use their imaginations to build it themselves or any other spaceship, too.
If Lego Star Wars is the kid's obsession, try the grown-up gift guide for the intricate Lego Millennium Falcon ($149.99) and Poe's X-Wing Fighter ($79.00) kits.
Why we love it: This Lego kit is a perfect combination of vintage and new Lego space projects that can be a joy to build, as Space.com's Tariq Malik and his daughter found out. It's an EPIC build, so be prepared to spend at least a few hours at a time, but the result is totally worth it:
---
Star Wars Force Trainer 2 Hologram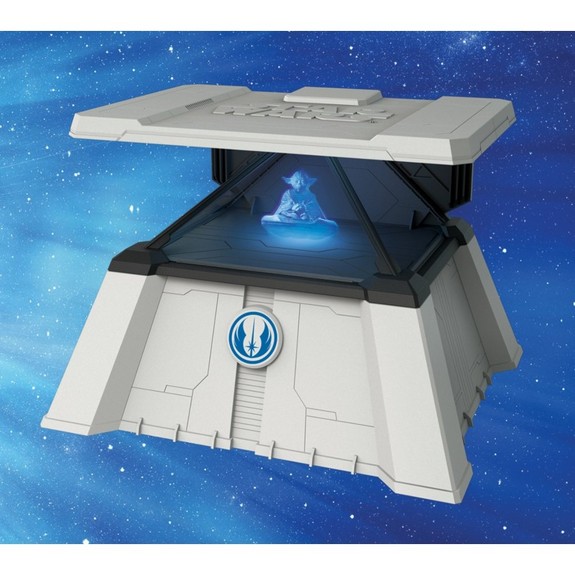 Hook up a tablet to put this ($14.99) "mnd-reading" device to the test and become a Jedi master — 3D holograms within the device will react to the strength of your concentration, measured via headset, and let you complete 10 levels' worth of Jedi tasks. Space.com writer Calla Cofield caught this one at ToyFair 2015 and was blown away: "It really makes you feel like you're inside 'Star Wars,' and all space fans should get a kick out of it."
Why we love it: Lift a holographic X-Wing. WITH YOUR MIND.
---
Futuristic Planet Poster Series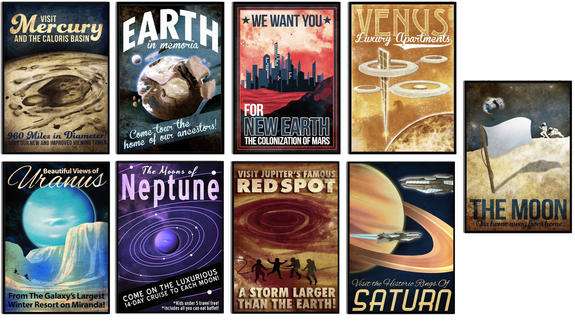 Everyone knows space is cool, so why not show it? If you find yourself ready to redecorate this summer, consider this collection of planetary posters that will intrigue you and the child in your life. Purchase them singly or as a full set ($119.95); hang them all or swap them out.
Why we love it: These posters, along with the free printable exoplanet posters offered by NASA's Jet Propulsion Laboratory, encourage space exploration for young and old alike. Don't be fooled into thinking these are just for kids; Space.com contributor Nola Taylor Redd has JPL's posters matted, framed and hung in her living room.
---
"Welcome to Mars: Making a Home on the Red Planet" by Buzz Aldrin, with Marianne J. Dyson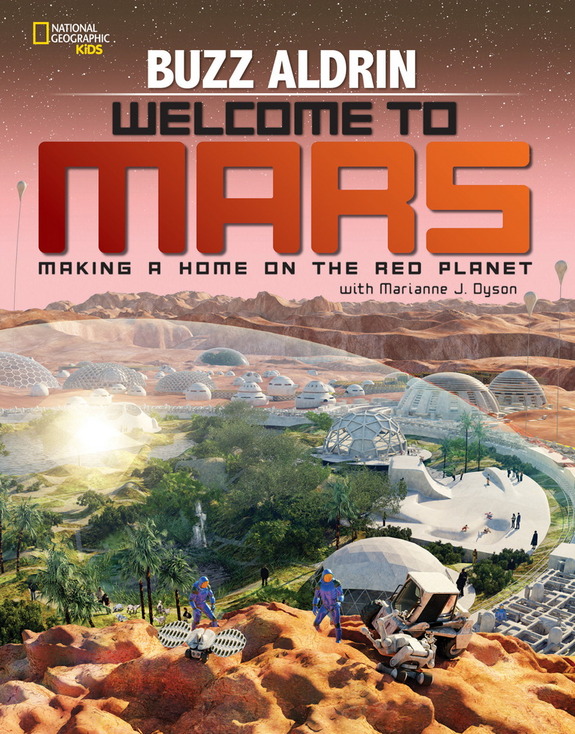 The book "Welcome to Mars: Making a Home on the Red Planet" invites readers to set out a fictional Mars journey packed with incredible detail — about the planet's history and conditions as well as the steps necessary to get there and set up a colony, complete with gorgeous illustration. It's written by Buzz Aldrin, who landed on the moon, and it hopes to inspire a new generation to take the leap and visit new worlds. (You can read our review here.)
Why we love it: The book is packed with hilarious — and sometimes messy — activities to better understand the science, like how often the orbits of Earth and Mars align and why exactly habitats must be rounded. Plus, it even specifies what people might eat in the first Martian café.
---
"Sally Ride: A Photobiography of America's Pioneering Woman in Space" by Tam O'Shaughnessy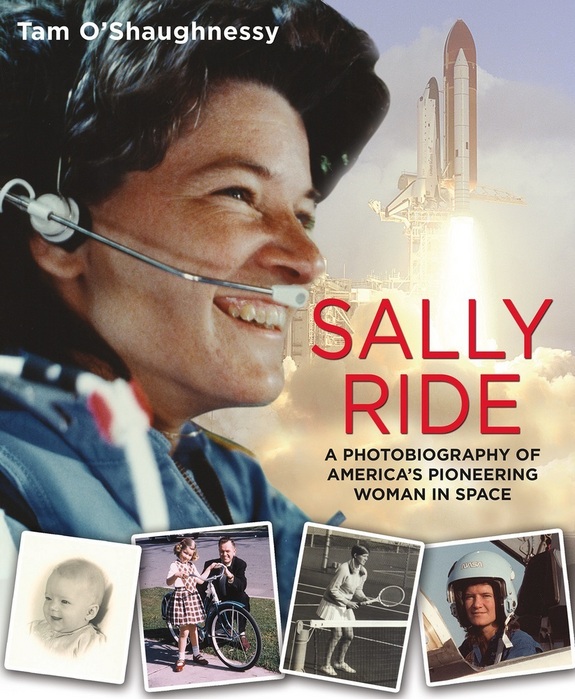 She was the first female NASA astronaut to fly in space and a dedicated science communicator, but she was also a young tennis star and underachiever — Sally Ride is a role model to many but also a fascinating personality. This biography, by Ride's partner Tam O'Shaughnessy, aims to give children a glimpse of that personality and show how she grew from an active child into an astronaut fixed in the public eye without ever losing her sense of fun.
Why we love it: Ride was a meticulous saver-of-things, and it shows: the book is chock full of interesting photographs and tidbits from the course of her life. It's fun to look through, and the story of her life should appeal to stronger readers, too.
---
"The Incredible Intergalactic Journey Home" by David Cadji-Newby and Pedro Serapicos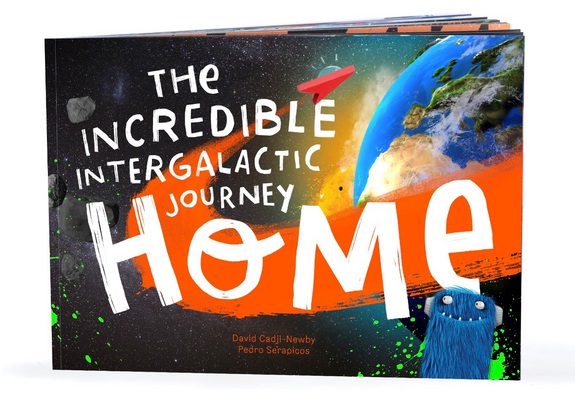 Ever feel like a book just "gets" you? This space adventure describes a kid's and robot's journey home from space that's personalized to fit individual children specifically: taking their name, gender and address to build a narrative whose epic adventures take them from outer space all the way down to their front door. The book is sure to delight while pinpointing a child's place in the cosmic scheme of things: solar system, planet, country, city, nearby landmarks and home.
Why we love it: The book's publisher, Lost My Name, uses open-source NASA satellite views to map out where a child lives and what it looks like from a distance. Plus, one lucky customer's personalized book was launched to the International Space Station Dec. 6.
Follow us @Spacedotcom, Facebook and Google+.