If premium specs, genuine quality and high performance is something that interests you, then getting $600 off the Unistellar eVscope 2 smart telescope is definitely something you'll want to check out.
A $600 saving on this high-end telescope is definitely something to shout about as it normally comes in at the top end of most budgets. For a more detailed look, you can always check out our Unistellar eVscope 2 review, where we found that this smart telescope is excellent for those with larger budgets, those looking for great astrophotography results and those who want stunning results without much hassle. It's worth noting that we also rate this as one of the best telescopes on the market currently.
We will go through the specs in more detail below but in short, you do get a lot of telescope for your money. It features a 114mm aperture, a useful digital magnification of 150x, an in-built camera, a sleek design and an electronic eyepiece. It's a step away from traditional stargazing but it is designed extremely well and comes with a dedicated app that's also easy to use.
If this deal interests you but maybe it's not quite what you're looking for, be sure to check out other telescope deals as well as the best binoculars and binoculars deals too.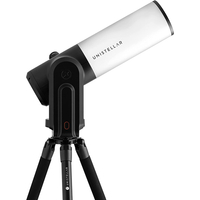 Unistellar eVscope 2 Digital Telescope: was $4899, now $4299 on Amazon.
Save $600 and get Amazon's lowest-ever price on an incredibly sophisticated, powerful and well-designed telescope. It features a 114mm aperture, a 450mm focal length, a tripod, a 150x useful magnification as well as a 7.7MP image sensor and built-in Nikon eyepiece. You operate this telescope through the app, which is easy to use.
Note: Stock is low so you'll have to act fast to get this deal.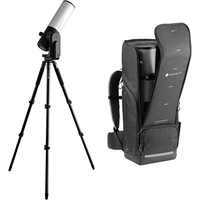 Unistellar eVscope 2 Digital Telescope With Unistellar Backpack: was $5199, now $4599 on Amazon.
Save $600 and get Amazon's lowest-ever price on this Unistellar eVscope 2 bundle. It's the same telescope as above but the bundle includes a Unistellar backpack.
Note: Stock is low so you'll have to act fast to get this deal.
We've talked about how this is a great telescope but here is where we get into why. The nuts and bolts and everything that specifically makes this a telescope worth getting, even if it didn't have a colossal $600 discount. Above all else, the views are spectacular and that's courtesy of a 114mm aperture, a 7.7MP image sensor. an eyepiece which is designed by Nikon and a smart light pollution reduction system.
For this price point, you expect stunning views, which is what you get and with a useful magnification going up to 150x. You do get more than just stunning views though as it's incredibly well-designed and it performs exceptionally. It has a single power button that you can use to synchronize to the Unistellar app which will allow you to identify, locate and track your night sky objects. The does have the ultimate motorized control to fine-tune telescope positioning. Thankfully, the app doesn't let this telescope down as it is also easy to use.
All of this means you get an incredibly powerful and sophisticated telescope that's also reliable. Because of the technology featured, it's worth noting you won't have to spend any further money on camera or mounting equipment which is a benefit.
It might frustrate traditional astronomers who prefer the set up and use of a finder scope but in turn, this offers a fun, hassle free and easy stargazing experience that's well suited to both veterans and newcomers. It features exceptional technology and has been meticulously built. It is a little pricey but you do get genuine quality and now that it's Amazon's lowest-ever price, it's never been more affordable from the retailer.
Follow Alexander Cox on Twitter @Coxy_97Official. Follow us on Twitter @Spacedotcom and on Facebook.