The Bliss Lights SkyLite Evolve star projector is now on sale for $26.24 ($34.99 plus a 25% off coupon) during Amazon Prime Day.

If you look on Amazon, you will see hundreds of different types of star projectors. Some are utterly useless, but if you cut through those you can pick up a good-quality model that will last a long time for a good price. Even those that sometimes seem so cheap they look too good to be true can be reasonable (see this deal from November where the Starry Sky Astronaut was available for less than $8).
To narrow the search for you, we put together a guide to the best star projectors and have carried out hands-on reviews for each model we think is worth spending money on. One of the star projectors on this list is the Bliss Lights SkyLite Evolve, which is on sale now for $26.24 ($34.99 plus a 25% off coupon).
The BlissLights Sky Lite Evolve was the second BlissLights model we reviewed after the BlissLights Sky Lite 2.0. This upgraded version features a better thought-out (spherical) shape for maximum positioning possibilities, voice control (alongside app and single-button control), and patented color-blending technology so you can make the lights appear in pastel shades as well as the more typical RGB combinations found in other models.
Amazon claims the RRP is $59.99, but we know it's usually around $45. That said, for just over $25, the deal is still worth snapping up.
---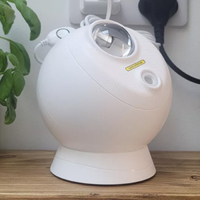 BlissLights SkyLite Evolve: was $59.99 now $26.24 from Amazon.
Save over 50% on one of the best star projectors, the BlissLights SkyLite Evolve. It has three means of control — voice, app or single button. The shape means positioning options are almost limitless, and the pastel shades you can create are unique to this model.
---
The BlissLights Sky Lite Evolve packaging is nice enough to give as a gift; some projectors come in basic or plain boxes, which look pretty uninspiring to give or receive, regardless of how good the star projector inside them is.
The BlissHome app is the one you'll need to unlock all the functionality and customization means of this projector, but you can also link it directly with the Google Home app — which you can then use to control the device. You can set start and sleep timers, change colors and speeds, turn the laser 'stars' on and off, set 'themes,' and create and save your own.
In our hands-on review, we particularly liked being able to control the star projector using our phone, which we usually carry everywhere with us, instead of the little remotes that are typically supplied and inevitably lost over time. The voice control is a bonus and surprising for a star projector with a relatively low price point.
Don't forget, if you want to make the most of Amazon Prime Day 2023, check out our Amazon Prime Day hub for a roundup of the best discounts and deals on telescopes, binoculars, cameras, star projectors, drones, lego and much more.
Key Specs: The BlissLights Sky Lite Evolve is a small device measuring 4.25-inches. It contains a bright LED and Class 2 laser. The LED and lasers rotate and there is a highly customizable sleep timer. The projection surface is a respectable 30 x 30 ft for the laser, and 15 x 15 ft for the nebula cloud.
Consensus: As a mood-enhancing, ambiance-creating star projector, the Sky Lite Evolve is a great choice, even better when it's on sale. It's a quality item that will last a long time, and the customization modes mean your space can have a different mood as often as you like. It would be great in a child's bedroom as an alternative to a night light thanks to the customizable sleep timer too.
Buy if: You've been waiting for the perfect opportunity to buy a star projector with impressive functionality, for yourself or as a nice gift for a space fan. They create excellent sensory environments and this is one of the best with some of the most generous customization options.
Don't buy if: You are looking for a scientific star projector that projects 'real' planetarium-style images rather than immersive colors and lasers, or if you want a star projector that has an in-built speaker.
Alternative models: For a similar 'ambiance creating' star projector, consider the Astronaut Starry Sky Star Projector that we reviewed last year. Though it arrives in pretty boring packaging, the device itself is surprisingly good quality, and it would make a nice gift for any space fan, regardless of their age.
For a projector that you can project real space imagery, consider the Pococo Galaxy Star Projector. It's also on sale at the moment but for a higher price of $79.99. If you can look past the slightly bizarre marketing, it's actually a pretty good projector that is rechargeable, displays really impressive high-resolution projections and has extension packs available — read our Pococo Galaxy Star Projector review for more of our feedback.