Want to take on the galaxy as Luke Skywalker, Leia Organa? Or maybe you'd like to travel back to the days of Star Wars' Old Republic as the villainous Darth Revan? These Prime Day Lightsaber deals are not to be Sithed at.
Okay, you can't actually slice anyone in half with these top-level replicas, but they're a cut above your average toy shop fare and easily some of the best lightsabers credits can buy. The Black Series offers collector grade quality, complete with authentic sound-effects, a removeable light-up blade and a stand so it can take pride of place on your shelf.
It certainly beats running around hitting people with a cardboard tube and you can save big on them this Amazon Prime Day. You can get a Star Wars: The Black Series Luke Skywalker Force FX Lightsaber for $163.99, down from $214.99 (save $51). Leia Organa's Lightsaber is 36% off, down from $264.99 to just $168.12 (save $97). Finally, Darth Revan's Lightsaber is down from $278.99 to $194.99, saving you $84.
They're not toys, so you might not want to put them anywhere near children (just ask "Revenge of the Sith"'s younglings) but if you want to embrace your inner Jedi or Sith these are a steal.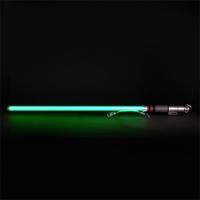 Star Wars: The Black Series Luke Skywalker Force FX Lightsaber: Was $214.99 now $163.99 at Amazon
Take on the Dark Side with Luke's Lightsaber, over $50 off for Prime Day. With authentic sound effects and excellent build quality we've really got to hand it to Hasbro.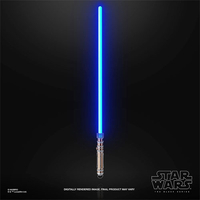 Star Wars: The Black Series Leia Organa Force FX Lightsaber: Was $264.99 now $168.12 at Amazon
Or save nearly $100 with Leia Organa's Lightsaber. She may have not as much use out of it as Luke but you can be every bit as badass a Jedi.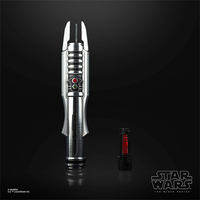 Star Wars: The Black Series Darth Revan Force FX Lightsaber: Was $278.99 now $194.99 at Amazon
Featured in Star Wars: Knights of the Old Republic, Darth Revan's face was rarely seen. This doesn't come with an overly convenient mask but it does have an $84 discount.
These Lightsabers might be a tad pricier than your usual toy shop fare, even taking in these excellent Prime Day deals. But there's a good reason for that.
Each one of these Lightsabers has been designed to be something to treasure, whether you're cosplaying as your favorite Star Wars character or swinging them around in the comfort of your lounge. Hasbro's Black Series is the gold star for lightsaber replicas - just look at our recent reviews of the Obi Wan and Darth Vader Force FX sabers that we published - we freaking love these things.
They're as close as to the actual movie weapons you're going to get without breaking into Disney's prop warehouse or sneaking into George Lucas's Skywalker ranch. The sound effects are authentic, the buttons aren't just for show and they should be a real treat to own.
Off-color "Revenge of the Sith" joke aside, we'd like to reiterate that you shouldn't give these to young children, they're not meant to be smashed vigorously into each other. But if you're a teen or adult collector you really can't go wrong with these.
If you want to see what other Star Wars toys, props and replicas are available, check our our best lightsabers buying guide. And don't forget to check out the other Prime Day Space deals.