Trump Officially Establishes US Space Force with 2020 Defense Bill Signing
The new branch will be stood up over the next 18 months.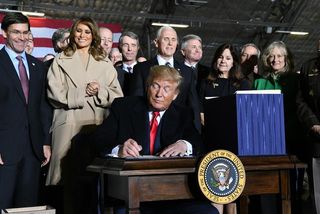 (Image credit: Airman 1st Class Spencer Slocum, 11th Wing Public Affairs)
President Trump has signed the 2020 National Defense Authorization Act and with it directed the establishment of the U.S. Space Force (USSF) as the sixth branch of the armed forces.
The Space Force is part of the Department of the Air Force, much as the U.S. Marine Corps is part of the Department of the Navy. The new branch will be stood up over the next 18 months, military officials said.
"It was nearly half a century from Kitty Hawk to the creation of the Air Force. And now it's 50 years after Apollo 11 that we create the Space Force," Trump said during signing ceremonies at Joint Base Andrews in Maryland on Friday (Dec. 20), which you can watch here.
Related: In Photos: President Donald Trump and NASA
"It's a big moment. That's a big moment, and we're all here for it," he added. "Space … going to be a lot of things happening in space. Because space is the world's newest warfighting domain. Amid grave threats to our national security, American superiority in space is absolutely vital. And we're leading, but we're not leading by enough. But very shortly, we'll be leading by a lot. The Space Force will help us deter aggression and control the ultimate high ground."
Trump also said he will appoint Gen. Jay Raymond to be the first Chief of Space Operations, the senior military member of the new branch.
"And he will become the very first member of the Space Force," the president said. "He will be on the Joint Chiefs, which we're now expanding by one position. That's a very powerful position. So, General Raymond, congratulations, and thank you for you everything you've done."
'Strategic imperative'
"We are at the dawn of a new era for our nation's armed forces," Secretary of Defense Mark Esper said in a statement. "The establishment of the U.S. Space Force is an historic event and a strategic imperative for our nation. Space has become so important to our way of life, our economy and our national security that we must be prepared as a nation to protect it from hostile actions."
Esper also stressed that the Space Force will help the United States prepare itself against threats in an "evolving space environment." Other military officials echoed his sentiments.
"In military operations, space is not just a place from which we support combat operations in other domains, but a warfighting domain in and of itself," Gen. Mark Milley, Chairman of the Joint Chiefs of Staff, said in the same statement. "Our adversaries are building and deploying capabilities to threaten us, so we can no longer take space for granted. The U.S. Space Force is the necessary and essential step our nation will take to defend our national interests in space today and into the future."
"The launch of the U.S. Space Force propels the nation into a new era," Barbara Barrett, Secretary of the Air Force, said in the same statement. "An agile, lean and technologically advanced force of talented professionals will now singularly focus on protecting our U.S. national interests and security in space."
The Air Force is making an effort on multiple fronts to get more agile and responsive to emerging space threats. For example, last month, the Air Force held its first-ever Space Pitch Day in San Francisco, awarding millions of dollars in on-the-spot contracts to companies developing various technologies that could aid the nation's space security.
Space capabilities
The Space Force will "maintain and enhance the competitive edge of the Department of Defense (DOD) in space while adapting to new strategic challenges," according to a newly released fact sheet issued by Space Force Public Affairs.
The Space Force will be headquartered at the Pentagon, like the Army, Navy, Marine Corps and Air Force, the fact sheet states. And the Space Force's duties will be wide-ranging.
The newly created branch "organizes, trains and equips space forces in order to protect U.S. and allied interests in space and to provide space capabilities to the joint force," the fact sheet reads. "USSF responsibilities include developing military space professionals, acquiring military space systems, maturing the military doctrine for space power and organizing space forces to present to our Combatant Commands.
You can watch a new video about the Space Force here.
Leonard David is author of the recently released book, "Moon Rush: The New Space Race" published by National Geographic in May 2019. A longtime writer for Space.com, David has been reporting on the space industry for more than five decades. Follow us on Twitter @Spacedotcom or Facebook.

Get the Space.com Newsletter
Breaking space news, the latest updates on rocket launches, skywatching events and more!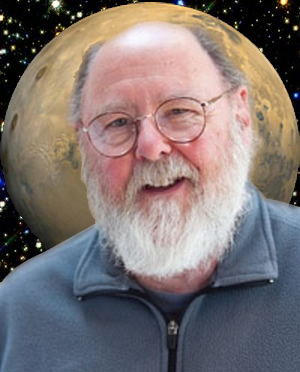 Leonard David is an award-winning space journalist who has been reporting on space activities for more than 50 years. Currently writing as Space.com's Space Insider Columnist among his other projects, Leonard has authored numerous books on space exploration, Mars missions and more, with his latest being "Moon Rush: The New Space Race" published in 2019 by National Geographic. He also wrote "Mars: Our Future on the Red Planet" released in 2016 by National Geographic. Leonard has served as a correspondent for SpaceNews, Scientific American and Aerospace America for the AIAA. He was received many awards, including the first Ordway Award for Sustained Excellence in Spaceflight History in 2015 at the AAS Wernher von Braun Memorial Symposium. You can find out Leonard's latest project at his website and on Twitter.