The first NASA astronauts to launch from the United States in almost a decade will also be the first American crew in 55 years to lift off wearing spacesuits that lack a mission patch (opens in new tab).
It is not that SpaceX's first mission to fly with astronauts does not have an official insignia — in fact, it has two — but rather, it was a choice made by the company to not add either patch to the pressure garments that crew members Bob Behnken (opens in new tab) and Doug Hurley (opens in new tab) will wear when they board the Dragon spacecraft for launch. The commercial mission, dubbed Demo-2 (DM-2), will resume U.S.-based spaceflights (opens in new tab) from Kennedy Space Center in Florida since the space shuttle was retired in 2011.
Although a relatively minor detail in the context of a technically-challenging and history-making flight, the absence of a mission patch on the astronauts' pressure suits breaks a colorful tradition that dates back to NASA's Gemini program (opens in new tab). Up until the Demo-2 mission, 158 NASA crews donned spacesuits adorned with either an embroidered or silkscreened insignia representing both themselves and their flight's objectives before boarding an American spacecraft and lifting off for space.
Related: SpaceX's historic Demo-2 Crew Dragon launch: Full coverage (opens in new tab)
Further, all of the U.S. astronauts, and their international crewmates, who flew on Russia's Soyuz spacecraft (opens in new tab) during the nine-year interim between the space shuttle and commercial crew programs also wore emblems symbolizing their expeditions on the International Space Station, if not also a second patch for their Soyuz, too.
Patchwork
SpaceX (opens in new tab) officials have not commented on why a mission patch was left off the new spacesuits, but they have acknowledged the decision since at least 2018.
It was therefore somewhat of a surprise when a year later Behnken and Hurley showed up for a press event at SpaceX's headquarters wearing a new insignia on their NASA blue coveralls. In October 2018, the two astronauts revealed the first patch representing their DM-2 mission (opens in new tab).
"The patch was a collaboration with Karen's, my wife's, nephew, Andy. He is a graphic artist and he and I spent many evenings on the phone talking about the patch and working through the different permutations," said Hurley in an interview with collectSPACE. "When I had time after those discussions, Bob and I would go back and forth as well."
Andy Nyberg's finished design was shaped in the form of the Crew Dragon and included the symbols for the space capsule and its Falcon 9 rocket (opens in new tab) at the top of the patch. The silhouette of the International Space Station (opens in new tab), the crew's destination, also featured on the emblem.
Nyberg also included NASA's red vector, lifted from its logo, and the Commercial Crew Program's insignia to symbolize the return of a launch capability to the U.S. A silver star positioned over the patch's representation of the east coast of Florida highlighted where the Demo-2 mission will originate.
Finally, stars on either side of the crew's names represented their respective family members. Behnken and Hurley each married fellow astronauts (Megan McArthur and Karen Nyberg) and each family has a young son.
"It took several months, but it was a neat process, and we're pretty happy with it," Hurley said of designing the patch.
Although they will not be wearing it for launch, Hurley and Behnken will lift off with 1,000 of the embroidered patches on board the Crew Dragon (opens in new tab) as mementos to distribute to team members after the flight. The design has also been produced in lapel pin and decal form, and may appear on the garments that the astronauts will wear while in orbit.
Two-for-one, four for luck
The Demo-2 mission gained its second patch a week before its scheduled launch.
First seen as an embroidered badge in a photo posted to social media, SpaceX debuted its insignia for the mission as part of a redesign of its website on Friday (May 22).
Like the crew's patch, SpaceX's emblem also depicts the silhouette of the space station and has a star positioned over the Florida launch site. Both elements are illustrated as being reflected off of an astronaut's helmet, as part of SpaceX's new spacesuit (opens in new tab).
The shoulders' up view of the astronaut is backdropped by an American flag (opens in new tab).
The patch also features a four-leaf clover, continuing a tradition (opens in new tab) that began with SpaceX's first successful orbital launch as a company in 2008. The emblem for that Falcon 1 flight (opens in new tab) was the first to include a clover for luck, and so all subsequent SpaceX patches have done the same.
Cooper's custom
The first NASA astronauts to wear a mission patch (opens in new tab) while launching were the 1965 Gemini 5 crew of Gordon Cooper and Charles "Pete" Conrad.
After NASA denied permission for the Gemini crews to name their spacecraft, as the earlier astronauts (including Cooper) had done for their Mercury capsules, Cooper suggested that they borrow a military custom and design mission patches. The Gemini 5 insignia featured a hand-sewn conestoga wagon inscribed with the motto "8 Days or Bust," a reference to the mission's extended duration.
The practice caught on, and creating a mission patch became a team building activity and a symbol that future crews embraced. Many new NASA astronauts considered it a rite of passage to see their name on a patch, though some of the most famous emblems in space history — including the insignia for the Apollo 11 (opens in new tab) first moon landing — omitted names to represent the team behind the mission.
Behnken and Hurley have each launched on two previous NASA space shuttle flights wearing mission patches. Hurley's most recent mission marked the end of the shuttle program and was the last time a NASA crew launched from the United States, each with an STS-135 emblem (opens in new tab) sewn to the front of their spacesuits.
Change of material
The spacesuits that Behnken and Hurley will wear on SpaceX's Demo-2 mission are not entirely devoid of logos.
Although lacking a mission patch, each custom-fitted suit features a tag on its right arm displaying the wearer's name and an American flag on the same shoulder. The left side arm includes NASA's official insignia and SpaceX's logo embroidered on a similar tag to the astronaut's name badge.
Finally, centered on the suit's chest, is an embroidered version of NASA's shuttle-era logotype, known as the "worm." (opens in new tab)The red "N-A-S-A" appears to be sewn on the same type of material as the spacesuits' teflon-coated (polytetrafluoroethylene or PTFE) outer layer.
The American flag and the NASA insignia (the "meatball") also differ in material from earlier similar patches worn by U.S. astronauts. Historically, the flag has been nylon or embroidered like the space agency's logo.
On SpaceX's suits the two emblems appear to be molded in PVC plastic, offering a more crisp appearance than fabric that is consistent with the sleek aesthetic of the overall pressure garment.
Click through to collectSPACE (opens in new tab) to see all 158 mission patches that U.S. astronauts wore to launch from U.S. soil since 1965.
Follow collectSPACE.com on Facebook and on Twitter at @collectSPACE. Copyright 2017 collectSPACE.com. All rights reserved.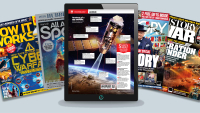 (opens in new tab)