NASA's Artemis 2 moon mission: Live updates
NASA's Artemis 2 mission is returning astronauts to the moon for the first time since 1972. See live mission updates here.
SLS model rocket kit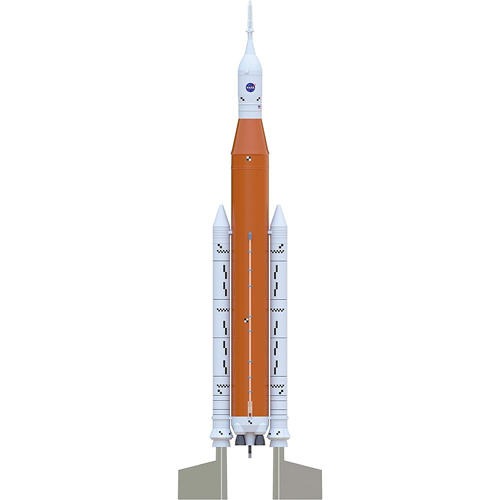 You can launch a Space Launch System of your own with this Estes NASA SLS model rocket for a 1:200 scale version of NASA's moon megarocket. Read more about it.
NASA's Artemis 2 lunar mission in 2024 will send the first astronauts around the moon in nearly 50 years. The mission will launch four astronauts around the moon on a lunar flyby aboard an Orion spacecraft using a Space Launch System rocket.
Artemis 2 is an eight day mission that will send three NASA astronauts and one Canadian Space Agency astronaut around the moon on a free-return trajectory. It is the last test flight before the Artemis 3 crewed moon landing mission in 2025.
See our complete coverage of the Artemis 1 mission below.
Meet the Artemis 2 crew | Artemis 2 explained | Latest news
Tariq Malik is the Editor-in-Chief of Space.com and has been covering human spaceflight for more than 18 years and space exploration overall for more than 20 years. He covered the final 22 space shuttle missions and NASA's ongoing International Space Station and Artemis program.
Elizabeth Howell first became interested in space after watching the movie "Apollo 13" as a teenager in 1996, kickstarting a lifelong fascination with the 1960s and 1970s human lunar landing program. She has watched five human spaceflight launches since and participated in a simulated Mars mission.
Refresh
Artemis 2 mission benefits from Canadian winter experience
Cold weather is helping to boost the fortunes of Canada in space, including its contributions to Artemis 2.
Astronaut Jeremy Hansen will the first non-American to leave low Earth orbit, alongside three NASA crewmates, no earlier than 2024. Canadian leader and Prime Minister Justin Trudeau argues that Canada's winter experience is one big reason for its success in space.
Trudeau emphasized that working in Canada's north helped with numerous kinds of technology, including the Canadarm robotic arm series that has provided Canadian astronaut seats for nearly 40 years.
The Arctic in particular represents "some of the harshest environments" available to humans, and Trudeau joked that when asked about why Canada does so well in space, he responds: "Obvious. Winter."
Read more: Winter is coming: Artemis 2 moon mission gets boost from Canadian cold
Artemis 2 astronauts thrilled for moon mission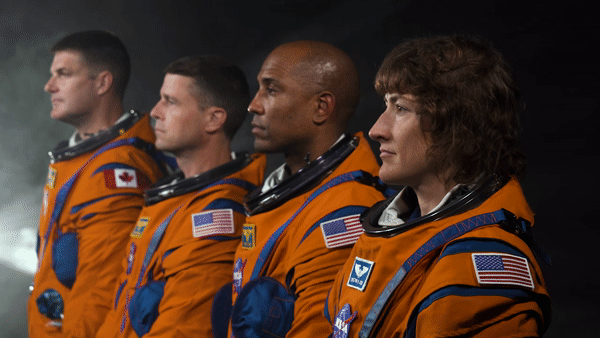 The four astronauts of NASA's Artemis 2 mission are thrilled, to say the least, to be on the crew that will send the first humans to the moon in more than 50 years. You can read our full story here.
Set to launch on a Space Launch System megarocket in 2024, NASA astronauts Reid Wiseman, Victor Glover, Christina Koch and Jeremy Hansen of the Canadian Space Agency will fly around the moon, much like Apollo 8, on their Orion spacecraft.
Here's what they had to say of the mission today:
Commander Reid Wiseman: "This is a global effort, Artemis 2, and it's only going to get larger with Artemis 3 and beyond as we get private spaceflight involved. SpaceX is building our lander for Artemis 3. So to the NASA workforce, to our program managers, our center directors that are here, the amazing political support that we feel right now to bring our country together to bring our entire world together to go explore to get to Mars and beyond, we say a huge thank you."
Pilot Victor Glover: "We need to celebrate this moment in human history. Because Artemis two is more than a mission to the moon and it's more than a mission that has to happen before we send people to the surface of the moon. It is the next step on the journey that gets humanity to Mars.

"Human spaceflight is like a relay race, and that baton has been passed generation to generation and from crew member to crew member from the Gemini, Mercury, Gemini, Apollo, Apollo Soyuz, Skylab Mir, the shuttle, International Space Station, commercial crew and and now the Artemis missions. We understand our role in that. And when we have the privilege of having that baton. We're going to do our best to run a good race to make you proud. I pray that God will bless this mission. But I also pray that we can continue to serve as a source of inspiration for cooperation and peace, not just between nations, but in our own nation."
Mission specialist Christina Koch: "When I think about this mission, that's a relay race with international partners, it's all so awesome in and of itself.
"We are going to launch for Kennedy Space Center to the work of the exploration Ground Systems team. We're going to hear the words go for launch on top of the most powerful rocket NASA's ever made the Space Launch System, and we're gonna ride that rocket for eight minutes into Earth orbit. We're not going to go to the moon right away. We're gonna stay in an amazing high orbit, reaching a peak of tens of thousands of miles while we test out all the systems on Orion and see how it maneuvers in space. And then if everything was good, we're heading to the moon.
"It will be a four day journey, going a quarter of a million miles, continuing to test out every bit of Orion going around the far side of the moon, heading home going through the Earth's atmosphere at over 25,000 miles per hour and splashing down in the Pacific. So am I excited? Absolutely. But my real question is Are you excited? I asked that because the one thing I'm most excited about is that we are going to carry your excitement, your aspirations, your dreams with us on this mission. Artemis to your mission."
Mission specialist Jeremy Hansen: "Our scientists or engineers, the Canadian Space Agency, the Canadian Armed Forces across government, all of our leadership working together under a vision to take step by step and all of those have added up to this moment where a Canadian is going to the moon with our international partnership and it is glorious."
Artemis 2 Moon Astronauts Revealed!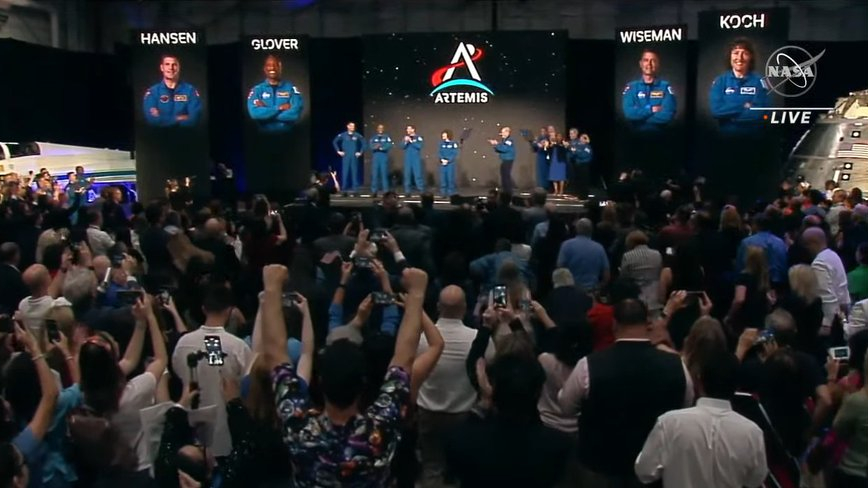 NASA chief Bill Nelson has unveiled the first astronaut crew to visit the moon in more than 50 years. They Artemis 2 crew are:
Commander Reid Wiseman, NASA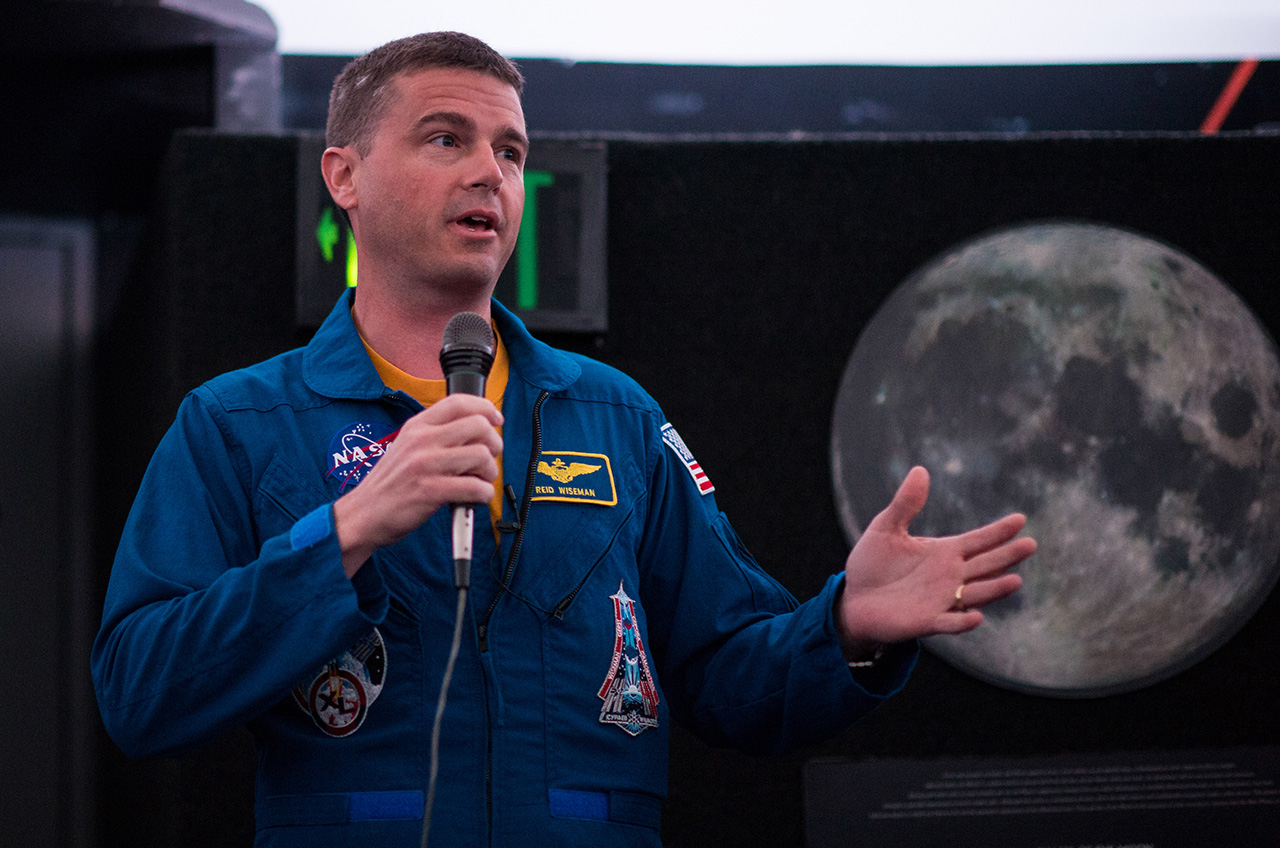 Reid Wiseman, 47, spent 165 days in Earth orbit on his first mission, a 2014 flight to the ISS. A native of Baltimore, Maryland, and former fighter pilot for the U.S. Navy, he was selected for NASA's 20th astronaut class in 2009. Wiseman recently served as chief of NASA's astronaut office from 2020 to 2022.
Pilot Victor Glover, NASA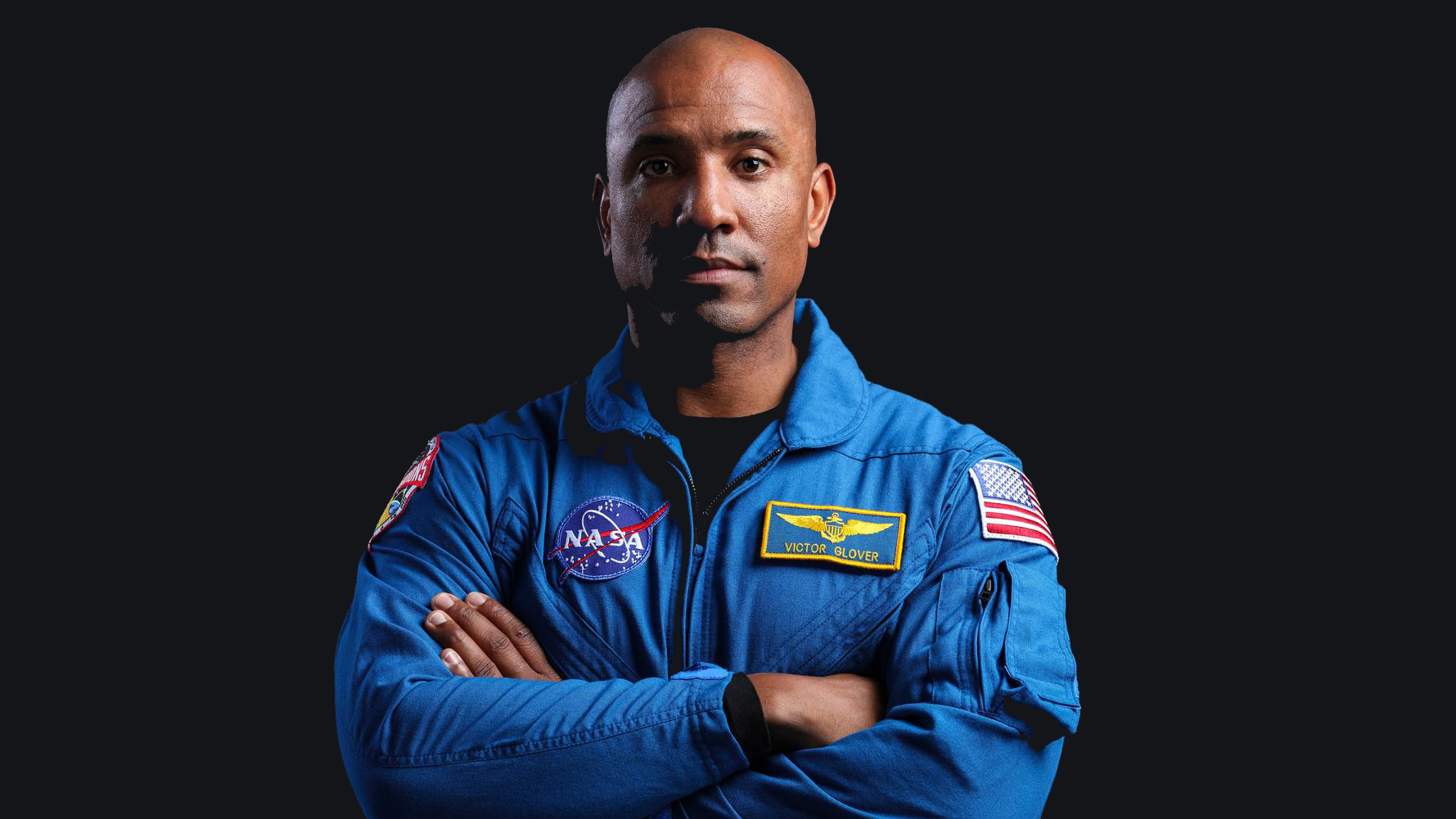 Victor Glover, 46, became a NASA astronaut in 2013. He flew as pilot of SpaceX's first operational crewed spaceflight (Crew-1) and logged 167 days on the ISS in 2021. Born in Pomona, California, he is an engineer and captain in the U.S. Navy. Glover was the first Black astronaut to serve on a space station crew.
Mission Specialist Christina Koch, NASA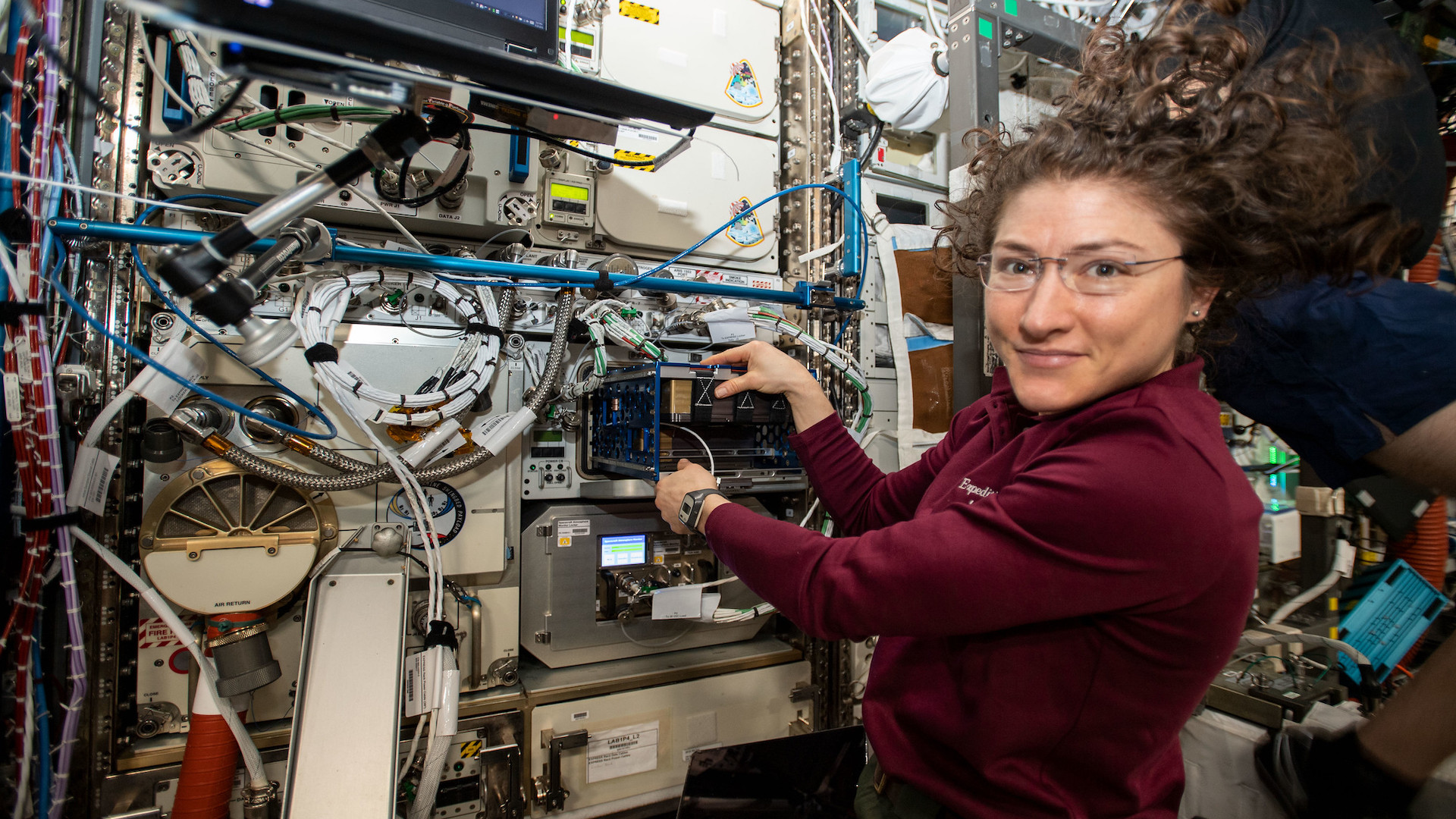 Christina Koch, 44, was born in Grand Rapids, Michigan and raised in Jacksonville, North Carolina. A member of NASA's 21st astronaut class selected in 2013, Koch set a record aboard the International Space Station for the single longest mission by a woman at 328 days. During that 2019 stay, she was also one-half of the first-ever all-female spacewalk. Koch is an engineer and former U.S. National Oceanic and Atmospheric Administration (NOAA) station chief.
Mission Specialist Jeremy Hansen, Canadian Space Agency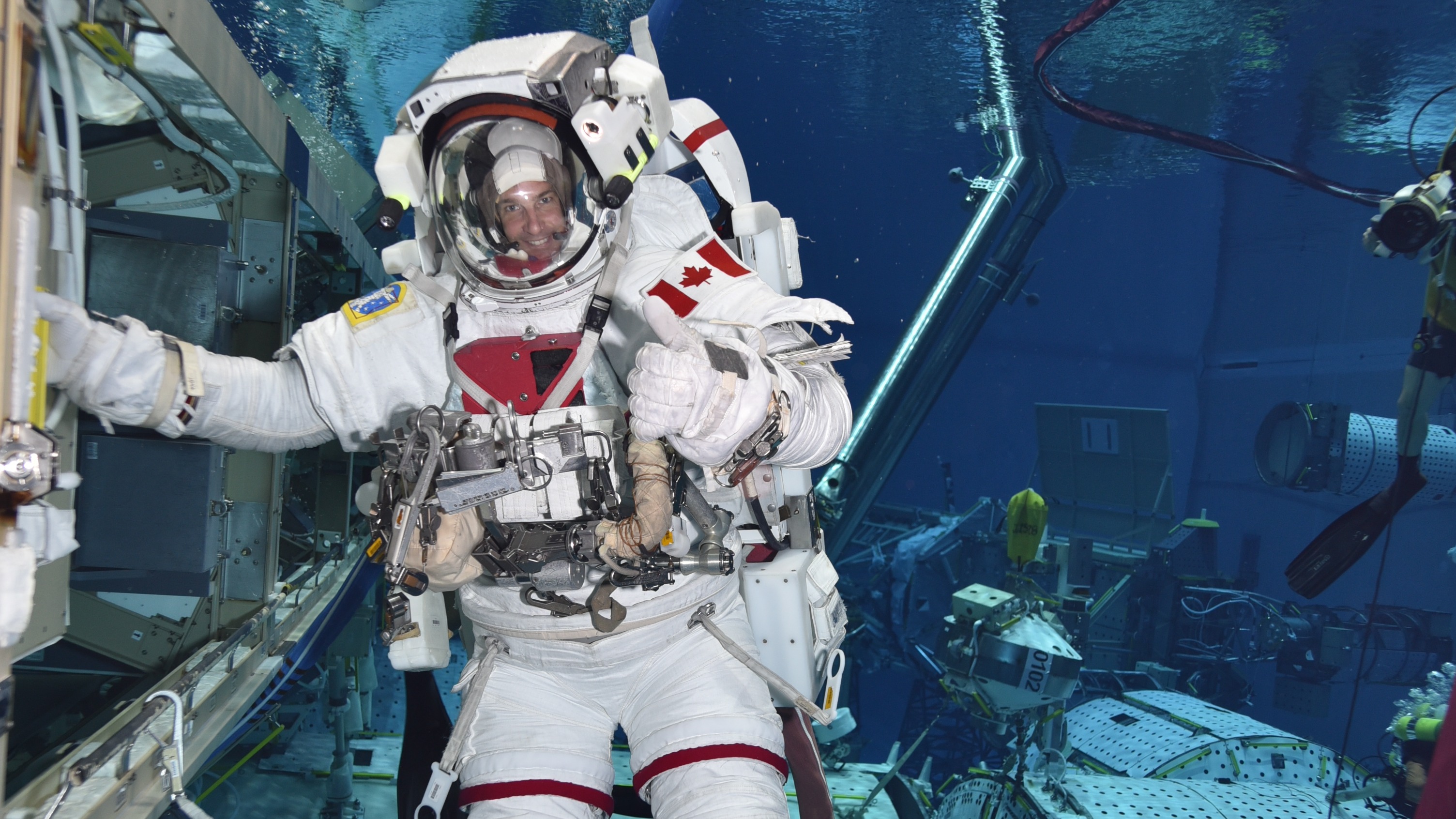 Jeremy Hansen, 47, was chosen to join Canada's astronaut corps in 2009. A colonel in the Royal Canadian Air Force, he was born in London, Ontario. Though Artemis 2 will be his first time in space, Hansen served as an aquanaut aboard the Aquarius underwater lab in 2014 and took a turn as a "cavenaut" as part of the European Space Agency's CAVES astronaut training course the year prior.
NASA Artemis 2 moon crew announcement underway
NASA's Artemis 2 moon astronaut crew reveal is underway live on NASA TV.
Speaking before a huge crowd at the Ellington Field in Houston, NASA's chief astronaut Joe Acaba began by inviting the entire astronaut corps to the stage.
"Your Artemis 2 astronauts are in the room with you ... I am not one of them," he said.
Canada's Prime Minister François-Philippe Champagne hailed the 60 year partnership of NASA + CSA and Canada's contribution of the CanadArm3 for the Gateway station around the moon: "We're going to the moon!" he cheered.
NASA Administrator Bill Nelson is now preparing to introduce the crew.
NASA to announce Artemis 2 crew today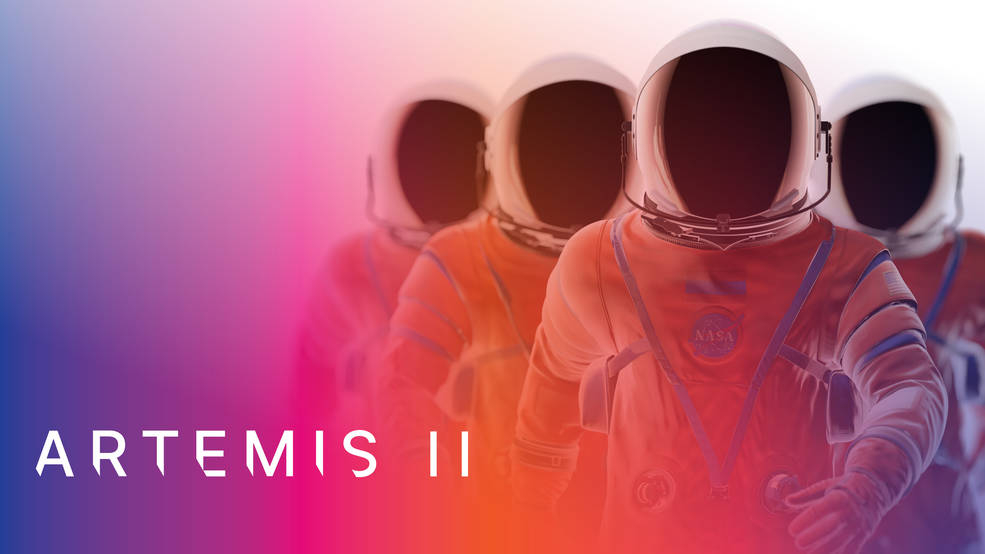 At long last, we're going to learn which astronauts will fly NASA's first crewed mission to the moon of the Artemis generation.
Today, April 3, NASA and the Canadian Space Agency will announce the four astronauts who will fly on the Artemis 2 mission around the moon in 2024. That crew is expected to include one Canadian astronaut and three NASA astronauts, but exactly who is yet to be revealed.
NASA will announce the crew in an event at Ellington Field near the Johnson Space Center in Houston, Texas at 11 a.m. EDT (1500 GMT). Space.com staff writer Elizabeth Howell is on scene at the event alongside contributor Robert Pearlman of collectSPACE.com.
You'll be able to watch it live on Space.com, as well as at the top of this page at start time.
While we wait, here's a nifty trailer from NASA for today's Artemis 2 crew reveal.
Sign Up for e-mail newsletters
Get breaking space news and the latest updates on rocket launches, skywatching events and more!
Thank you for signing up to Space. You will receive a verification email shortly.
There was a problem. Please refresh the page and try again.