With the recent Disney Plus series release of "Andor" and "Obi-Wan Kenobi" giving Star Wars a whole new lease of life, why not take this opportunity to grow your Star Wars collection with these Black Friday Lego Star Wars helmet deals? After all, you can save 15% on a selection of kits, and they make great gifts for the Holidays.
The Lego helmet of the Mandalorian, the star of the Disney Plus series "The Mandalorian," with Season 3 debuting in February 2023, is on sale right now at Lego for $59.49. The Dark Trooper is on sale right now at Lego for $55.99. The Force of Cyber Monday is also strong with the Lego Darth Vader helmet at Best Buy, which is on sale for $63.99.
The Mandalorian helmet is 15% off its regular price and the Dark Trooper helmet is 20% off. The Darth Vader Lego helmet is 20% off as well These helmets are a great addition to your "Star Wars" collection before they disappear from the galaxy forever.
If you haven't seen any of these new shows, you can catch them right now on Disney Plus, and as it's Cyber Monday, you're likely to get a discount on your subscription too, if you sign up for the Hulu + Disney Plus Cyber Monday bundle.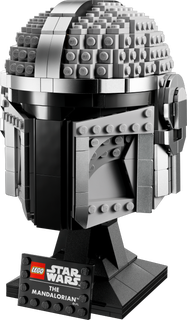 Lego Star Wars Mandalorian Helmet:
Was $69.99 now $55.99 at Lego.com
You can build the star of the Disney Plus series, "The Mandalorian," at a great discount. The set includes 584 pieces and a nameplate to wow your visitors with references to the greatest bounty hunters in the galaxy.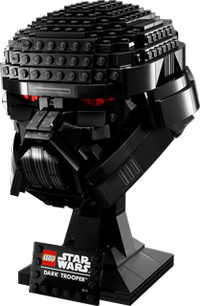 Lego Star Wars Dark Trooper Helmet:
Was $69.99 now $55.99 at Lego.com
The mysterious Dark Trooper, shock troopers of the "Star Wars" Universe, is brought to life in this Lego helmet set. The 693-piece set displays this complex helmet, and also comes with a nameplate, just in case any rebels don't know who they are fighting.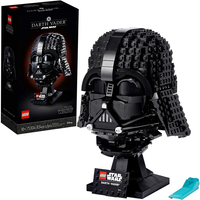 Lego Star Wars Darth Vader Helmet was $79.99 now $63.99 at Best Buy
Bring the Force of the Dark Side home with this iconic Lego Darth Vader helmet and show off your inner Sith in this 834-piece set that stands 8 inches (20 cm) high, 5.5 inches (15 cm) wide and 5.5 inches (14cm) deep.
Both helmets are incredibly detailed and designed for display to wow fans of any generation of the Star Wars Universe.
While the Mandalorian has only bene featured on Disney Plus, Dark Troopers have been seen throughout the Star Wars Universe in a variety of media, from books to films.
Lego strongly suggests that seasoned builders aged 18 and older attempt to construct these sets, as they are more catered to the collectible side. However, if you have an inspired teenager who really cherishes "Star Wars" Lego sets, you might be able to offer this set for younger ages who possess advanced experience in building such Lego sets.
The helmets range in size but are mirror each other enough that they can be lined up on a desk or bookshelf. The Mandalorian helmet, for example, has a height, width, and depth of approximately 7x4x4.5 inches (18x11x12 centimeters), which is small enough to put on a narrow bookshelf. Both of the helmets also come with name plaques in case you have any younglings who may not recognize the famous characters in your room.
These helmets have a tendency to sell out quickly whenever they've been put on discount, so be sure to buy as many as you can for your fellow "Star Wars" fans. With a total sale price point of less than $112, these two helmets offer unbelievable value for followers of the Republic or Empire who want to display their fandom.
Be sure to check out Space.com's Black Friday deals, or our guide to the Best Lego Star Wars deals.