As Black Friday moves into Cyber Monday this streaming deal from Hulu has already launched an epic saving that is perfect for any science fiction fan and runs through Cyber Monday. Right now, Hulu is offering a full year of service for just 99 cents a month, which can save you up to $84 on an annual subscription.
You can get 1 year of Hulu for 99 cents/month, or about $12, saving you 87% off the regular $7.99/month basic plan.
There is a lot of great sci-fi on the Hulu streaming service, but basic plan with ads usually costs about $96 (it's $7.99 a month), and it might make you think twice about how much you really want to binge every episode of "Rick & Morty" or the new alien horror film "No One Will Save You" and the Predator prequel movie "Prey." But this Cyber Monday 2023 deal, which runs through Nov. 28, saves you $84 off an entire year, bringing the cost of a year of Hulu down to three or four Starbucks lattes.

Hulu is also offering a bundle deal: You can add Disney Plus (with ads) to the subscription for an extra $2 a month, for a total of $3 a month for both services, or $36 a year to unlock the vast Star Wars and space library of Disney Plus alongside Hulu.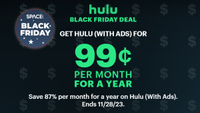 Hulu streaming service w/ads: $7.99/month 99 cents/month at Hulu
Hulu is offering 87% one year of its base streaming service (with ads) for Black Friday and Cyber Monday. You'll save $84 for the year with this offer and gain access to awesome sci-fi and other series and movies on Hulu. You can add Disney Plus as bundle for an additional $2/month.

Hulu's Black Friday deal has run into Cyber Monday and is mainly targeted to new subscribers, but if you subscribed to the streaming service and canceled, you can also qualify — but only if you have not used the service in the last month.
If you're already on a free trial of Hulu, take note: You can't combine this 1 year subscription deal with your free trial or any other promotion, and if you do sign up for the 99 cents/year deal with ads, but opt to upgrade to ads-free (which is usually $17.99 a month) you will lose the Black Friday sale price.
Hulu is home to at least hundreds of drama, science fiction, comedy and thriller TV shows and films, so you'll likely never run out of selections to watch. Hulu also has a deep library of originals, like the sci-fi comedies "Solar Opposites" and "Future Man," drama "Dopesick," and the horror anthology "Monsterland."
Key Specs: One year (12 months) of Hulu's basic streaming service with ads for 99 cents/month, for a total of $12, saving you $84 the normal price. Or bundle with Disney Plus for an extra $2/month.
Consensus: Hulu's Black Friday deal is a major savings of fthe normal annual price, which is $96. You'll only pay $12 for the first year and you can cancel after that, or continue your service at regular price. The last time we saw a deal like this was in 2021, as Hulu did not bring it back as steep or 2022 (It was just 75% off then).
Buy if: You don't have Hulu and want to try it for a year at a major discount.
Don't buy if: You already have a subscription or are on a free trial.
Alternative models: If you're not thrilled about the TV and film programming at Hulu, and prefer Star Trek instead, Paramount Plus has a Black Friday deal offering $1.99/month for the first 3 months. The streaming service Max is also offering up to 70% off the 1st 6 months on its basic plan with ads, making it $2.99/month down from $9.99.
Check out our Cyber Monday 2023 deals page for a roundup of the best discounts and deals on telescopes, binoculars, cameras, star projectors, drones, lego and much more.