The Celestron NexStar 130SLT is a computerized Newtonian reflector telescope, with a discount of over $190 for Amazon Prime Day. Good quality computerized telescopes can be really expensive and this is the lowest price we've seen this year.
The Celestron NexStar 130SLT is 30% off and on sale on Amazon for $447.33, but you'll have to hurry as the deal will likely end with Amazon Prime Day at midnight tonight, July 12.
This computerized telescope comes with a database of over 40,000 objects including stars, nebulas, galaxies and more. Once you select which target you'd like to view, the telescope will locate it and track it for you. It's also easy to set up and has a lightweight and portable design, so it's ideal for use on the go and will more than likely offer you a fun and engaging stargazing experience. If you're interested in this deal but it's not quite right for you, why not check out our round-ups of the best telescopes and Celestron telescope deals for similar models
---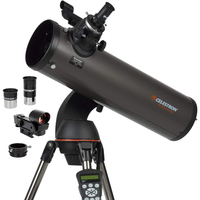 Celestron NexStar 130SLT Computerized Telescope was $639.95 now $447.33 on Amazon.
Save $192 on a reliable and quality computerized telescope this Amazon Prime Day. It features a 130mm aperture, a database of over 40,000 night sky targets, two eyepieces, bonus astronomy software and a two year US warranty.
---
You get much more than just a cool telescope for your money here. It features a 130mm aperture, so it gathers enough light to see your night sky targets clearly, but it also comes with two eyepieces and Starry Night software, to enhance and help you plan your stargazing sessions and learn about the objects your viewing. It also comes with a two-year US warranty, so you have peace of mind when purchasing this model.
Amazon Prime Day doesn't come around very often and we're into the second day of the event. If you still want to make the most of any top deals out there, please be sure to check out our Amazon Prime Day hub, where we round up discounts on telescopes, binoculars, cameras, star projectors, drones, Lego and more.
Key Specs: Database containing over 40,000 night sky targets, Altazimuth mount, 130mm aperture, 25mm and 9mm eyepieces, star pointer, free download of Starry Night software, two-year warranty, weighs 11.4 lbs.
Consensus: This is a good quality telescope and offers a fun, relaxed and engaging stargazing experience. Maybe it's not for you if you prefer to view and track targets manually but otherwise, this deal is absolutely worth considering.
Buy if: You want something reliable to look at the night sky, you want to learn about objects in the sky, you're not after the most powerful telescope out there.
Don't buy if: You're only wanting to view deep space or you much prefer locating and tracking objects without computerized help.
Alternative models: The Celestron NexStar 4SE is a computerized telescope from the same manufacturer in a similar price range, the Unistellar eQuinox 2 is a lot more expensive but is probably the best smart telescope out there.