Sally Ride's Stamp: The Story of an Astronaut's Philatelic Portrait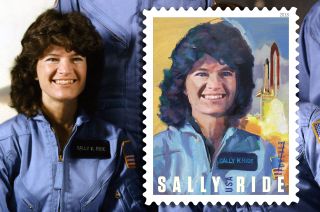 (Image credit: NASA/USPS via collectSPACE.com)
Sally Ride did not know it at the time — there is no way she could have — but a photo that she autographed 35 years ago provided the inspiration for her portrait on a new U.S. postage stamp.
The U.S. Postal Service (USPS) on Wednesday (May 23) is set to honor the late astronaut, who in 1983 became the first American woman to launch to space. The Forever-denomination issue marks only the second time in the USPS's history that an astronaut has been commemorated in such a way.
"Sally Ride's history-making journey has made it easier for young girls to dream of one day being an astronaut, an engineer, a physicist or a mathematician," Kristin Seaver, chief information officer and executive vice president of the USPS, said in a statement. "Today, girls don't just dream. Because of trailblazers like Sally Ride, they have been empowered to do!" [Photos: Space Age Postage Stamps Through History]
Seaver will be joined by tennis legend Billie Jean King and first Hispanic woman in space Ellen Ochoa for the stamp's official dedication ceremony at the University of California San Diego on Wednesday evening. Ride, who died of pancreatic cancer at age 61 in 2012, will be represented by her life partner Tam O'Shaughnessy, who co-founded and now leads the educational outreach company Sally Ride Science at UC San Diego.
"Sally would be deeply honored," said O'Shaughnessy.
Signed by Sally
More than a year ago, the Citizen's Stamp Advisory Committee, a group appointed by the Postmaster General to oversee the choice of stamp subjects, approved the idea for a stamp honoring Sally Ride.
"The Postal Service certainly tries to include diversity in every way that we can, so including the first American female astronaut was important," said Bill Gicker, the creative director of the stamp program, in an interview with collectSPACE.com. "In that sense, it was something we were all looking forward to."
Working with NASA, the USPS initially researched Ride's career as an astronaut and poured through the photograph archives from Ride's two space shuttle flights. But no one picture stood out as a strong candidate for the stamp.
"There were a lot of pictures of Sally Ride, but there weren't necessarily any great photographs. They may have captured her likeness well, but you also have to take into consideration the technical quality of the photograph," explained Gicker.
Gicker appointed the design of the stamp to USPS art director Ethel Kessler, who in turn knew immediately who she wanted to work with on its creation.
"I looked at the photo research and then picked up the phone to call Paul Salmon," she recalled.
A veteran illustrator who was chosen by NASA for its art program to document the early space shuttle program, including Ride's history-making flight on board space shuttle Challenger, Salmon has experience adapting aeronautic topics for postage stamps. He was the artist behind the "First Supersonic Flight" U.S. stamp issued in 1997 to commemorate Chuck Yeager's breaking of the sound barrier in 1947, as well the 1999 stamp honoring aviator Billy Mitchell, regarded as the "father of the U.S. Air Force."
"Paul practically knows everything there is to know about aviation, he loves doing work in that arena, he's great and I hadn't worked with him for a long time. To me, it was a no brainer. Just call Paul," said Kessler.
Salmon was pleased for the opportunity and, as it turned out, it was almost kismet that he was chosen.
"The Postal Service had trouble coming up with a good photo of Ride to depict on the stamp," he told collectSPACE. "But I happened to have an autographed photo of the shuttle crew that flew on that mission. It was autographed to me."
"It depicts all of the astronauts that flew the STS-7 mission and that smiling face of Sally, which is on the stamp now, was in that group photograph," he said. [Sally Ride's Life Shines in New Photobiography Book for Kids]
Adding gravitas
Salmon used his signed copy of NASA's crew portrait to style his painting of Ride.
"I worked from that photograph because she was smiling and I thought she looked very pleasant there," he said.
But both Kessler and Salmon agreed that Ride's portrait alone did not sufficiently tell her story within the context of a stamp.
"Her facial characteristics read 'sweet,' and that is not what we expect astronauts to look like," Kessler said. "We needed to find a way to add gravitas to her picture to be able to honor her in the way that she should be honored."
For Salmon, the way to do that was obvious — depict her launch.
"I wanted to include the space shuttle in the portrait because I think that the initial launch, the liftoff, is probably the most dangerous time and I wanted to show that," Salmon said. "It is more like an explosion of power. You're leaving gravity and it is a dangerous time."
"A lot of things could go wrong," he continued. "I wanted to show the danger of the mission and the braveness of the person that gets into the space shuttle and goes up. Especially a woman — she was the first American woman to do it. It was a big thing for the country and for mankind."
The USPS sourced a photo of the June 18, 1983 launch, showing the shuttle in profile as it lifted off the pad at NASA's Kennedy Space Center in Florida. Like he had done for Ride's portrait, basing it off the signed crew photo, Salmon used that launch photo as inspiration for his painting of the shuttle.
But he also added his own touches, like the clouds looming over the launch pad.
"That is artist liberty. The sky was not like that," described Salmon. "I embellished [the clouds] to increase the drama and danger of the liftoff."
Salmon, following a suggestion by Kessler, initially designed the art to appear on a horizontal stamp. Salmon sketched Ride's portrait on one side and the launch on the other, balancing each as themes for the overall stamp.
But after reviewing the proposed design with the advisory committee, the decision was made to go vertical. [Sally Ride: First American Woman in Space (Pictures)]
A fitting tribute
"This format is called 'semi-jumbo,'" described Kessler. "It is a little less tall and it's slightly wider than the commemorative format, but I think that it achieved the two things we were trying to do."
"We were able to bring the launch in, but at the same time, not make it equal value to her head as we had done with the very first, horizontal version," she said.
After a year of refining charcoal sketches and then his painting, Salmon is excited to see his tribute to Sally Ride be released on Wednesday.
"I am very proud to have created a stamp for a very brave astronaut," Salmon told collectSPACE. "And the fact that she was the first American woman in space, I'm proud of that."
Salmon still has a file full of his sketches and ideas for the stamp, but his final art, which is about the same size as the signed NASA crew portrait that inspired it, is now the property of the USPS and will eventually reside in the Smithsonian.
"We have to own the art because stamps are like currency. The artwork is like the plates used to create dollar bills," explained Gicker. "So it will reside at the Postal Service for several years and then eventually be turned over to the Smithsonian's Postal Museum, where they house the rest of the Postmaster General collection."
Meanwhile, 20 million of the Sally Ride stamps will cross the nation, if not orbit the world as they are used by the public and saved by collectors.
"This opportunity to design stamps is really a remarkable one," said Kessler. "I am aware for each project that I get to learn something new — sometimes a lot — and I get to work with extraordinary people and then we get to work through this whole massive process together."
"I think we did Sally Ride justice and I think she would be proud," Kessler said.
See collectSPACE.com for continuing coverage of the release of the U.S. Postal Service's Sally Ride Forever stamp.
Follow collectSPACE.com on Facebook and on Twitter at @collectSPACE. Copyright 2018 collectSPACE.com. All rights reserved.
Get the Space.com Newsletter
Breaking space news, the latest updates on rocket launches, skywatching events and more!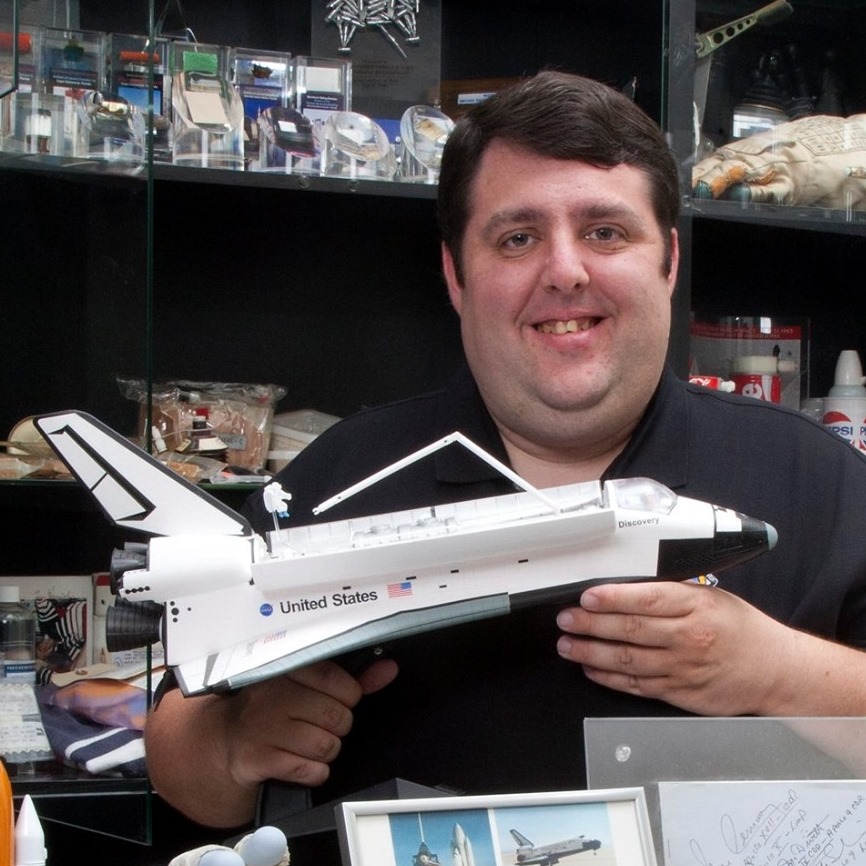 collectSPACE.com Editor, Space.com Contributor
Robert Pearlman is a space historian, journalist and the founder and editor of collectSPACE.com, an online publication and community devoted to space history with a particular focus on how and where space exploration intersects with pop culture. Pearlman is also a contributing writer for Space.com and co-author of "Space Stations: The Art, Science, and Reality of Working in Space" published by Smithsonian Books in 2018. He previously developed online content for the National Space Society and Apollo 11 moonwalker Buzz Aldrin, helped establish the space tourism company Space Adventures and currently serves on the History Committee of the American Astronautical Society, the advisory committee for The Mars Generation and leadership board of For All Moonkind. In 2009, he was inducted into the U.S. Space Camp Hall of Fame in Huntsville, Alabama. In 2021, he was honored by the American Astronautical Society with the Ordway Award for Sustained Excellence in Spaceflight History.