This Black Friday telescope deal makes the Unistellar eVscope 2 smart telescope one thousand dollars cheaper.
$1000 off Unistellar's eVscope 2 telescope, which features in our best telescopes guide as the best option for larger budgets. As someone who has a career in tracking skywatching deals, I haven't seen this level of saving for a long time and I'd recommend considering it.
The Unistellar eVscope 2 smart telescope is $1000 off (now $3899) from Unistellar's website. This deal ends November 27.
In our Unistellar eVscope 2 review we found that there's a lot to like about it, even more so now that you can save $1000. It features a simple setup, making it perfect for both seasoned and rookie stargazers, it looks stunning, it offers stunning views with a Nikon eyepiece, for those who want it, and the app it works in combination with is very easy to use.
This is one of, if not the biggest discount I've seen this year on a telescope and if you're in the market for a top telescope, now is the time to get it. However, if this isn't quite right for you, be sure to check out our telescope deals, the best binoculars and the best cameras for astrophotography guides.
---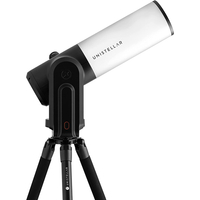 Unistellar eVscope 2 telescope: was $4899 now $3899 on Unistellar.
Save $1000 on a telescope that we rate as the best option out there for large budgets. It features a 114mm aperture and a useful digital magnification of 150x. It also works in tandem with an app on your smartphone so locating, identifying and tracking targets is made easy.
What makes this early Black Friday deal worth considering? Well for your money, you're getting a solid construction with a sturdy tripod and simple telescope mount. The Nikon eyepiece allows for crisper views and it has a digital zoom of up to 150 times. The app also makes it easy to take astrophotos and will locate night sky targets in conjunction with quality motorized control.
You can always check out our review of the Unistellar eVscope 2. However, to make the most of Black Friday, you should check out our Black Friday hub, as well as our hubs for deals on telescopes, binoculars, cameras, star projectors, drones, Lego and much more.
Key Specs: The eVscope 2 is a reflector telescope with a 114mm aperture which means plenty of light passes through and targets appear brighter and clearer. It also has a useful magnification of up to 150x. A Nikon eyepiece, a sturdy tripod, a 7.7MP image sensor, motorized controls and an easy-to-use-app.
Consensus: This is a premium telescope and I recommend having it. The eVscope 2 is the best telescope out there if cost is no issue as we've mentioned in our best telescopes guide.
Buy if: Your budget allows, you're looking for a smart telescopes or you want a hassle-free and engaging stargazing experience.
Don't buy if: Your budget doesn't quite stretch this far or if you're someone who likes to set up, locate and track night sky targets manually.
Alternative models: If this isn't quite right for you, we would recommend either the Celestron NexStar 4SE, as it's far less expensive and offers a similar kind of experience. Or, the Sky-Watcher SkyMax 127 as it's the best Go-To for smaller budgets.
Check out our Black Friday 2023 deals page for discounts on telescopes, cameras, binoculars, star projectors, Lego and more.