The Sony 24-70mm f/2.8 GM lens typically makes up one-third of the 'holy trinity' of lenses (usually a 16-35mm, a 24-70mm and a 70-200mm to cover a wide range of focal lengths), so we were stoked to see that Amazon is offering a big discount on this fantastic all-rounder lens that works for a number of different uses and shooting styles.
It's currently on sale on Amazon for $1598 (down from $2183.22), although at the time of writing, there are only 2 left in stock, so if you want to snap one up you'll have to be quick. We've also found it on B&H Photo and Adorama for the same price, although their 'before' price is a lot lower, and we know how Amazon retailers love to inflate the prices just before the deals hit to make it look like a better discount than it actually is.
If we could only have one lens in our camera bag, it would be this one (or, the same focal length for whichever brand you prefer). It's fantastic for most shooting situations and offers a constant f2.8 aperture ensuring sharp results throughout. While it's not necessarily one of the best lenses for astrophotography due to the 24mm being ever so slightly too long for astro, it will still do the job and produce some pretty nice results. We are currently reviewing the newer updated version of this particular lens, but we have previously reviewed the Canon 24-70mm f/2.8L ISM lens and were very impressed with how versatile it was.
---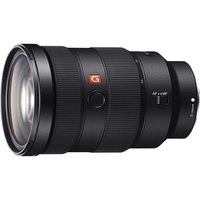 Sony 24-70mm f/2.8 GM lens was $2183.22 now $1598 at Amazon.
Save almost 30% at a number of retailers, including Amazon, B&H Photo and Adorama. With the recent release of the updated version of this lens, they've slashed even more off the cost of the original version, making it an absolute steal and worthy addition to any photographer's kit bag.
---
It weighs 3 lbs (1.6kg) so it is a pretty hefty lens, and it's not the smallest lens we've ever seen, however, as it's so versatile, chances are this is the only lens you'd be taking with you on day to day shooting, as opposed to lugging three different prime lenses around with you. Plus, if you don't have the budget for multiple different prime lenses of their G Master quality, this lens would be a nice compromise. It also comes with a case for added protection either at home or when carrying it in your camera bag.

Don't forget, if you want to make the most of Amazon Prime Day 2023, check out our Amazon Prime Day hub for a roundup of the best discounts and deals on telescopes, binoculars, cameras, star projectors, drones, lego and much more.
Key Specs: It has a versatile focal length of 24-70mm at a constant f/2.8 aperture, meaning sharp results throughout. There's no OSS, but full-frame Sony bodies tend to have in-body OSS anyway so that's not a deal-breaker.
Consensus: A great addition to any photographer's kit bag and capable of incredibly impressive shots in a number of disciplines. If you can only have one lens, make it this one.
Buy if: You want a great all-rounder and only have the budget for one great lens, or you travel a lot and don't want to take 10,000 different lenses with you.
Don't buy if: You primarily shoot astro, as you'll need wide-angle prime lenses, or wildlife photography, as you'll need long telephoto lenses.
Alternative models: If you primarily shoot astro and are looking for a wide-angle prime lens, consider the Sony FE 14mm f/1.8 G Master (currently $100 off on Amazon). We reviewed it last year and it was incredibly sharp for astro shots, and for such a good quality lens, we were really impressed with how small and lightweight it was.
If you aren't bothered with native lenses, you could go for the Sigma 24-70mm f./2.8 Art lens for Sony E mount cameras. It's about half the weight of the Sony version and around $500 cheaper than the Prime Day deal on the Sony (although, if you can stretch your budget, we'd still recommend the Sony lens).