The Full Snow Moon of February threw ancient monuments and even a SpaceX launch into a new light this week.
The full moon of February, called the Snow Moon in some Native American cultures, peaked on Sunday (Feb. 5), per the U.S. Naval Observatory. It's been captivating viewers around the world despite being a micromoon at the furthest possible distance from Earth; that's the opposite of the supermoon.)
Space.com reader Josh Dury, also an employee of our parent company Future PLC, invoked the mythology of King Arthur in the incredible lead image to this story. Dury imaged Glastonbury Tor in Somerset, U.K., including the scheduled (or protected) medieval monument of St. Michael's Tower atop the nearly 530-foot (160-meter) hill.
Glastonbury is most famously identified in some Arthur myths as the location of his final resting place, called Avalon. But archaeological surveys have found flint (stone) tools as far back as the upper Paleolithic that ended around 10,000 BCE, the U.K. National Trust states. For perspective, the Neolithic or beginning of large-scale human settlements in the region was in 6,000 BCE.
Related: Full moon calendar 2023: When to see the next full moon
The starring event of the Full Snow Moon was a SpaceX Falcon 9 rocket carrying the Amazonas Nexus satellite for the Spanish company Hispasat.
The rocket lifted off from Cape Canaveral Space Force Station in Florida on Monday at 8:32 p.m. EST (0332 GMT on Feb. 7) and the first-stage booster landed successfully on a drone ship minutes later.
Viewers all along the Space Coast captured Falcon 9 flying alongside the moon and shared the results on Twitter.
A single exposure of Falcon 9 flying by the moon.#SpaceX #Falcon9 #AmazonasNexus pic.twitter.com/BGiB6FvAvjFebruary 7, 2023
So close, but no cigar.A @SpaceX Falcon 9 lofting the @Hispasat Amazonas Nexus payload to orbit, making a close approach to today's 98% full moon.#AmazonasNexus #Falcon9 pic.twitter.com/QXtrrINDKkFebruary 7, 2023
Full Moon looking over tonight's launch of @Hispasat Amazonas Nexus mission. It was a great night to go to space! #SpaceX pic.twitter.com/uRXseZigazFebruary 7, 2023
Falcon racing past Mr Moon #SpaceCoastSkies #SpaceX #Falcon9 #SnowMoon pic.twitter.com/GwFT8JdnVXFebruary 7, 2023
Yeeehaw!! Finally got the coveted "rocket passing the moon" shot last night during the @SpaceX #AmazonasNexus launch. 👐🙌#SpaceX #Falcon9 #moon #rocketlaunch 📸: Me for @TJWallerPhotos pic.twitter.com/rLnVz0w8xHFebruary 7, 2023
Two frame merge of SpaceX Falcon 9 hopping over the moon as seen from Central Florida, carrying the Amazonas Nexus satellite pic.twitter.com/P7Aju0gqycFebruary 7, 2023
Last night's SpaceX Falcon 9 launch of the Amazonas Nexus mission with a nearly full moon rising in the clear night sky. #overthemoon #Falcon9 #SpaceX #longexposure #rocketlaunch pic.twitter.com/Ya6r8zsuWLFebruary 7, 2023
#SpaceX launch - As seen from Orlando🗓️ 02.06.23 📍Orlando📷 Sony α7R III 🔘 Sony 200-600mm@elonmusk @SpaceX #SonyAlpha #florida #launch #moon #rocket #photography pic.twitter.com/zCjoEJCQjiFebruary 7, 2023
Meanwhile, Space.com readers delivered imagery of the moon from all over the world. Jason Frost, located in Bolehošť, Czech Republic, spotted our lunar neighbor from his garden about 90 minutes east of Prague.
If you look carefully, however, you'll see a photobomb: a plane is crossing across the face of the moon from Frost's perspective.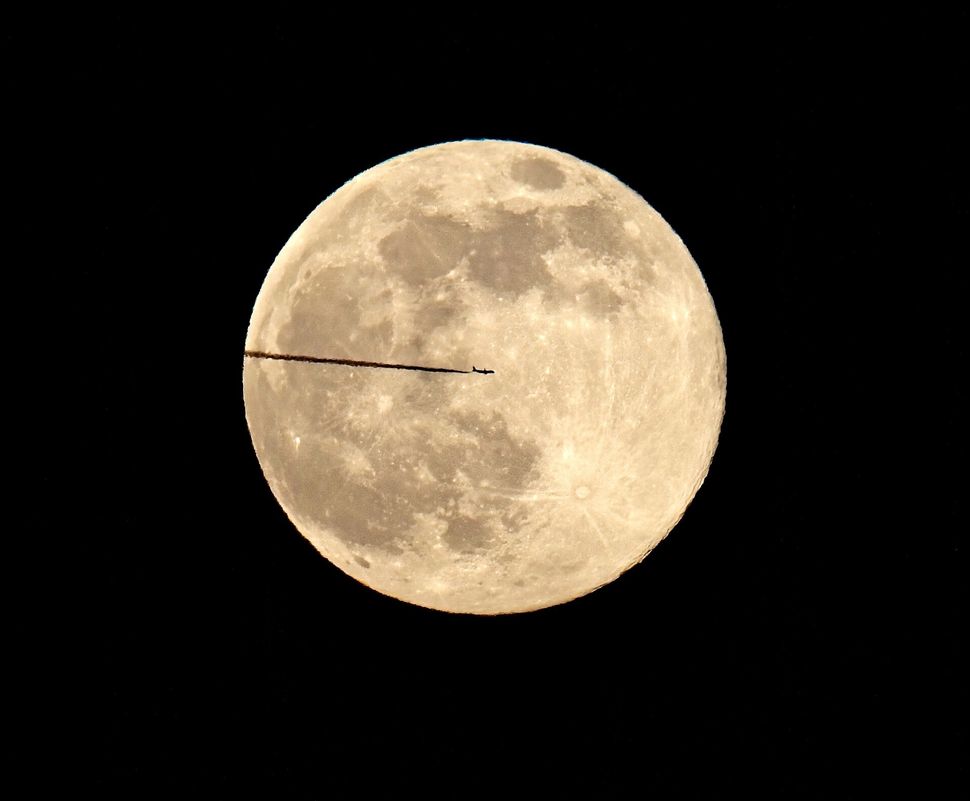 From Portugal, Space.com reader Sérgio Conceição spotted the Full Snow Moon above the Torre de Menagem. The tower is a part of the castle of Estremoz in Alentejo, roughly two hours east of Lisbon. Conceição captured the epic moonrise photo using a Canon EOS R camera and Canon EF 100-400 L lens.
This 13th-century castle is part of what remains of medieval Estremoz, which Encyclopedia Britannica describes as an "ancient gated city." The castle is best known as the location where Elizabeth (Isabel) of Aragon died in 1336, years after successfully interceding in a civil war. The castle is today used as a government-operated inn.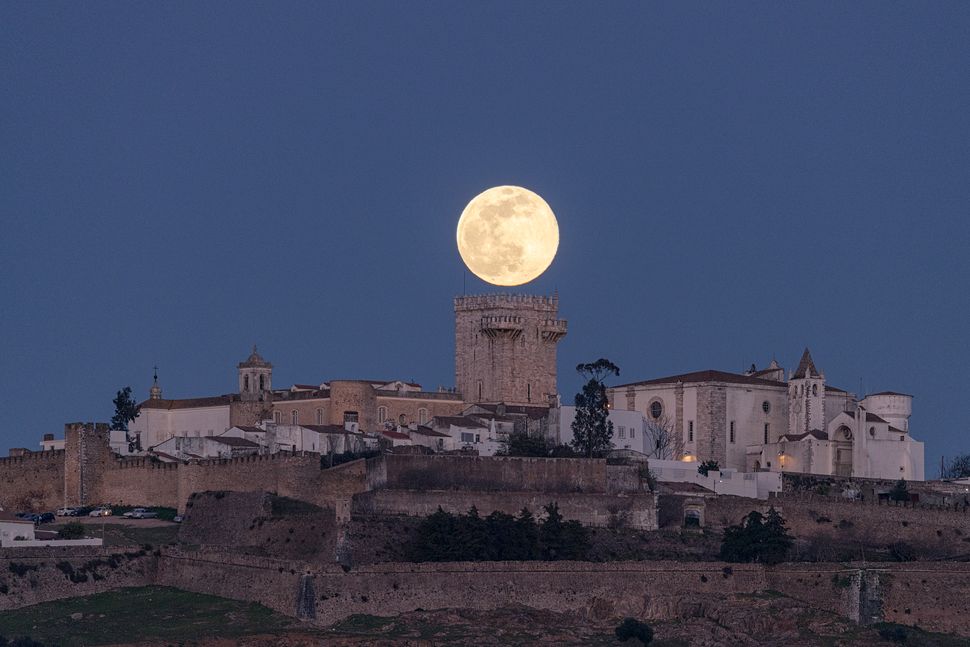 Muhammad Rayhan, an astrophotographer, amateur astronomer and astronomy educator with the Jakarta Planetarium & Observatory in Jakarta, Indonesia, caught this stunning image of the moon joined by a special guest. "This is a collage photo of a commercial airplane that photobombed the micromooon (The smallest moon of the year) that has just rising on the east," Rayhan told Space.com.
The seven images used to assemble this collage were taken with a Nikon D5100 using a AF-S DX Nikkor 18-200mm lens at F/3.5-5.6.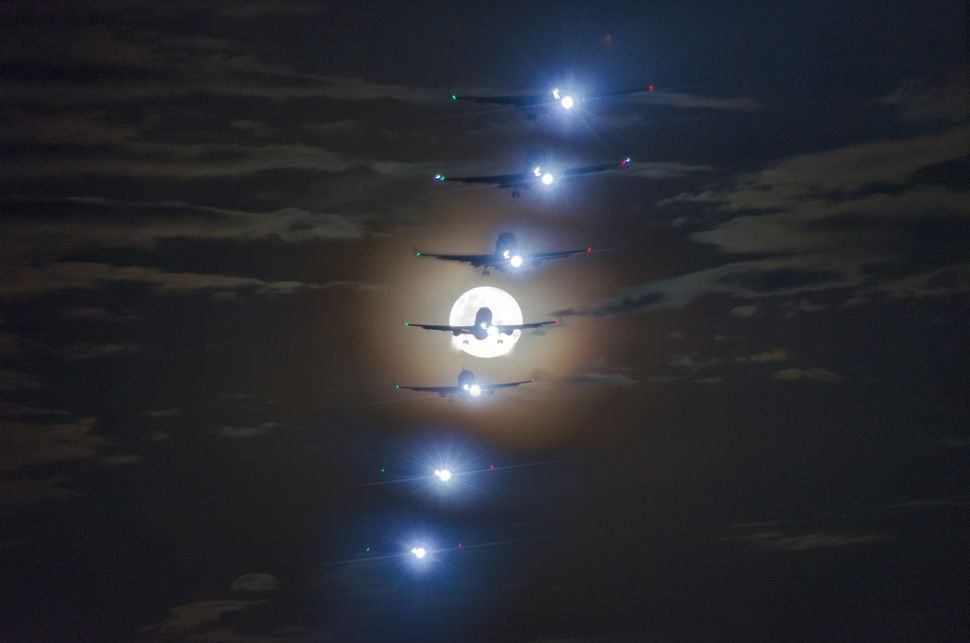 If you're looking for a telescope or binoculars to observe the moon, our guides for the best binoculars deals and the best telescope deals now can help. Our best cameras for astrophotography and best lenses for astrophotography can also help you prepare to capture the next skywatching sight on your own.
Fancy taking a more in-depth moonlit tour of our rocky companion? Our ultimate guide to observing the moon will help you plan your next skywatching venture whether it be exploring the lunar seas, mountainous terrain, or the many craters that blanket the landscape. You can also see where astronauts, rovers and landers have ventured with our Apollo landing sites observing guide.
Elizabeth Howell is the co-author of "Why Am I Taller?" (ECW Press, 2022; with Canadian astronaut Dave Williams), a book about space medicine. Follow her on Twitter @howellspace. Follow us on Twitter @Spacedotcom or Facebook.