You still have a bit of time to bounce away from bounty hunters on two iconic Mandalorian ships on sale for Cyber Monday.
The Razor Crest remains at $97.99 on Amazon — saving $42 (30%) off of the MSRP. That's one of the best Lego Star Wars deals we've seen so far and is sure to vanish soon as Cyber Monday winds down. We have spoken.
If you've watched The Mandalorian on Disney Plus, you'll know how much it brought new Star Wars characters and lexicon into the universe (Baby Yoda fans, anyone?) And yes, Grogu is one of the minifigures on board the Razor Crest, along with the Mando himself.
The Razor Crest isn't the only big Star Wars savings you'll find, as Boba Fett's Starship is 20% off and down to an impressive $39.99 at Best Buy.. Perfect for any Mandalorian collectors out there who need to have both ships.
Always remember you can find more content from all Star Wars franchises at our Cyber Monday Lego Star Wars deals page while you're shopping around, but if you wait too long you'll be doomed, just like C-3PO's warnings.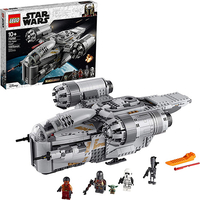 Lego Star Wars The Razor Crest - was $139.99, now $97.99 at Amazon
This Lego build comes with five minifigs (including an adorable Grogu), fires projectiles, and has opening compartments.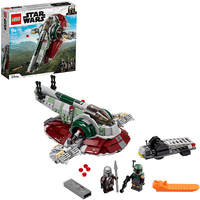 Lego Star Wars Boba Fetts Starship - was $49.99, now $39.99 at Best Buy
This Lego build includes two minifigs and a transporter vehicle, and has an opening cargo bay and cockpit.
In our Lego Razor Crest review, we noted that the build is a little fragile, but praised how quick it was to build and the detail afforded to the minifigs — notably the adorable Grogu.
The set comes with the Razor Crest, which also features a pair of projectile-firing laser cannons, as well as an opening cargo hold and detachable escape pod. There are five minifigs included, too, with The Mandalorian, the Child (Grogu), Greef Karga, a Scout Trooper, and IG-11.
Remember too that the Lego Star Wars Boba Fett's Starship set is $10 off at Best Buy. With an opening cockpit, Mandalorian and Boba Fett minifigs, working cargo bay and a transporter vehicle included, there's plenty of fun to be had.
For more on Lego Star Wars, be sure to check out our deal hub for the Cyber Monday Lego deals, as well as our Cyber Monday Lego Star Wars deals. Use the Force on these before it's too late.