Who needs a chocolate advent calendar when you have a different Lego surprise ever day? Each of this Lego Star Wars calendar's doors conceals a different saga-themed mini-figure or vehicle. And now, thanks to Lego's Black Friday sale, you can save 30% on this festive treat.
This Lego Star Wars Advent Calendar is just $31.49 at Lego.com, down from the usual $44.99. The delights lurking behind each door range from an AT-ST Scout Walker, through to series stalwart C3PO, clad in a Christmas jumper.
Even better, you get the joy of building each kit, with the instructions helpfully displayed on the back of each door. The only question is whether you can actually wait to open each door, or give into to the Dark Side and tear it apart in a frenzy worthy of Kylo Ren.
But why stop there? Check our list of the best Black Friday Lego deals we've found in so far. And for even more non-Lego deals, feast your eyes on our Black Friday live blog.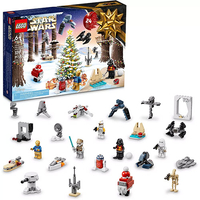 Lego Star Wars Advent Calendar - was $44.99, now $31.49 at Lego.com
Save 30% on this Lego Star Wars advent calendar which features a mix of small builds and minifigs.
So, what's included in the deal? There are 329 pieces spread throughout 24 doors to open. When it comes to minifig characters, you'll find the likes of Luke Skywalker, a Clone Trooper, Battle Droid, Gonk Droid, and a Snowtrooper.
Matching the winter theme is the inclusion of mini builds like Hoth-themed defense weapons and a Wampa Cave from the early scenes of The Empire Strikes Back, as well as a mini AT-ST.
You'll also find a number of small vehicle builds, including a Republic Gunship, Luke's Landspeeder, a B-Wing, and a TIE Interceptor.
The Advent Calendar is recommended for ages 6 and up due to the small pieces inside, which is worth considering if you have smaller children.
A 30% discount on this advent calendar is timely ahead of December and is perfect for any fan of Star Wars or Lego, there's plenty of fun to be had aside from opening each square and the saving is an added bonus.
But what if this isn't the calendar you're looking for? Not to fear, there are some equally amazing deals on other Lego advent calendars.
Lego are also selling this Lego Friends calendar for $24.49, down 30% from $34.99. Meanwhile, over at Target, this absolutely magic Harry Potter Lego advent calendar is $28.79, down 20% from $35.99. And if you're a fan of Star Lord, Groot, Mantis and company, Target also have this Guardians of the Galaxy advent calendar for 20% off, $28.79 down from $35.99.
For more amazing Lego sets, be sure to check out our guides to the best Lego Star Wars sets and the best Lego space sets too.