Lightning strikes SpaceX's launch tower ahead of Falcon Heavy launch
Friday, April 28, 2023: The launch tower at pad 39A at NASA's Kennedy Space Center where SpaceX's Falcon Heavy rocket is readying for liftoff was hit by a lightning strike on Thursday, April 27.
The bout of bad weather that brought hail and even tornadoes forced SpaceX to delay the rocket's planned launch, which is set to deliver to orbit three spacecraft including a broadband satellite of U.S. company Viasat and an Arcturus communications satellite of San Francisco based company Astranis.
"Last night's storm in Florida produced hail, tornadoes, and lightning. Following this strike on the tower at 39A, teams performed additional checkouts of Falcon Heavy, the payloads, and ground support equipment," SpaceX said in a tweet, sharing the image. – Tereza Pultarova
Milky Way arches above Chile observatories
Wednesday, April 27, 2023: The thick band of the Milky Way galaxy arches above the Cerro Pachón mountain in Chile as if connecting the Rubin Auxiliary Telescope (on the left) with the Vera C. Rubin Observatory (on the right).
The photo was taken by Czech astrophotographer Petr Horálek during the recent NOIRLab 2022 Photo Expedition to all the NOIRLab sites, NOIRLab, which released the image on April 26, 2023, said in a statement.
The image shows a bridge of stars, nebulae and interstellar clouds that are not visible to the human eye and can only be revealed in their full beauty in dark regions unpolluted with urban light, such as the Chilean mountain tops. The two dwarf galaxies known as Magellanic Clouds that orbit the Milky Way can be seen at the center bottom part of the bridge. – Tereza Pultarova
Astronaut Thomas Pesquet tests a lunar wheelbarrow during a parabolic flight simulating lunar gravity
Tuesday, April 26, 2023: European Space Agency astronaut Thomas Pesquet is testing a moon transportation vehicle during a parabolic flight simulating lunar gravity.
The vehicle, essentially a high-tech lunar wheelbarrow officially called LESA for Lunar Equipment Support Assembly, or Lunar Evacuation System Assembly, has been developed by a team of scientists from the European Astronaut Center in Cologne, Germany. Although the researchers tested the vehicle extensively on Earth, the only way to experiment with it in lunar gravity, for which it was built, was to put it on a plane capable of flying parabolic flights that can produce reduced gravity.
There is only one such plane in Europe, the Air Zero G airbus operated by French company Novespace. Pesquet was one of the four pilots in charge of this flight and came to test the wheelbarrow during his piloting break. Space.com was exclusively invited to be part of this flight. – Tereza Pultarova
Space.com's Tereza Pultarova takes part in a parabolic flight simulating lunar and Martian gravity
Tuesday, April 25, 2023: Space.com's Tereza Pultarova took to the skies today on a parabolic flight with flight company Air ZeroG.
She was joined by ESA astronaut Thomas Pesquet who was one of the four pilots involved in the mission. The flight lasted three hours during which the Airbus A310 conducted over 20 parabolas.
Scientists onboard conducted a range of experiments including trying out a lunar wheelbarrow and a special lunar 3D printer that uses artificial lunar regolith under simulated lunar gravity conditions.
What a way to spend your Birthday, Happy Birthday Tereza Pultarova! — Daisy Dobrijevic.
Moon and Venus conjunction shines next to a stunning aurora display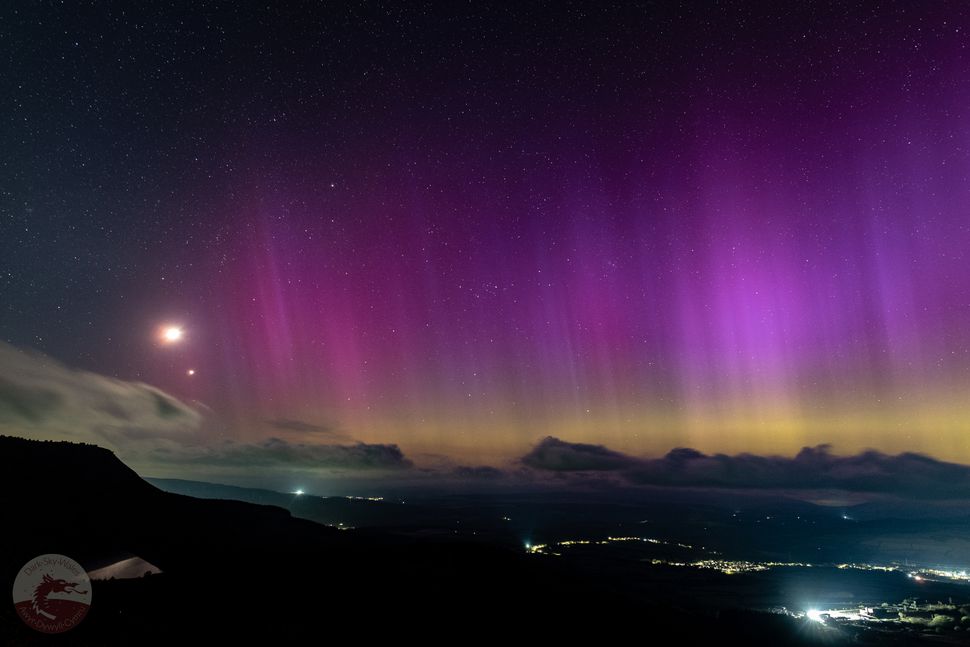 Monday, April 24, 2023: Allan Trow of Dark Sky Wales captured this delightful aurora display from Rhigos Mountain, South Wales, U.K. Trow's image also includes the moon and Venus conjunction shining bright on the left side of the colorful scene.

"The night sky exploded into life around 11 p.m. [BST] and the most wonderful auroral display emerged in front of me," Trow told Space.com in an email.

"It was great to show the people gathered nearby the colors on the camera and then the wonderful display in front of us! It made up for a cancelled stargazing experience due to clouds at our original destination." Trow continued.

The aurora was triggered by a powerful solar storm that slammed into Earth on April 23. The geomagnetic storm peaked as a severe G4 on the 5-grade scale used by the U.S. National Oceanic and Atmospheric Administration (NOAA) to assess the severity of space weather events — Daisy Dobrijevic
Read more: Severe solar storm slams into Earth and sparks stunning auroras around the world (photos)
Semi-successful debut launch of SpaceX's Starship megarocket seen from space
Thursday, April 20, 2023: An American weather forecasting satellite witnessed the semi-successful debut launch of SpaceX's Starship megarocket from space.
The GOES-16 satellite operated by the U.S. National Oceanic and Atmospheric Administration (NOAA) observed the launch attempt from its perch in geostationary orbit about 22,000 miles (36,000 kilometers) above Earth.
The satellite was able to clearly distinguish the enormous cloud of smoke that enshrouded the launchpad in Boca Chica, Texas, as the 33 engines of Starship's Super Heavy first stage ignited. The view from space then shows the smoke dispersing above the Atlantic Ocean.
After the successful liftoff, Super Heavy continued to fire for about three minutes but as the first stage was about to separate from the Starship upper stage, something went wrong and the entire stack began to tumble instead, eventually exploding in a series of fireworks.
"Even though the @SpaceX starship didn't make orbit, it still provided one heck of a fireworks show," British Earth-observation scientist Simon Proud who shared the images on Twitter said in a tweet.
SpaceX said it considered the attempt a success and will have another go in a few months. – Tereza Pultarova
Russian cosmonauts relocate equipment on International Space Station
Wednesday, April 18, 2023: Russian cosmonauts Dmitri Petelin and Sergey Prokopyev completed a nearly eight-hour spacewalk on Tuesday, April 19, relocating a radiator between two modules of the Russian segment of the International Space Station.
The astronauts used the help of the European robotic arm to move the radiator from Rassvet to Nauka, which notoriously arrived at the orbital outpost in July 2021 after suffering problems with propulsion. The science module also accidentally fired its thrusters shortly after its arrival and caused the space station to spin around its axis
The Tuesday spacewalk was the fourth for Prokopyev and the second for Petelin. The two will conduct another spacewalk on Tuesday, April 23, to relocate an experimental airlock from Rassvet to Nauka. An additional spacewalk is planned for Thursday (May 4) to deploy the radiator that has been moved to Nauka and connect it to mechanical, electrical and hydraulic lines, NASA said in a statement. – Tereza Pultarova