The Egg Nebula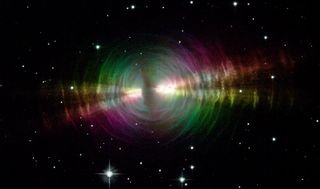 Friday, April 19, 2019: Here's a colorful cosmic Easter egg to start off your holiday weekend! The Egg Nebula, seen here in a view from the Hubble Space Telescope, is a "preplanetary nebula," or a cloud of dust and gas ejected from a dying star and illuminated by the star's last bit of light. Located about 3,000 light-years away from Earth in the Cygnus constellation, the faint Egg Nebula was first spotted by astronomers in the 1970s, and it was the first nebula of its kind that anyone had ever seen. It was then imaged by Hubble in the 1990s. — Hanneke Weitering
Beresheet's Last Photo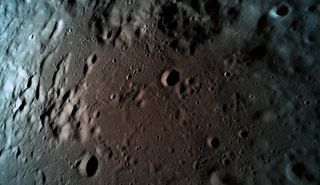 Thursday, April 18, 2019: This is the last photo that the Israeli moon lander named "Beresheet" took before it crashed into the surface of the moon in a failed landing attempt last week. At the time, the spacecraft was about 9 miles (15 kilometers) above the lunar surface, just a few moments before mission control lost contact with the spacecraft. Investigators believe that a "manual command" inadvertently caused Beresheet's main engine to shut down, and the lander crashed because it couldn't slow down in time to execute a soft landing. — Hanneke Weitering
It's a Giant Space Jellyfish!
Wednesday, April 17, 2019: Swimming through a group of galaxies more than 200 million light-years away from Earth is the so-called "jellyfish" galaxy named ESO 137-001. This celestial jellyfish is a spiral galaxy much like the Milky Way, but it has long "tentacles" of hot gas streaming away from the galactic disk. Scientists aren't sure how the gas is being stripped away, but NASA's James Webb Space Telescope may be able to shed some light on the origin of those tentacles by studying them in unprecedented detail after its planned launch in 2021. This view combines visible-light imagery from the Hubble Space Telescope and X-ray data from the Chandra X-ray Observatory. — Hanneke Weitering
Antares at Sunrise
Tuesday, April 16, 2019: The Antares rocket that will launch the next cargo shipment to the International Space Station stands tall on Pad-0A at NASA's Wallops Flight Facility in Virginia during sunrise this morning. Tomorrow (April 17) the rocket will launch the Cygnus CRS-11 cargo spacecraft to the orbiting laboratory with about 7,600 lbs. (3,450 kg) of supplies for the Expedition 59 crew. — Hanneke Weitering
Meteor Streaks Over Portuguese Castle
Monday, April 15, 2019: As star trails circle over the Castle of Noudar in Barrancos, Portugal, a stray meteor streaks across the night sky. A thick light trail from the bright planet Jupiter inches through the sky to its right, and a thinner trail from the brilliant star Arcturus dominates the upper-right edge of the image. Astrophotographer Sérgio Conceição captured 80 frames to create this time-lapse view of the night sky on Feb. 17, 2019. — Hanneke Weitering
SpaceX Aces Falcon Heavy Booster Landings
Friday, April 12, 2019: The two side boosters on SpaceX's Falcon Heavy rocket stick a simultaneous upright landing at Cape Canaveral Air Force Station in Florida following the launch of the Saudi Arabian communications satellite Arabsat-6A on Thursday (April 11). A third booster, the core stage, landed shortly afterward on a drone ship in the Atlantic Ocean. This was the second successful flight of a Falcon Heavy and the first commercial mission for the enormous rocket. — Hanneke Weitering
Twin Rockets Make 'Fireworks' Over Norway
Thursday, April 11, 2019: Two sounding rockets created this colorful light display in the night sky as they launched on a mission to study Earth's auroras. NASA's Auroral Zone Upwelling Rocket Experiment (AZURE) mission launched two Black Brant XI-A sounding rockets on April 5 from the Andøya Space Center in Norway. — Hanneke Weitering
Earth Photobombs a 'Space Selfie'
Wednesday, April 10, 2019: Earth's reflection looks like a beautiful "blue marble" on the visor of Canadian Space Agency astronaut David Saint-Jacques, who took this selfie during a spacewalk outside the International Space Station on April 8. — Hanneke Weitering
Starhopper in Silhouette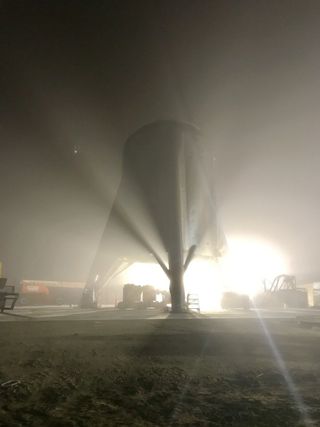 Tuesday, April 9, 2019: SpaceX's Starhopper prototype is seen during testing operations at the company's launch site in Boca Chica, Texas near Brownsville, Texas in this photo released by CEO Elon Musk on April 7, 2019.
Starhopper is a prototype for SpaceX's larger Starship spacecraft and its Super Heavy booster. The prototype will make test hops to suborbital altitudes to prove technologies needed for SpaceX's 100-person Starship spacecraft for deep-space flights to the moon, Mars and beyond. -- Tariq Malik
Webb in the Clean Room
Monday, April 8, 2019: Engineers prepare the optical portion of NASA's James Webb Space Telescope for integration with its rocket at a Northrop Grumman facility in Redondo Beach, California. The new space observatory is scheduled to launch in 2021 on an Ariane 5 rocket. — Hanneke Weitering
A Jovian Cyclone
Friday, April 5, 2019: A cyclonic storm churns through Jupiter's northern hemisphere in this new view from NASA's Juno spacecraft. The swirling cloud formation looks a lot like a hurricane on Earth, with fluffy clouds popping up from the storm's spiral arms. Juno captured this view with its JunoCam imager on Feb. 12, when it was about 5,000 miles (8,000 kilometers) above Jupiter's cloud tops. — Hanneke Weitering
Cargo Launch Seen from Space
Thursday, April 4, 2019: When Russia launched the Progress 72 cargo spacecraft to the International Space Station this morning, the Expedition 59 crew could see the Soyuz rocket's plume from about 250 miles (400 kilometers) above the Earth. Canadian Space Agency astronaut David Saint-Jacques, one of the six crewmembers currently at the station, tweeted this photo as the Progress cargo ship began its 3-hour trip to the orbiting lab. "Fresh supplies coming our way!" he said. — Hanneke Weitering
Northern Lights Over Russia
Wednesday, April 3, 2019: Green auroras glow above Earth's city lights in this photo taken from the International Space Station. One of the Expedition 59 astronauts captured this view from 256 miles (412 kilometers) above the Earth, while the space station was passing over Russia and Kazakhstan. — Hanneke Weitering
The Wild Duck Cluster
Tuesday, April 2, 2019: A new view from the Hubble Space Telescope features a colorful open star cluster known as Messier 11. This group of stars is nicknamed the "Wild Duck Cluster" because its brightest members form the shape of the letter "V," resembling a flock of flying ducks. Messier 11 is located more than 6,000 light-years from Earth in the constellation Scutum, and astronomers believe the cluster formed about 220 million years ago. — Hanneke Weitering
'Jovey McJupiterface'
Monday, April 1, 2019: Happy April Fools' Day from space! This goofy-looking face on Jupiter is no joke. NASA's Juno spacecraft captured this image of Jupiter during a flyby in 2017, and citizen scientist Jason Major processed the raw data from Juno to highlight the smug-looking mug formed by storms swirling in the planet's atmosphere. Major named this image "Jovey McJupiterface." — Hanneke Weitering
An Out-of-This-World Selfie
Friday, March 29, 2019: NASA astronaut Anne McClain is smiling from ear to ear in an out-of-this world selfie she took during her first spacewalk last Friday (March 22). McClain was originally scheduled to take her second spacewalk today, but her colleague Nick Hague took her place when she realized she wouldn't fit in her spacesuit. — Hanneke Weitering
A Cosmic Butterfly
Thursday, March 28, 2019: Do you see the butterfly? This dazzling image of what looks like a red member of the lepidoptera order is actually a nebula in space about 1,400 light-years from our sun. The nebula, officially called Westerhout 40 (W40) is a vast cloud of gas where baby stars can be born. NASA's Spitzer Space Telescope captured this view with its Infrared Array Camera, using three different wavelengths that lend the image its distinct colors. Stars show up in brilliant blue light, while organic molecules are visible as reddish hues. Dusty material around stars show up as yellow and red. — Tariq Malik
'A Million Dreams'
Wednesday, March 27, 2019: Rays of sunshine beam over Earth as NASA astronaut Anne McClain takes her first spacewalk outside of the International Space Station. "A million dreams is all it's gonna take," McClain tweeted after her spacewalk. She and NASA astronaut Nick Hague worked outside of the orbiting laboratory last Friday (March 22) to replace aging batteries on the station's solar arrays. McClain was scheduled to take her second spacewalk and the first all-female spacewalk in history this Friday (March 29), but NASA has reassigned her to another spacewalk due to spacesuit sizing issues. — Hanneke Weitering
A Jovian Marble
Tuesday, March 26, 2019: Jupiter looks like a beautifully detailed marble in this new view from NASA's Juno spacecraft. Taken from below Jupiter's southern hemisphere, this image features the planet's iconic Great Red Spot and several other storms of various sizes and shapes. Juno scientists combined three frames from the spacecraft's JunoCam imager to create this full-disk view of the giant gas planet. The images were acquired Feb. 17 when Juno was between 16,700 and 59,300 miles (26,900 to 95,400 kilometers) above the planet's cloud tops. — Hanneke Weitering
A Cosmic Question Mark
Monday, March 25, 2019: Colorful cosmic "fireworks" decorate the night sky over the La Silla observatory in Chile in this gorgeous image by the European Southern Observatory's resident astrophotographer Petr Horálek. Above the Milky Way and to the left are two nebulas that appear to form a question mark in the sky: an arc known as Barnard's Loop and the nearly-circular Angelfish Nebula right below it. These two nebulas are part of the Orion Molecular Cloud Complex. — Hanneke Weitering
Oil Spill Seen from Space
Friday, March 22, 2019: The European Space Agency's Copernicus Sentinel-1 satellite captured this image of an oil spill that resulted when the Italian container ship "Grande America" sank in the Atlantic Ocean off the coast of France on March 12. The oil slick stretches across an area spanning about 30 miles (50 kilometers), and oil is still spilling from the ship at the ocean floor. Sentinel-1 captured this radar image on Tuesday (March 19). — Hanneke Weitering
Space Station Transits the Moon
Thursday, March 21, 2019: It's a bird! It's a plane! Nope, that's the International Space Station zooming past the moon at an impressive speed of about 5 miles per second (8 km/s). NASA photographer Joel Kowsky captured a sequence of nine images to created this animated view of the transit on Saturday (March 16), two days after three Expedition 59 crewmembers arrived at the orbiting lab. — Hanneke Weitering
How the Equinox Looks from Space
Wednesday, March 20, 2019: Happy vernal equinox! Here's a satellite view of the sun rising over North America this morning on the first day of spring. In the Southern Hemisphere, today is the first day of autumn. — Hanneke Weitering
Galactic Arc Sparkles Over Portuguese Bridge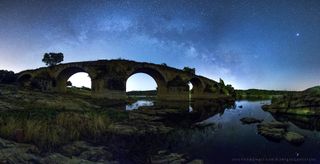 Tuesday, March 19, 2019: The Milky Way glitters in the predawn sky over Portugal's Guadiana River in this image by astrophotographer Sérgio Conceição. Saturn, Jupiter and the bright star Antares appear embedded in the Milky Way's dusty arc, while the bright star Spica dominates the sky to the right. In the foreground of this photo is the 500-year-old Bridge of Ajuda. — Hanneke Weitering
A 'Nebulous' Star Cluster
Monday, March 18, 2019: In this Hubble Space Telescope view of the globular cluster Messier 28, countless multicolored stars stand out as specks in a glittering cosmic sea. But when the astronomer Charles Messier first observed the cluster in the 18th century, he mistook it for a starless nebula, or a cloud of dust and gas. Larger telescopes later revealed that Messier 28 is in fact a rich star cluster. Located nearly 18,000 light-years from Earth in the constellation Sagittarius, this cluster contains at least 50,000 stars. — Hanneke Weitering
Soyuz Streaks to Space Station!
Friday, March 15, 2019: The second time was the charm for NASA astronaut Nick Hague and Roscosmos cosmonaut Alexey Ovchinin as they launched into space on a Soyuz MS-12 spacecraft on March 14 Eastern Time (it was early March 15 local time at their Baikonur Cosmodrome launch site in Kazakhstan). The two men launched into space with NASA astronaut Christina Koch to join the Expedition 59 crew on the International Space Station. Hague and Ovchinin initially tried to launch to the station in October 2018, but their rocket failed and they experienced a harrowing emergency abort. "This launch was infinitely more better than the last one," Hague told his wife Katie after reaching the station late yesterday. — Tariq Malik
Happy Birthday, Albert Einstein!
Thursday, March 14, 2019: Astronauts at the International Space Station celebrated what would have been Albert Einstein's 140th birthday today by sharing this photo of him floating weightlessly in the Cupola observatory. Einstein, who was born on Pi Day in 1879 and passed away on April 18, 1955 at the age of 76. — Hanneke Weitering
A Toasted Space Marshmallow
Wednesday, March 13, 2019: Houston, we have a marshmallow! The SpaceX Crew Dragon capsule looks like a freshly toasted marshmallow after its fiery reentry through Earth's atmosphere. The capsule returned to Earth from its week-long mission to the International Space Station on Friday (March 8), when it splashed down in the Atlantic Ocean off the coast of Florida. Recovery teams pulled the charred capsule out of the water and transported it back to land on the company's recovery ship, shown here. — Hanneke Weitering
'Pac-Man' Eats the Moon
Tuesday, March 12, 2019: A telescope with an open dome looks like Pac-Man preparing to gobble down the full moon in this photo from the European Southern Observatory's Very Large Telescope array. Located at the Paranal Observatory in Chile, the array consists of four of these 1.8-meter auxiliary telescopes and four larger main telescopes. — Hanneke Weitering
Crew Dragon in the Clouds
Monday, March 11, 2019: Guided by four parachutes, the SpaceX Crew Dragon capsule gently drifts back down to Earth after spending nearly a week at the International Space Station for its first mission. The uncrewed capsule splashed down in the Atlantic Ocean on Friday (March 8) at 8:45 a.m. EST (1345 GMT). — Hanneke Weitering
SpaceX Sticks a Drone-Ship Landing
Thursday, March 7, 2019: The Falcon 9 rocket booster that launched SpaceX's Crew Dragon Demo-1 mission on Saturday (March 2) lowers itself onto a drone ship to stick an upright landing in this photo captured seconds before the successful touchdown. After delivering the Crew Dragon into orbit, the booster came back to Earth and aced the landing on the SpaceX drone ship, named "Of Course I Still Love You," which was stationed in the Atlantic Ocean off the Florida coast. — Hanneke Weitering
Star Trails Over Flores
Wednesday, March 6, 2019: Short star trails circle the North Star, Polaris, above a gorgeous landscape on Flores Island in this long-exposure image by astrophotographer Sérgio Conceição. He called this scene a "rare moment" for the island, where the sky is seldom clear enough to capture such a spectacular view of the sky. — Hanneke Weitering
Southern Lights Over 'SuperDARN' in Antarctica
Tuesday, March 5, 2019: Wispy, green auroras shimmer over Antarctica in this photo captured from the Amundsen-Scott South Pole Station, a research site operated by the National Science Foundation. Daniel Michalik, a research fellow with the European Space Agency, captured this single-exposure image while braving temperatures as long as minus 72 degrees Fahrenheit (minus 60 degrees Celsius). In the foreground of the image and trailing off into the distance are antennas and wires that make up the Super Dual Auroral Radar Network (SuperDARN), which monitors geomagnetic activity in Earth's upper atmosphere. — Hanneke Weitering
Crew Dragon on the Horizon
Monday, March 4, 2019: A silhouette of SpaceX's Crew Dragon spacecraft passes in front of Earth's bright-blue horizon as it approaches the International Space Station in this photo by NASA astronaut Anne McClain. "The dawn of a new era in human spaceflight," McClain tweeted on Sunday (March 3) after the Crew Dragon docked with the station, becoming the first commercial crew spacecraft to ever visit the orbiting laboratory. — Hanneke Weitering
Crew Dragon Ready for Launch
Friday, March 1, 2019: A SpaceX Falcon 9 rocket topped with the Crew Dragon spacecraft stands vertical on the launchpad at NASA's Kennedy Space Center in Florida ahead of its planned launch to the International Space Station. The capsule will make its first test flight on Saturday (March 2) at 2:49 a.m. EST (0749 GMT) with no passengers on board — except for a mannequin named Ripley, who will be wearing a SpaceX spacesuit. — Hanneke Weitering