Space can be a wondrous place, and we've got the pictures to prove it! Take a look at our favorite pictures from space here, and if you're wondering what happened today in space history don't miss our awesome On This Day in Space video show here!

An 'Inky Abyss'
Friday, August 16, 2019: In this new image from the Hubble Space Telescope, what looks like a top-down view of a jellyfish glowing in deep space is actually the planetary nebula NGC 2022. The cosmic orb of ionized gas was expelled from a dying red giant star located at its center. As the star sheds material into space, its core shrinks and grows hotter while emitting ultraviolet radiation that illuminates its gassy shell. — Hanneke
'Diamond Ring' Over Argentina
Thursday, August 15, 2019: In this timelapse image of the Great South American Eclipse on July 2, the sun sets behind the Andes mountains as the moon crosses directly in front of it, creating a stunning "diamond ring" effect in the evening sky. Astrophotographer Chirag Upreti created this composite using images he captured from Bella Vista, Argentina.
"Totality occurred about 11 degrees above the horizon, and it was emotionally exhilarating to the naked eye, especially because it formed a beautiful connection with the Earth being so close to the horizon," Upreti told Space.com. — Hanneke Weitering

Andromeda and the Perseids
Wednesday, August 14, 2019: Two meteors dart across the night sky near the Andromeda galaxy, the Milky Way's closest galactic neighbor, in this starry image captured by astrophotographer Omid Qadrdan during the peak of the Perseid meteor shower. Andromeda's tiny satellite galaxy Messier 110 is also visible in this photo, appearing as a fuzzy "star" above and to the left of the galaxy's bright core. — Hanneke Weitering

Fire and Fireballs Over Macedonia
Tuesday, August 13, 2019: Several bright Perseid meteor dash across the sky near a wildfire in Macedonia in this fisheye view by Stojan Stojanovski. He captured this photo during the peak of the Perseid meteor shower last night. In the center of what appears to be a ring of smoke, the Milky Way galaxy is faintly visible behind four bright meteors, and one smaller meteor can be seen in the distance. — Hanneke Weitering

Milky Way Shines Over VISTA
Monday, August 12, 2019: The arc of the Milky Way galaxy sparkles above the European Southern Observatory's Visible and Infrared Survey Telescope for Astronomy (VISTA) at the Paranal Observatory in Chile in this colorful night-sky photo by astrophotographer Petr Horálek. Barely visible on top of a mountain peak in the background is ESO's Very Large Telescope array. — Hanneke Weitering

A 'Seagull' in Space
Friday, August 9, 2019: Flying through the cosmos some 3,400 light-years away from Earth is a bird-shaped cloud of dust and gas known as the Seagull Nebula, or Sharpless 2-296. The European Southern Observatory's VLT Survey Telescope at the Paranal Observatory in Chile captured this new view of the cosmic seagull, which is rich with new star formation. — Hanneke Weitering

The Cat's Paw Nebula
Thursday, August 8, 2019: In honor of International Cat Day, today we share an iconic image of the Cat's Paw Nebula, or NGC 6334, a cosmic cloud of dust and gas with three distinct features shaped like "toe beans." Astronomers with the European Southern Observatory created this image of the nebula using data from the second Digitized Sky Survey back in 2010. You can see more photos of the Cat's Paw Nebula here. — Hanneke Weitering

Reflections in NASA's Webb Telescope
Wednesday, August 7, 2019: During a recent test of NASA's new James Webb Space Telescope, an engineer snapped this photo of the telescope's enormous primary mirror reflector off its smaller secondary mirror. If you look closely, you can see part of the secondary mirror reflecting off the gold panels that make up the telescope's primary mirror. This photo was taken while NASA engineers were performing a test run of the mechanism that deploys the secondary mirror's support structure. After the telescope launches into space, it will have to perform a series of maneuvers to "unfold" all of its parts. — Hanneke Weitering

Happy Birthday, Curiosity!
Tuesday, August 6, 2019: NASA's Curiosity rover, which landed on Mars seven years ago today, took this selfie while making its way up Mount Sharp, a 3-mile (5-kilometer) peak located in the middle of Gale Crater. When Curiosity arrived at the Red Planet in 2012, it touched down inside that same crater. It has since traveled more than 13 miles (21 km), stopping to drill the Martian surface here and there along the way. In this photo, you can see two drill holes near the rover's base. — Hanneke Weitering

Storms Churn on Jupiter's Horizon
Monday, August 5, 2019: Jupiter's Great Red Spot and a stream of smaller Jovian storms swirl across the planet's south equatorial belt in this new view from NASA's Juno spacecraft. Citizen scientist Kevin Gill created this view using data collected by the spacecraft's JunoCam imager during a close flyby on July 21. At the time, Juno was about 26,697 miles (42,965 kilometers) above Jupiter's cloud tops. — Hanneke Weitering

A Spiral Galaxy's Edge
Friday, August 2, 2019: What looks like a long, narrow stretch of stars in this Hubble Space Telescope image is actually a spiral galaxy just like the Milky Way. From our position in the cosmos, we view this galaxy edge-on. Named NGC 3432, this galaxy is located about 45 million light-years from Earth in the constellation of Leo Minor. — Hanneke Weitering

A Commemorative Coin Returns to Space
Thursday, Aug. 1, 2019: A medallion from the European Astronaut Centre floats in microgravity in front of an Earth-facing window of the International Space Station. ESA astronaut Luca Parmitano tweeted the photo from space this morning. The medallion launches with all European astronauts, Parmitano said, adding that this tradition started after his first mission in 2013. He returned to the orbiting laboratory on July 20. "I took it with me – proudly – for the first time," he said. — Hanneke Weitering

Meteor Over Mount Rainier
Wednesday, July 31, 2019: A meteor, Jupiter and the Milky Way galaxy light up the night sky above the snow-capped Mount Rainier in Washington state in this stunning image by astrophotographer Tony Corso. He captured the photo during the peaks of two dueling meteor showers, the Southern Delta Aquariids and the Alpha Capricornids on July 29. — Hanneke Weitering
Moon Plays 'Peekaboo' with Earth
Tuesday, July 30, 2019: Good morning from the International Space Station! NASA astronaut Nick Hague tweeted this photo of a nearly-full moon setting behind the Earth as a fluffy sheet of clouds covers the land below. A few snow-capped mountains can be seen through a break in the clouds to the bottom right of the image. (Hague did not specify which mountain range is in the photo.) — Hanneke Weitering

SPECULOOS Spots a Strange Galaxy
Monday, July 29, 2019: The oddly shaped galaxy Centaurus A glistens in deep space in this view from the European Space Agency's new SPECULOOS observatory in Chile. This was one of the "first light" images from SPECULOOS (which stands for "Search for habitable Planets EClipsing ULtra-cOOl Stars"). Centaurus A, also known as NGC 5128, is one of the brightest objects in the night sky of the Southern Hemisphere. It's located 11 million light-years from Earth in the constellation of Centaurus. Astronomers believe that Centaurus A was once an elliptical galaxy that collided with a small spiral galaxy, and that this collision is responsible for the galaxy's irregular shape. — Hanneke Weitering

SpaceX Aces Another Landing
Friday, July 26, 2019: A SpaceX Falcon 9 rocket touches down on Landing Zone 1 at Cape Canaveral Air Force Station in Florida after launching a Dragon cargo spacecraft to the International Space Station. The rocket lifted off yesterday at 6:01 p.m. EDT (2201 GMT) and delivered the cargo craft into orbit before returning to Earth. More than 5,000 lbs. (2,268 kilograms) of crew supplies and science experiments were packed inside the Dragon, which is scheduled to arrive at the space station on Saturday. — Hanneke Weitering

Milky Way Sparkles Over 'Quantum of Solace' Hotel
Thursday, July 25, 2019: The colorful core of the Milky Way sparkles above the European Southern Observatory's Residencia, a building featured in the James Bond film "Quantum of Solace" that was destroyed in a dramatic explosion (with the help of computer graphics, not real explosives). Residencia houses astronomers and other visitors at the Paranal Observatory in Chile, which is home to the Very Large Telescope Array and several other telescope facilities. — Hanneke Weitering

Curiosity Rover Spotted from Space
Wednesday, July 24, 2019: Can you spot the rover in this photo of Mars? NASA's Mars Reconnaissance Orbiter (MRO) snapped this view of the Curiosity rover from space as it passed over a region known as "Woodland Bay." The rover is currently scaling a mountain called Aeolis Mons (also known as Mount Sharp), a 3-mile-high (5 kilometers) peak at the center of Gale Crater. MRO captured the image using its High Resolution Imaging Science Experiment (HiRISE) camera on May 31. — Hanneke Weitering

Smoke Meets Storms Over Russia
Tuesday, July 23, 2019: Plumes of smoke from wildfires mix with a swirling storm system over Russia in this view from NASA's Earth Observatory. The natural-color image was created using data collected from the Visible Infrared Imaging Radiometer Suite (VIIRS) instrument on the Suomi NPP satellite on Monday (July 21). In the regions of Irkutsk, Krasnoyarsk and Buryatia, the largest wildfires had burned more than 500 square miles (1,300 square kilometers) by Tuesday, according to NASA. — Hanneke Weitering

Astronauts Approach the International Space Station
Monday, July 22, 2019: The Soyuz MS-13 spacecraft approaches the International Space Station carrying three new Expedition 60 crewmembers. NASA astronaut Drew Morgan, European Space Agency astronaut Luca Parmitano and Russian cosmonaut Aleksandr Skvortsov lifted off from the Baikonur Cosmodrome in Kazakhstan Saturday (July 20), on the 50th anniversary of the Apollo 11 moon landing, and arrived at the orbiting laboratory about six hours later. — Hanneke Weitering

Soyuz Stands Ready for Launch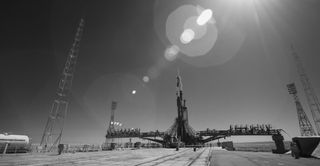 Friday, July 19, 2019: A Soyuz rocket that will launch three people to the International Space Station on the 50th anniversary of the Apollo 11 moon landing tomorrow (July 20) stands tall on the launchpad at the Baikonur Cosmodrome in Kazakhstan. NASA astronaut Andrew Morgan, Italian astronaut Luca Parmitano of the European Space Agency and Russian cosmonaut Aleksandr Skvortsov will lift off at 12:28 p.m. EDT (1628 GMT), kicking off a six-month mission as crewmembers of Expeditions 60 and 61. — Hanneke Weitering

Lunar Eclipse Over Jordan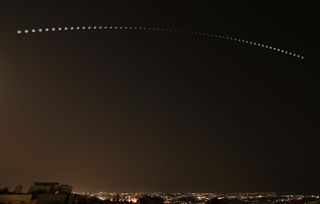 Thursday, July 18, 2019: The full moon of July, also known as the Thunder Moon, passed through Earth's shadow Tuesday night into Wednesday morning (July 16-17). Astrophotographer Zaid Abbadi captured the partial lunar eclipse from Amman, Jordan, and created this composite image showing the moon's path across the sky as its surface gradually darkened in the Earth's shadow. — Hanneke Weitering

Washington Celebrates Apollo 11
Wednesday, July 17, 2019: A full-size projection of NASA's Saturn V rocket lit up the Washington Monument in honor of the 50th anniversary of the launch of the Apollo 11 moon mission yesterday (July 16). The Saturn V rocket, which launched the astronauts to the moon, was 363 feet (111 meters) tall, and its projection spans about two-thirds of the height of the 555-foot (169 m) Washington Monument. — Hanneke Weitering

Apollo 11 Rocket Goes Supersonic
Tuesday, July 16, 2019: The Saturn V rocket carrying three Apollo 11 astronauts to the moon soars behind an American flag shortly after lifting off from Kennedy Space Center in Florida. As the rocket broke the sound barrier, a ring of vapor formed around the rocket's second stage. Today is the 50th anniversary of the launch of the Apollo 11 mission, which landed the first astronauts on the moon on July 20, 1969. — Hanneke Weitering

Lightning and Star Trails
Friday, July 12, 2019: A long-exposure photo of lightning storms seen from space makes Earth look like it's scattered with fluffy bits of dryer lint. Meanwhile, Earth's city lights streak across the land below, an effect caused by both the Earth's rotation and the swift orbit of the International Space Station, where NASA astronaut Christina Koch captured this image. In the background, star trails circle around Polaris, the North Star. — Hanneke Weitering

ExoMars Rover Camera Meets Martian Meteorite
Thursday, July 11, 2019: The Close-Up Imager (CLUPI) camera set to launch on the European Space Agency's ExoMars rover in 2020 gets ready for its Mars mission by studying a Martian meteorite on Earth. Named "Exhibit 0102.226," the meteorite was discovered in Oman in 2001. Scientists at ESA's ESTEC technology center in the Netherlands loaned the space rock from the Natural History Museum in Bern, Switzerland, to calibrate the instrument before it goes to the Red Planet. — Hanneke Weitering

Airglow and the Moon
Tuesday, July 10, 2019: The moon lights up the star-filled night sky as an effect called "airglow" gives Earth's atmosphere a subtle green glow in this photo taken by an astronaut at the International Space Station. This green luminescence is the result of interactions between atmospheric particles and ultraviolet radiation coming from the sun. — Hanneke Weitering

NASA's Mobile Launcher Gets Soaked
Tuesday, July 9, 2019: An enormous burst of water gushes over Pad 39B at NASA's Kennedy Space Center in Florida during a water flow test at its new mobile launcher. The launch tower will support the upcoming flights of NASA's new Space Launch System megarocket for the first Artemis moon mission. About 400,000 gallons of water poured onto the mobile launcher during this test, which took place on July 2. — Hanneke Weitering

Solar Prominences Appear at Totality
Monday, July 8, 2019: During the total solar eclipse last Tuesday (July 2), bright-pink solar prominences became visible around the sun's atmosphere as the moon blocked its bright surface from view. These prominences are made of tangled magnetic field lines that hold on to plasma in the sun's chromosphere, and the features can extend all the way out into the sun's corona. Prominences are only visible during a total solar eclipse, when the brightest part of the sun is blocked from view by Earth's moon. — Hanneke Weitering

The sun's corona
Friday, July 5, 2019: Details of the sun's brilliant corona come to light during the total solar eclipse of July 2 in this composite of polarized images captured from the European Southern Observatory's La Silla Observatory in Chile. The sun's corona, which is only visible during totality, can reveal information about magnetic activity on the surface of the sun. — Hanneke Weitering

Astronauts Celebrate Independence Day in Space
Thursday, July 4, 2019: Two NASA astronauts beamed home their holiday wishes from the International Space Station today (July 4). Christina Koch and Nick Hague are the only two Americans currently living off the planet. — Hanneke Weitering

Wednesday, July 3, 2019: A total solar eclipse darkens the sky above the La Silla Observatory in Chile in this aerial shot captured via drone during totality. Thousands of spectators had gathered at the observatory to see the eclipse. In the foreground are several of the telescopes that belong to the observatory, while the Andes Mountains provide a breathtaking backdrop. — Hanneke Weitering

Snow-Capped Mountains Seen from Space
Monday, July 1, 2019: A photo of Earth taken from the International Space Station reveals the frigid mountain tops of the Andes in South America. Tomorrow (July 2), a total solar eclipse will pass over this mountain range. Parts of Chile and Argentina will get to witness totality, when the moon blocks out the sun entirely, while the rest of South America can see a partial eclipse. — Hanneke Weitering