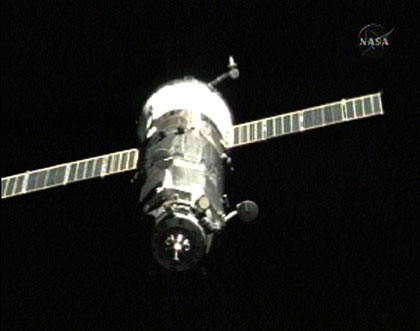 An unmanned Russian-built cargo ship is headed for oblivion after casting off from the International Space Station (ISS) on Monday.
The automated space tug Progress 29 undocked from an Earth-facing berth on the station?s Russian Zarya control module Monday afternoon at 3:46 p.m. EDT (1946 GMT) to begin a week of engine tests before destroying itself in the Earth?s atmosphere next week, officials with Russia?s Federal Space Agency said.
?It went very well, exactly as planned,? NASA spokesperson Kelly Humphries told SPACE.com from the Johnson Space Center in Houston.
Federal Space Agency officials said Progress 29 will stay in space until Sept. 9 in order to perform a series of experiments designed to study the plasma environment surrounding its rocket engines. Then, the disposable spacecraft will be commanded to burn up in the Earth?s atmosphere over the southern Pacific Ocean, they added.
Russia?s unmanned Progress spacecraft are routinely used to deliver food, water, equipment and other vital supplies to astronauts living aboard the space station. Once their supplies are spent, the space tugs are filled with trash, waste and other unneeded items, and then jettisoned from the station to be destroyed upon reentry.
Progress 29 launched toward the station from the Central Asian spaceport of Baikonur Cosmodrome in Kazakhstan on May 14 and arrived at the orbiting laboratory two days later. The spacecraft delivered about 2.3 tons of fresh supplies to the station?s three-man crew, which currently consists of commander Sergei Volkov and flight engineer Oleg Kononenko - both of Russia - and NASA flight engineer Greg Chamitoff.
The cargo ship?s Monday undocking is the first of two planned space station departures this week. The cargo ship Jules Verne, the first Automated Transfer Vehicle built by the European Space Agency, is due to undock from its perch at the aft end of the station?s Russian-built Zvezda service module on Friday at 5:30 p.m. EDT (2130 GMT).
Video - Suborbital Rocket Test Explodes