Astronauts on the International Space Station celebrated their SpaceX spacecraft reaching a milestone on Sunday (Feb. 7), by connecting with a former NASA astronaut who helped set the previous, long-standing record.
The four crew members who launched on the SpaceX Crew Dragon spacecraft "Resilience" last November marked their capsule surpassing the 84 days, 1 hour and 15 minutes that was the prior U.S. record for a spacecraft in flight, as set by the Apollo command module that flew on the Skylab 4 orbital workshop mission in 1973 to 1974.
NASA astronauts Mike Hopkins, Victor Glover and Shannon Walker, along with Soichi Noguchi of the Japan Aerospace Exploration Agency (JAXA), spoke with Skylab 4 science pilot Ed Gibson on Sunday, one day shy of the 47th anniversary since he and his two crewmates, the late Jerry Carr and Bill Pogue, landed back on Earth. By coincidence, the prior and current U.S. spacecraft duration records were set 47 years and one day apart.
More: The most extreme human spaceflight records of all time
Latest updates: SpaceX's Crew-1 astronaut mission for NASA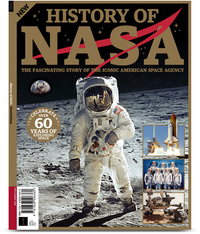 History of NASA: $22.99 at Magazines Direct
Discover the story of how and why NASA was created, its greatest triumphs, darkest days, and of the times it exceeded all possible hopes. A tale of adventure, heroism and resourcefulness, learn of the space agency's greatest achievements and how — over six decades — the organization has consistently and tirelessly devoted itself to its founding principle: that "activities in space should be devoted to peaceful purposes for the benefit of all humankind".
"On our 84th day in space, Crew-1 extends the record for most days in space for a U.S. human space capsule," Glover wrote on Twitter.
"Historic 'joint' crew photo!" added Noguchi, captioning an image showing him and his three Crew-1 crewmates together with Gibson, who was connected by video on a computer screen. "We were honored and thrilled to talk to Skylab astronaut Ed Gibson."
For Gibson, the 84 days logged on Feb. 8, 1974, were more than just a record for his and his crewmates' spacecraft; it was also the longest time that any American astronauts had lived in space. That record stood until June 6, 1995, when NASA astronaut Norm Thagard exceeded 84 days on board the former Russian space station Mir. (Thagard, whose Mir mission extended another month for a total of 115 days, launched and landed on two different spacecraft.)
Related: Skylab, the first U.S. space station explained
Since then, U.S. astronauts have been logging increasingly longer stays on board space stations, beginning on Mir and then aboard the International Space Station. Former NASA astronaut Scott Kelly holds the current American record for a single spaceflight, set at 340 days in March 2016.
By comparison, the longest that one of NASA's shuttle orbiters remained on orbit was 17 days, 15 hours and 53 minutes. The longest time in flight logged by any crewed spacecraft to date was 215 days, 8 hours and 22 minutes, set by Russia's Soyuz TMA-09 capsule in 2007.
The call between the Crew-1 astronauts and Gibson, which was not broadcast to the public, was organized by the Association of Space Explorers (ASE), an organization representing more than 400 individuals who have completed at least one orbit in a spacecraft.
"We are honored and privileged to be able to connect astronauts around our home planet with each other and with their friends and colleagues on the International Space Station!" the ASE wrote in reply to Noguchi's tweet. "Glad we could help! Congrats to you and the crew!"
NASA also noted the new record on its website and social media channels.
SpaceX's Dragon "Resilience" is slated to return the Crew-1 astronauts to Earth in late March after about 160 days in flight. SpaceX designed Dragon to be capable of remaining docked to the space station for up to 210 days.
Follow collectSPACE.com on Facebook and on Twitter at @collectSPACE. Copyright 2021 collectSPACE.com. All rights reserved.