Should I buy an FPV drone in the Black Friday deals?
Black Friday is the perfect time to buy a ready-to-fly FPV drone kit with savings almost guaranteed with some fantastic kit options available for beginners.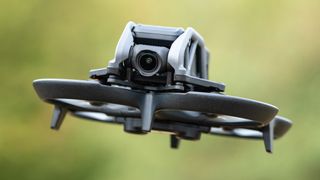 (Image credit: James Abbott)
Black Friday and Cyber Monday are almost here, with these sales events taking place on November 24th and November 27th respectively. They mark the beginning of the holiday shopping season and have become incredibly popular with retailers and tech manufacturers alike, offering not to be missed savings on popular products such as FPV drones.
FPV, or first-person view drones are different from camera drones, such as the DJI Mini 3, because instead of viewing the drone in flight while capturing photos and video, you wear goggles that show you a first-person view from the drone's onboard camera. These drones are typically self-build, but more and more FPV manufacturers are producing complete ready-to-fly (RTF) kits that come with everything you need to get started including the drone, a controller, goggles, batteries, a charger, accessories and a carry case. Want to learn more? Make sure you check out our round-up of the Best FPV drones fully reviewed and tested by our experts.
These beginner kits typically include an FPV drone where an action camera can't be attached to capture immersive FPV video. Their role, instead, is as a training drone for beginners to learn how to fly FPV, or simply flown for fun by more experienced FPV pilots due to their small size. They're a huge amount of fun, and you'll typically always find these kits on sale during Black Friday on FPV manufacturer websites, FPV retailer websites and also on Amazon.
Be sure to check out our dedicated Black Friday space gift deals for the best deals on drones, telescopes, camera, binoculars, star projectors, Lego and more.
Drone models to look out for in 2023
BetaFPV is one of the leading FPV manufacturers of FPV ready-to-fly kits with several kits available, but it's the Cetus range of drones made up of three models that are most popular with beginners. BetaFPV will be offering a 15% sitewide discount on www.betafpv.com using the code BF2023. This will run for five days from November 24th through November 28th. These models could also see reductions on Amazon, alongside the DJI FPV.
BetaFPV Cetus Lite
The BetaFPV Cetus Lite which we've previous reviewed is the most basic Cetus kit that's incredibly easy to fly, inexpensive and designed for indoor flight. It's best for children because it remains level at all times and can't be flown in manual mode for freestyle/acrobatic flight. The kit includes everything you need, but the Cetus Lite is limited in terms of power and functionality compared to the other two Cetus models, so adults would ultimately be best served with either the Cetus Pro or Cetus X.
BetaFPV Cetus Pro
The BetaFPV Cetus Pro sits in the middle of the Cetus Line-up, offering a great balance of features and cost. The kit includes everything you need to begin flying FPV, and while it's not as powerful or as comprehensively featured as the Cetus X, it's a great kit for learning how to fly FPV and progressing through the different flight modes and speeds available to eventually fly in manual mode for freestyle/acrobatic flight, as we discovered in our BetaFPX Cetus Pro review. It's also a much more versatile option than the Cetus Lite, but not for children learning how to fly FPV because it's much faster and harder to fly than the Lite.
BetaFPV Cetus X
The BetaFPV Cetus X is the most powerful and versatile Cetus model available that will comfortably take you from FPV beginner to experienced pilot and beyond as we found when we reviewed the BetaFPV Cetux X. The kit includes everything you need to get started, including a higher-spec controller and goggles than other Cetus kits. and the Cetus FC version has a hover function that helps beginner pilots learn how to fly when they get started and can be flown in manual mode for freestyle/acrobatic flight. You can also record the goggle footage using the goggles' built-in DVR recorder.
DJI FPV
The DJI FPV which we reviewed back at the end of 2021 is a few years old but remains a popular model that frequently enjoys discounts during sale events. So, if you'd like a large, powerful and incredibly fast FPV drone that can be flown as easily as a camera drone, albeit with the pilot wearing goggles, or like a traditional FPV drone with full manual control for freestyle flight, keep an eye on the DJI FPV. It's not great for photo capture, but it's fantastic for shooting immersive 4K video.
Which drone model is best for you?
The Cetus range of FPV kits offers something for everyone, with the Cetus Lite being aimed at children due to its incredible ease of use and low cost. The Cetus Pro is the middle ground, offering a great introduction to FPV flight with features and functions that help you learn how to fly manually.
The Cetus X is similar to the Cetus Pro, but it's a more powerful FPV drone with additional features including a higher-spec controller and goggles that can record the FPV camera feed. However, if you'd like an FPV drone that can fly like a camera drone with GPS positioning and hovering, alongside the ability to fly manually for freestyle flight, the fast and powerful DJI FPV is the best option.
Why should I wait for Black Friday?
Black Friday is just around the corner on November 24th with Cyber Monday taking place on November 27th, so there are only a couple of weeks to wait to see what deals are available on FPV drone kits. BetaFPV will have a 15% sitewide Black Friday sale, which is guaranteed, but there could also be discounts on Amazon and FPV retailer websites so it's worth checking everywhere.
Even if there aren't any additional savings to be had, it's highly unlikely that prices will rise after Black Friday, so waiting a couple of weeks gives you the best chance of finding the best deals. And if the FPV drone kit you'd like to buy isn't discounted, you can simply purchase it at the normal price and won't lose anything by waiting.
Check out our Black Friday 2023 deals page for discounts on telescopes, cameras, binoculars, star projectors, Lego and more.
Get the Space.com Newsletter
Breaking space news, the latest updates on rocket launches, skywatching events and more!
James is an award-winning freelance landscape and portrait photographer, as well as a highly experienced photography journalist working with some of the best photography magazines and websites with a worldwide audience. He's also the author of The Digital Darkroom: The Definitive Guide to Photo Editing. www.jamesaphoto.co.uk