The Canon EOS R6 is a full-frame mirrorless camera, ideal for both photography and video and we rated it four and a half out of five stars in our full review. It's now $300 off over at Adorama competing with Amazon Prime Day discounts and ships with an EF-EOS R Ring Mount Adapter so you can use RF and EF lenses interchangeably - ideal for those swapping from Canon DSLR to mirrorless.
We first reviewed the Canon EOS R6 back in March 2022 and we were immediately impressed with its great low-light performance, especially when ramping up the wide ISO range from 100-102,400 or expanded up to 50-204,800. Photographing the night sky and the Milky Way we found the rear screen gave fantastic color rendition (though noted it needed some processing when editing the RAW files).
The little sibling of the mightier Canon EOS R5 which we gave the same score, the R6 is noticeably leaner and more affordable. A helpful vari-angle screen aids composition when shooting high-up or low-down and its 20.1MP stills and 4K 60p video recording were more than adequate for beginner to intermediate hybrid shooters (those that like to capture photos and videos in the same shoot).
---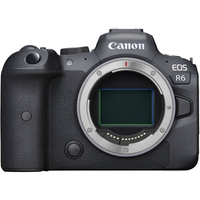 Canon EOS R6 + EF-EOS R mount adapter: was $2,498, now $2198 on Adorama
Save $300 on this full-frame mirrorless camera that's equally adept at shooting 20.1MP stills photos and 4K 60p video footage. With five-axis in-body image stabilization the R6 combines with lens IS for ultimate steadiness when shooting.
---
Want to accept the mastery of full-frame mirrorless but can't afford to dump all your old Canon DSLR EF-mount lenses? Don't worry, this bundle from Adorama include the EF-EOS R mount adapter. The adapter, when attached to the EOS R6 will then accept EF-mount lenses on the RF-mount body. Full communication between lens and camera body makes it worthwhile to keep all your old, perfectly good glass.
EF lenses with image stabilization (IS) are compatible with the Canon EOS R6 when using the mount adapter, and so are RF lenses. That means up to eight stops of five-axis image stabilization when shooting photos or videos, perfect for steadying those handheld low light scenes.
Don't forget if you want to make the most of Amazon Prime Day 2023, check out our Amazon Prime Day hub for a roundup of the best discounts and deals on telescopes, binoculars, cameras, star projectors, drones, lego and much more.
Key Specs: The R6 shoots 20.1MP stills, 4K UHD 60p 10-bit video and has five stops of five-axis in-body image stabilization built-in. Capture fast-paced action with up to 12FPS burst shooting speeds and 1/8000 sec shutter speeds or lengthen the exposure to capture the stars up to 30 secs built-in or longer with a compatible remote shutter release. Autofocus detection goes to a super low -6.5 EV for sharp results even in dim twilight.
Consensus: For photographers who want to start shooting professional-looking videos with the flexibility of grading footage thanks to the Canon-Log and HDR PQ options, the Canon EOS R6 is a perfect catch-all mirrorless. Even filmmakers that require high-quality, professional-looking stills images to accompany their video work will find this camera fantastic for both. It is a camera for enthusiasts though, as professionals will want to opt for the superior EOS R5.
Buy if: You need high-end performance and aren't too concerned with the slightly limited 20.1MP stills capture.
Don't buy if: Higher resolution stills photographs are a must for you, or a heavy crop is helpful for far-away astro or wildlife subjects would benefit.
Alternative models: The Canon EOS R5 is the bigger sibling capturing much more detailed 45MP photos and 8K 30p, performing better than the R6 all-round, but is much more costly as a result.
Something even more affordable would be the lightest and second-cheapest Canon full-frame mirrorless the Canon EOS R8. It handles high ISO noise well but lacks in-body image stabilization.