The best camera accessories for astrophotography make taking pictures of the night sky much easier.
Astrophotography, in contrast to daytime landscape photography, requires working in challenging circumstances with poor lighting and frequently cold temperatures. As such, there are some accessories every aspiring astrophotographer needs to pair with the best cameras for astrophotography and the best lenses for astrophotography. to get amazing shots.
For nighttime shoots, traveling is often required, therefore you should think about packing lightweight, portable equipment that will make your life easier while on the road to one of the best locations for astrophotography and stargazing.
Perhaps the most important accessory needed for skywatching and astrophotography is one of the best tripods. Shooting a nightscape requires a long exposure, so you'll absolutely need something to stabilize your DSLR or mirrorless camera while you take the shot. Additionally, you might want to invest in a camera backpack, a power bank, a light pollution filter and a star tracker to make your experience seamless.
This guide is a roundup of all the best camera accessories you can find right now, whether you're a budding skywatcher or a professional astrophotographer.
---
Best camera accessories for astrophotography 2023
Best camera accessories for astrophotography 2023 ranked
We reviewed the BioLite Headlamp 425 late in 2022, just after it was released, and we loved it — it's hard to fault.
The red flood light, the "run forever" battery, the glove-friendly power button, the comfortable moisture-wicking headband with the battery weight sitting at the back of your head — all of these features work together to maximize your comfort when watching the stars while keeping your hands free and your night vision unimpaired.
On its lowest setting, the battery has a 60-hour runtime on a single charge, and it has a power meter that lets you know how much longer it will go before needing to be recharged using the handy USB-C cable.
The IPX4 rating means the headlamp can withstand splashing water from any direction, so no need to worry if you do get caught out in a rain shower. It can also handle extreme temperatures of -4F to 140F.
We were really splitting hairs in our BioLite Headlamp 425 review to find anything to fault!
---
While most star trackers are a compromise between their own weight and their payload, the Benro Polaris is an exception — it is both super lightweight (at 3.3lbs / 1.5kg) and super-supportive, taking a huge 15lbs/7kg of gear (the highest carrying capacity of any star tracker mount so far).
It has a waterproof IPX6 grade so it can withstand wet conditions and uses accurate high torque motors to achieve the utmost precision. It's also the first star tracker to offer built-in DSLR control which allows you to adjust the composition of your photo remotely, and a built-in micro SD card slot. Remarkably, the Benro Polaris can even be controlled via cellphone network.
Its huge 2500 mAh battery can be recharged via USB-C while alignment is via any subject from a choice presented on a smartphone app. Regardless of how sophisticated the best star trackers appear to be, this electric tripod head shows that their days are numbered. All of this top-quality tech does come at a high price though, sitting around $1,200.
---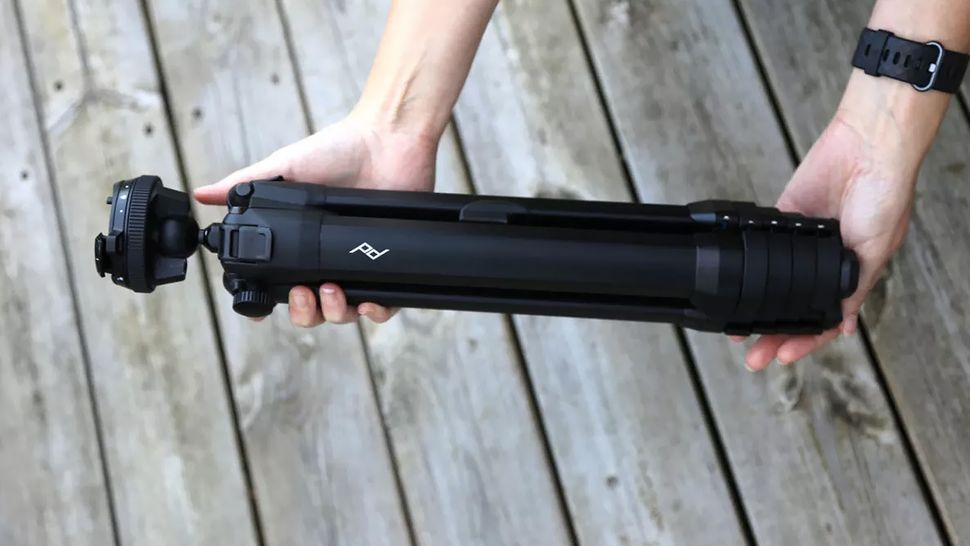 Every astrophotographer needs a sturdy tripod, but portability is also highly useful as practically all of us have to travel to find locations with dark skies.
The Peak Design Travel Tripod, which features in our best tripods buying guide, and tops the list on our best travel tripods page, attempts to create a travel-friendly tripod by being very narrow and short when packed up yet tall enough to use easily. It just about achieves the latter, reaching 600 inches (152.4 cm) when fully extended, but easily accomplishes the former thanks to a ball head that tucks away incredibly neatly with a diameter of 3.13 inches (7.9 cm).
The five-section legs use soft-close clamps that are a dream to open and close, while the Arca-Swiss quick-release tripod plate is streamlined and stable. It's unfortunate that the base plate for a camera needs a Hex key, and that the one included with the Peak Design Tripod is hidden on one of the tripod legs but comes loose too easily — this is one of the things we found disappointing during our Peak Design Travel Tripod review. That said, we liked the hidden fold-up smartphone clamp stored inside the adjustable center column. Genius!
---
How sturdy is your tripod? The Manfrotto Befree-Advanced Travel Tripod is an incredibly light aluminum tripod that is easy to carry, has a quick set-up and take-down process, and remains incredibly steady even in strong winds.
Well-sized for a full-frame DSLR camera rig, the exceptionally well-constructed Manfrotto Befree-Advanced Travel Tripod has four-section legs that fasten using rubber twist-locks and unfurl to a maximum height of 59-inches/150cm. Most so-called travel tripods have a wobbly center column to get to that height from a compact size, but not the Manfrotto Befree-Advanced Travel Tripod, which has a particularly tough and unique locking ring to keep its extending center column super-solid.
As we found in our Manfrotto Befree Advanced Travel Tripod review, the tripod's three legs fold through 180 degrees to meet the ball head when it is collapsed, as opposed to the other way around, which is an unusual collapse configuration. That reduces its travel bulk, but this tripod isn't particularly compact when packed down. In fact, there's a lot of room between its legs, taking up a lot of space in a suitcase when traveling. However, we like its aluminum 200PL PRO baseplate, which attaches to a camera using a no-tools-required D-ring that can, if desired, be tightened using an Allen key.
---
Similar to landscape photography, taking pictures of the night sky requires being in the right place at the right time. However, the latter also demands darkness and a complete absence of light pollution, which sometimes requires foreign travel. Lowepro wisely realized that photographers needed a bag that could double as an ultra-slim carry-on for flights, so they created the ProTactic BP 350 AW II, which is completely modular and offers access to all areas (top, side, and back). We loved the original Lowepro Whistler BP 350 AW and think it's one of the best camera bags for astrophotography.
In its bare bones guise, it's hard-sided and can fit everything the average astrophotographer will need to take on a plane, namely a camera and lenses. Everything else can travel in a check-in bag, with two tripod straps and a Velcro-attached foot attached when you reach your destination. Ditto a clip-on pouch for storing a water bottle, a phone pouch and even a large hip belt that adds a lot of support for night-hike. The ProTactic BP 350 AW II is always compact, but the disadvantage is that the laptop sleeve in the back panel of the bag can only accommodate laptops up to 13 inches in size.
---
Designed with the astronomer in mind, the Explore Scientific USB Power Bank with Red LED Flashlight will ensure you have enough power to see your electronic devices through the night.
The integrated LED with red cover will ensure you can see through the night too. It won't illuminate vast areas like some of the best headlamps for stargazing but it will still preserve your valuable night vision and let you read star charts or find knobs and dials to adjust your astro equipment.
This device is by no means as 'sleek' as some of our other picks. It has a thick layer of rubber armor around it that protects the electronics from minor impacts and keeps out dirt and moisture. It can operate in temperatures from -4 to 140F (-20 to 60C), so there's no need to worry about protecting it from extreme temperatures.
The flashlight has a tactile toggle switch that you can use to turn it on and off, and the five LED indicators show the amount of power it has left so you don't get caught out unexpectedly. It also has a two-point attachment point so you can hang it from a convenient place, like your tripod frame.
---
What is a star tracker? Based on the same technology that you'll find in a 'go to' computerized telescope or in a dedicated equatorial mount for a telescope, the SkyWatcher Star Adventurer Mini moves your camera in sync with Earth's rotation.
Like our own planet, the Sky-Watcher Star Adventurer Mini — which attaches to any standard tripod using its 1/4-inch or 3/8-inch adaptors — rotates a camera through 360 degrees every 23 hours, 56 minutes and 4 seconds. This means you can do far longer exposures than you can if you just put your camera on a tripod.
A shrunken version of the original and larger SkyWatcher Star Adventurer, during our Sky-Watcher Star Adventurer Mini review, we were impressed because this diminutive example of a star tracker weighs 650g, about the size of most camera lenses, yet retains superb accuracy.
It's aligned using a small optical polar alignment scope, which must be done before the camera is mounted upon it, though its polar-scope illuminator is separate and easy to lose. Since it only promises accuracy for lenses with a focal length of about 100mm, the Sky-Watcher Star Adventurer Mini is best used for wide-angle nightscapes.
---
Light pollution comes in many forms, but skyglow is the one that amateur astronomers and astrophotographers despise the most since it casts an orangey-brown glow in your astrophotos.
Luckily, an array of light pollution filters are available to help subdue these unwanted colors. The Japan-made Hoya Starscape, which comes in a vast amount of different sizes, is one of our favorites.
It does an excellent job of dampening the yellowish, greenish and brownish color casts from sodium and mercury-vapor streetlights and general urban skyglow. What you're left with is crisp and contrasty nightscape images with more realistic-looking colors than would be achievable without a filter.
Even though it's called "starscape," you can use it to create more balanced and realistic colors in daytime or nighttime cityscape pictures.
---
Some astrophotographers don't care so much about seeing the night sky with their own eyes. They may want to capture its many wonders, but they're not particularly interested in maximizing their own view, just that of their camera. However, they're missing a trick, because only with properly dark adapted eyes can the observer see (and therefore more easily frame), the Milky Way during the summer, which is likely at, or near, the top of your 'to capture' list.
Cue the Celestron Night Vision Flashlight, a tiny flashlight that will save your night vision, which takes about 30 minutes to nurture and is killed off instantly by white light (e.g., from a smartphone) by emitting only red light.
The Celestron Night Vision Flashlight's two red LEDs can be dimmed with the handy thumbwheel, making it considerably less harmful to night vision. A lanyard/wrist strap keeps the Celestron Night Vision Flashlight within easy reach and its 9V battery keeps it going for months.
This device is as simple as they come. It's not for navigating in the dark; rather, it's for adjusting your equipment, switching out your eyepiece, reading star charts, and so on. If it's a means of finding your way around in the dark you're looking for, you'd do well to check out our best headlamps for stargazing and lowlight scenes.
How we test the best camera accessories for astrophotography
To guarantee you're getting honest, up-to-date recommendations on the best camera accessories for astrophotography to buy here at Space.com we make sure to put every accessory through a rigorous review to fully test each product. Each accessory is reviewed based on a multitude of aspects, from its construction and design, to how well it functions as an optical instrument and its performance in the field.
Each camera accessory for astrophotography is carefully tested by either our expert staff or knowledgeable freelance contributors who know their subject areas in depth. This ensures fair reviewing is backed by personal, hands-on experience with each camera accessory and is judged based on its price point, class and destined use.
We look at how easy each accessory is to operate, whether it contains the latest up-to-date technology, and also make suggestions if there are better or newer options available.
With complete editorial independence, Space.com are here to ensure you get the best buying advice on camera accessories for photographing the cosmos, whether you should purchase an accessory or not, making our buying guides and reviews reliable and transparent.