'First Man: The Annotated Screenplay' Reveals What the Film Got Right — and Wrong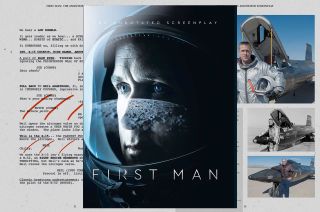 (Image credit: Titan Books via collectSPACE.com)
In the opening scene of "First Man," moviegoers immediately find themselves in the cockpit with Neil Armstrong aboard an X-15 rocket plane.
The screen is filled with a lot of true-to-life details, from the layout of the aircraft's controls to the look of the silvery pressure suit. Even the callouts being made by Armstrong — portrayed here by Ryan Gosling — were taken directly from the real 1962 flight logs.
The curvature of the horizon comes into view and it is as if director Damien Chazelle used a clip from a vintage NASA film. (For the record, he did not, though he did choose to shoot in 16mm to capture that same grainy archival look.) But then the camera captures something that should not be there — a dense layer of clouds. [Photos: X-15 Rocket Plane Reaches Space in Test Flights]
"We needed the clouds to show just how fast the X-15 was flying. But they probably wouldn't have flown on such a cloudy day," admits screenwriter Josh Singer. "Joe [Engle, an X-15 pilot and astronaut who served as a consultant] was pretty funny when he saw them."
"Yes, I recall him ribbing you there," replies historian James (Jim) Hansen, the author of Neil Armstrong's 2005 authorized biography, "First Man," on which the movie is based. "But Damien did need a visual reference for how fast the X-15 was flying."
Singer and Hansen's exchange is one of the first examples of their admitting to and explaining a diversion from the real history in "First Man: The Annotated Screenplay," released by Titan Books on Tuesday (Oct. 9). Universal Pictures' "First Man," the feature film, opens in theaters and IMAX on Friday (Oct. 12).
Taking license
The annotated screenplay "is a running conversation between Josh and myself about the script," said Hansen in an interview with collectSPACE.com. "What is in it and why, what is not in it and why not, what dramatic license was taken and why, as well as additional information about specific events, dialogue, characterizations, hardware, and so forth in the film."
"It gives the reader some excellent insight into what goes on in the give-and-take between a screenwriter and the non-fiction author whose book is being adapted into a film," said Hansen.
The annotated screenplay opens with a foreword by Chazelle and closes with an afterword by Rick and Mark Armstrong, the late astronaut's sons.
As its title implies, the annotated screenplay includes the full script for "First Man" as it existed three weeks prior to the film being completed. Illustrated with behind-the-scenes photos and still frames from the movie, the script also includes lines of dialogue, hashed out in red ink, that did not make it onto the screen.
The main feature of the book, though, is the back-and-forth dialogue between Singer and Hansen, which reveals to readers what they got right and what they know they got wrong about the first man to walk on the moon.
"We take a little bit of license. But I felt compelled to be clear about where we take license and that is why Jim and I wrote a book about it," said Singer. "I thought it was really important to be very clear about where we got the source materials, but also be very clear about what we were fictionalizing."
A 'provocative' idea
"As I would say over and over again to Damien, 'If we don't get the technical specifics right, if we don't get this as close to accurate as possible, we will lose credibility for these other things that we know are correct but which will seem to some as 'Hollywoodizing,'" Singer told collectSPACE.com.
As an example, Singer recalled a question put to him by Apollo 15 moonwalker David Scott, Armstrong's crewmate on the Gemini 8 mission. (Scott is portrayed in "First Man" by actor Christopher Abbott.)
"Early on, Dave asked, 'Why are you opening on a flight where he screws up?'" said Singer. "Well, there was a reason we are opening on that flight. He screws up, yeah, a bit, but it also shows him to be a pretty good pilot."
The annotated screenplay offered the means for Singer and Hansen to explain what Singer described as a "provocative" depiction of Armstrong.
"I realized early on that the things we were going to be highlighting with Neil were things that weren't well known," said Singer. "So while we're not provocative in the 'Walter White' sense of provocative in this day and age, we are extremely provocative in the Neil Armstrong sense, in that we're showing a lot of things that people don't know about him, even though he is a fairly well known individual. And so we felt a strong responsibility to get it right."
Hansen hopes the movie will inspire audiences to want to learn more about its subject.
"As the author of a book that took years to write and years more to update, and that has the complete story of Neil Armstrong's life described and explained in it, I would hope for people to read the biography and the annotated screenplay," said Hansen.
"To me it's a way to go deeper on many things," said Singer. "One of the joys of the annotated screenplay to me is if you like the movie there is more to learn."
See more sample pages from "First Man: The Annotated Screenplay" at collectSPACE.
Follow collectSPACE.com on Facebook and on Twitter at @collectSPACE. Copyright 2018 collectSPACE.com. All rights reserved.
Get the Space.com Newsletter
Breaking space news, the latest updates on rocket launches, skywatching events and more!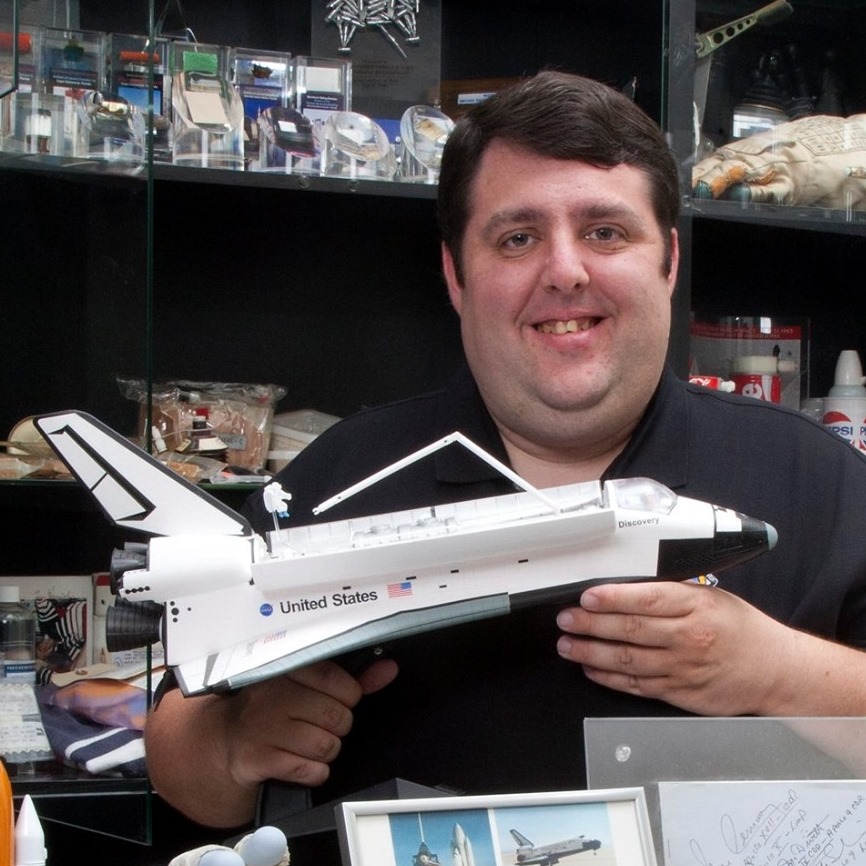 collectSPACE.com Editor, Space.com Contributor
Robert Pearlman is a space historian, journalist and the founder and editor of collectSPACE.com, an online publication and community devoted to space history with a particular focus on how and where space exploration intersects with pop culture. Pearlman is also a contributing writer for Space.com and co-author of "Space Stations: The Art, Science, and Reality of Working in Space" published by Smithsonian Books in 2018. He previously developed online content for the National Space Society and Apollo 11 moonwalker Buzz Aldrin, helped establish the space tourism company Space Adventures and currently serves on the History Committee of the American Astronautical Society, the advisory committee for The Mars Generation and leadership board of For All Moonkind. In 2009, he was inducted into the U.S. Space Camp Hall of Fame in Huntsville, Alabama. In 2021, he was honored by the American Astronautical Society with the Ordway Award for Sustained Excellence in Spaceflight History.