Pioneer Probe's Plaque Returns to Earth as Crowdfunded Replica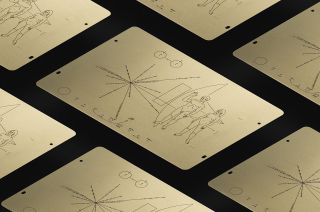 (Image credit: Duane King)
A creative director obsessed with design and space exploration has launched a campaign to bring a "galactic greeting card" from billions of miles out into space back to Earth — by producing and offering exact replicas.
Forty-five years ago, NASA launched Pioneer 10, the first probe to encounter Jupiter and to achieve escape velocity from our solar system. Mounted to its antenna support was a gold anodized aluminum plaque that was engraved with "a little bit of where we are, when we are and who we are," according to the late Carl Sagan, who helped to create the plaque on the off chance that another space-faring society were to someday come across the derelict probe.
"[It] was quite possibly the most ambitious piece of visual communication ever conceived," said project creator Duane King as part of his Kickstarter campaign. "And now I am bringing it back to Earth." [NASA's Pioneer Spacecraft: A Solar System Legacy (Photos)]
Three plaques were originally produced for NASA. Two are now billions of miles away and still traveling, bolted to the Pioneer 10 and Pioneer 11 probes (Pioneer 11, which was launched the year after Pioneer 10, was the first probe to encounter Saturn). The third is exhibited with the prototype spacecraft on display at the Smithsonian's National Air and Space Museum in Washington, DC.
Designed by Sagan and Frank Drake, an astronomer and pioneer in the search for extraterrestrial intelligence (SETI) the plaque conveyed when Pioneer launched, from where and by what kind of beings.
The plaque's art, prepared by Linda Salzman Sagan, Carl Sagan's second wife, included a diagram of the transition of neutral atomic hydrogen, a universal yardstick providing a unit of both time and length throughout the universe; a radial representation of where Earth was located in relation to other celestial objects; and figures of both a man and a woman.
"The plaque is an expression of the vision and spirit that defines humanity at its best," said King, whose own design portfolio includes works for Apple, Herman Miller and Nike. "As the most remote visual design artifact from Earth, the plaque is symbolic of hope, curiosity and wonder."
Wanting his own plaque, King sought Ponciano Barbosa of Precision Engravers, the craftsman who made the plaques for NASA in 1972.
"After making one for myself, I was struck there were only three other plaques, near and far, in our universe; and then there was the one in my hands. It was a magical feeling," stated King. "And I had to share the opportunity to feel the way I did with others."
King is seeking to raise $70,000 to produce 200 manually-engraved replicas of the 6 by 9 inch (23 by 15 centimeter) Pioneer plaque and, in an effort to expand their reach to all audiences, an open edition, laser-engraved reissue.
"Every detail has been carefully considered to create the most historically accurate replicas," King described.
The Barbosa-engraved replicas are available for a pledge of $399 each. The laser-engraved reissues are offered for a pledge of $99 each. Both are made from 6061 T6 gold-anodized aluminum and include a case suitable for storage or display.
If King's crowdfunding goal is met by June 16, the plaques are expected to ship in September.
"It will be the oldest artifact of mankind," said Sagan, prior to the launch of the original Pioneer plaque in March 1972. "Because a billion years from now, mountain building and erosion will have destroyed everything on Earth, but this plaque will remain intact."
The Pioneer plaques inspired the golden records that later flew with NASA's Voyager probes, but the plaques remain the only purely visual representation of humanity to depart the solar system.
"Billions of years from now, when everything we have ever made has turned the dust, the Pioneer plaques will still be out there floating in space," said King. "With your help, you can bring home an 'interstellar cave painting' of your own."
For more details or to reserve your own replica or reissue, see Kickstarter: Pioneer Plaque: A Message from Earth.
Watch a video about the Pioneer plaque and Duane King's replica at collectSPACE.
Follow collectSPACE.com on Facebook and on Twitter at @collectSPACE. Copyright 2017 collectSPACE.com. All rights reserved.
Get the Space.com Newsletter
Breaking space news, the latest updates on rocket launches, skywatching events and more!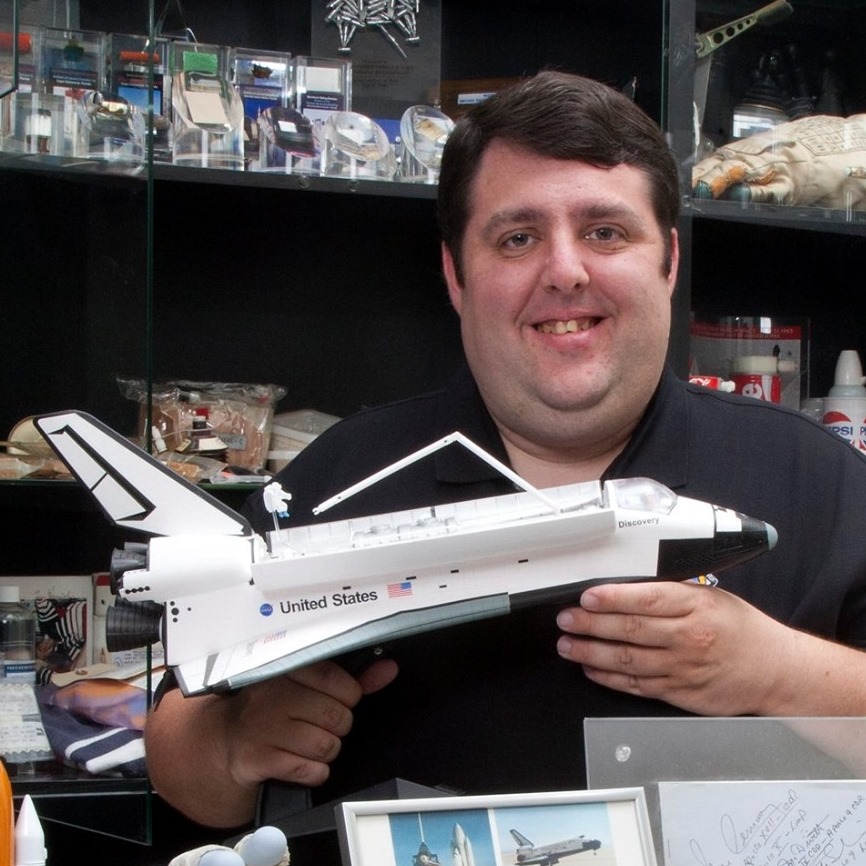 collectSPACE.com Editor, Space.com Contributor
Robert Pearlman is a space historian, journalist and the founder and editor of collectSPACE.com, an online publication and community devoted to space history with a particular focus on how and where space exploration intersects with pop culture. Pearlman is also a contributing writer for Space.com and co-author of "Space Stations: The Art, Science, and Reality of Working in Space" published by Smithsonian Books in 2018. He previously developed online content for the National Space Society and Apollo 11 moonwalker Buzz Aldrin, helped establish the space tourism company Space Adventures and currently serves on the History Committee of the American Astronautical Society, the advisory committee for The Mars Generation and leadership board of For All Moonkind. In 2009, he was inducted into the U.S. Space Camp Hall of Fame in Huntsville, Alabama. In 2021, he was honored by the American Astronautical Society with the Ordway Award for Sustained Excellence in Spaceflight History.