The ongoing mission of the U.S. Air Force's robotic X-37B space plane is now the longest in the clandestine program's history.
As of today (March 25), the X-37B has spent 675 days on its latest Earth-circling mission, which is known as Orbital Test Vehicle-4 (OTV-4). The previous record was 674 days, set during OTV-3, which lasted from December 2012 to October 2014.
It's unclear what the new duration record will end up being; most X-37B activities and payloads are classified, and the Air Force has historically been tight-lipped about landing plans. [The X-37B's Fourth Mystery Mission in Photos]
"The landing date will be determined based on the completion of the program's on-orbit demonstrations and objectives for this mission," Capt. AnnMarie Annicelli, an Air Force spokeswoman, told Space.com via email.
OTV-4 is still nowhere near the overall record for longest space mission, however. Some Earth-observation satellites have operated for decades; for example, Landsat-5 studied the planet from 1984 to 2013. And NASA's far-flung Voyager 1 and Voyager 2 probes are still sending data home, nearly 40 years after their 1977 launches.
Mini-shuttle mystery missions
The Air Force vehicle also looks like a miniature version of the space shuttle. Each solar-powered X-37B is just 29 feet (8.8 meters) long and 9.6 feet (2.9 m) tall, with a wingspan of about 15 feet (4.6 m). For comparison, the space shuttle was about 122 feet (37 m) long, with a wingspan of 78 feet (24 m).
Together, these two X-37Bs have flown four space missions to date, each of which has set a new duration record. OTV-1 launched on April 22, 2010, and landed on Dec. 3 of that year, spending a total of 224 days in orbit; OTV-2 lifted off on March 5, 2011, and wrapped up on June 16, 2012 (468 days); OTV-3 launched on Dec. 11, 2012, and landed on Oct. 17, 2014 (674 days); and OTV-4 lifted off on May 20, 2015. (The mission lengths of OTV-3 and OTV-4 may seem equivalent as of today, but the former landed about 2 hours shy of the full 675-day mark.)
The latest three missions have therefore blown past the space plane's designed orbital lifetime, which is just 270 days, according to the Air Force's X-37B fact sheet.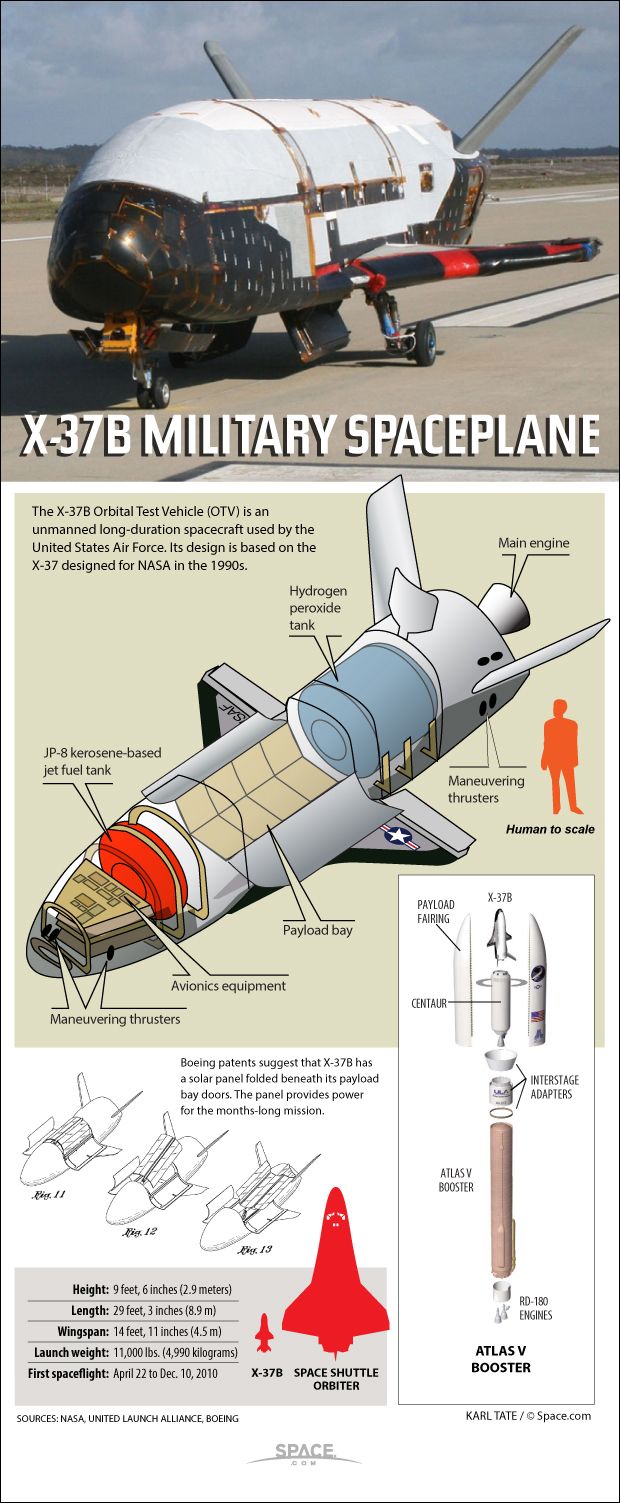 The secrecy surrounding the X-37B program has led to some speculation that the vehicle may be a space weapon. But this is unlikely to be true, experts say; for example, the space plane does not seem big enough or maneuverable enough to be used to manipulate other satellites.
Indeed, the Air Force has always stressed that the X-37B has two primary objectives: testing reusable spacecraft technologies, and helping to conduct experiments that can be returned to Earth for examination.
"Technologies being tested in the program include advanced guidance, navigation and control; thermal
protection systems; avionics; high-temperature structures and seals; conformal reusable insulation, lightweight electromechanical flight systems; and autonomous orbital flight, re-entry and landing," Annicelli told Space.com, declining to offer details about OTV-4 in particular.
"Also, the Air Force Research Laboratory (AFRL), Space and Missile Systems Center (SMC) and the Air Force Rapid Capabilities Office (AFRCO) are investigating an experimental propulsion system," she added. [The X-37B Space Plane: 6 Surprising Facts]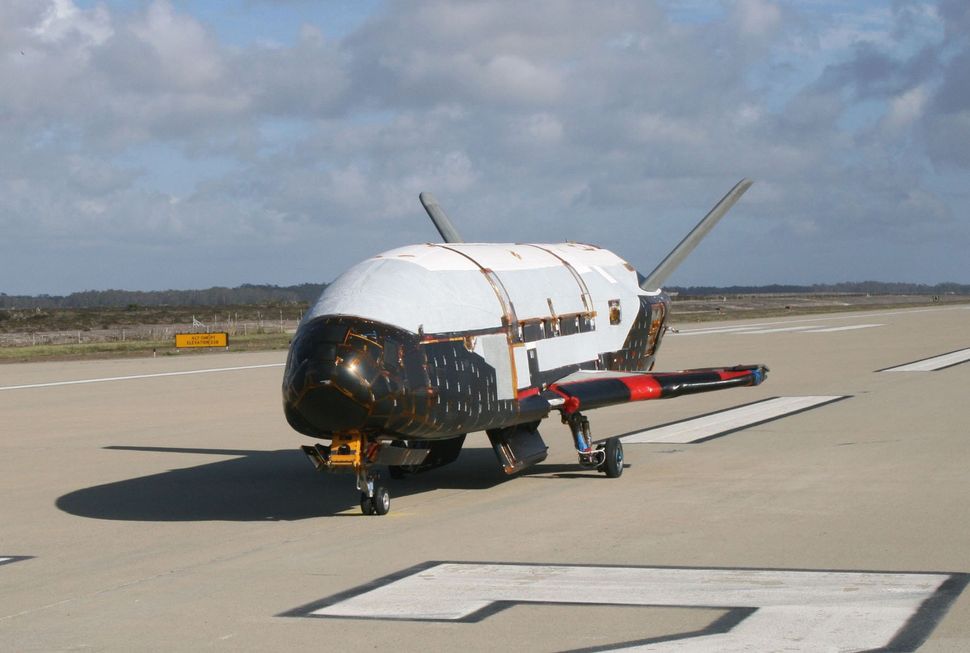 A Florida landing?
All four X-37B missions have launched from Florida's Cape Canaveral Air Force Station. The first three touched down at Vandenberg Air Force Base in California, but OTV-4 might not.
Air Force officials have said they aim to consolidate X-37B launch and landing activities on Florida's Space Coast. To this end, the old Shuttle Landing Facility at NASA's Kennedy Space Center (KSC), which is right next door to Cape Canaveral, has been prepped to accommodate the X-37B.
If OTV-4 does come down at KSC, it would mark the first landing at the site since July 2011, when the space shuttle Atlantis touched down to wrap up its STS-135 mission — the shuttle program's last-ever flight.
Follow Mike Wall on Twitter @michaeldwall and Google+. Follow us @Spacedotcom, Facebook or Google+. Originally published on Space.com.