Light and Dark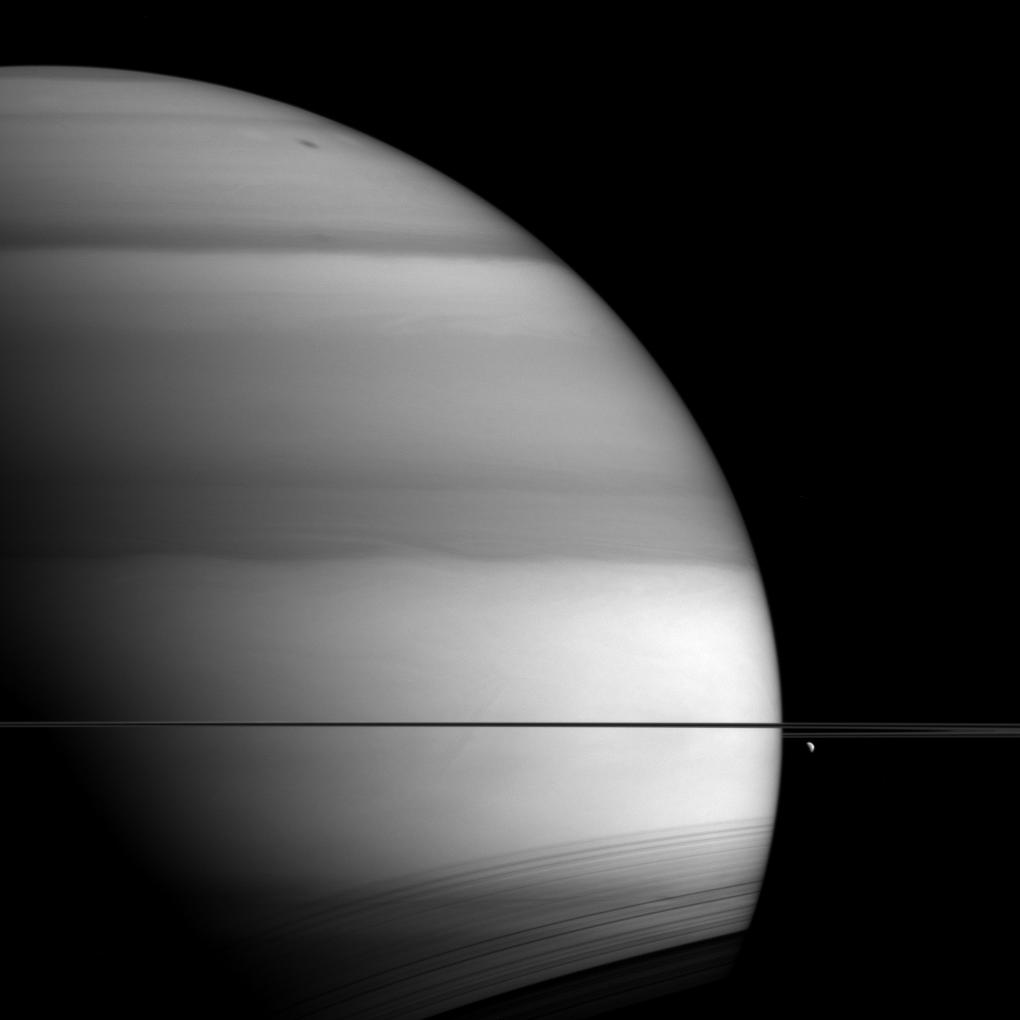 Friday, Feb. 5, 2016: Soft-edged bands of bright and dark areas on Saturn result from methane in the planet's atmosphere, when viewed in wavelengths of light absorbed by methane. Dark areas show regions where light travels deeper into the atmosphere, passing through more methane, then reflects and scatters from clouds, heading back out of the atmosphere. Saturn's moon Dione (698 miles or 1,123 kilometers across) appears below the rings at right. Ring shadows also fall on the planet at bottom. Cassini spacecraft's wide-angle camera obrtained this image on Sept. 6, 2015.

— Tom Chao
Light and Dark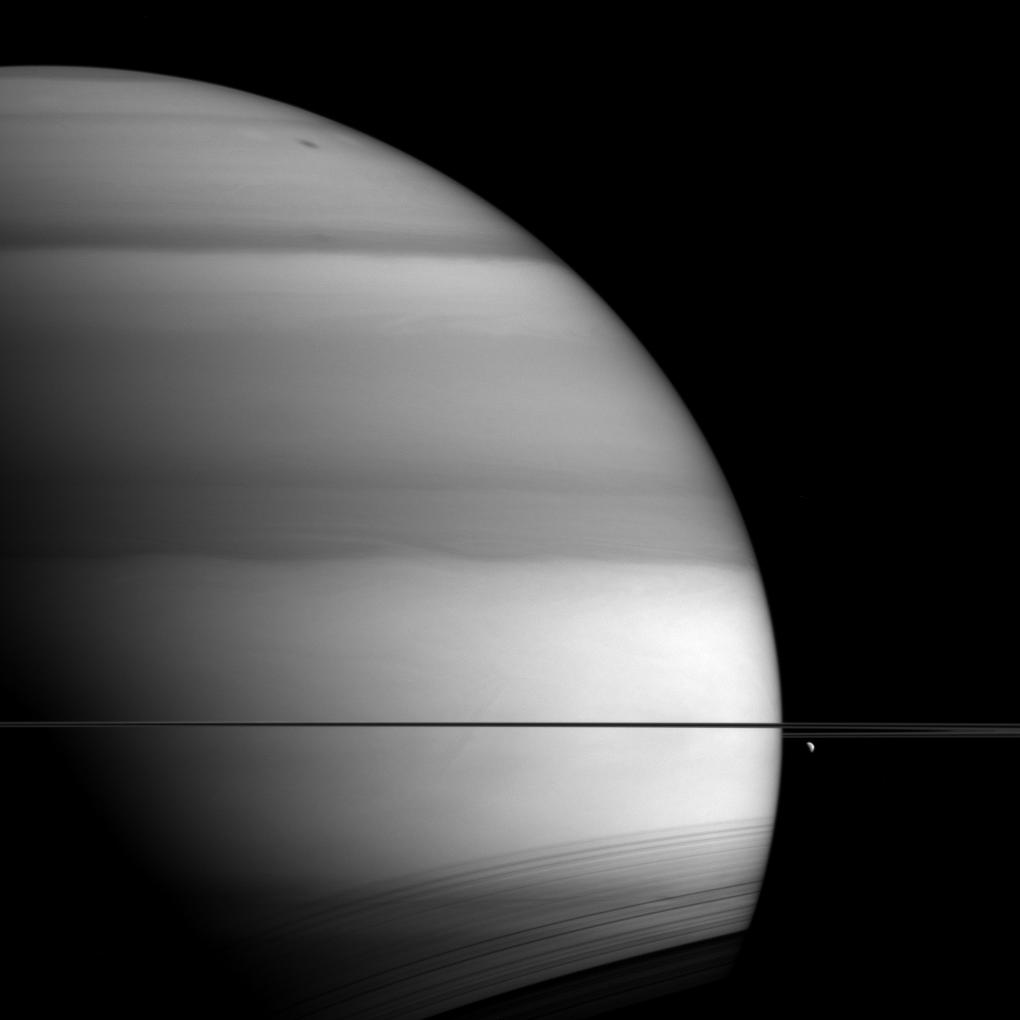 Friday, Feb. 5, 2016: Soft-edged bands of bright and dark areas on Saturn result from methane in the planet's atmosphere, when viewed in wavelengths of light absorbed by methane. Dark areas show regions where light travels deeper into the atmosphere, passing through more methane, then reflects and scatters from clouds, heading back out of the atmosphere. Saturn's moon Dione (698 miles or 1,123 kilometers across) appears below the rings at right. Ring shadows also fall on the planet at bottom. Cassini spacecraft's wide-angle camera obrtained this image on Sept. 6, 2015.

— Tom Chao
This Isn't Even My Final Form!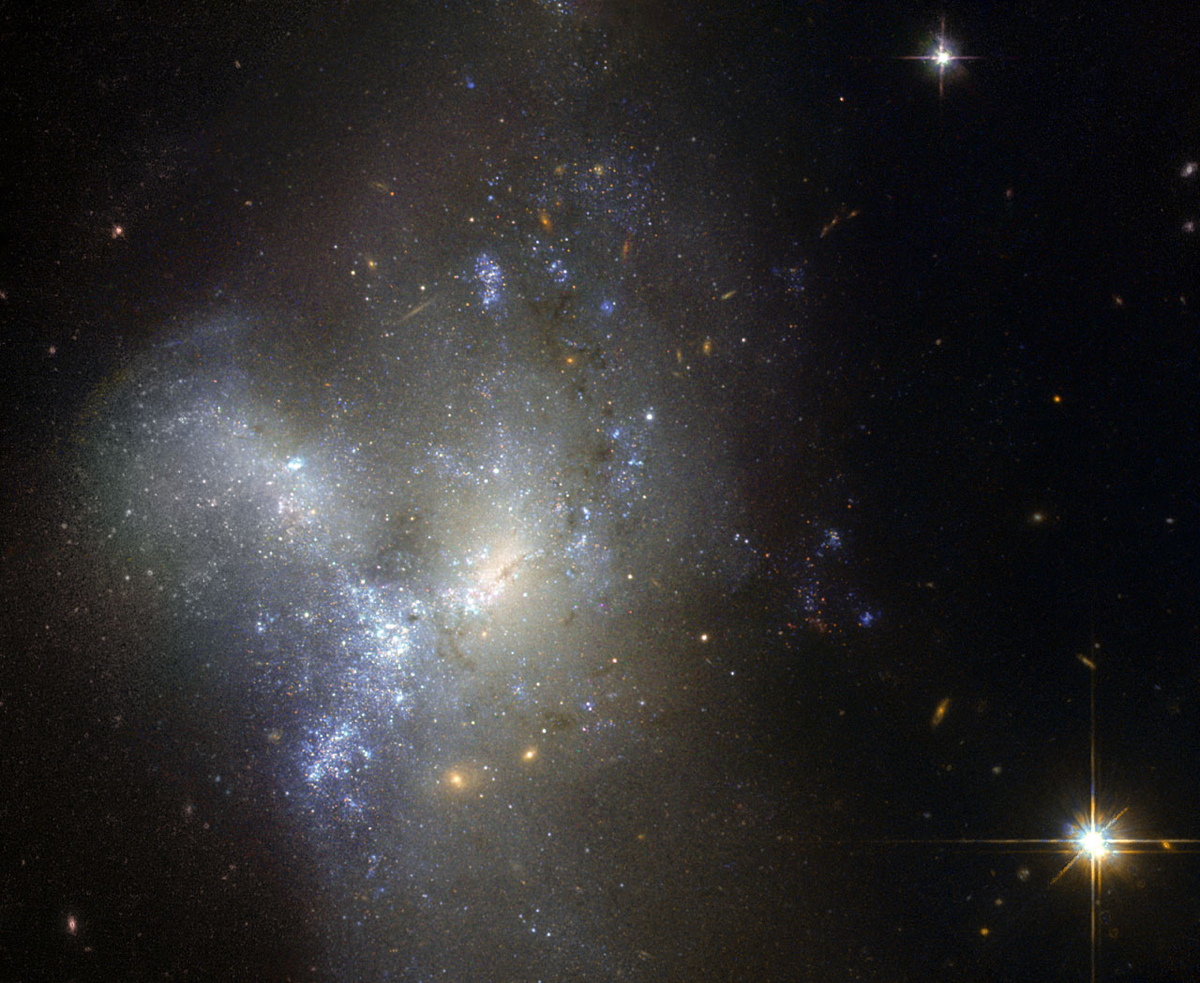 Thursday, Feb. 4, 2016: Galaxy NGC 1487 lies about 30 million light-years away in the southern constellation of Eridanus. The object we see here actually consists of two or more galaxies merging together. Whatever the original galaxies looked like, and even how many there were, would be very difficult to determine now after the violence of the collision. Possibly several dwarf galaxies in a small group have combined here. Image released Feb. 1, 2016.

— Tom Chao
Galaxy Bar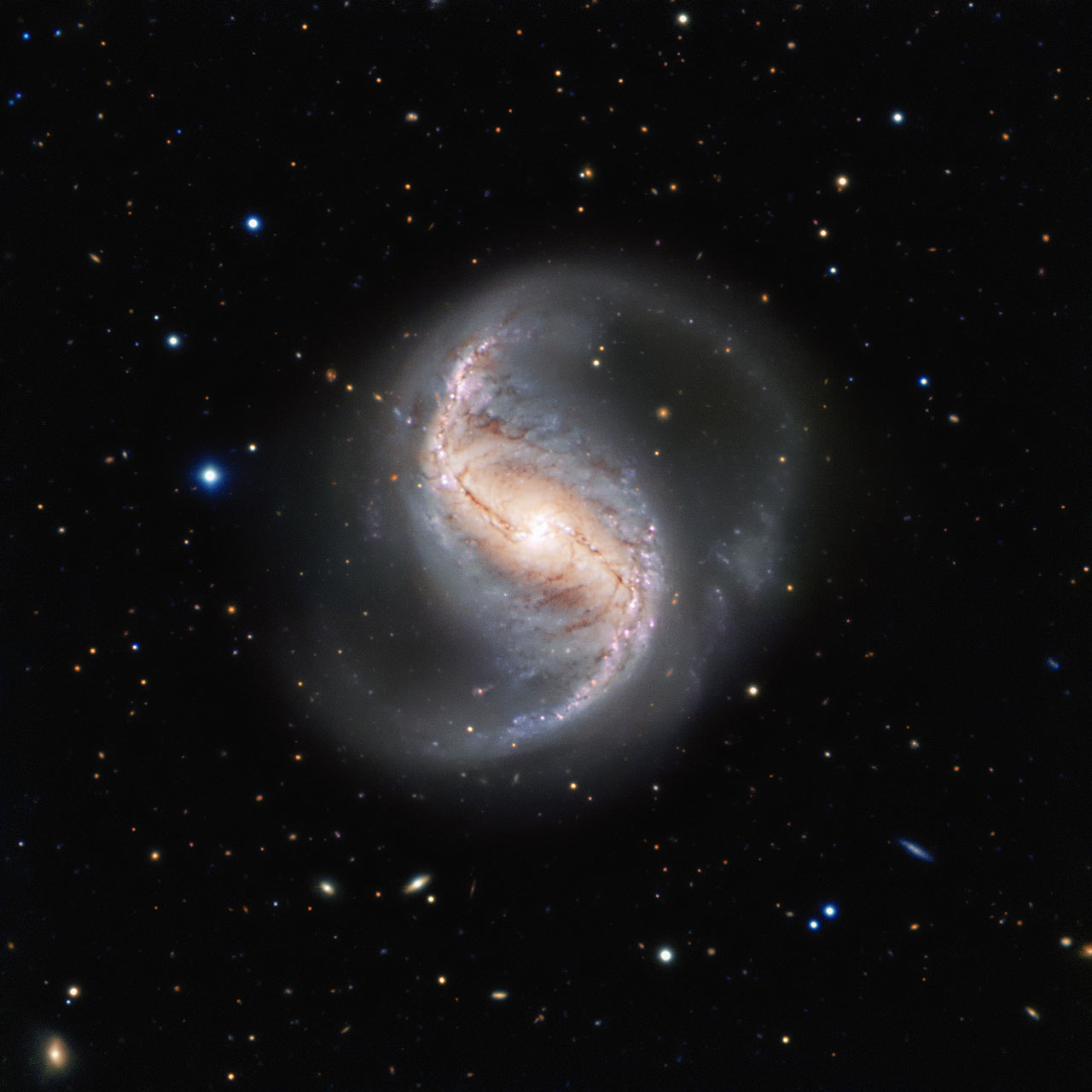 Wednesday, Feb. 3, 2016: Spiral galaxy NGC 986 lies about 56 million light-years away in the constellation of Fornax (The Furnace). Its face-on orientation allows us to clearly see its two main spiral arms and central bar-shaped structure composed of stars and dust. The latter feature makes it a barred spiral galaxy. About two thirds of all spiral galaxies contain a bar, including our own Milky Way galaxy, according to astronomical surveys. Image released Feb. 1, 2016.

— Tom Chao
You Make Me Wanna SHOUT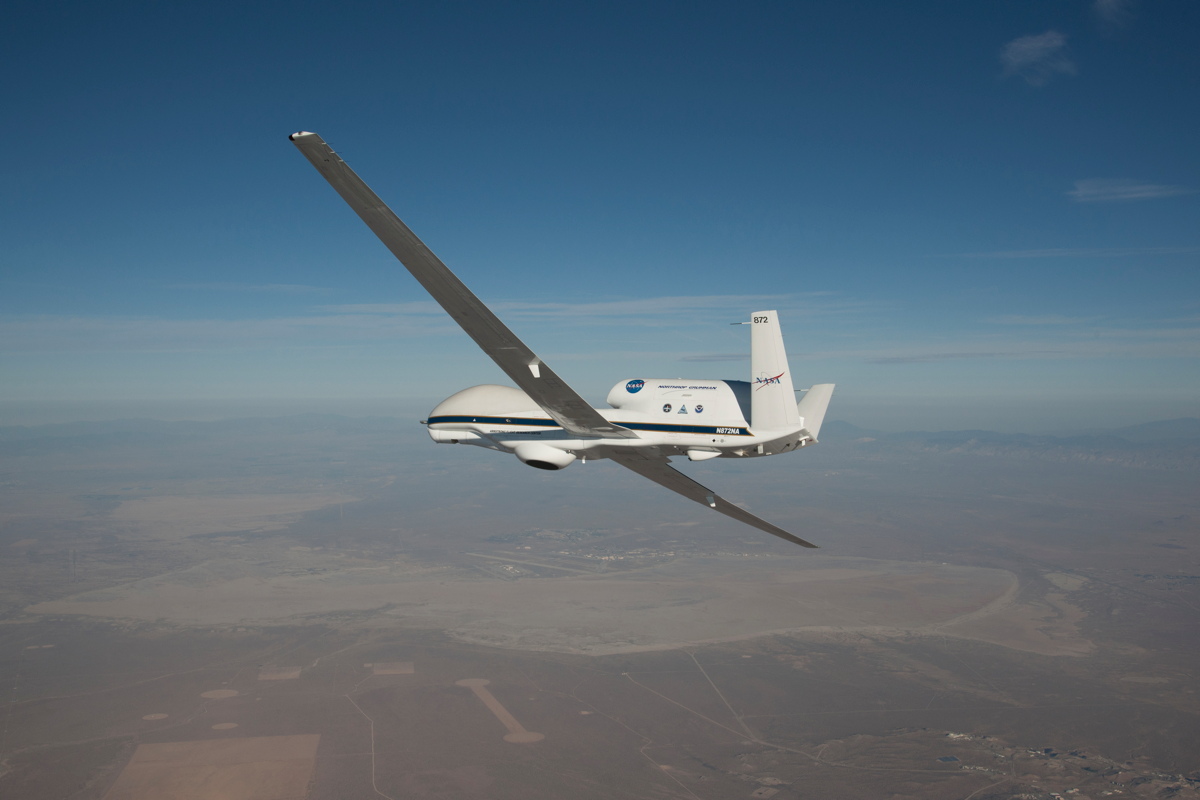 Tuesday, Feb. 2, 2016: NASA's remotely piloted Global Hawk aircraft will make several flights in February 2016 to support the National Oceanic and Atmospheric Administration's (NOAA) El Niño Rapid Rapid Response Field Campaign. The mission, called Sensing Hazards Operational Unmanned Technology (SHOUT), will gather El Niño storm data over the Pacific Ocean. Global Hawk is based at NASA's Armstrong Flight Research Center at Edwards Air Force Base in California. A media briefing on the El Niño project will take place at Armstrong on Feb. 5.

— Tom Chao
Young and Wrinkled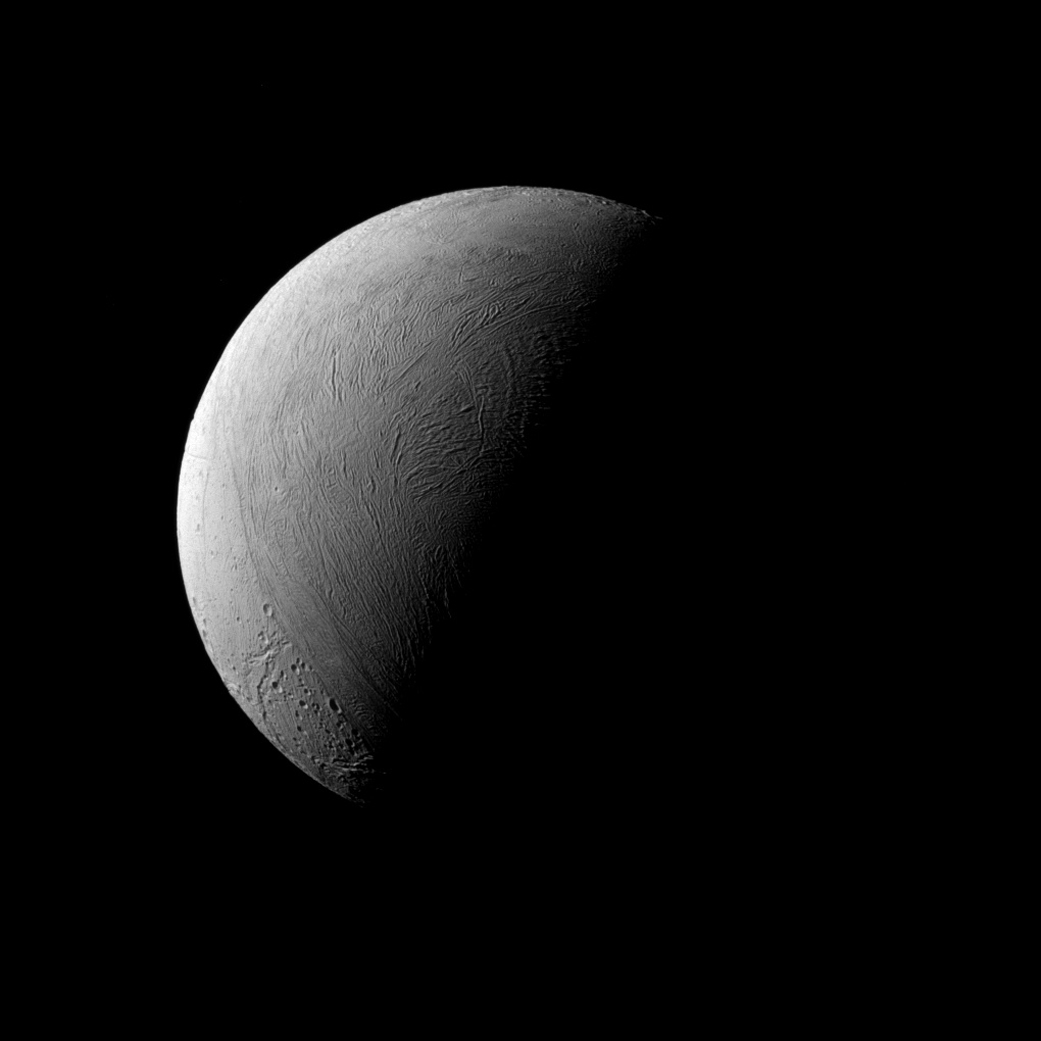 Monday, Feb. 1, 2016: Saturn's moon Enceladus was captured by Cassini spacecraft's narrow-angle camera on Sept. 8, 2015. The surface of icy Enceladus shows an uniform brightness, much brighter than Earth's moon. Large areas of Enceladus' surface contain relatively youthful (by geological standards), wrinkled terrains. Image released Jan. 25, 2016.

— Tom Chao
Ultraviolet Scene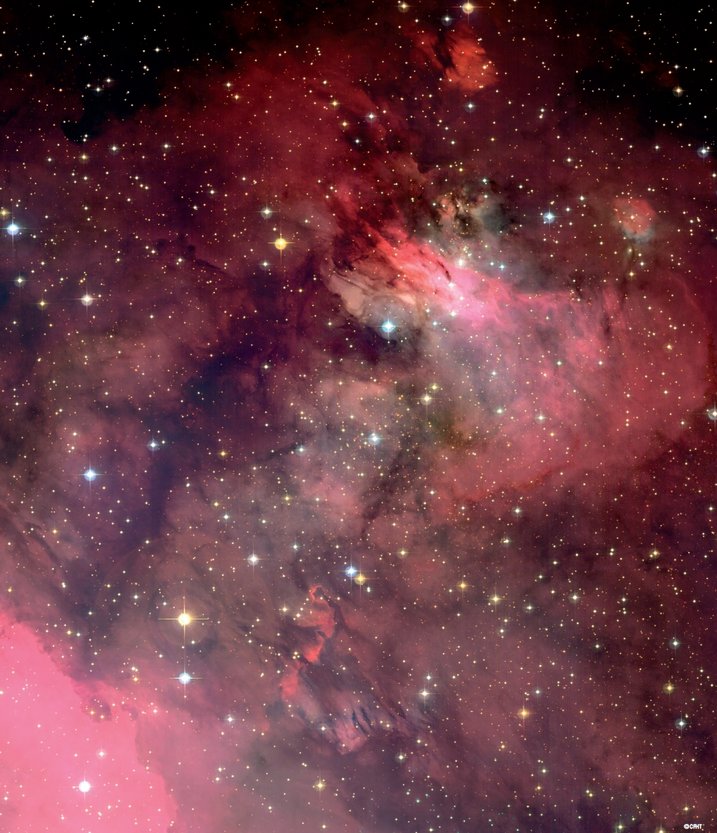 Friday, Jan. 29, 2016: Emission nebula IC 4628 lies about 6,000 light years away in the constellation of Scorpius. These types of nebulas arise when a sun-like star at the end of its life spews forth an enormous amount of gas. The remaining star, a white dwarf, emits intense ultra-violet light that causes the gas to glow, with different elements of the gas displaying different colors. Red indicates ionized hydrogen, and near the central star, doubly ionized oxygen glows in green. IC 4628 also goes by the names of the Prawn Nebula and Gum 56. Image released December 2015.

— Tom Chao
My Corona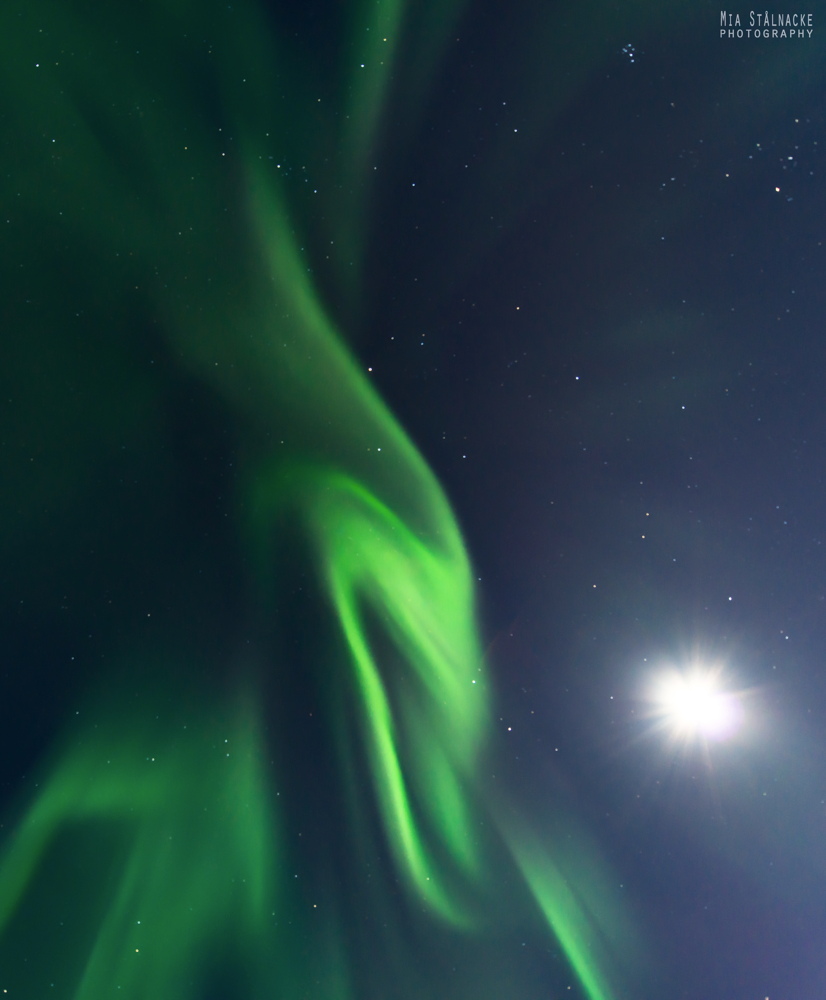 Thursday, Jan. 28, 2016: Astrophotographer Mia Stålnacke sent in a photo of an auroral display alongside the moon on Jan. 23, 2016. She writes in an email message to Space.com: "Last night the sky absolutely exploded over Kiruna, Sweden. It only lasted for about 30 minutes but was incredibly bright, fast moving and intense. I managed to get this photo of a corona forming right next to the nearly full moon." In an auroral corona, rays of the aurora seem to emerge from a single point, owing to perspective.

— Tom Chao
The Planets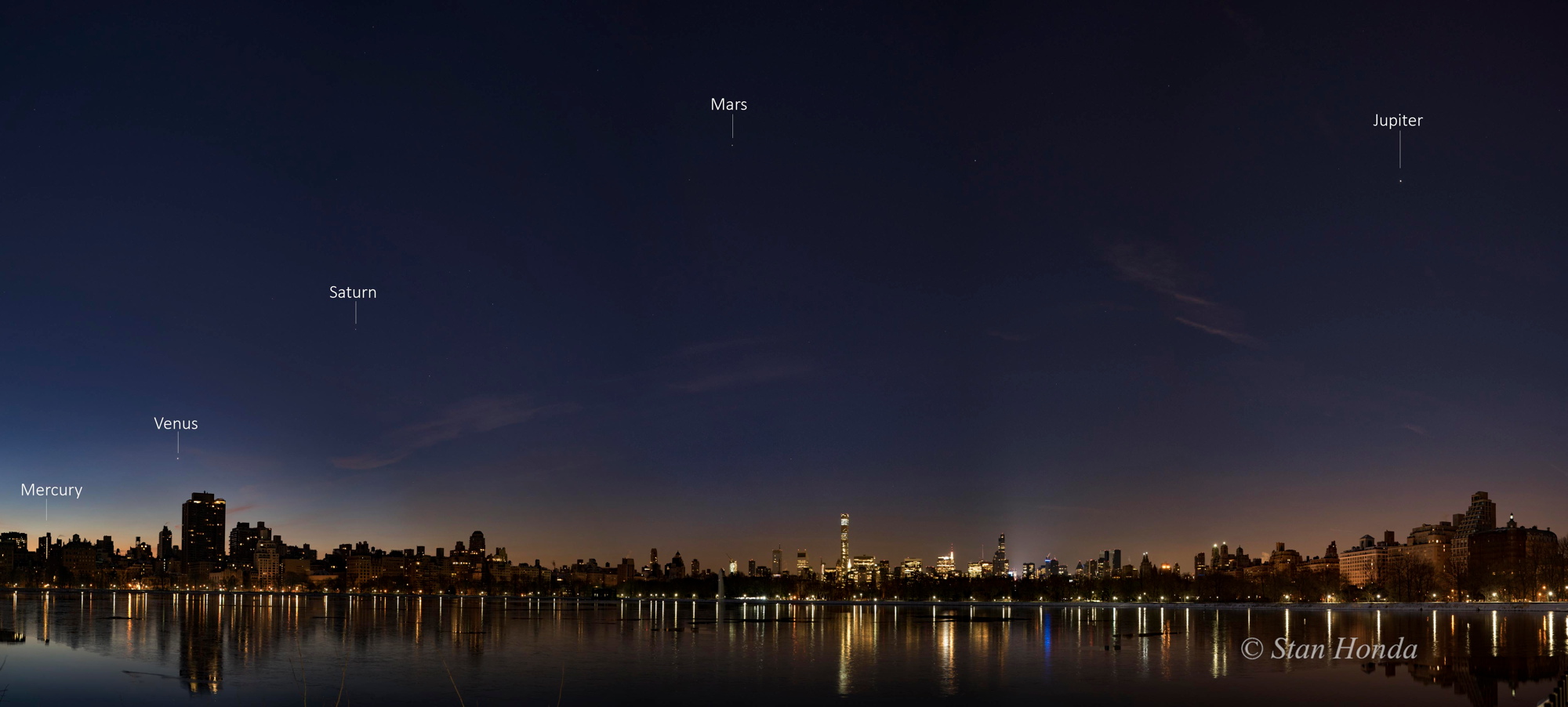 Wednesday, Jan. 27, 2016: Astrophotographer Stan Honda sent in a panoramic image of five planets in the night sky. He writes in an email message to Space.com: "The five planets were visible in the pre-dawn hours of Jan. 25 [2016] from Central Park in New York. Mercury just visible before the sky brightened. This is a five-frame panorama, taking in a view of over 120 degrees from Mercury to Jupiter." The view faces south over the Central Park Reservoir. The tall building at center is a residential tower at 432 Park Avenue.

— Tom Chao
Here Come the Radio Jets
Tuesday, Jan. 26, 2016: Galaxy LO95 0313-192 (left) lies about one billion light-years away in the constellation of Eridanus. Seen edge-on, this galaxy possesses a spiral shape similar to the Milky Way, with a large central bulge, and arms of glowing gas marked by dark dust lanes. In 2003, astronomers made the surprising discovery that LO95 0313-192 has intense radio jets spewing from its center. In an even more rare instance, the galaxy also appears to contain two more regions strongly emitting in the radio portion of the spectrum. The discovery in recent years of three more spiral galaxies containing radio-emitting jets raises questions about how galaxies produce jets, and how they fling out into the cosmos. (The companion galaxy at right is [LOY2001] J031549.8-190623.) Image released Jan. 25, 2016.

— Tom Chao
A Redder Shade of Pale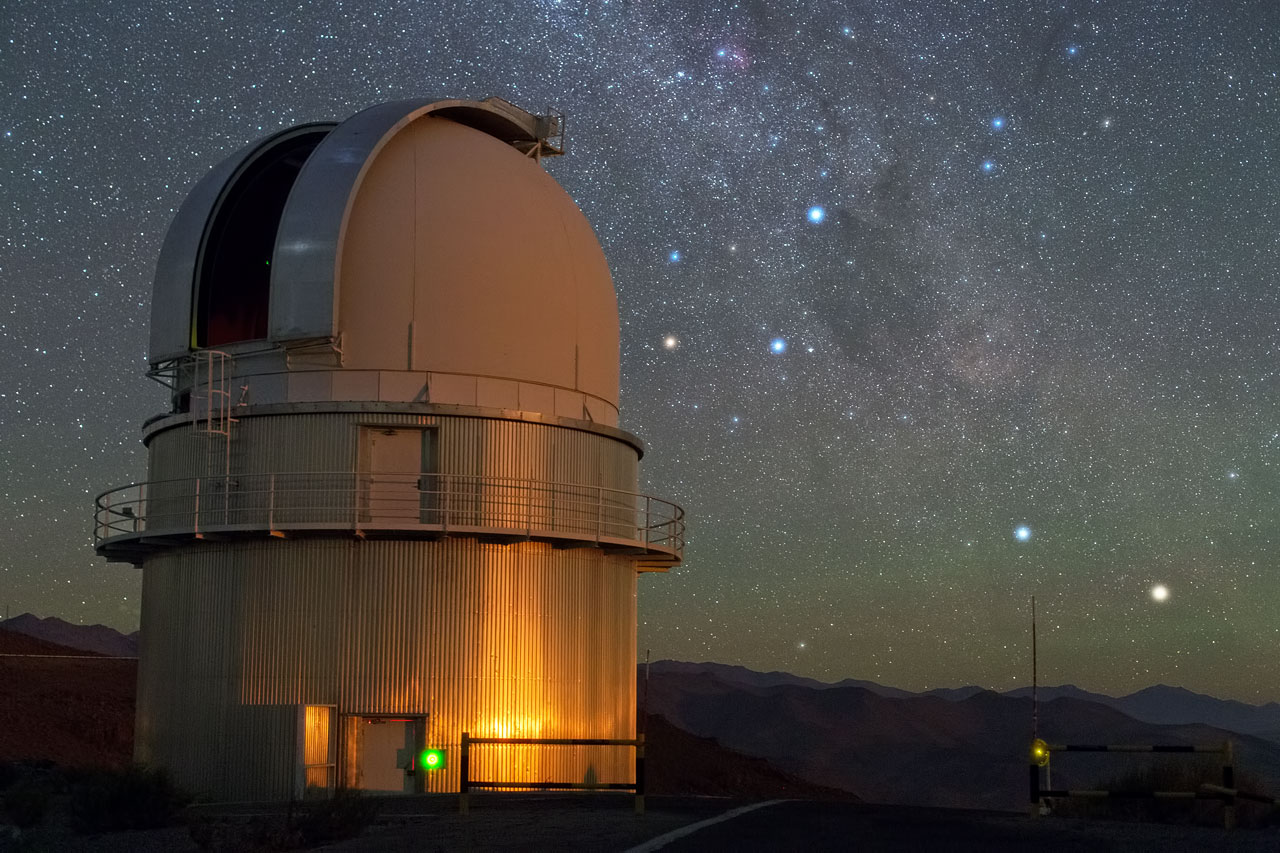 Monday, Jan. 25, 2016: The Danish 1.54-metre telescope stands at ESO's La Silla Observatory on the outskirts of the Chilean Atacama Desert. To the right of the telescope's dome, the Southern Cross constellation shines, while at the lower right of the image, two bright stars glow: Alpha (right) and Beta Centauri. A third star in the multiple star system, Proxima Centauri, is a red dwarf not visible to the naked eye which may possess a small orbiting planet. The Pale Red Dot campaign, started in January 2016, will search for this orbiting companion by looking for wobbles in the dwarf star's motion.

— Tom Chao
The Shape I'm In
Friday, Jan. 22, 2016: Cassini spacecraft's narrow-angle camera caught Saturn's moons Tethys (brighter) and Janus (darker) on Oct. 27, 2015. The marked difference in their shapes is explained by a simple fact. Moons like Tethys (660 miles or 1,062 kilometers across) possess enough gravity to pull their material into spherical shapes. Small moons like Janus (111 miles or 179 kilometers across) do not have enough mass for gravity to form them into a sphere. Cassini obtained the view at a distance of approximately 593,000 miles (955,000 kilometers) from Janus. Saturn's narrow F ring and the outer edge of the A ring also appear.

— Tom Chao
Hide the Star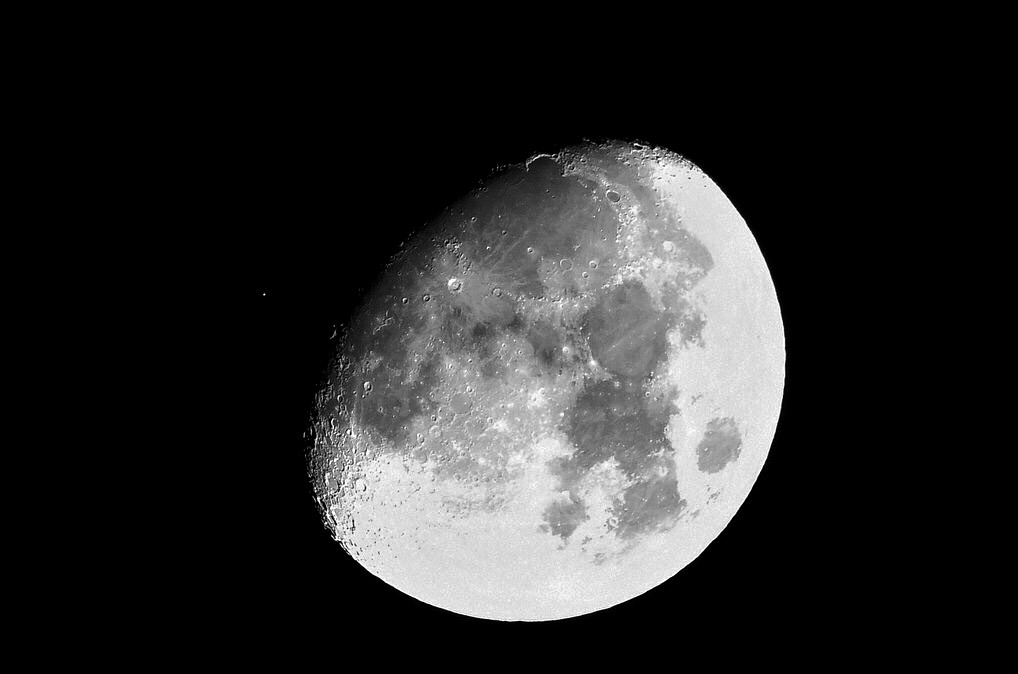 Thursday, Jan. 21, 2016: Astrophotographer Laura Austin caught the moon's occultation of the star Aldebaran, on Jan. 19, 2016, from her backyard in Sarnia, Ontario, Canada. She writes in an email to Space.com: "It was cold, but thrilling seeing the bright star Aldebaran and the moon in my telescope lens at the same time."

— Tom Chao
I'm in No Shape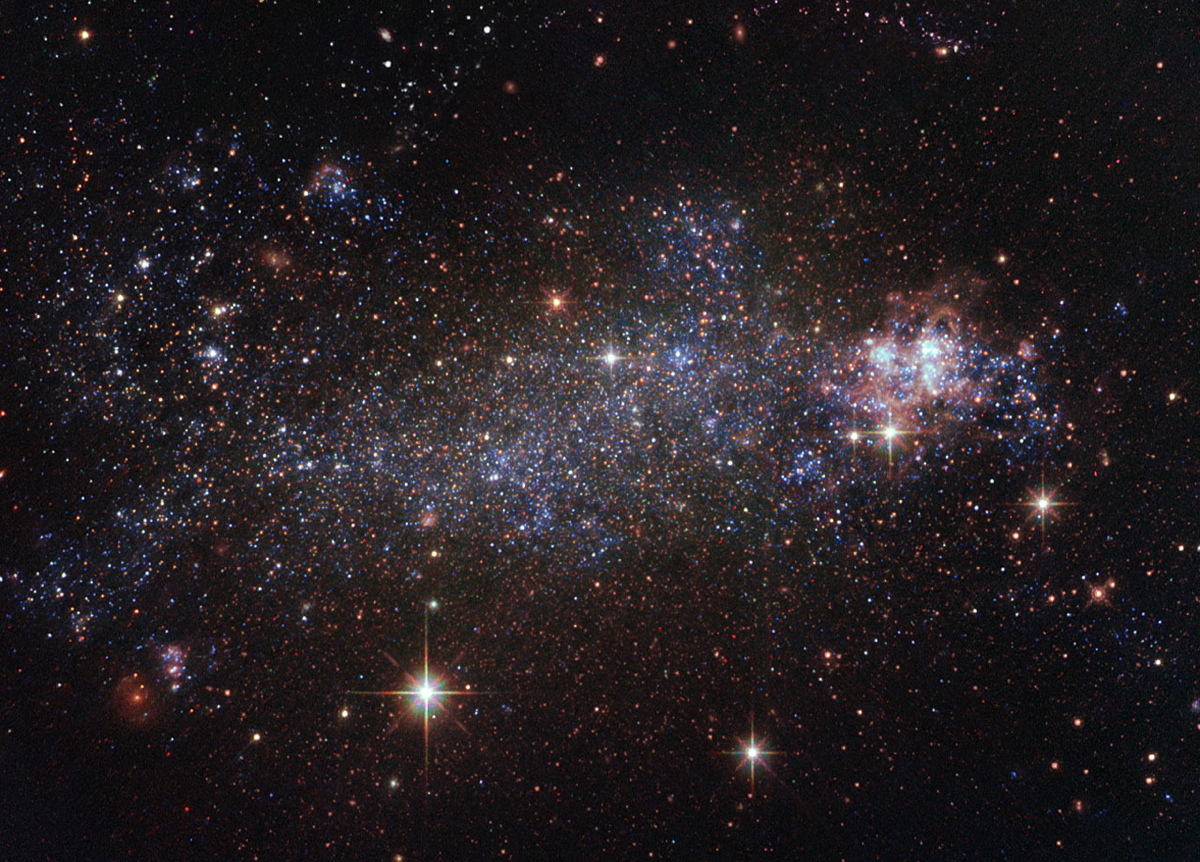 Wednesday, Jan. 20, 2016: NGC 5408 is a galaxy located about 16 million light-years from Earth in the constellation of Centaurus (The Centaur). This galaxy, with an indefinable shape lacking a spiral or elliptical structure, is called an irregular galaxy, and about one fourth of galaxies share that title. NGC 5408's shape led astronomers to believe that it was a planetary nebula, before determining that it was a galaxy. Also within this galaxy lies a rare object, an ultraluminous X-ray source known as NGC 5408 X-1, one of the best studied of its class. This object blasts out vast amounts of energetic X-rays.

— Tom Chao
Peake Performance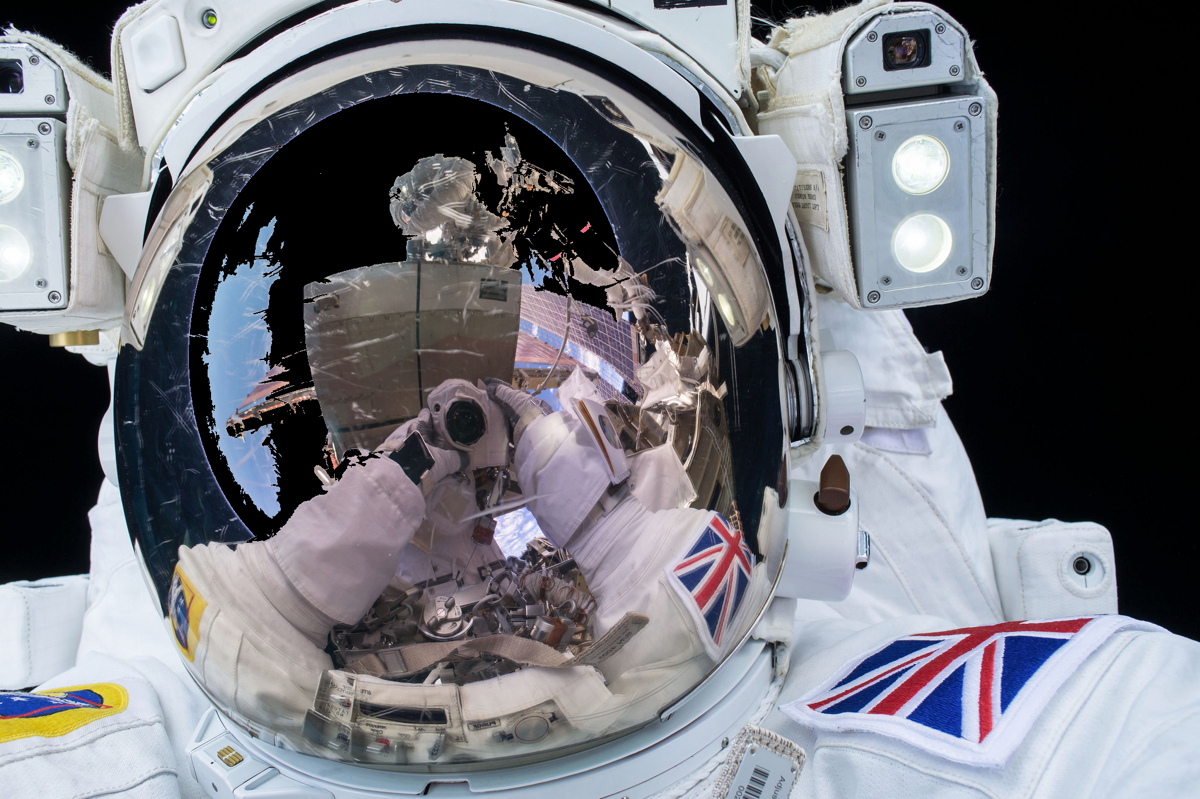 Tuesday, Jan. 19, 2016: British astronaut Tim Peake walked in space outside the International Space Station on Jan. 15, 2016. Along with NASA astronaut Tim Kopra, the two successfully replaced a failed voltage regulator that cut power to one of the station's eight power channels in November 2015. The spacewalk ended early after Kopra discovered a small water bubble inside his helmet.

— Tom Chao
The Moon and the Lighthouse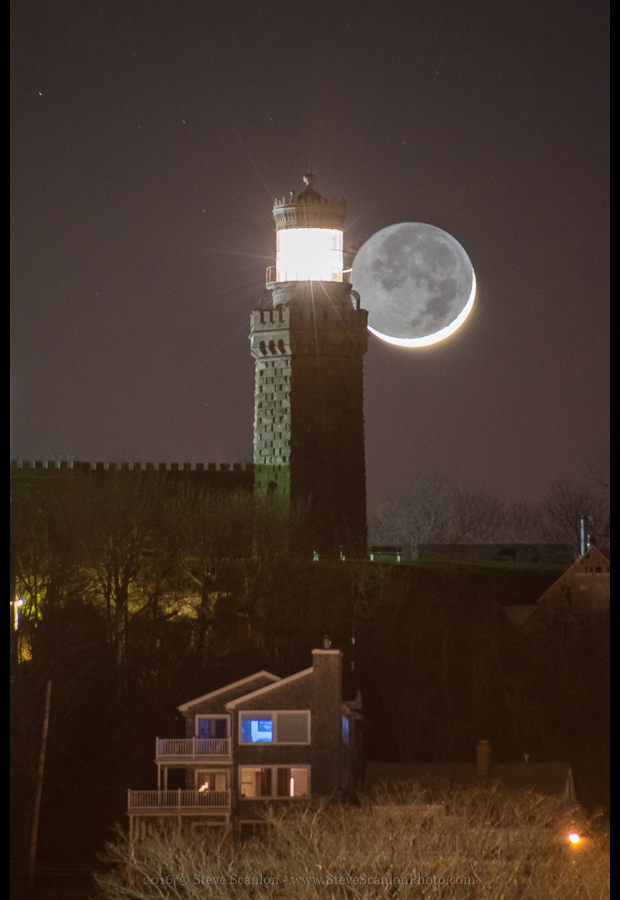 Monday, Jan. 18, 2016: Astrophotographer Steve Scanlon caught the setting moon over the Twin Lights lighthouse in the Navesink Highlands, New Jersey, on Jan. 11, 2016. The Twin Lights have protected ships from danger in the coastal waters of northern New Jersey since 1828.

— Tom Chao
Lightning Strikes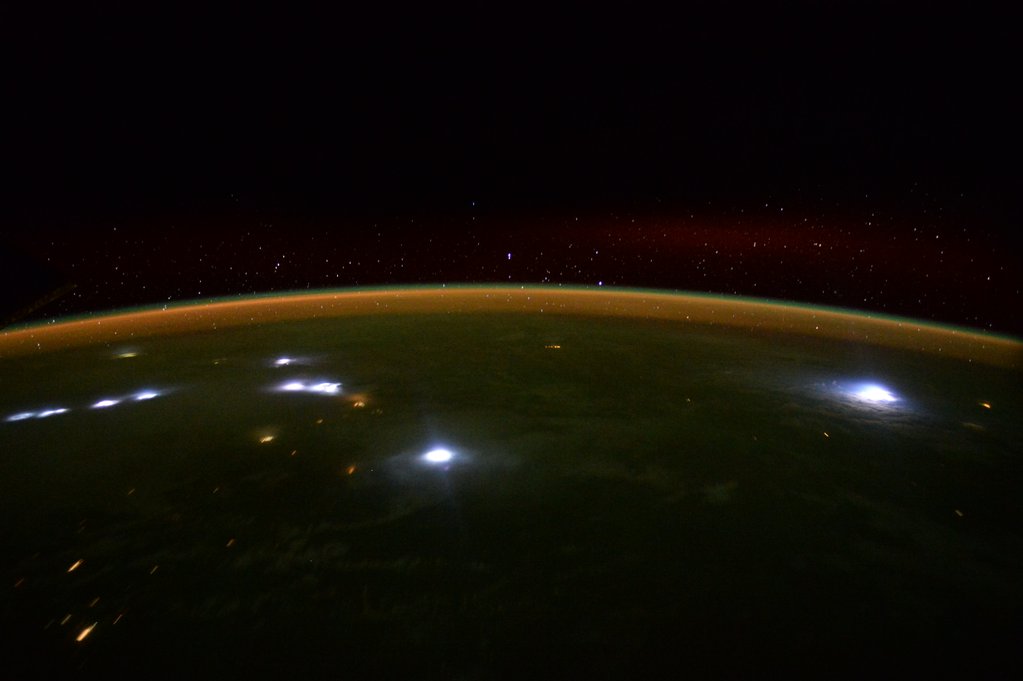 Friday, Jan. 15, 2016
: British European Space Agency (ESA) astronaut Tim Peake tweeted this photo of lightning over South Africa taken from the International Space Station (ISS) on Jan. 14, 2016. He wrote: "Lightning in a 2-second exposure as we flew over South Africa. Every day I see new and amazing things up here!" Peake is the first British ESA astronaut to visit the ISS. [See our Tim Peake
gallery of images
.]
— Tom Chao
New Moon on Monday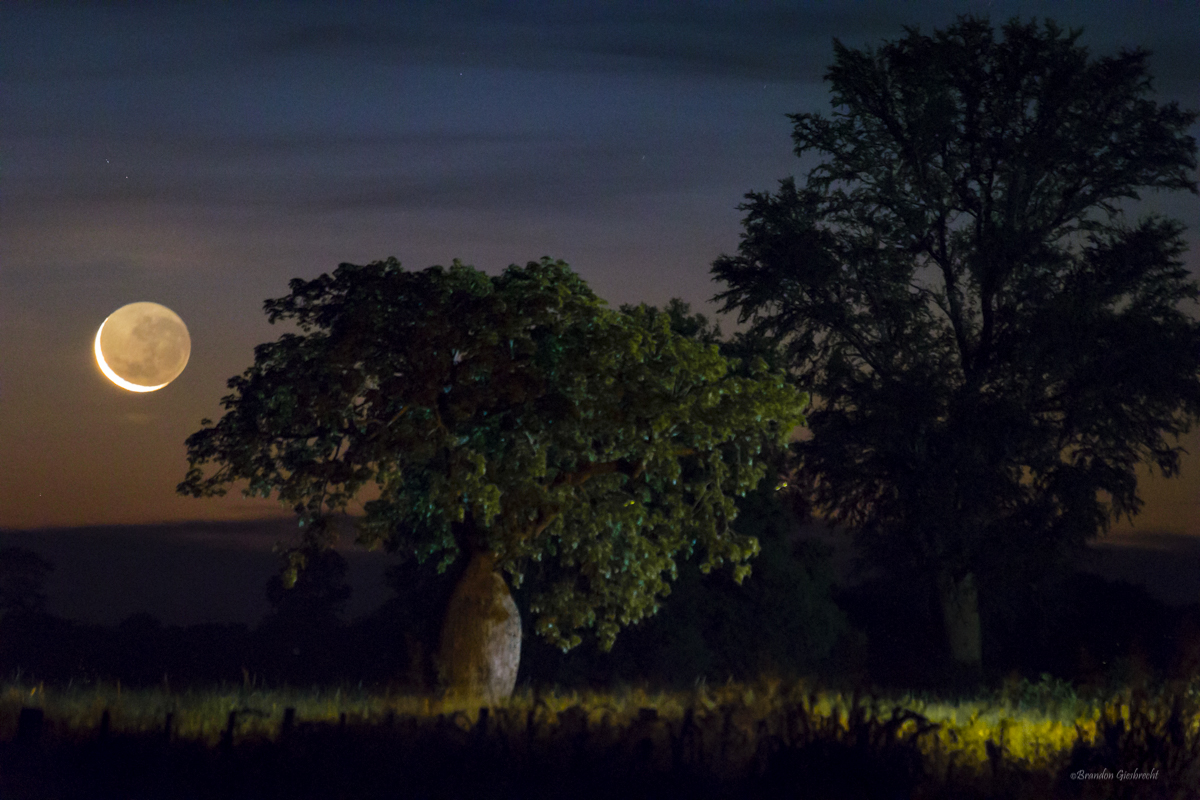 Thursday, Jan. 14, 2016: Amateur photographer Brandon Curtis Giesbrecht Friesen sent in a photo of the new moon taken in the Menno Colony, Presidente Hayes Department, Paraguay, on Jan. 11, 2016. He notes that the 1-day-old crescent moon was setting on the horizon, and that the trees were illuminated by a streetlight.

— Tom Chao
Merge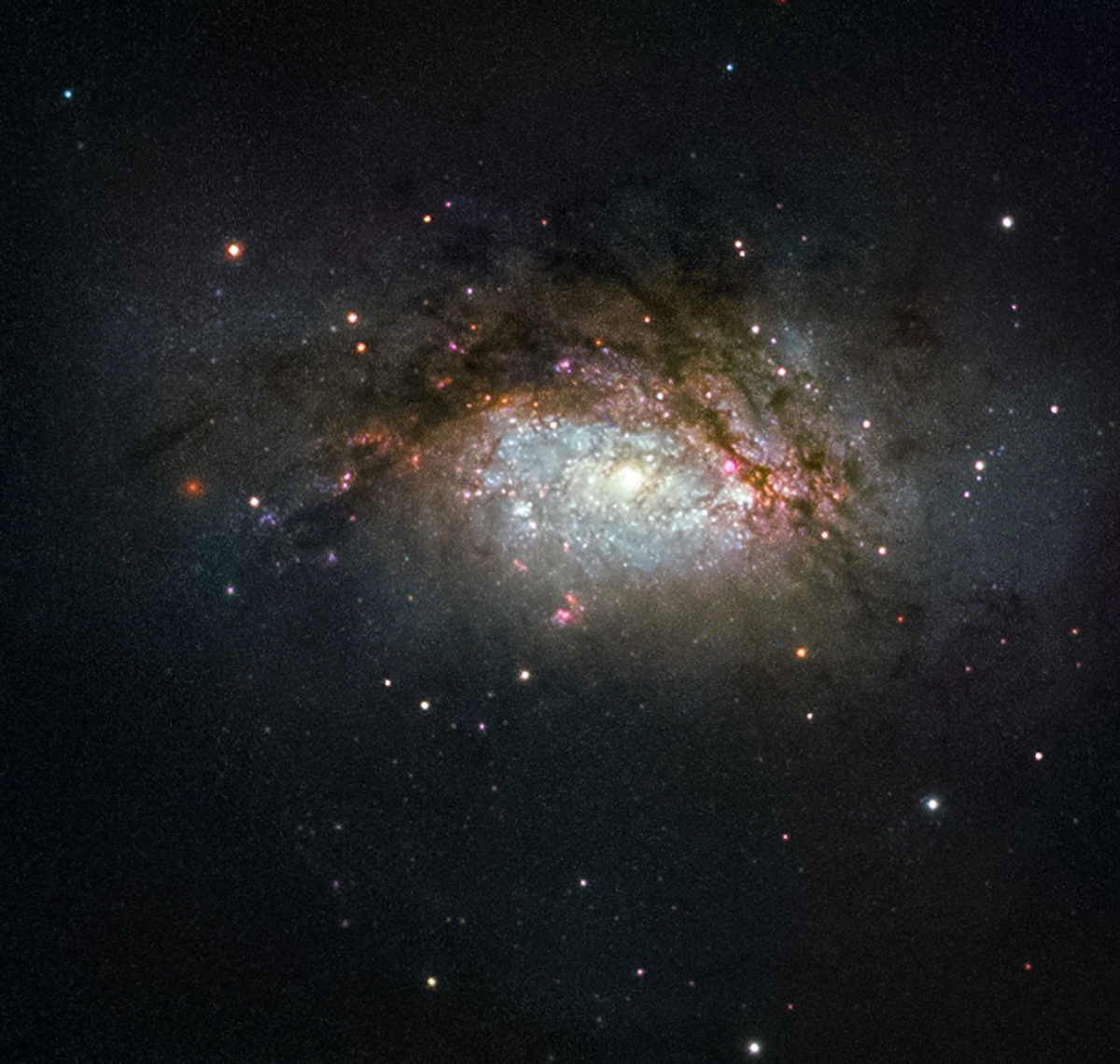 Wednesday, Jan. 13, 2016: NGC 3597, the product of two merging galaxies, lies roughly 150 million light-years away in the constellation of Crater (The Cup). NGC 3597 will eventually evolve into a giant elliptical galaxy, a type increasing in numbers as galaxies coalesce into larger structures. As in some other elliptical galaxies, new stars form inside NGC 3597, owing to the phenomenon of galaxies smashing together and pooling their available gas and dust which triggers new rounds of star birth. Image released Jan. 11, 2016.

— Tom Chao
I ♥ Auroras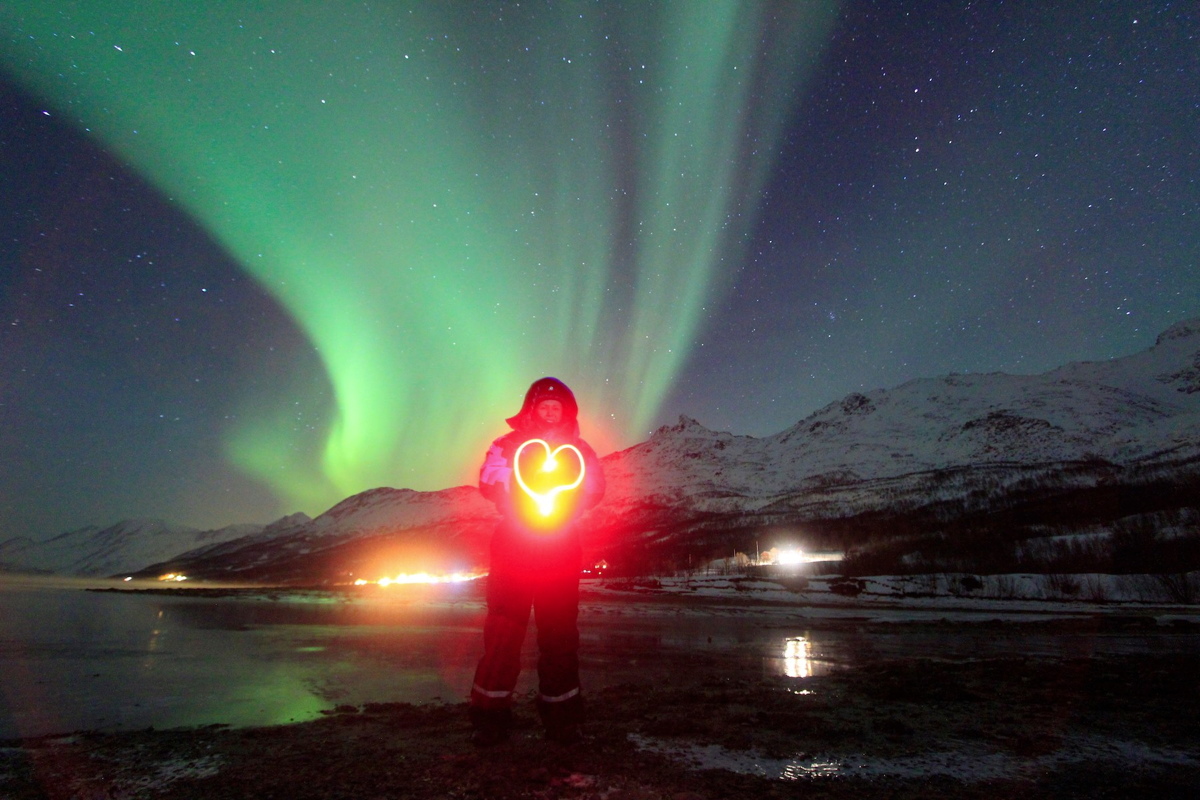 Tuesday, Jan. 12, 2016: Skywatcher Marion Duignan recently went on vacation in Norway, and obtained this photo of herself beneath an auroral display in Tromsø during a Tromsø Safari/Northern Light Safari tour on Jan 6, 2016. She writes on Facebook: "Standing out in -7 degrees (Fahrenheit) for 5 hours was totally worth it." Further she mentions in a message to Space.com: " … the locals were saying that these last few days were the coldest they've had all winter – and the lights have been especially bright because of the clear skies."

— Tom Chao
The Stars Look Very Different Today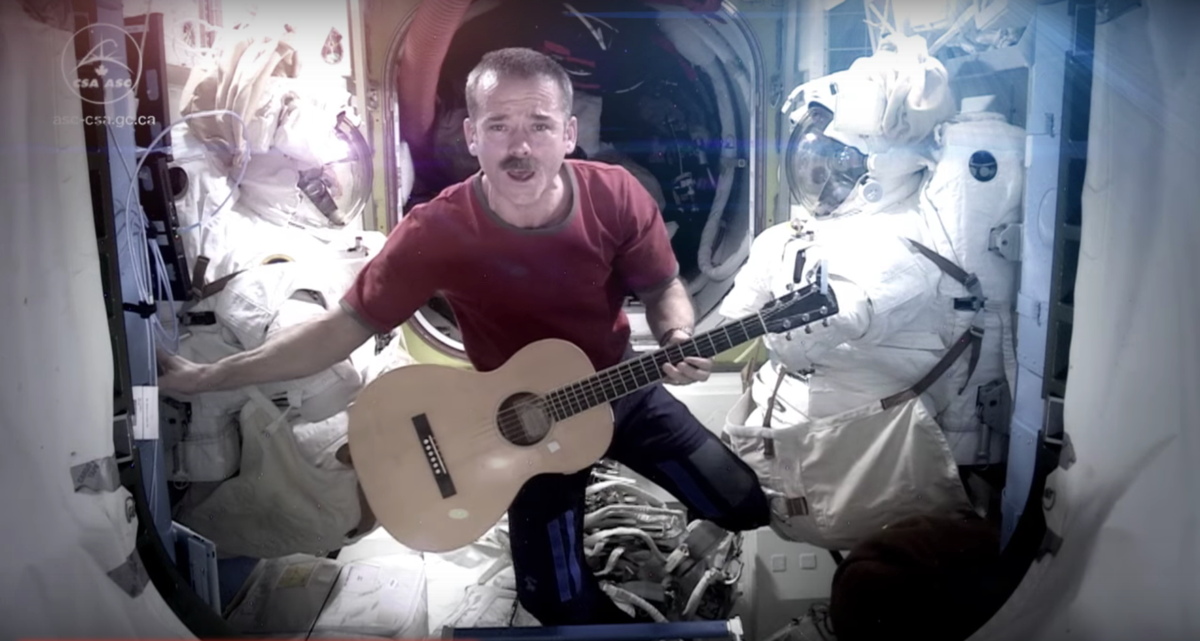 Monday, Jan. 11, 2016
: In May 2013, Canadian astronaut Chris Hadfield released a video of himself performing David Bowie's song "Space Oddity" while aboard the International Space Station, featuring revised lyrics reflecting the reality of life in space. The video quickly grew into a viral sensation, with over 27 million views as of this writing. [See our
full story with video
.] David Bowie, whose lyrics included mentions of space travel, futuristic dystopias, and extraterrestrial life, died Jan 10, 2016, at the age of 69.
— Tom Chao
Happy 20th Annversary to SOHO!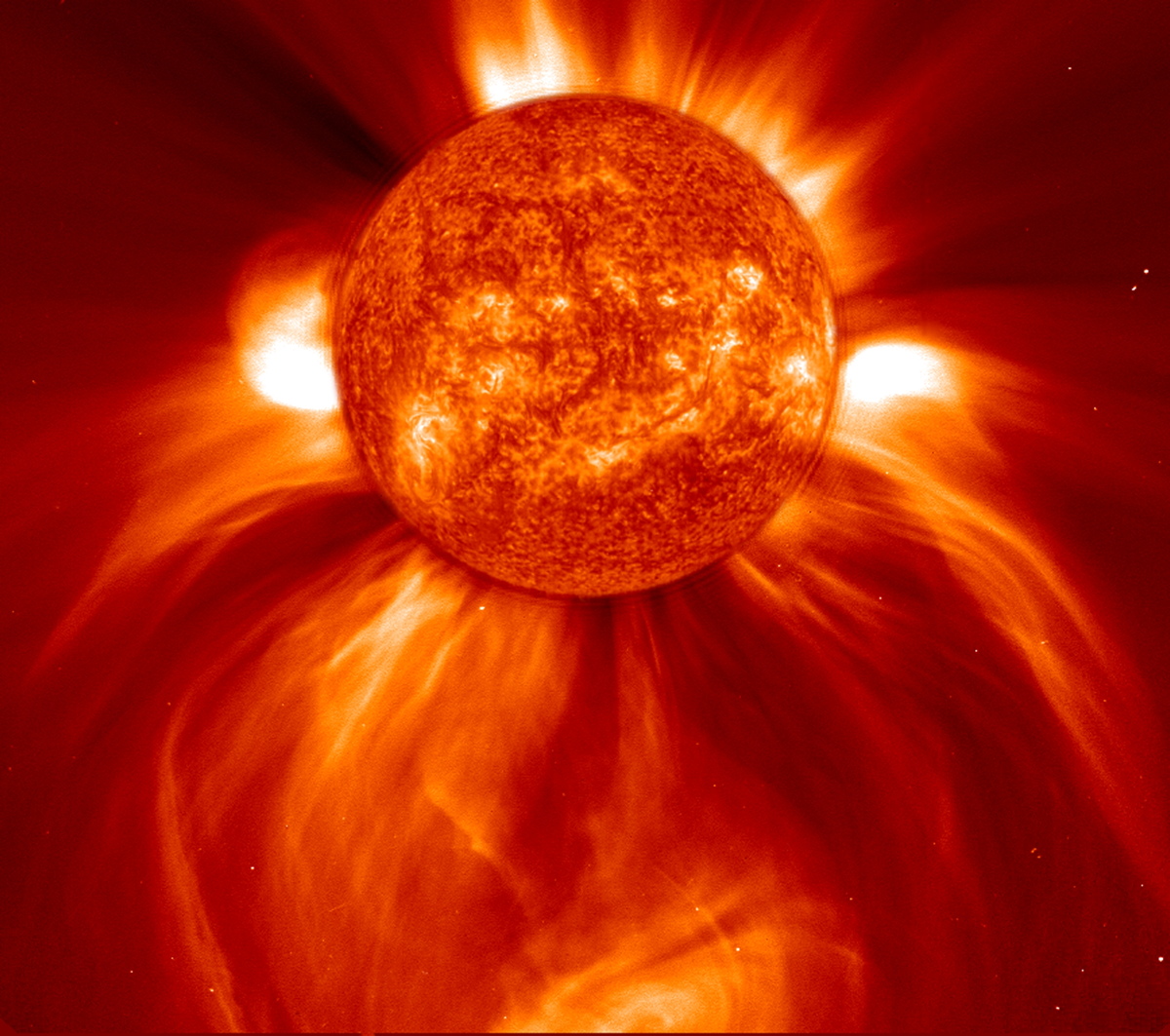 Friday, Jan. 8, 2016: ESA/NASA's Solar and Heliospheric Observatory (SOHO) recently marked the 20th anniversary of its launch on Dec. 2, 1995. This image, consisting of two images from 2002, shows an enormous coronal mass ejection, and was selected by visitors to SOHO's website as the winner of the SOHO birthday image contest. SOHO used its coronagraph to take the background image on Jan. 8, 2002. The instrument blocks the sun's face to permit viewing of the much fainter solar atmosphere. SOHO's Extreme ultraviolet Imaging Telescope captured the sun at the center of the image on a different day.

— Tom Chao
'Earth Without Art Is Just Eh'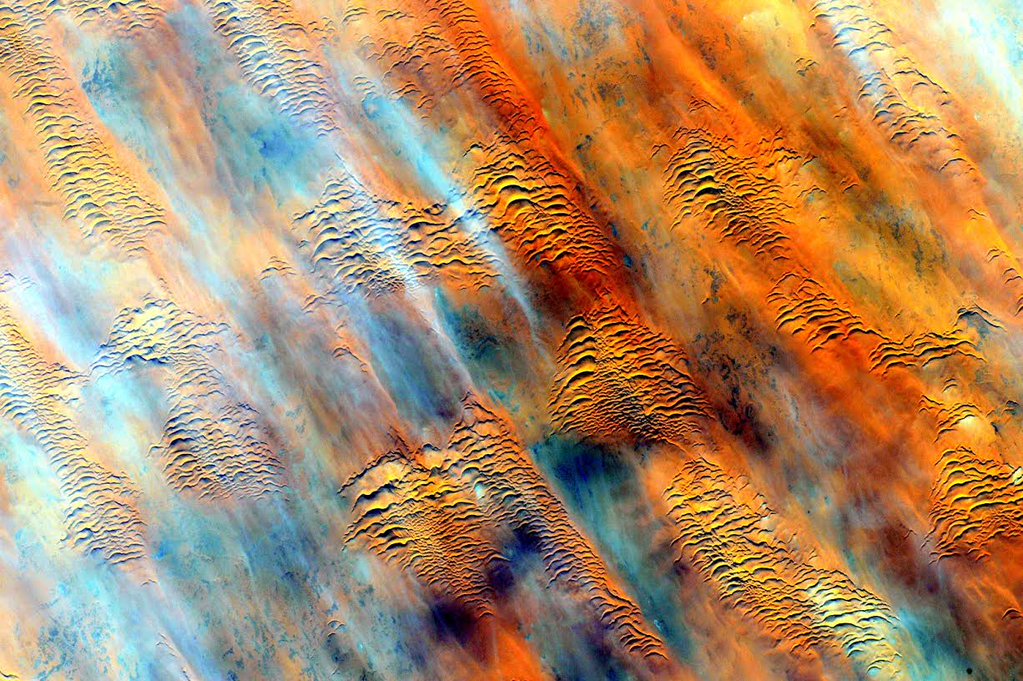 Thursday, Jan. 7, 2016: NASA astronaut Scott Kelly, aboard the International Space Station, tweeted his photo of Africa taken on Jan. 4, 2015. He wrote: "#Africa #EarthArt Earth without art is just Eh. #YearInSpace." Kelly is continuing his Year in Space mission.

— Tom Chao
Meteors Over Nantucket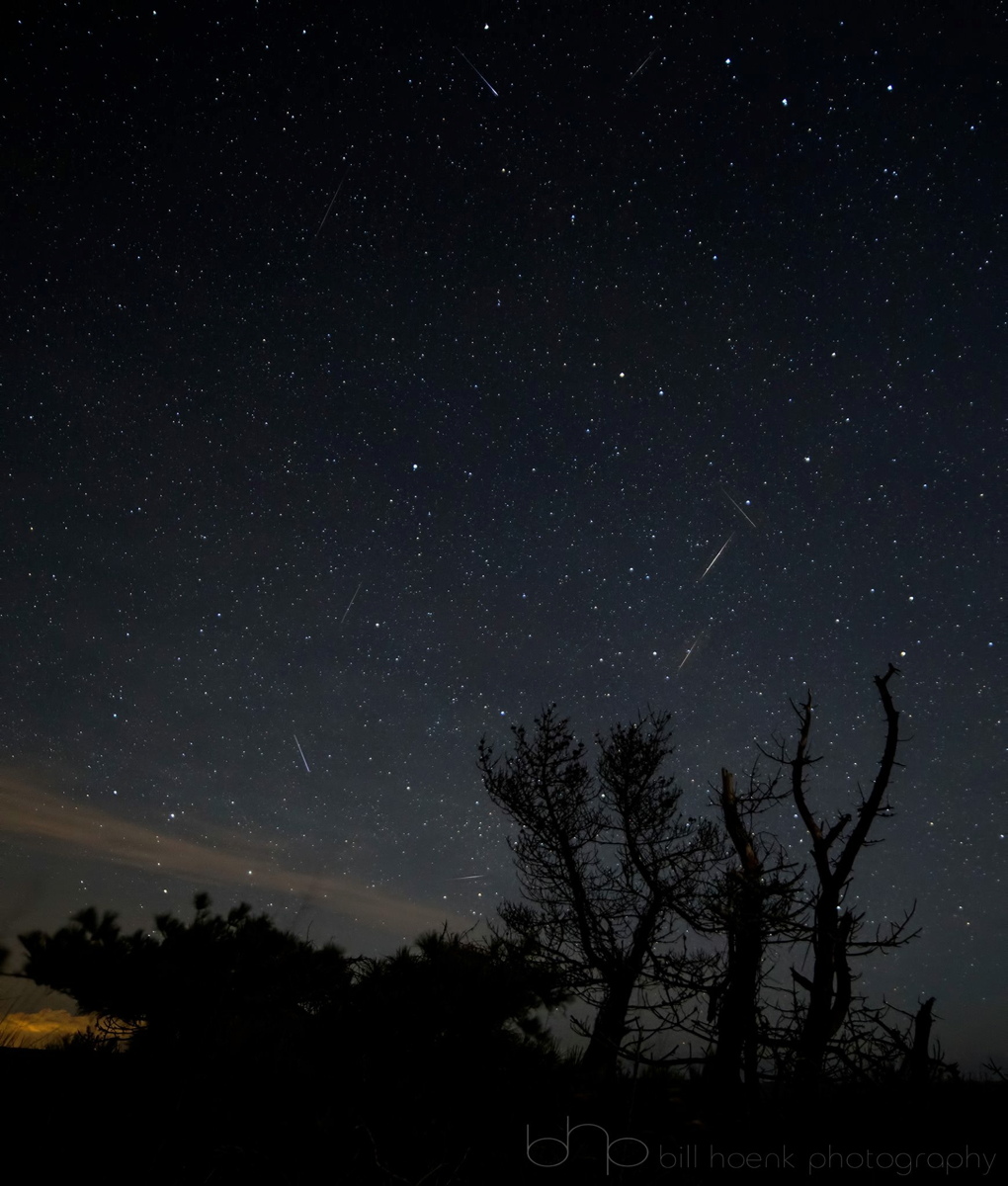 Wednesday, Jan. 6, 2016: Astrophotographer Bill Hoenk caught the Quadrantid meteor shower at Pocomo Beach over the island of Nantucket, Massachusetts, on Jan. 4, 2015.

— Tom Chao
Swallowed Up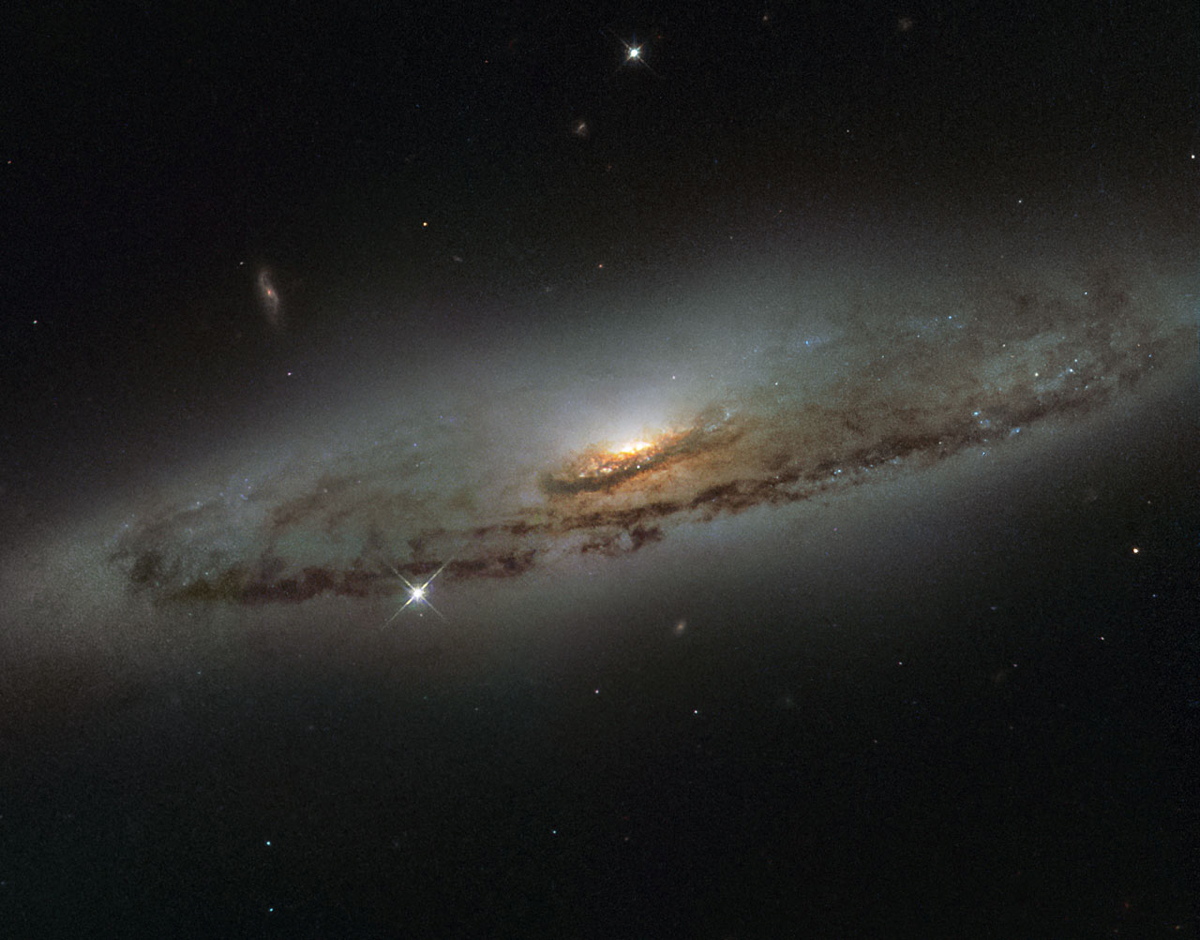 Tuesday, Jan. 5, 2016: Spiral galaxy NGC 4845 lies over 65 million light-years away in the constellation of Virgo (The Virgin). We can clearly see, from our vantage point, the galaxy's spiral structure consisting of a flat and dust-mottled disc surrounding a bright galactic bulge. NGC 4845's contains at its center a gigantic version of a black hole, known as a supermassive black hole, evidenced by the motion of the galaxy's innermost stars, which orbit the center faster than if there were no black hole present. In 2013, researchers observed a violent flare at the center of NGC 4845, which resulted from the galaxy swallowing up a large planet or brown dwarf. Image released Jan. 4, 2016.

— Tom Chao
Stick the Landing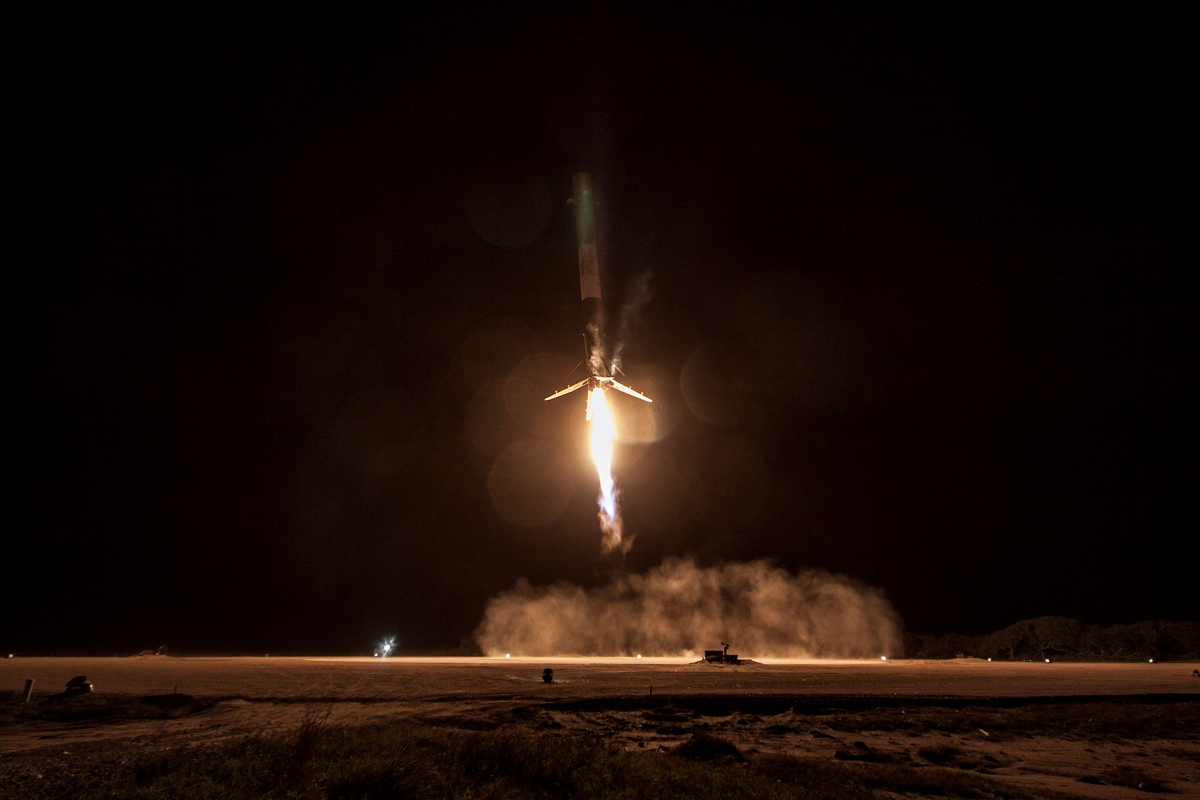 Monday, Jan. 4, 2016
: On Dec. 21, 2015, SpaceX's ORBCOMM-2 mission carried 11 satellites into space, along with achieving the private company's goal of landing the first stage of its Falcon 9 rocket back at Cape Canaveral, Florida. [See our
our full story with more photos
.]
— Tom Chao
Plane and Moon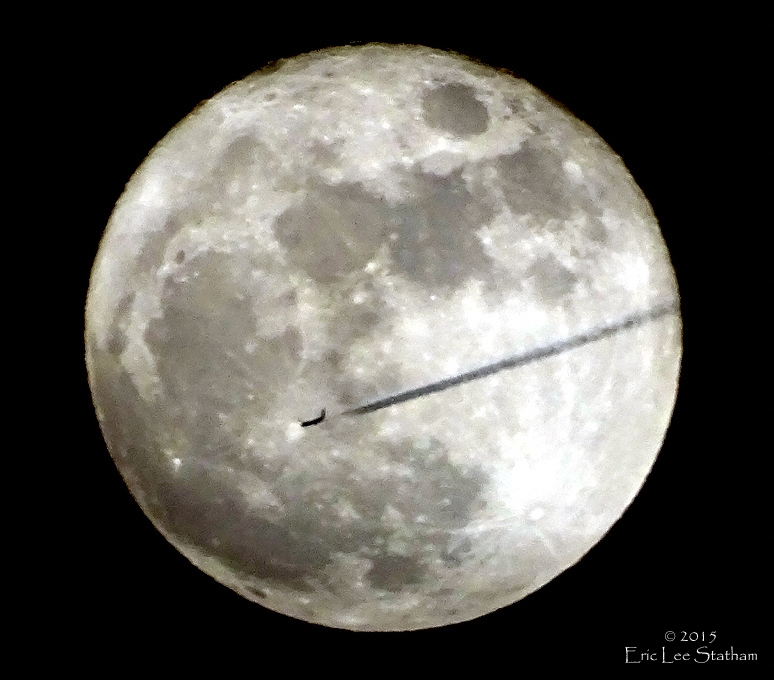 Friday, Jan. 1, 2016: Eric Statham of Columbia, Missouri, caught a plane transiting the full moon. He writes in an email message to Space.com: "I was taking photos of the 2015 Christmas moon with my new camera, and an airplane just happened to fly in front of it. It is a pretty cool shot and very unexpected, especially since I am not technically a professional photographer. My mother said I should send it to NORAD and ask if it was Santa going home after finishing up the night since they do the Santa Tracker each year. LOL. I did email them earlier and ask … "

— Tom Chao
Image of the Day Archives